Interview with Sam Edelman
Question: Can you tell us about your current mission?

Sam Edelman: If you haven't already heard, I'm on the way to getting my Kentucky Fried Chicken a Michelin Star. I know how good our chicken tastes and I know how much fans around the world go mad for it. Put simply its good food which is loved. That tells me that Kentucky Fried Chicken is worthy of a Star.

You can follow the story and support my mission by following the Facebook group "Kentucky Fried Chicken deserves a Michelin Star".


Question: How have you attempted to secure Australia's first ever Michelin Star for your KFC?

Sam Edelman: I've given it my best shot to get the attention of Michelin – I hear that's how you have to begin. To garner some attention and get support from the loyal community of KFC fans, I created the Facebook group to see if I could get some backing of fans online. Slowly the page grew but I wanted to make some more noise so I reached out to my local newspaper to see if they would help me in my efforts by writing about the story and they did.

Fast forward a week or so and media have been reporting on the story globally and interview requests have been flooding in. The news reached the KFC Australia head office and they're now backing my mission too. They flew me into Sydney for more interviews last week and on Friday I flew over to Paris. While there this week I'm heading to the Michelin office to knock on their door, take them some Kentucky Fried Chicken and ask them face to face for a Michelin Star. Wish me luck!


Question: Why does the KFC in Alice Springs deserve a Michelin Star?

Sam Edelman: The key criteria to achieve a Michelin Star is (1) quality of the product, (2) mastery of flavour and cooking techniques, (3) the personality of the chef in their cuisine (obviously I'm bit of a living legend), (4) value for money and (5) consistency between visits. What really stood out to me in the criteria, and I know I may be pushing it, but two achieve two Michelin Stars you must have "excellent cooking worth a detour." I once had someone drive a 500km round trip to one of my restaurants. So in my eyes my Kentucky Fried Chicken ticks all the boxes required for a Michelin Star and if you don't believe me come and visit us in Alice Springs and try it for yourself.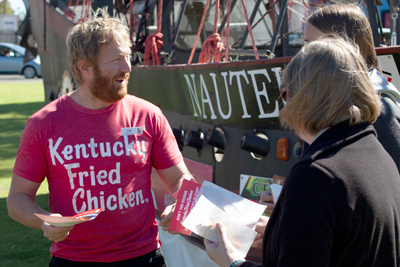 Question: How does a restaurant usually earn a Michelin Star?

Sam Edelman: There's no set formula but getting the attention of the guys at Michelin and having a restaurant which meets the criteria I outlined above is the best formula – so I think I'm on to a winner here. Wouldn't you agree?


Question: How often do you eat at the KFC in Alice Springs?

Sam Edelman: I'm there quite a bit as I run the restaurant, so a couple of times a month – you can't resist digging in to the finger lickin' good stuff when you're in store!


Question: What's your go-to KFC order?

Sam Edelman: Nothing beats a bucket of original recipe Kentucky Fried Chicken to share with family and friends, with a side of mash potato and gravy for good measure too.


Question: How do you practice a healthy lifestyle to counteract the KFC consumption?

Sam Edelman: For me, it's everything in moderation and the KFC menu has lots of healthier options so one day I might enjoy a Zinger Burger and another day I might have a Shaker Salad. A balanced diet with a good amount of exercise is key.


Interview by Brooke Hunter