Sam Clark Mental DVD Interview
Question: Tell us about Mental:

Sam Clark: Mental is the story of how a crazy (but charismatic) hitchhiker transforms the lives of five girls whose mother has cracked from her husband's political ambitions and his infidelity. It has an outstanding cast and incredible, hard-working crew and is based on the incredible life of its director PJ Hogan.


Question: Why did you decide to audition for the character of Trout?

Sam Clark: I was lucky enough to be given the full script to read prior to my first audition and I couldn't put it down. I literally found myself laughing out loud during my first read through and during my audition preparation. I am just glad I was given the opportunity to audition for such a great Australian production!


Question: Are you similar to your character of Trout in anyway?

Sam Clark: Apart from the singer/songwriter aspect, I'd say no.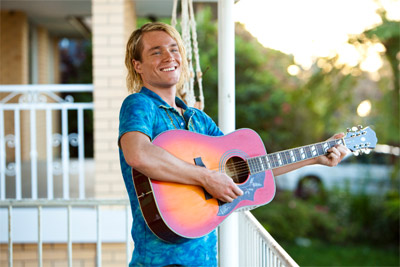 Question: What are your thoughts on your hair, for Mental?

Sam Clark: My first day on set was seven hours of sitting in the make-up chair having my hair extensions glued in, cut and coloured to make me look like a surfer. It was certainly difficult to get used to and it was a really interesting social experiment to live with them in for almost two months! I was definitely treated differently by certain people - made me realise just how important it is to live without prejudice against anyone.


Question: Did the guitar and singing aspect attract you to the role?

Sam Clark: Absolutely. I always enjoy any chance to write or play music. It was a fantastic creative challenge, and an opportunity I am so grateful to have had, to not only perform but also write the songs for the film. I'm sure it won't be the last time I mix my two passions creatively.


Question: How mental is your character?

Sam Clark: My character might be one of the least "mental" characters in the film. He certainly goes a little more mental later in the film but I don't want to give away too much for those who haven't seen it yet.


Question: What did you enjoy most about working with the cast of Mental?

Sam Clark: I got to work with a mixture of total new-comers and household names. It was both challenging and inspiring to do this and watch the different techniques of each actor. It was incredible to work alongside such an extensive list of amazing Aussie actors and also American Liev Schreiber.


Question: What was the most difficult thing in regards to filming Mental?

Sam Clark: I think one of the most difficult scenes to shoot was the water slide scene. Lily Sullivan and I shot a lot of this ourselves on a GoPro in waterproof housing. We had to climb over three hundred steps for each take. I think we would have gone down the slide around 40 times during the course of shooting this scene. Needless to say it was exhausting.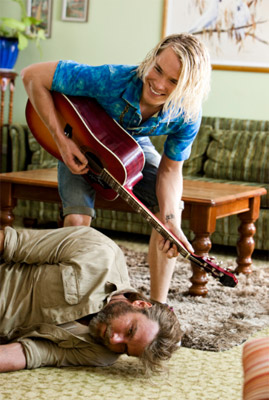 Question: Why do you believe Aussies are loving Mental?

Sam Clark: It is an Australian story being told by an Australian cast and crew. On top of that it is heartfelt and hilarious and Australian audiences clearly know how to pick a good film.


Question: Why did you decide to make the move to LA?

Sam Clark: Through my work on Mental I was lucky enough to secure fantastic representation in LA. The next logical step for my career was to live there and take educated risks to create the kind of career I want.


Question: What do you miss about Australia?

Sam Clark: Everything, but I especially miss my family. The older I get the more they all become my best friends. I can't wait to be in the same country as them again!


Question: What are you currently working on?

Sam Clark: I am currently writing new music and preparing for pilot season. I am working on my accent a lot to make sure I can nail every audition and also trying to educate myself more on nutrition. When I am eating the right foods and exercising the right amount, my mental health soars. I have always loved food and had an interest in the science behind it and that only grows the older I get. I guess I am becoming a bit of a food nerd haha.


Question: Is music or acting your number one passion?

Sam Clark: Don't make me choose! I love them both!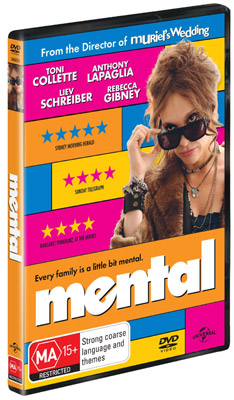 Mental DVD
Cast: Liev Schreiber, Sam Clark, Toni Collette, Anthony LaPaglia, Rebecca Gibney, Deborah Mailman, Caroline Goodall, Kerry Fox, Bethany Whitmore
Director: P.J. Hogan
Genre: Comedy, Drama
Rated: MA
Running Time: 116 minutes

Nominated for eight Australian Academy Awards, this warm, whimsical and wild film boasts an all-star cast including Anthony LaPaglia, Live Schreiber and Rebecca Gibney.

The film follows the hectic lives of the Moochmore girls, who are certain they all suffer from some kind of undiagnosed mental illness- because if they're not crazy then they're just unpopular.

Their mother Shirley - unable to cope with her demanding daughters and unsupported by her philandering politician husband - suffers a nervous breakdown, retreating into the warm fantasy world of her favourite musical, The Sound of Music.

After Barry commits his wife to a mental hospital - telling his constituents that "she's on a holiday in Wollongong" - he finds himself alone with five teenage girls he barely knows. Desperate, he impulsively picks up a hitchhiker named Shaz and installs her in his home as a nanny to his daughters.

Shaz whips the Moochmore girls into shape helping them to realise their newfound abilities and overcome the family's perpetual state of craziness and adversity.

Special Features:
* Cast and Crew Interview

Mental
RRP: $39.95
Blu-ray: $44.95




Interview by Brooke Hunter