Sam Brittain Signal Lights Interview
Seasoned young troubadour Sam Brittain has today announced his new album Signal Lights set for release on June 3, alongside the anthemic first offering Stab In The Dark (available May 13). To celebrate the release, Brittain will be hitting the road on a national tour in June, kicking off in Adelaide at The Gov on June 4 and moving through to Brighton Up Bar (Sydney) on June 8, The Ellington (Perth) on June 15, The Toff (Melbourne) on June 23 and finishing up at The Milk Factory (Bris) on June 26.

Nestled comfortably between folk and country, Signal Lights is an intricate release, revealing subtle new textures and multiple perspectives upon each listen. Recorded and mixed at Mixmaster's Studio by owner Mick Wordley, the album boasts luxurious string arrangements that swoop beneath Brittain's raw, emotive vocal, and rest flawlessly on a soft bed of drums, bass and guitar. As the music swells and recedes, Brittain explores time, and watching it pass as a touring musician. He enthuses, 'The opportunity to travel, busk streets, shopping malls, markets and play festivals in different cities all over the world and to connect with people though music is something I don't take for granted. The songs explore the time used up, the time remaining, and making sure you take the time to enjoy the simple things in life."

The first single off the release, Stab In The Dark, arcs dramatically from a sparse, delicate intro, to a sprawling, rallying cadence, and inspires a feeling of hope in spite of circumstance. The lyrics summarise a coming of age, prompted by travel, grief, and -a lethal dose of reality', as Brittain describes, -I was beginning to see the real sacrifices that have to be made as a touring artist in order to be successful. The loved ones you leave behind. Losing a dear friend of mine a few months prior to a stroke was a shotgun blast to the heart… It was a blatant reminder that none of us are invincible and you never know when your time is up.'

The accompanying video, directed by Kieran Ellis-Jones of Crystal Arrow Films, reflects the introspective nature of Stab In The Dark. It portrays the performers as silhouettes, and the main subject caught alone in a barren space. Through the subtle use of these shadowy characters, the clip encourages the viewer to look inwards, to self-evaluate, as Brittain says, -It's easy to blame external influences for the things that go wrong in life. It's a much harder task to face the things you're doing to yourself.'

With extensive gigging experience from around the world tucked firmly under his belt including notable supports with Passenger and Matt Corby, Brittain will embark on his national tour in June to support Signal Lights. Excited to be hitting the road, Brittain gives fans a taste of what to expect from his live shows, 'This time around, with the new record, we have tried really hard to have a few more feel-good grooves… I don't see why a sad story can't have a great backbeat! I am really excited for the big shows with the band, and the smaller, more intimate acoustic shows alike."

Stab In The Dark will be released May 13 and Signal Lights will be available June 3, both available for pre-order now.


Stream SIGNAL LIGHTS
Pre-order SIGNAL LIGHTS
View video STAB IN THE DARK
Stream STAB IN THE DARK
Pre order STAB IN THE DARK
Sam Brittain -Signal Lights' Tour Dates
Sat 4th Jun | The Governor Hindmarsh, Adelaide SA | 18+
Tickets:: http://thegov.oztix.com.au/?eventId=62242
Wed 8th Jun | Brighton Up Bar, Sydney NSW | 18+
Tickets:: http://brightonupbar.com.au/whats-on/events/8-jun-16-sam-brittain-album-launch-brighton-up-bar/
Thurs 15th Jun | The Ellington, Perth WA | 18+
Tickets:: http://www.ellingtonjazz.com.au/event/sam-brittain/
Thurs 23 Jun | The Toff In Town, MELB VIC | 18+
Tickets:: http://www.moshtix.com.au/v2/event/sam-brittain-signal-lights-album-launch-with-special-guestsolivers-army-and-a/86127
Sun 26th Jun | The Milk Factory, BRIS QLD | 18+
Tickets:: http://www.moshtix.com.au/v2/event/sam-brittain-signal-lights-tour/86133
FACEBOOK TWITTER YOUTUBE SOUNDCLOUD
Interview with Sam Brittain
Question: How would you describe your music?

Sam Brittain: I guess the sound of the new record sits somewhere between the realms of folk, Americana and alternative country.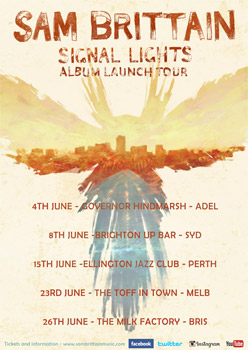 Question: What was the main inspiration behind Signal Lights?

Sam Brittain: Signal lights was the very last song I wrote for this record. A common theme throughout the album and first single is the realization that perhaps the worst things we do are the things we do to ourselves. The walls we build in our own minds that really don't exist. Signal Lights is a song that blatantly addresses my shortcomings…It deals with fear and loneliness and self-doubt and how sometimes you just pray for a line to walk or a light to guide you back home…


Question: What was it like performing on Tram Sessions?

Sam Brittain: I have been lucky enough to do the Tram Sessions a couple of times over the last few years and it is always great fun and you really never know what you're stepping into. I think the concept is wonderful and an absolute gem of the Australian music industry. It would be great to see Tram Sessions rolled out as a national concept to introduce our country to the endless talent it produces and make music a part of our cities in new & unexpected ways. Ash and the crew are doing something so special in Melbourne and I will keep coming back as long as they will have me.


Question: What was it like touring with Matt Corby?

Sam Brittain: It was interesting to say the least. It was early on in Matts career just after he has released his breakthrough EP -Into The Flame" with -Brother' on it. We did a run of shows for what was called the -Secret Garden Tour' which basically boiled down to intimate shows performed in fans backyards. We would drive there and set up a stage and then this sea of people would arrive, curl up on picnic blankets and absorb the vibe and music. It was an incredible experience; one I will not forget. On top of the hosts being beautifully kind and generous people, opening up their homes to a hundred or so strangers Matt is an incredible artist and it was great to share the stage with him. His new album release -Telluric' has been on repeat over the last few weeks.


Question: Did you have any pre-conceived ideas about the music industry?

Sam Brittain: I thought it would have involved less bathing in the incandescent blue glow of the laptop screen. Haha. The music industry is such a vast, ever changing, morphing and moving thing I think it's impossible to really pre conceive too much. No two artist's stories are the same and what's the right path for one may not necessarily be the right for the other. I think the most amazing thing is that the regardless of the diversity of scene, genre or approach at the end of the day a great song is a great song…period. Real music lovers regardless of preference are drawn together by the love for great music enjoyed in great company. It really is the most wonderful glue…



Question: Do you write your own songs? What's your inspiration?

Sam Brittain: Yeah I write my own stuff, I also write for other people and the inspiration can be different every single time. Unless you were in like a theme band…like a band who solely wrote songs about pineapples, the day to day struggles and emotional turmoil of being a modern day pineapple in a big bad world…I dunno, maybe there is a market there. Maybe I'll write that album one day…

Sorry. I'm getting off topic. Mostly my song ideas are drawn from place, people and the things I experience. As long as what is going down on the page is an honest representation of myself or the artist singing it and their experiences…then I think it's worth recording…


Question: What music/artists do you listen to when you are not playing your own?

Sam Brittain: Mmm it varies really. I enjoy loads of different music. Lately I have been delving deep into Tom Waits back catalogue. I tend to get hooked on an artist for a time and absorb as much as I can, from beginning to end. I like to hear the progression and get a kick out of the ones that are the freaks outside the norm…I like to become familiar with an artist.

I have also been loving Jason Isbell's latest installment -Something More Than Free' it's a sensational album, his previous album -South Eastern' is one of my all-time favorites.


Question: What's next? Tour/Album/Single?

Sam Brittain: I'm off on tour around Australia this June then over the Europe and the U.S. to do a load of busking and shows over there. Will be nice to get out and play the new songs for people. Dates for Australia are up on my website now and overseas things are getting put together as we speak. Can't wait 




Question: Was there a moment you contemplated throwing in the towel?

Sam Brittain: Oh definitely, probably earlier this morning in fact. The reality of the music business is your set for a hard road. There's not always a lot of security and with the sheer amount of amazing songwriters, performers and artists out there it can sometimes feel a bit hopeless. Honestly though I am so grateful for the opportunities I have been given and the fact that every day I get to wake up and work on the thing I love most in the world is perfect. The ability to travel, see the world and meet wonderful new people in cities I never imagined being in is a dream, I am incredibly grateful for it. In more recent times the chance to collaborate, co-write, record and produce with other artists I love and admire is incredibly fulfilling and something I hope to do more of in the future. It's not easy, but nothing worth having ever is. There isn't a minute of a day I don't think about music and I would encourage anyone who is the same about their passion to find a way to do it as their career. I'm so happy that I have been able to make music my life…But then again ask me tomorrow…might be ready to do night fill at Woolies.


Question: Do you prefer performing live or recording?

Sam Brittain: I love it all. Equally. But for me the love for recording is amplified after a long time touring and performing live and vice-versa. I get different satisfaction from both sides of my music, playing for people and connecting through music whilst on tour is a very special experience; the feeling of creating a new song and hearing it back for the first time is exciting because that song means you have a new product to go out and play for people…and round the carousel goes.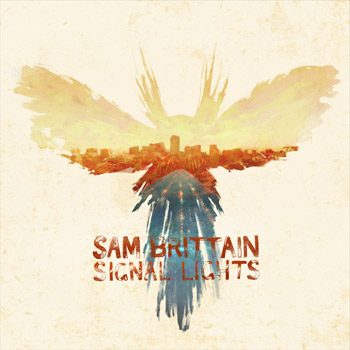 Question: What/who was your inspiration to go into the music industry?

Sam Brittain: I guess the artists I grew up listening to. My family is incredibly musical, so I have always been surrounded by a diverse set of sounds. My inspirations came when I started writing and the realization that if I put my words to music I had this incredible release format. It was a way to make sense of the chaos of being a teenager. Most of the early songs were rubbish but for me it was the simple act of putting the things in my head on a page and making sense of the utter madness…Down the road I managed to write a few better ones and put them on a cd for people to listen to.


Question: What is the biggest challenge you have faced along the way to your musical success?

Sam Brittain: There are many day to day challenges on this road, balancing work and personal life whilst trying to have any kind of down time to recharge. It's a tough thing dealing with the simple realities of the world we live in, we all need food to eat, a place to sleep, have bills to pay and commitments to uphold. Finding the time for all of this and making the steps to reach my artistic aspirations can sometimes be tough. I find the greatest challenge lies in in those low moments when my energy is running dry and no matter how many hours I put it in seems like its two steps forward and one step back. Rather than go on and on about the challenges though I would like to touch on the thing that always keeps me moving forward, a personal mantra if you want to call it that.

-The thing difference between great artists from the extraordinary and successful ones is the point at which your they are willing to give up, talent and success do not exist. They are a byproduct of hard work and dedication'

When I feel like giving up, I remind myself of this, grit my teeth and work harder and longer than ever before, each time building a little more resilience and faith in myself.


Question: What's a typical day like?

Sam Brittain: Coffee, relentless sadness, gin…repeat. Ha. No I'm kidding music has allowed me to have an incredibly varied lifestyle. As a busker I get the opportunity to meet lots of new people every day when I am out on the street promoting my music. As a recording artist and writer I get to work with wonderfully creative people in pursuit of something we all collectively love. Music. They say variety is the spice of life, and I am blessed to live one with plenty of heat...


Question: What has been your favourite part of becoming a music artist?

Sam Brittain: Free beer at shows? Haha. I really don't know how to answer that one. It's no one thing, it's the culmination of all the aspects of being a musician in a modern world. The satisfaction of hard work, the artist gratification in creating new honest music and working hard at a craft to be better…every day. The ability to travel and not be tied to a desk in an office somewhere…It's the freedom and opportunity to connect with people as well as the opportunity to meet other artist and absorb the music they create, learn from one another and share something we all love. Its all of it.


Question: If you could collaborate with another artist, who would it be?

Sam Brittain: Dr Dre…perhaps Snoop Dog…. No honestly there are two guys I would absolutely love the opportunity to work with one day. Pipe dreams if you will. I like countless others am a huge fan of Rick Rubin and his production. I think the opportunity to work with a producer of his caliber could only result in getting my best work onto tape. Ryan Adam's would be another artist and producer would love to work with one day. I discovered his music after making the making of my first solo album. Both he and I come from background in heavier music and having then gone on to discover his first musical success within the alternative country and folk with 'Whiskeytown" I definitely feel he would get where I come from. I am sure he would have some great advice to offer and be a wonderful collaborator.



60 Second Quiz
Full Name: Sam Brittain
Nickname(s): Sambob, Bobby, Bobby Sitten
Star Sign: Aquarius
Favourite Food: Laksa

Favourite Film: Fear & Loathing in Las Vegas
Favourite Actor: Clint Eastwood

Pet: Golden Retriever
Person You Would Most Like to Meet: Butch Walker
Where did you grow up: Barossa Valley, South Australia
First Job: Picking grapes in my school holidays

Are you a Pub, Bar or Club kind: Pub/Bar…Don't think they would let a guy who wears this much denim into a club. Ha

What Can You Never Leave Home Without: My hat
Who do you look up to: My Pop

Car I want to own: More into bikes than cars. A nice old Norton or Triumph would be cool
Car I own: Don't currently own one
On your wishlist: Time

Prized Possession: My pops old pencil box from his office

What is the first thing you think of when you wake up in the morning: Why is the darn dog barking at nothing…Oh and free the west Memphis three…

Interview by Brooke Hunter