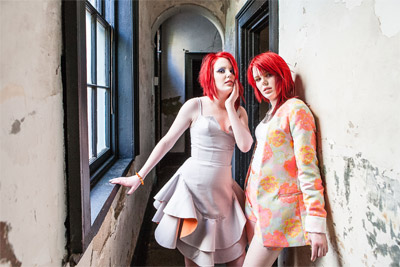 RubyIce Can't Nobody Interview
J-Pop is a musical genre that is yet to be established in Australia but identical twin sisters Courtney and Brittany Menegon – aka RubyIce – are already at the pointy end of the popular Asian Pop underground movement in the country and will prove why when their new single 'Can't Nobody" drops on September 6th, 2013.

With rich energy and vivacious personalities, the 18 year-old duo have already made an impressive debut earlier this year with their aptly-titled single 'Energetic" which has already established them as the 'Aussie Jpop duo who are about to take Japan by storm" as proclaimed by Joy FM's Asia Pop Radio Australia (APRA) show.

Their follow up single 'Can't Nobody" is due for release on September 6 (2013) and was written by legendary K-Pop producer Teddy Park who masterminded tracks by high profile chart topping Korean artists including 2NE1 and BigBang.

'Recording -Can't Nobody' was the absolute experience of a lifetime for us," says the pair. 'This song is about not giving up, and not allowing people's false ideas to destroy your dreams. It's all about standing tall, holding your head high and living your dream".

The girls, hailing from the Australian Capital of Canberra, have been performing since age 15 gaining their roots fronting 80s and 90s rock cover band PhuZion.

'We're the first J-Pop band act in Australia," says the pair. 'We were introduced to K-Pop at school by an Asian friend when we were about 13 years old. We loved it from the get-go! It was different and unique and we really fell in love with K & J Pop as soon as we heard them."

After an appearance on Channel 7's Australia's Got Talent in 2012 where the pair made it to the semi-finals, Courtney and Brittany fine-tuned their career goals and, with national and international ambitions, embarked on a new journey with a new name, new musical direction and new live show.

Their music is uniquely put together with a cross-cultural Pop/Dance DNA repertoire sourced from noted North Asian composers, arranged with mixed Pan-Asian and Euro influences, and accented by a healthy dose of Ska backbeat which jovially toys with the traditional grammar of club dance rhythms.

Performing has always been a common goal for the pair. 'Since we were little we've always dreamt of being a duo act together because what one can't do the other one can do and it make things 10 times easier. And you have more fun! And it's always nice to perform with your twin sister".



Interview with Courtney and Brittany Menegon
Question: Can you describe what J-Pop is?

Courtney and Brittany Menegon: J-Pop is a musical genre also known as Japanese pop. What drew us towards J-Pop is it's unique melodic structure and character and as we like to say it is like a mixed bag of lollies you never know what you are going to get.


Question: What did you learn from Channel 7's Australia's Got Talent?

Courtney and Brittany Menegon: That everyone in the world has different opinions.


Question: Tell us about the single, Can't Nobody.

Courtney and Brittany Menegon: We hold Can't Nobody close to our hearts. This song is about not giving up, and not allowing people's false ideas to destroy our dreams. It's all about standing tall, holding your head high and living your dream. And this is exactly where we are right now – 'living our dream" and it's such a beautiful place to be.


Question: How did it feel to hear your song played all over the airwaves?

Courtney and Brittany Menegon: We were pinching ourselves a little and going WOW, is that really us... It just feels like we are in a dream or something.


Question: Did you have any pre-conceived ideas about the music industry?

Courtney and Brittany Menegon: Well we knew the industry was going to be really hard to get into and it takes a lot of hard work and determination to get there.


Question: Do you write your own songs? What's your inspiration?

Courtney and Brittany Menegon: Yes, we have written our own songs. Our inspiration is mainly life experiences, it just feels more real to sing about things that have actually happened or things that you feel strongly about.


Question: What music/artists do you listen to when you are not playing your own?

Courtney and Brittany Menegon: We listen to a wide variety of music, from dance to pop to rock etc. We always love listening to a bit of 2NE1, Wonder Girls, Katy Perry and Christina Aguilera though.


Question: What's next? Tour/Album/Single?

Courtney and Brittany Menegon: We are currently working on a one hour set with our DJ and two back up dancers. We are looking at touring that during the summer holidays.


Question: Was there a moment you contemplated throwing in the towel?

Courtney and Brittany Menegon: Never ever, we have way to much fun to throw in the towel! Music has always been our dream.


Question: Do you prefer performing live or recording?

Courtney and Brittany Menegon: They are both so different, but definitely performing live we love interacting with the audience and just seeing people smile and enjoying our music.


Question: What/who was your inspiration to go into the music industry?

Courtney and Brittany Menegon: From a young age we always dreamed about being professional musicians and we were really dedicated to put the hard work in to reap the rewards.


Question: What is the biggest challenge you have faced along the way to your musical success?

Courtney and Brittany Menegon: There has been a whirlwind of challenges that have come our way but we keep looking at the light at the end of the tunnel and focus on bringing our music to the world.


Question: What has been your favourite part of becoming a music artist?

Courtney and Brittany Menegon: We have learnt so much and we love learning new things. We just love making people smile and seeing people enjoy our music as much as we love putting it out there. We hope that young children will look up to us and see that if they have a dream they should never give up on it!


Question: If you could collaborate with another artist, who would it be?

Courtney and Brittany Menegon: We have always said that we would love to collaborate with Leehom Wang, he is just such a cool artist!


Question: What is the story behind the band's name?

Courtney and Brittany Menegon: We decided on the name RubyIce as Ruby is gemstone that symbolises protection and Ice is a diamond that symbolises unbreakable. We felt that this represents us best as we know we will always stick together no matter what gets thrown our way!


Interview by Brooke Hunter