A Vivid Reimagining Of The Classic Tale
Cast: Robert Downey Jr., Antonio Banderas, Emma Thompson, Michael Sheen, Marion Cotillard, Craig Robinson, Ralph Fiennes, Selena Gomez, John Cena, Jim Broadbent, Octavia Spencer, Carmen Ejogo, Tom Holland, Kumail Nanjiani
Director: Stephen Gaghan
Genre: Comedy, Family

Synopsis: Robert Downey Jr. electrifies one of literature's most enduring characters in a vivid reimagining of the classic tale of the man who could talk to animals in Dolittle.

After losing his wife Lily (Italian actress Kasia Smutniak), seven years earlier, the eccentric Dr. John Dolittle (Robert Downey Jr.), famed doctor and veterinarian of Queen Victoria's England, hermits himself away behind the high walls of Dolittle Manor with only his menagerie of exotic animals for company.

But when the young queen (Jessie Buckley, Wild Rose) falls gravely ill, a reluctant Dolittle is forced to set sail on an epic adventure to a mythical island in search of a cure; regaining his wit and courage as he crosses old adversaries and discovers wondrous creatures.

The doctor is joined on his quest by young, self-appointed apprentice Stubbins (Dunkirk's Harry Collett) and a raucous coterie of animal friends"including Chee-Chee (Oscar® winner Rami Malek), an anxious, self-conscious gorilla; Dab-Dab (Oscar® winner Octavia Spencer), an enthusiastic but bird-brained duck; the bickering duo of cynical, neurotic ostrich Plimpton (The Big Sick's Kumail Nanjiani) and chilly-but-chill polar bear Yoshi (John Cena, Bumblebee); as well as a headstrong parrot named Polynesia (Oscar® winner Emma Thompson), who serves as Dolittle's most trusted advisor and confidante"as well as his reliable conscience.

The epic adventure also stars Antonio Banderas (Puss in Boots) as pirate king Rassouli, lord of Monteverde isle; Michael Sheen (The Queen) as Dr. Blair Müdfly, Dolittle's nemesis at university and Queen Victoria's palace physician; Carmel Laniado (FX's A Christmas Carol) as Lady Rose, who catapults Dolittle and Stubbins on the adventure of a lifetime; and Oscar® winner Jim Broadbent as Lord Badgley, the noble assigned to protect the young queen.

Dolittle
Release Date: January 16th, 2020


About The Production
Development of the Adventure
Director Stephen Gaghan Weaves the Tale

For almost 100 years, the whimsical tales of Hugh Lofting's "Doctor Dolittle" have enchanted readers young and old. The hero's astonishing ability to master the complex tongues of animals great and small has sparked imaginations of audiences in multiple mediums, including literature, radio, stage, television and film.

Under their Roth/Kirschenbaum Films banner, which most recently produced Maleficent: Mistress of Evil, producers Joe Roth and Jeffrey Kirschenbaum had been developing the saga for some time. After Thomas Shepherd, Dolittle's screen story writer, came aboard and adapted Lofting's book series, the movie began to take shape. But it wasn't until Academy Award® winner Stephen Gaghan entered the picture that Dolittle began to be fully realised.

For Gaghan, the 1967 Doctor Dolittle film had been formative. "I'd seen the Rex Harrison version at a critical age," Gaghan says. "I was three or four years old at the time and was just captivated. I think it went in some dark corner of my brain and just nested; it was waiting for 50 years to come out."

When Gaghan met with the producers to give notes on the story, he found himself acting out scenes he'd like to see in his version of the film. "I'm an animal nut who grew up with a farm in Kentucky," Gaghan says. "As I've raised my own children, I've given each one their own story. I'd make up stories for my children every night.

Each of my four kids"from five to 19"has gotten their own series, which they think are from books. Instead, I'm flying by the seat of my pants." He also showed each of his children the Oscar®-winning animated film Spirited Away, from legendary filmmaker Hayao Miyazaki, when each kid was young. "I don't care if it's age-appropriate," Gaghan says. "It's a perfect film!" All of that – his storytelling to his kids, all the Miyazaki films (watched multiple times with each child), and that indelible memory of the Rex Harrison film helped form his vision for Dolittle. "You let all of that sit for years at a time…and here we are," he says.

In the simplest sense, Gaghan wanted to create a movie that would be both the first film that his five-year-old would experience in a movie theater, and also one sophisticated enough for his teenagers. "I wanted my kids to be captivated by it and have that sense of awe and wonder," Gaghan says. "I can't separate the family from the process. All the love I feel for my family life, in the gentlest way, is poured into my work on this movie. You have to imagine a world that can hold these multiple elements."

Kirschenbaum was certain that Gaghan would take the story to the next level, and the team agreed to let him rewrite the draft. At the center of the story is a boy named Stubbins, who steps into Dolittle's world, and Kirschenbaum appreciated that Gaghan planned to take a personal approach to Stubbins' journey.

"I think the notion of a young boy who feels like he's out of place in his space really resonated with Steve," Kirschenbaum says. "That's the character journey of Stubbins, a young man living in this world of hunting. He lives with his aunt, uncle and cousin, who are hunters. Stubbins doesn't want to kill creatures; he wants to save them. When he finds Doctor Dolittle, who has lost his wife and is mourning, two kindred spirits go on this journey of healing. Only through communicating and listening are they able to do that. By shaping the screenplay that way, Steve was able to elevate it."

For Gaghan, the film, and the character of Dolittle, connected in a quietly profound way to our loud, combative, polarized modern world. "If you look at it from a superhero paradigm, Dolittle is a superhero whose super power is listening," Gaghan says. "The reason that he can communicate with all these creatures is that he has this core of deep empathy. When the order of the modern day is demonization, Dolittle, at its core, is about the value of being heard. Every creature has something to say. There are points of view in nature that deserve our ear. You reel that back, and it plays out in the human community. Dolittle is about looking for the similarities versus the differences. Whenever any of us do that during our day, it makes us better."

Talk to the Animals
Robert Downey Meets Dolittle

When global superstar Robert Downey Jr. decided that his first post-Marvel Universe project would be tackling the beloved veterinarian's journey"and returning the inspired narrative to its Victorian England roots"a hero for a new generation of cinematic adventure seekers was born.

Roth and Kirschenbaum had reached out to Team Downey"the production company run by Robert and Susan Downey, the actor-producer's wife and long-time collaborator"and had found fellow creators who appreciated Roth's knack for reinterpreting classic tales. From Alice in Wonderland to Snow White and the Huntsman, the prolific producer has taken long-thought-familiar stories and translated them into blockbuster franchises. Roth and Kirschenbaum were certain that Robert Downey take on the brilliantly complex Dolittle would be one for the ages.

For his part, Gaghan grew up appreciating Downey as a great actor and began to shape his Dolittle around the performer's sensibilities. He began writing with Downey in mind. "Actors respect him as a great actor," Gaghan says. "Once you have Robert inhabiting this character, it felt so fresh, and the voice that came out of me when I was writing felt original, back to where the books were framed. But I didn't want to be beholden to those ideas. I wanted it to feel modern and have a modern psychology."

The director's first meeting with Robert Downey, was pivotal and shaped everything that followed. "We went to meet," Gaghan says, "and Robert asked, 'What decisions have been made on this movie already?' I could say to him, 'There's only been one decision, and that's why we're here. We want you to be this guy, and everything else is wide open.' He's a creative force who becomes a partner and you make the movie together. It was a huge decision, but the right one."

Robert and Susan Downey saw it as a great creative challenge and opportunity. "Joe Roth came to us with the version of the script that Stephen Gaghan had written," Susan Downey says. "They said that Robert was the person he had in mind when he wrote it. Robert and I read it, and we thought that it was so much fun. Who doesn't want to be able to think they can talk to their animals? At its core, Steve had created this epic adventure that we felt would be good for all audiences and families."

The Downeys have long believed that Dolittle should be an epic adventure for the whole family, as well as a tale of finding family and second chances where you least expect them. "My four-year-old or a 94-year-old grandmother can go and enjoy this movie," Susan Downey says. "It's a lot of fun. It's silly, the scope is big, but there are real themes at its core that"no matter your age, gender or race"it speaks to you."

Kirschenbaum found his fellow collaborator at the top of her game. "Susan was a top producer before she and Robert worked on Sherlock Holmes," Kirschenbaum says, "and she has produced all of his movies since. She was an amazing partner to us, and the two of them opened their house and their family to the production; they were so inclusive. We became a surrogate family as we shot; that extended to all the cast. The adventure that Dolittle and Stubbins"and the menagerie of animals"go on was symbolic of our experience on set."

With a shooting script by Gaghan and Dan Gregor & Doug Mand, the production was a go. "This is the most magical film we've ever done, and that's saying something," Robert Downey says. "It's always a miracle to me when things that have so many moving parts come together and equal something entertaining. As people are seeing it, they're saying they're moved by it and they're entertained. My long-suffering missus said it does have that appeal from four to 94. So, it's a mission accomplished with Team Downey.

"My dad will like the subversive humor," Downey continues. "For this generation of kids, sometimes things are rendered to the point of being shockingly photorealistic, or they're almost two-dimensional in how animated they are. This reminds me more of the kind of movies we had when we were growing up"like Fantasia and Mary Poppins"where there was a mix of both. I feel like Dolittle nails the visual flavor."

Susan Downey agrees with that assessment. "It reminds me of those classic movies like Chitty Chitty Bang Bang and Willy Wonka & the Chocolate Factory," Susan Downey says. "There's a tremendous amount of subversive humor, with a number of little sidebars. I know for a fact that my kids have a fantasy of being able to talk to animals."

The Characters

Dolittle
Robert Downey Jr.

A particular and peculiar genius who most people think is insane, Doctor Dolittle is a brilliant curmudgeon"one who has mastered almost all animal languages. The once-promising physician has suffered a devastating loss with the death of his wife, Lily, and in the years since her passing, he has grown weary of humanity and has dedicated his life to understanding the secret world of all other creatures. He doesn't care about "anyone, anything, anywhere, anymore." Although he's an unapologetic misanthrope"unparalleled at driving others away"Puddleby-on-the-Marsh's infamous veterinarian secretly longs for connection and family. Setting course for an uncharted island alongside Stubbins, Dolittle will draw from his most peculiar of gifts to save the queen…and his humanity along the way.

Downey chose to make Dolittle a Welshman. "I thought about the character as someone who has become a hermit and isolated himself due to trauma or emotional disappointment," Robert Downey says. "He's taken it upon himself to help animals only, but he's really given up on humanity. He secreted himself to this estate that was gifted him by the queen. I thought it'd be even better if he's Welsh because, even though the Welsh are part of England, they give the English a lot of guff."

That creative choice, however, presented some unforeseen challenges. "It turns out it was the single hardest accent on Earth and drove me crazy," Robert Downey says. "At least for the running time of the movie, it will be able to stand up to scrutiny. It's close to a Gaelic-origin language, and I had a lot of fun doing it. Michael Sheen was very much a proponent, and he gave me some tips. He told me about conversations he'd have with his dad, so I taped Michael a lot when we were doing it and I brought in a Welsh coach." Downey worked with dialogue coach Andrew Jack and Welsh consultant Tim Treloar, who were both on set during filming. Downey and Jack and worked together several times over their careers. "RDJ and I thought that Chaplin was the preparation for our work on Restoration and Sherlock Holmes and Sherlock Holmes: A Game of Shadows," Andrew Jack says. "But then Dolittle moved the goal posts and we ended up in Welsh Wales! But true to form, that wasn't a hurdle; it was a delight."

While Dolittle is a larger-than-life character in Lofting's novels, the reader isn't afforded the luxury of exploring the veterinarian's flaws. Downey's Dolittle is far more complex. "Robert wanted to craft an authentic character who was quirky and vulnerable," Kirschenbaum says. "Out of that, a heroism arose." Downey was also thinking as a producer, beyond his own character. "He was focused on how we could take this movie and expand the audience," Kirschenbaum says. "Robert was constantly coming up with ideas and characters. He is much like Dolittle himself, wrapping his arms around everybody around him. In front of the camera and behind it, he is incredibly inclusive and generous."

His director appreciates Downey's mercurial intellect. "At any moment, he could make you laugh, but he's a little bit dangerous," Gaghan says, "and that's the Dolittle that we find. Dolittle is smarter than everyone else. He's shut the world away and lives with a family of animals because he doesn't want to deal with humans. The animals sort of do what he wants but operate in conspiracies around him. Robert plays off that. He has a physical-comedy gene and can do any pratfall as well as the most technical acting. When we meet him in the film, Dolittle has moved from mourning to self-pity, the animals are tired of it, and all this is the stew from which Robert built his character."

Tommy Stubbins
Harry Collett

A mischievous boy who cares for animals deeply and decides he wants to learn from Dolittle once he sees what the doctor can do, 12-year-old Tommy Stubbins longs to find his place in the world"one far outside his tiny village of Puddleby-on-the-Marsh. Dolittle (begrudgingly so) takes under his wing this brave, skillful apprentice as they set sail on a journey of a lifetime. Proving himself adept at the most hidden of languages, Stubbins will discover his own power"alongside the wonders of the world that are hidden to almost all of humankind.

Gaghan loved seeing Robert Downey and the young Collett together. "In the dynamic of life on set, you had this masterful, Chaplin-esque actor working with someone who is all instinct," Gaghan says. "The fact was that their working relationship mirrored their on-screen mentor/mentee relationship. One is all instinct and talent, who wants to get to where the other guy is. Robert handled it with aplomb and good spirits."

Collett's scene partner is the first to rave about the young actor's skillset. "Harry is a rising talent and a star," Robert Downey says. "I remember seeing his screen test and we went 'Oh, my God. I wonder if that's what Tom Cruise was like when he was 11.' But he's very much his own guy and a really capable kid." Downey laughs: "My mentorship program to the next generation of actors continues."

The filmmakers had conducted an extensive search to find their Stubbins. "Harry always has an effortless smile and is so personable," Kirschenbaum says. "We did a worldwide search for Stubbins and saw thousands of boys. Harry didn't have as much experience as a lot of the others, but there was something genuine and naturally inquisitive in him. We wanted somebody who just felt real, and that wonderment in Harry's eyes is real."

Allowed to learn languages from duck to polar bear to gorilla, Stubbins has a gift that no one expected. Still, the most challenging element for Collett was using his imagination to picture the creatures with whom he'd interact. The animal characters in the film were digital creations, and so he didn't have a real giraffe or ostrich to communicate with. "I'd look up pictures of each animal to see how tall they're going to be, but VFX had a tennis ball on a stick to give reference," Collett says. "I like to have a big imagination and work with that to picture an animal there. Still, it's hard, because you're actually talking to a tennis ball on a stick but, in reality, you're speaking to a polar bear. But we had such a great thing when Robert and I were imagining all the animals on the boat. Since we weren't outdoors, it definitely felt like when the boat was rocking we were on a real boat. As soon as they said 'action,' we had to get in that world and feel like we were really there."v The performer had an education on set working with Downey. "When you watch Robert, you want to stare at him," Collett says. "He's like a film in himself; he knows every camera angle. He can see it. He puts in ideas, and he can just blank out and help out the director. He can do every single job on set because of how much he knows from previous movies he's done."

Lady Rose
Carmel Laniado

Attendant and future lady-in-waiting to Queen Victoria, the brave Eugenie Archer-Rose rescues Stubbins after the lad is ensnared in a trap on Dolittle's property. On urgent business from Buckingham Palace, Lady Rose insists that both Dolittle and Stubbins follow her back to the palace to help her save the queen from a mysterious illness. As Dolittle and Stubbins set forth on their adventure, Lady Rose, aided by dog Jip and walking stick Styx, will guard her regent, vowing to protect her highness at all costs.

"Lady Rose is confident, kind, determined, and she sees the beauty in everything and everyone," Laniado says. "She is very determined to be able to save the queen, as well as to help Stubbins believe in himself. Lady Rose can see things in people that most don't. When you meet her, you feel she's from a very strict royal family, but once you get to know her you see glimpses of her just being a normal child."

Dolittle marks Laniado's movie debut. "Carmel had never been in a film," Gaghan says. "But during her audition, she just held the center of the frame. You couldn't take your eyes off her. We loved her entire family, and knew she was Lady Rose from the minute we met her. We said, 'It doesn't matter what you've done before; it all starts right now. And from day one it seemed like this was maybe her twentieth film. She's a natural."

Rassouli
Antonio Banderas

There is only one place to find the famed Pirate King Rassouli, and that is at the Pirate Port of Monteverde. For reasons that aren't immediately clear, the lethal Rassouli is no fan of Dolittle. He also holds a deep secret about the good doctor, as well as a journal that holds the key to Dolittle's destination: the mystical Eden Tree Island. Rassouli loves his cats, and sleeps with lions near him.

While Robert Downey and Banderas have met over the decades, they've never had the opportunity to work together. "He recently opened a theater in Spain and had just come off the Genius series, where he played Picasso," Robert Downey says. "I realized I was actually meeting and getting to do live-action scenes with one of my contemporaries, and you just get deep appreciation for someone when you feel like, 'Oh, my God, we've both been doing this for about the same amount of time…decades!' Banderas slays it as Rassouli. He is fantastic."

Banderas prefers to attack his roles as if he is jumping off a cliff"without knowing if he will fall into rocks or into the water. He took that approach with Rassouli and found his first day on set to be one of the most intense of the production. "The first scenes that I have are in the dungeon, and Rassouli has just put Stubbins and Dolittle in there," Banderas says. "I have scenes with these two main characters, and I think, 'how can I affect them? The story that my character had in the past with them was perfectly written. I didn't need any more than that to understand that something went really wrong in the past, and I have to get even, especially with Dolittle. That gave me enough information to just jump into the character and create it for what I saw."

The actor appreciated the banter and repartee he shared with Downey during the production. "It has to do with chemistry, timing, rhythm and understanding of what you are doing that goes beyond words," Banderas says. "It is something that is in your skin. I had that with Robert from the moment that I met him and saw how collaborative he was. It's like proposing a game, and if the other person says, 'I know what that game is; I want to play with you,' then, it happens. There is no reaction or fear. There are no second thoughts or agendas. It's everything for the sake of the story and having fun as actors. I saw that in Robert from minute one, and I think he detected that from me."

Müdfly
Michael Sheen

Royal physician (and chinless wonder) Dr. Blair Müdfly is out of his depth trying to cure a terminally ill Queen Victoria. His proposed remedy to her mysterious illness is leeches to circulate the vapors. A school peer of Dolittle's at Edinburgh, Müdfly is quite jealous of Dolittle, and it doesn't become him.

Constantly searching for validation, Müdfly cannot stand the attention given to Dolittle at the palace, and his rage against Dolittle will lead him to seek revenge. He's played to perfection by Michael Sheen. "Michael brings such a dynamic performance to Müdfly," says Kirschenbaum. "He is this Salieri to Dolittle's Amadeus."

Gaghan agrees. "Michael's an actor's actor," Gaghan says. "I love him. He has such a fast processor. He showed up with ideas and ran through what he wanted to do for this character"a man who just wants to be recognized by Dolittle. A Salieri to Dolittle's Mozart. And every idea Michael had was better than you imagined. It was, 'Do that. Yes. Do that. Yes.' The level of acting chops Michael has made it fun for Robert and him to play off one another."

For his part, Sheen admits that he is always amazed by the detail that goes into sets on films like this. "Often, the audience won't even notice tiny details, as you see the sort of grand sweep of big sets," Sheen says. "But as an actor, it really helps us conjure a world that doesn't exist."

Much of that credit he gives to Gaghan. "I've really enjoyed working with Steve because he's a writer as well as a director," Sheen says, "so his imagination is so alive. I love that he would suddenly have ideas as you're doing a scene, and respond to what you're doing, which I think is a great quality to have. He'd allow us to come with ideas in rehearsal, then we'd go off in an unexpected direction. Steve has a rich imagination, but also at the same time, the technical ability to make it work in front of the camera."

The performer laughs when he considers the moments where he had to keep reminding himself that there were many animals in a room while performing in a scene. "You have to hang onto that, and it is great fun when you're able to play with that," Sheen says. "Even if it's just little moments like, in the first scene that I do with the leeches or suddenly there's an animal under your feet. It's like acting when you're a little kid; you don't have any props or sets or other people. It's the purest form of acting, in a way"just acting with your imagination."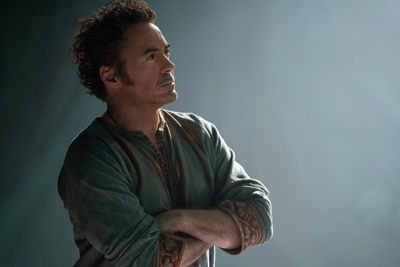 Badgley
Jim Broadbent

Should Queen Victoria succumb to her illness, Lord Thomas Badgley stands to become King Thomas the First. It's not unthinkable that he will do whatever it takes to ensure there is an orderly succession…and that the crown will pass to the house of Badgley. He's come from the House of Lords with grave concern about the queen's condition and dispatches a frigate, the Britannia, to follow Dolittle.

The production felt honored to have Oscar® winner Broadbent as part of its team. "For my money, I'm all chips in on Jim Broadbent being the greatest actor alive," Kirschenbaum says. "We were so blessed to have him on set with us. He brought such a layered performance to Badgley. This is such a nuanced character, and whenever Jim is on screen, it's a delicious moment for audiences."

Broadbent had worked with Jessie Buckley, who plays Queen Victoria, before on television's War and Peace, as well as with Michael Sheen, but it was his first time working with Gaghan. "He's an interesting director who finds different, exciting ways of telling the story," Broadbent says. "I've been fascinated seeing him work and getting to know him a bit."

As the majority of his scenes take place in the queen's bedchambers, Broadbent grew to appreciate Dolittle's exquisite set design. "It's a magnificent bedroom, with a great four-poster bed, velvet covers and wonderful pictures on the walls and furniture," Broadbent says. "It's a fantastic piece of design. I've never been in the grand bedrooms in Buckingham Palace, but it's how I imagine they would be."

Gaghan feels that Broadbent and Sheen, especially, offer a level of deliciously odd comedy to the story. "I wanted the feeling of Chitty Chitty Bang Bang that you can have danger and a tone you rarely see in movies about kids," Gaghan says. "If you're going to pay homage, why not Roald Dahl and Ian Fleming? We were cherry picking at a higher pay grade. On one side, you realize that Rassouli will feed you to a jungle cat. But on the other, there's this comedic accessibility that Jim, and particularly Michael, have. I call it 'life, plus 10 percent.' They're real to the time period and character but add 10 percent that is bigger than life.' You just go with it."

Queen Victoria
Jessie Buckley

Only 18, the young monarch has fallen gravely ill with a mysterious ailment. The youngest royal to ever ascend to the throne, Queen Victoria will show she has not only strength of character to rule…but the power to overcome any who might attempt to take what is rightfully hers. Her only hope is a cure that's never been tested from a tree that's never been seen…on an island that's never been found.

Before they began principal photography, Jessie Buckley read a biography about Victoria that helped inform her performance. "Victoria became queen about the age that she is in our story, and she was very much being puppeteered by the people within her courts," says Buckley. "When I had conversations with Stephen and Robert about what that was like to be in that room, she's at a place of extreme danger. Her strings are being pulled to the point where her life is threatened."

  The Animals

Well before casting began, Stephen Gaghan spent months imagining what each animal in Dolittle's tribe would look like, which in turn informed his voice casting. "You find pictures of animals and cast them," Gaghan says. "I'd think, 'That's the perfect mountain gorilla!' Then I'd have to articulate to the animators what it is about that animal that makes it perfect. Is it the cock of its shoulders? The light in its eyes, or it being bashful. You identify these human traits that underlie the visual language of the animal. It all comes down to brass tacks."

It was crucial to Gaghan to elevate the characters in Dolittle's life. He took each animal in turn and wove narrative and emotional layers into each character. "Dolittle's very much a hermit at the beginning of the adventure," Jeff Kirschenbaum says. "So many of these creatures"from the nearsighted dog Jip to the nervous gorilla Chee-Chee and scared ostrich Plimpton"have something to overcome. Steve wanted to have fun with these layered characters, as well as to imbue them with the unexpected. Only by coming together"where Doctor Dolittle is able to heal them"in return, they're healing this man who has receded from the world. On this journey with his new apprentice, Dolittle is able to emerge again to save the queen of England…and in doing so, save himself."

Once Gaghan and his producers found their ideal look for each animal, it was time to find the perfect voice actor to complement each creature.

Polynesia, Parrot
Emma Thompson

"The animals are constantly trying to help Dolittle be the best version of himself, to help him return to a glory that he had at another time," Kirschenbaum says. Polynesia was originally the parrot of Dolittle's wife, Lily. "Polynesia realizes that this is an opportunity not only to save the queen, but to save Dolittle"who has experienced great loss and, in turn, gone within himself," Kirschenbaum says. "He hasn't shaved or cut his hair, or frankly, bathed. What he also hasn't done is to bring any human friends into his life since Lily died."

Regal, vain and ferocious when called for, Polynesia "Poly" is Dolittle's oldest friend, as well as his conscience (and the only one aside from Lily who could ever call him "John"). Poly credits herself with introducing Dolittle to Lily, who brought the brilliant parrot to the manor to examine an issue with one of her claws. Dolittle listens to Poly most closely, even when"as is often the case"she is saying something he doesn't want to hear (e.g., "You can't ignore people…just because they're people!"). Poly speaks human better than any other parrot, and the gruff matriarch keeps a steady eye on all the family. No one, it's fair to say, was a more ideal choice for the role than Emma Thompson.

"It is strange doing a voice on a movie because you rarely encounter your colleagues in the flesh," Thompson says. "You visit studios"small ones"in various cities in various countries, often over several years, and say lines in what you hope is the voice you chose at the beginning. One time, I remember there was no studio available, so in an attempt to create the right acoustic, my saintly publicist had to be press-ganged into holding a duvet over my head as I spoke into the microphone.

"It's therefore much more of a guessing game than any other form of acting," Thompson continues. "If you are lucky"and I was on this production"you will get the chance to have the director and creators talk to you as you work and give you notes on the performance"and tell you exactly what is going on the screen. Then, after a while, you start to get the thrill of little sequences that have been finished and you can watch. It's slow and exciting at the same time."

Discussing the filmmakers' excitement at having the Oscar® winner as part of the Dolittle family, Susan Downey says, "We needed somebody who could go nose-to-beak with Robert. You need somebody who can reign him in, and if anyone can, Emma can." Indeed. Just ask him. "Just hearing her voice gets me in line," Robert Downey says, and laughs.

Jip, Long-Haired Lurcher
Tom Holland

Jip is purebred royalty, whose sense of smell is overdeveloped because of his poor eyesight"so much so that he can almost see without his thick glasses. Almost. Alongside walking stick Styx, Dolittle's trusty canine is tasked by his professor to keep watch over Queen Victoria while Dolittle seeks out a cure for what most ails her. Brave, protective and wildly loyal to his mates, Jip is just the guard dog for the job.

"Tom Holland is in Dolittle because of Robert," Gaghan says. "Tom did the movie because he loves Robert. They're very close." Having Holland as Jip in the adventure proved to be a professional coup for the director and canine lover. "Every movie I've ever written," Gaghan says, "the main character has had a dog. Until now, we had to cut the dog because it was too expensive."

For visual effects supervisor John Dykstra, one of his favorite characters also happened to be Holland's favorite. "I like Jip the dog because…well, I like dogs," Dykstra says. "Dogs are tough to do well as virtual characters because people are so familiar with these animals. We know how they move and what their expressions mean, so you really have to do a detailed and accurate version of the character and their animation"to fool the audience into believing a real dog can talk like Tom Holland."

Dab-Dab, Duck
Octavia Spencer

Dab-Dab is motherly and ditzy and a little bossy. A kind American Pekin, she's warm and loving, while not always the most talented nurse. The one duck on Earth with a wooden foot, Dab-Dab is as forgetful as she is intensely faithful to her family.

"I'm not sure why Stephen and Robert thought of me for the part of a bird-brained creature, but I'll take it as the back-handed compliment I know it was intended to be," Octavia Spencer says, laughing. "I find voiceover work one of the most intriguing aspects of performance. It reminds me of why I got into acting in the first place. The parameter-less ability to use our imaginations to the fullest"allowing a peg-leg duck to find her bravery on an adventure that will save Queen Victoria"is just brilliant. Hugh Lofting infused such humanity in his characters, and Stephen such kindness into this telling of his tale. Dab-Dab is equal parts heart, bravery, delusion and a testament to soldiering on. I just adore her."

Plimpton, Ostrich
Kumail Nanjiani

Painfully unaware he can't fly or swim, Plimpton is a large ostrich who takes issue with serving as Dolittle's trusty steed"especially once he thinks his rider has gained a bit of weight. You're more likely than not to find the nervous Plimpton with his head shoved in a planter. However, Dolittle has helped the bird with daddy issues discover the calming effects of endorphins, and his new (almost) happy place is rollicking across the globe alongside frenemy Yoshi, the polar bear.

Kumail Nanjiani was the only option in the director's mind. "Kumail is hilarious," Gaghan says. "We were working together on a TV pilot together for HBO, and I knew that he had to be in Dolittle. In the middle of our call about the other project, I asked him to play a scared, neurotic ostrich. He started doing the character's voice like, 'I don't see you, because I'm not here…' and agreed to be in the film. I feel like the entire movie was cast with this luck."

Chee-Chee, Mountain Gorilla
Rami Malek

A young man in ape years, the wildly shy Chee-Chee"whom Dolittle is teaching confidence"loves games, words, riddles and factoids. Freed by the Dolittles during a rescue, Chee-Chee has remained eternally grateful. Despite being nervous and inseparable from his blanket, the hyperventilating mountain gorilla is playful, clever and very strong. Plus, he makes an excellent chess partner for Dolittle, as well as, at a pivotal moment, a tough wrestler against hungry tiger Barry.

"Chee-Chee is this magnificent beast who is completely misunderstood by his own kind," says Rami Malek. "His intellect, curiosity and compassion are infectious, and I love that the world-weary Dolittle"a man who has grown to distrust humans"takes him under his wing. Chee-Chee is deeply connected to Dolittle, and this beautiful ape must put aside his fears to protect his chosen family. It was important to Robert, Stephen and me that we show the character's tortured soul and surprising humanity.

"I've done some vocal work for video games and television," Malek continues, "but to be able to bring to life this fully realized creature in an epic adventure was a particularly proud moment. Plus, it was insanely fun to imagine and mimic the vocal ranges of gorillas. I spent countless hours listening to their vocalisations on the internet, as well as trying out dozens of grunts and roars with Stephen."

For the director, it was a bit of good fortune that he found Malek when he did. "I knew that Robert was close with Rami, and I am a number-one-super Mr. Robot fan," Gaghan says. "I was prepping the movie in London and having coffee one morning, and I looked over and Rami was sitting right next to me. I told him 'This is serendipity. You have to be in this movie.' I explained the idea of Chee-Chee to him, and he said, 'Okay!'"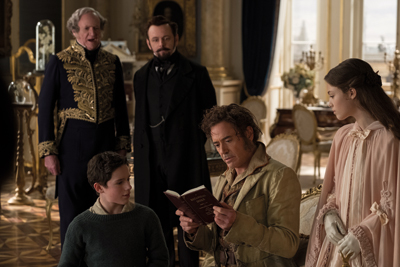 Yoshi, Polar Bear
John Cena

Although he's a polar bear, Yoshi hates the cold. The gentle giant likes nothing better than finding a bit of sun or spot by the fire to help his poor circulation, and he's that friend you know you can count on. Craving warmth, Yoshi is the first to sign up for a tropical trip to both Monteverde and the mythical Eden Tree Island. When not arguing with Plimpton, Yoshi is the first to take the plunge and help Dolittle and whale Humphrey on a rollicking underwater mission.

"I've always had such a great time immersing myself in voicing characters, and I love the fact that Yoshi is so conflicted," John Cena says. "He's a massive polar bear who despises being cold and seeks comfort further south. Like Ferdinand, he's such a gentle giant"who lumbers along sheepishly with his giant ski cap"yet will rise to the call when it is time. Yoshi's so reflective of the heart, humor and sensibility that Robert and Stephen bring to Dolittle. When deciding how to give him life, I followed their lead…taking the expected and completely flipping it on its head."

The filmmakers describe Yoshi as a larger-than-life cheerleader who is relentlessly optimistic. They felt that Cena provided the perfect personality. "Yoshi is so positive, but you realize that there's real heart in there and a reason that he's like this," Susan Downey says. "You get a glimpse of his backstory, an

Adds Robert Downey, "John has got my attention and my respect, because I've never voiced anything in animation. The couple times I've tried I've either quit or have been fired because it's a very specific skill set. He just nails it, and he really got into the kind, soft heart of Yoshi."

Kevin, Squirrel
Craig Robinson

Kevin is an adorable but gravely wounded squirrel who knows he is "too beautiful to die." A survivor through and through, Kevin wants to get out into the world and experience everything it has to offer. When Stubbins accidentally shoots Kevin"and Dolittle and his medical crew save him"the cheeky (and slightly homicidal) squirrel begrudgingly joins Dolittle and Stubbins as their guide…even if his agenda may involve exacting sweet revenge on the accident-prone boy who caused him grave injury. "Kevin's log…day 12."

Craig Robinson loved playing him. "Even though Kevin was a bit dramatic"and possibly even a little self-serving, he made me a better man," Robinson says. The producers loved that Robinson had so much fun with the role. "Kevin is a total scene stealer," Susan Downey says, "but that's why you get Craig"you're hoping that he's going to steal a scene."

Betsy, Giraffe
Selena Gomez

One of the most selfless of all Dolittle's crew, Betsy"whom Gaghan named after his daughter"often volunteers for tasks and responsibilities. She may seem like a kind, chatty giraffe, but she's also wildly brave and swoops in to save the day when Stubbins needs a ride to Dolittle's vessel, the Water Lily. She's also an outlaw escape artist"she and fox Tutu are wanted in three forests"and Dolittle's private compound has provided the perfect refuge and hideout for them. Still, Betsy has no issue jumping into the fray to take matters into her own hooves.

"What I so appreciate about Dolittle is that no creature"human or animal"is what she seems to be at face value," says Selena Gomez. "They all come to Doctor Dolittle for different reasons or ailments, and the creatures have formed this unlikely, beautiful family. I especially love that Betsy and Marion Cotillard's character, Tutu, are the face of the resistance. They rely upon the best qualities of the other"refusing to wait for any other saviors"to swoop in and rescue any member of their chosen family who's in trouble. Betsy was such a joy to voice and has a special place in my heart."

When the production team was thinking of who to cast, Gaghan's daughter insisted it had to be Selena Gomez. "My daughter told me, 'You have to cast her because she's an amazing human," Gaghan says. "Selena's an amazing person.' My daughter was right. Selena is genuinely a wonderful human."

Tutu, Fox
Marion Cotillard

The Leader of the Fox Resistance, Tutu is the embodiment of courage. With ancestors that are the uncatchable desert foxes, Tutu is extraordinarily proud and always pragmatic. When she, Betsy and Poly put their heads together, there is nothing they can't accomplish"especially successfully getting Stubbins onto Dolittle's ship before it sets sail for Monteverde and Eden Tree Island. Betsy's nimble navigator from atop her giraffe steed, Tutu's motto is "Vive la résistance!"

By casting the Oscar® winner as the fierce and fearless character that Gaghan says he based on "my 10-year-old semi-feral skater girl," the production continued to add to its embarrassment of vocal riches. "I knew Marion from hanging out at Café Gitane in New York," Gaghan says. "Trust me, she is the coolest."

His fellow filmmakers agree. "Marion Cotillard is simply awesome," Susan Downey says. It was a joy for Cotillard, too. "What I love about Tutu is the navigator-pilot dynamic she has with Betsy, played by Selena Gomez," says Cotillard. "The fox and the giraffe are willing to jump into situations and make sure that their loved ones stay safe. From the second that they enter the story, you gather they have a fascinating history together. They're best friends working to right the wrongs of the world."

Mini, Sugar Glider
Nick A. Fisher

Whatever this baby sugar glider lacks in the way of knowledge, she makes up for in precociousness. Mini wants to see the world, and Dolittle's adventure to Eden Tree Island proves the perfect opportunity. The adorable stowaway marsupial uses her flying-squirrel imitation as a ticket for the ride of a lifetime…and proves her bravery and skillset at just the right moment. "Mini is a superhero," says visual effects supervisor John Dykstra. "She is super fluffy, super sweet and super fearless."

Humphrey, The Whale
Tim Treloar

Like all whales, Humphrey is shockingly intelligent and never chose to be guardian of the ocean. With the advent of fossil fuels, he and his kind had no option but to rise to the challenge. On this adventure, the Welshman Humphrey will serve as the most powerful whale-drawn carriage on the high seas, rocketing the Water Lily and Dolittle's crew away from certain danger…and deceiving Dr. Blair Müdfly when the time is right. "I know Humphrey always feels honored to assist his fellow Welshman, Doctor Dolittle, any time he travels by sea," says Tim Treloar, who doubled on the production as Downey's Welsh dialect coach. "Especially as the Doctor would never bring a plastic bag anywhere near the ocean."

James, The Dragonfly
Jason Mantzoukas

Once Dolittle and crew arrive at Monteverde, they rely on the help of nervous dragonfly James to broker a critical negotiation with some mafia-esque carpenter ants. Still preoccupied after suffering an unexpected heartbreak, James proves a nimble guide at getting Stubbins into the dungeon. Whether or not he'll help the apprentice out, however, depends on his ability to stay focused on the task at hand.

"James has a great personality and I love the face of the character with his googly eyes and darting motions," says visual effects supervisor John Dykstra. "The challenge here was to take a very non-human insect face and give it emotional content. Jason Mantzoukas' performance does such a good job of voice and delivery that you are charmed by a character that you basically dislike."

Barry, Tiger
Ralph Fiennes

An 800-lb Bengal tiger with complex mommy issues, the brilliant, migraine-suffering Barry was a patient during Dolittle's first stay at Monteverde. Killer of approximately 872, he is the wryest, drollest and most ironic of all apex predators. Barry's grudge against Dolittle is rooted in perceived resentment that Dolittle abandoned their therapy just as Barry was making progress.

Some of Robert Downey's favorite days of production were the stunts required to escape from Barry in Rassouli's dungeon on Monteverde. The fact that Ralph Fiennes would voice the creature made it that much more delicious. "Obviously, Ralph's a national treasure and it's very befitting that he would play a tiger," Robert Downey says, dryly. "He's got tiger energy. He's got tiger blood. If I'm not mistaken, and it's almost impossible that I am, he was the first voice session that we did in production. He really set the bar."

Says Gaghan, "I had chased Ralph for at least three films. Relentlessly. Somehow, I'd gotten his cell number… and he was endlessly patient talking through roles with me. Only he never ultimately did any of them. I had a feeling, though, from all those phone calls, that he would really relate to Barry the Tiger. It's just the best dream-come-true when you write something that you can only imagine one person doing… and then they do it!" He adds, joking, "Incidentally, Barry is named for my former therapist, Barry, who was delightfully calm, but you just knew he was some kind of repressed killer."

Don Carpenterino
David Sheinkopf

Leader of the carpenter-ant colony on Monteverde Island, Don Carpenterino"alongside his chief Army Ant (Matthew Wolfe)"negotiates with dragonfly James the price of help for Dolittle to gain access to the journal secreted in Rassouli's quarters. Ants are known worldwide for their lock-picking skills, and it is Don's daughter, Sheila, that broke James' heart.

Dragon
Frances de la Tour

Guardian of the Eden Tree. Spitter of fire. Possessor of a broken heart"Dragon is wise and world-weary. This happens when you live 20,000 or 40,000 years. Even she has lost count. If Dolittle's unique veterinary skillset can offer relief to painful emotional issues that have prompted her gastronomic ailments, he may just survive her volcanic wrath.

Styx, Walking Stick

The phasmid Styx survived in the wild by posing as, well, a stick. The leaf insect first came to Dolittle's Manor to air a grievance"something one of the prides of Family Phyllidae thought quite unfair. Tasked as a secret weapon at the palace, the 12-eyed Styx, who has enchanted Lady Rose, will prove critical in protecting Queen Victoria.

Elliot & Elsie, Capuchin Monkeys

An inseparable pair of capuchin monkeys, Elliot & Elsie were responsible for reading Dolittle's contract for the very sanctuary all the animals call home. Unfortunately, monkeys are not the best estate attorneys. Luckily, they are brilliant at sending out the call for help to whale Humphrey when he's needed the very most.

VFX and SFX Of Dolittle

Two-time Academy Award®-nominated visual effects supervisor Nicolas Aithadi and two-time Oscar®-winning visual effects supervisor John Dykstra were tasked with the gargantuan project of bringing the animal characters to life within their scenes. While it was key for Stephen Gaghan to emphasize the majestic themes of the Victorian era, the director also wanted to make Dolittle wildly accessible for modern audiences"balancing Hugh Lofting's imaginative ideas with modern techniques in VFX and SFX.

It was crucial for Gaghan to ensure that the production's CG creatures were photo-real, so they'd feel like actual animals. "That's the magic," Gaghan says. "You take a commonplace location, a house with a yard, then put a real polar bear in that setting. You can't have them behave like cartoons. That's not interesting. What's interesting is capturing the truth and dignity of the animals as they interact with Robert as Dolittle and each other. I wanted every animal to have an issue"from an injury to an ailment, that had brought them to Dolittle originally. After all, he's the famous animal doctor, so the animal world would know that when you really are in trouble there's one person to see." He pauses. "I also just really wanted Yoshi in that alpaca hat. I just had to figure out a reason why he'd wear it…Voila, a polar bear who's always cold."

Working in close coordination with assets from Oscar®-nominated SFX supervisor Dominic Tuohy's (Solo: A Star Wars Story, Mission: Impossible"Rogue Nation) division, the VFX team would ensure that audiences believe animals really can talk…if only you figure out how to listen.

Parrot House Calls and Tiger Fights
Humans and Animals Interact

Whether Dolittle was dunking his head into octopus Leona's aquarium in the queen's palace or performing surgery on Kevin the squirrel"or Chee-Chee and Dolittle were playing mice chess"there is rarely a scene in the epic adventure in which computer-generated animals and live humans aren't interacting. It proved a Herculean task to bring CG animals throughout the entire film…not to mention making them seamlessly interact with sets and human actors.

Under the coordination of VFX producer Roma Van Den Bergh (HBO's Game of Thrones), VFX stuffy wranglers"the crew that works with stuffed versions of the animal characters"were responsible for all live puppeteering. Whether it was in Rassouli's bed chamber as Stubbins attempts to navigate a sleeping pride of lions or ensuring that Styx could whisper in Dolittle's ear all the things she saw that went down in the palace while he was gone, the puppeteers served as green-suited human surrogates for Dolittle's virtual characters.

This meant that the film's computer-generated animals would eventually touch, tumble and interact with appropriate eye lines and real-world physics.

One such sequence is the morning when the animals come to invite Stubbins to join them in their adventure. Harry Collett moved around his character's bedroom set interacting with a stuffy of Poly the parrot. "The stuffy was staged and choreographed by the director and a puppeteer to move and be in the proper positions for the dialogue interactions between the characters," Dykstra says. "When the sequence was edited, the stuffy was replaced with our computer-generated parrot."

The crews of stunt coordinators Simon Crane (Unbroken) and Glenn Foster (Sherlock Holmes)"as well as second-unit stunt coordinator Steve Dent (Guardians of the Galaxy)"worked closely with the VFX divisions to navigate scenes that required physicality and movement of the actors and stunts performers.

In the dungeon-fight sequence in which Barry the tiger is ready to slice and dice Dolittle, Barry was portrayed by a green-suited fight choreographer. He and Robert Downey went through an elaborate fight routine, with wrestling and full-body contact. The performer's hands and body interacted with Downey's body and costume. "Once the sequence was edited for the movie, the green-suited performer was replaced with our computer-generated tiger," Dykstra says. "The performer's hands and body were replaced by the tiger's claws"making it appear that the computer-generated animal was actually moving Robert and his clothing."

On-set "animal" performers from Shaun McKee as the lumbering Yoshi and several of the lions and Josh Jefferies as the on-set voice for Chee-Chee"as well as fellow creature thespians JANe Leaney, John-Luke Roberts and Richard Soames"worked with Robert Downey and Gaghan to give exact shot and vocal references as the team acted alongside them. Similarly, when Collett as Stubbins was helping Dolittle with a delivery, he put small green-screen cylinders in an apron that would eventually become puppies.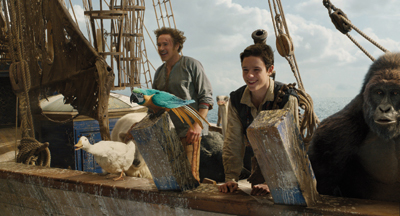 Polar Bears Don't Use Hammers
Postproduction VFX

Visual effects supervisor John Dykstra, who focused his work in postproduction, walks us through key elements of this process. "I did all the on-stage supervision during principal photography," Dykstra says. "I joined at the beginning of postproduction working with EP Jonathan Liebesman and the VFX team to integrate the beautiful animal characters whose animation was supervised by [Oscar®-winning animation supervisor] David Shirk."

In the postproduction phase of Dolittle, Dykstra collaborated with the team to establish the visual personalities of the animals. The creatures needed to move like real animals and not like anthropomorphic cartoons of the characters. "David was dedicated to making sure that the action that our characters performed was in keeping with the realities of real animals," Dykstra says. "For example, Yoshi couldn't use a hammer because he doesn't have opposable thumbs. Similarly, Chee-Chee the gorilla doesn't always walk vertically on two legs."

Along with the way the characters moved, the VFX and animation teams needed to determine facets such as how hair was groomed, the color and brightness of the eyes"as well as special traits like the tracery (light patterns) that covered creatures such as Dragon. For her, the crew drew from bioluminescence references of insects, animals and sea creatures. "We were trying to get a realistic look and feel to the VFX," Dykstra says, "so the way the light patterns were integrated into Dragon's skin needed to be something that called to mind real-world versions of our fantasy character."

In addition to character lighting, their surroundings often had to be seamlessly blended. For the team, the dragon's cave sequence was particularly difficult because they had two types of somewhat magical light effects to integrate.

"Dragon's cave itself had skeins of bioluminescence that reacted both positively and negatively to the actions of people in the cave," Dykstra says. "The dragon has a similar tracery of light that reflects her state"both physical and emotional. Anger and pain show up as differences in color and brightness of the tracery pattern. The difficult part of having both of these light effects in the cave was distinguishing between them. We had to avoid getting the two things confused."


Locations and Production Design
Dolittle Manor
"Home of Dr. John and Lily Dolittle. We treat all animals"walk, hop and fly-ins accepted."

Alongside second unit director Simon Crane (Fast & Furious Presents: Hobbs & Shaw), unit production managers Simone Goodridge (Maleficent) and executive producer Sarah Bradshaw spearheaded the laborious work of pulling all aspects of Dolittle"including locations and sets"together. "I have loved my time working with Joe and Kirsch," says Bradshaw, whose recent credits include Last Christmas and The Mummy. "Joe and I also worked on The Huntsman series"Snow White and the Huntsman was my first project with him. A lot of the time when you're reimagining fairy tales, you have to remember the story of why it's still loved after hundreds of years and then add a modern twist to that, be it changes to the story, costumes, set design, VFX, etc."

Production designer Dominic Watkins also worked with Roth and Kirschenbaum on both films in The Huntsman series, and a number of aspects of re-imagining classic tales for a new generation motivated his and Oscar®-nominated set decorator Lee Sandales' (War Horse) decisions. Below are key sets and locations of the film, shot in and around Shepperton Studios outside of Shepperton, Surrey.

Dolittle Manor

The queen herself gifted Dolittle the animal sanctuary where he and Lily could continue their study of animal communication. It's this beautiful manor that"along with the queen's workers"the Dolittles figured out how to retrofit the space so that it worked for both humans and animals. With glorious grounds for grazing, an animal feeding machine, doctor's bag with tools for every creature, curated parchment, ancient scrolls"and a tree growing in the middle of the house"Dolittle's library and parlour are the epitome of 19th century architecture.

"I looked at hundreds of houses," Gaghan says. "It was super important that it feel like a real place, not a build on a set. I knew we'd build the interiors, but I wanted the interplay of light and garden, the means by which the animals enter and exit what is of course also their home, to feel very real. And we found it at this beautiful home, Cothay Manor, in Somerset near Wellington. You can visit it. It figures every year on homes in England with the best gardens. It's so magical. The second we drove up, we knew this was the place"Dolittle's house. Some of the most important 'casting' we did."

In the film, Dolittle has modified the house for his non-human friends. "Both inside and outside, there are walkways that are better for animals," Susan Downey says. "Inside, he's created a contraption to make them meals every day, and there's a little train that runs around that the mice ride on. The whole concept came from our wanting to create a unique environment that you felt came from the mind of Dolittle…so that Dolittle and his animals could live together as equals in the house."

Puddleby-on-the-Marsh

A rural, one-street village with two rows of small-stone buildings, Puddleby-on-the-Marsh was shot in Langley Park. There, you will find Stubbins' home. When we find Betsy and Tutu leaning over Stubbins' bed in his small bedroom, we know it's time for the adventure to begin.

"We ended up building Puddleby as a set," says Bradshaw, "as we couldn't find a village that we could take over and control. Removing the 21st century is always challenging, and we had a specific brief for its look. I have done many films with production designer Dominic Watkins now, and he is both creatively inspiring but also gets the practicalities of time and budget."

Queen Victoria's Chambers

Michael Sheen, Jim Broadbent, Jessie Buckley and Carmel Laniado spent a great deal of their time during production on the set of Queen Victoria's chamber at Buckingham Palace. Replete with wainscoting, ornate furniture, four chandeliers and all things opulent, the set also included a number of antique dolls, original drawings of octopi, magnifying glasses and medical equipment.

"I think this room is really where you see Dom Watkins' brilliance," Gaghan says. "The set had to do so many things. And it's all imagination. Buckingham palace as we know it wasn't built at the time of our film. Or maybe it was being moved. But suffice to say it wasn't the scale and magnificence of our palace. The bedroom needed the intimacy and emotion of a private place belonging to a young girl who also happens to have recently become Queen of England. So, it needs to reflect her childhood passions while also giving way to the formality and responsibilities of ruling. And, of course, hold a huge action sequence. Dom just nailed it. All of his design was just brilliant. He can truly fit a camel through the eye of a needle."

Water Lily (Dolittle's Vessel)

Perched on a massive collection of gears, which allow for rocking and swaying to commence, the Water Lily"named for Dolittle's dearly departed"sat on a mechanical platform. Crewmembers outside used long poles extended from the platform to rock the set back and forth to simulate the movement of the ocean.

Monteverde Port

This island of bandits and thieves was once the place that Poly, Dolittle and Lily called home…until Dolittle made an enemy of King Rassouli. Rassouli's palace, including bathing chamber and bedroom"as well as a secret passageway under a giant painting of a tiger"may all be found here.

The Monteverde set also plays home to Rassouli's dungeon, where Dolittle meets Barry chained up and negotiates a "don't eat me" plan. This also includes an indoor courtyard with carved stone, shackles, cells and torture instruments.

One of the set decorator's challenges was Rassouli's bed chamber, where he sleeps. "He has all his cats around him and cats like to play with toys," Lee Sandales says. "Therefore, it became like a jungle gym combined with a bedroom. We had to create an environment big enough to take large cats. We replicated the ideas of what it would look like to live with these animals and scaled them up."

Eden Tree Island

The fruit from the Eden Tree on the island of the same name is said to have magical healing powers. This set was championed by the greens department and ensured that everything a dragon could possibly need (and eat) was nearby for her gastronomic pleasure.

Dolittle Sanctuary

The final set on Dolittle's production wasn't in England at all, but rather in Southern California, where Robert and Susan Downey have their own mini zoo in Malibu, which began with two tiny kittens, followed by two goats, Trigger and Memo. It expanded from there. "Now we have two other rescues, Cutie Boots and Flash, who are very sweet," Robert Downey says. "We have four alpacas"Madre, Dandy, Fuzzy and Miss Brain"and two pigs named Pops and Ladybug. I believe they're a brother-sister act. Our most recent additions are some Oreo cows named Oreo and Strawberry. At last count, I think 17 chickens?" He pauses. "I want a pack of dingoes." Not so fast, sir. "Okay, we're not getting that," Susan Downey says. She laughs. "But I also said no to the cows, so we'll see what happens…"

The Props
Pirate Ships, Mice Rocking Chairs and Hazelnut Blood Donations

David Cheesman, who served as property master on Dolittle, has worked in this capacity on epics from Roth's The Huntsman: Winter's War to Steven Spielberg's War Horse and Paul Greengrass' Captain Phillips, as well as Joe Wright's Pan and Alex Kurtzman's The Mummy.

When discussing his inspirational process with director Gaghan and Team Downey in creating props for this universe, the craftsman says he turned to the past. "I drew mostly from Victorian doctor references," Cheesman says. "I visited the veterinary school in London and imagined from the script and talking to Steve how it would evolve. I created props based on realities that RDJ came up with…as well as Dolittle's extra-long stethoscope idea at the last minute."

As Dolittle's sanctuary has not only state-of-the-art equipment, but rarefied books and tools John and Lily discovered during their cherished adventures together, the good doctor's home is strewn with old tomes, medical instruments and more. "My favorite part of every day were the visits to Dave's warehouse/laboratory," Gaghan says. "He'd be making the most beautiful books for Lily's journal, or have a collection of 19th century surgical instruments, giant animal props, maybe a perfect example of a luxury carriage from Victorian times. It was a magical place. He has the best eye there is."

In Dolittle's home, Cheesman's tiny props needed to meld seamlessly with the VFX crew's tiny mice riding a miniature railroad train and a miniature elevator. "I tried to imagine what would be lovely for children to see," Cheesman says, "with little animals and the props, but always referencing real human items in scale. For example, we included not a regular-sized rocking chair, but a tiny one for a mouse or a spider." That extended to the tiniest of details, which only the eagle-eyed viewer will catch. During surgery on Kevin the squirrel, Cheesman says, "Instead of blood groups such as A-positive and B-negative, we had 'hazelnut' and 'walnut.'"

At Rassouli's palace on Monteverde, Cheesman and team crafted an ornate throne for the pirate king, weather-hewed wooden signs and sanded-stone lion sculptures. This set was a particularly fond memory for the craftsman. "We punched a cannon ball inside Rassouli's chair to give the impression of a near miss," Cheesman says.

For the queen's chamber at Buckingham Palace, Cheesman had to account for all of Dolittle's animals that were interacting within the room. "This changed many times due to the requirements of the animals' arrival in the palace," Cheesman says. "My biggest challenge here was creating the tank where Leona the octopus lives. RDJ's goggles in this scene were also great fun, and we based them on a motorcycle/welder goggle from the past."v During the crew's work building the ships at Shepperton, the props department had key functions as they created the Britannia and the Water Lily. The team felt as if they were kids again, imagining themselves setting sail with Peter Pan and Captain Hook. "There's always a little child in all of us in this business, and it was lovely to go to work and push the reality to make things feel wondrous or funny," Cheesman says. "Stepping onto a pirate ship in the morning, who couldn't love that?"

Cheesman has particularly fond words for his fellow heads of departments. "Our DP Guillermo Navarro is a real character; he's old school and just gets it done," Cheesman says. "Our production designer, Dominic Watkins, is very unassuming and has an incredible ability to cut through all the various needs/personalities and come up with the answers, and our costume designer Jenny Beavan is an incredible, kind, creative lady."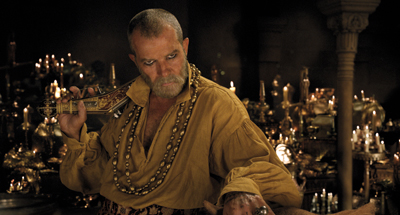 The Cinematography

Pure of Heart
Seeing Through a Childlike Lens

Director of photography Guillermo Navarro, who won an Oscar® for his work on Guillermo del Toro's Pan's Labyrinth"and who has shot four films with Antonio Banderas"marks his first production with these filmmakers. "I tend to look for movies that allow me to create a reality…as opposed to just document one," Navarro says. "It's either movies that belong in the past or in the future"or in parallel realities on fantasy. The moment that I heard about Dolittle and its possibilities, it fell right into the things that I like to do."

What particularly drew Navarro to the story was Stubbins serving as the cipher for the audience to regain our compassion for creatures great and small. "The world of the adults doesn't have the empathy for life that the world of children does," Navarro says. "A child has a stronger connectivity with understanding that animals have rights, and this movie has all those ingredients. It's through Stubbins' eyes that we can connect again to the world of animals, and then of course Dolittle is the executor. You must be pure of heart to see things that are otherwise hidden to the common eye. Animals feel, think and learn, and I hope that this movie will bring that sense of empathy for life."

Discussing his collaboration with Robert Downey, Navarro offers that they were fortunate to craft a healthy, creative working relationship. "It was extraordinary to find that we could interact that way," Navarro says. "Robert and I started building a relationship on how I was shooting"how I was implementing the film language of the movie and how he was incorporating that in his ideas. We discussed the positions where he was and how freely he wanted to move, and so the blocking of the scenes in the camera allocated all that. I enjoyed his company and the interaction with him, and he always had interesting things to say and to bring to the table."

Shooting with Invisible Characters

When dealing with digital creatures in production"and essentially having invisible actors in front of the camera"the cinematographer needed to reserve space for what the VFX department would later be adding. "It was important to also have that space respected by the actors who were working around the animals," Navarro says. "There was a dynamic that had to be observed throughout the shoot where you had to know where they are, and they had to be part of the frame…even though the frame seems off balance.

"There's more weight on one side of the frame, but it's because you're respecting a zone," the DP continues. "Also, if the shot contains animals and people moving, people must be aware that they're not stepping on the creatures or crossing them oddly. You must have a discipline about it and"in a combination with the imagination of what the performance is"you need the eyelines of the actors. The eyelines must have a clarity in where they are, as well as the angle that you're looking. We had animals that are taller or smaller than the actors, so all that had to be worked out, and there were all kinds of marks to see who is where."

When actors were interacting with the performers in green costume (references for the film's animals), they naturally wanted to have contact with their scene partners. "The physical performers that were dressed in green suits allowed VFX to create the character on top of them," Navarro says, "and that's a very good way to reserve the space, even if the animal is bigger. Everything has to be protected in that sense."

Filming on Location and in Soundstages

As Dolittle and Stubbins travel from Puddleby-on-the-Marsh to London and Monteverde to Eden Tree Island, Gaghan and Navarro had to approach each location differently. "There's a combination of all the classic elements that you have in the set," Navarro says. "All ingredients"how the set is dressed, proportions, light sources and costumes"become part of the canvas. These are the ingredients of the picture, and they represent different cultures. They have diversity in different climates and, because we shot everything in England, that was more of the difficult aspect. We go from tropical islands to Buckingham Palace in the exterior. So, we shot the interiors not knowing how that day would be when we were doing the exteriors. It's a lot of decisions that you must accommodate. The visuals are reacting to the sets and to the physical conditions of that, and that's how you start putting together the images you're crafting."

Adds Gaghan, "This was one of the most challenging aspects of the film – the blend of real and fantasy. It goes a long way to setting the tone. If it's too fantastical, the talking animals will be expected. If it's too real, it feels banal. During the film, which is really a huge adventure, we go to an animal island ruled by a pirate king, a magical island built around a mythical tree with magical fruit, that is, incidentally, guarded by a very old, talking dragon. And yet it all has to feel grounded in the possible, in the childlike hope we all have that this could really be possible. The photography of Guillermo Navarro and the sets by Dom Watkins worked together beautifully to bring off the needed effect."

The Music

Avoiding Character Themes
Danny Elfman Composes

Four-time Academy Award®-nominated composer Danny Elfman"who has worked with producer Roth on films from Alice in Wonderland to Oz the Great and Powerful and Downey-starring movies such as Avengers: Age of Ultron"brings his signature sound to Dolittle.

For the filmmakers, there was no contest: Elfman is the best in the business. "I never heard another score for this movie than Danny's work," Gaghan says. "I wanted it to have that joyous, slightly unhinged, Simpsons, Tim Burton quality. I was living in a house in Notting Hill, and Danny came into the kitchen with my kids running around with household chaos. We were humming ideas at each other for three hours. In the cab on the way back, he came up with the main theme for the movie and sang it into his phone. He did a little work on it in the cab, sent it to his studio in L.A. and they did a little technical fix-up on it. About 45 minutes after he left my house, he sent back the main theme of Dolittle. And when we were in London recording the final score, nearly every piece of music in the movie still radiates from his moment of inspiration in the taxi."

Susan Downey loved working with Elfman. "I don't know who could have done this score other than Danny," Susan Downey says. "Dolittle has action, adventure and real heart"while it's also quirky as heck"which forces us to have to tick a lot of boxes when it comes to composers. Danny's music does all those things effortlessly. He is unpredictable, and therefore his scores are incredibly unique. He brings the quirky fun, plus the movie's mystical-magical quality…as well as the heart at its core."

Susan Downey believes that when you hire someone like Elfman, you're asking him to elevate the movie musically. Beginning their process together by naming each cue in the film, the producers introduced intention to Elfman and passed the creative baton. "Each time we went over to his studio to hear the next round of cues, it was very exciting," Susan Downey says. "We wondered, 'What are we going to hear today, and how is Danny going to change it up?' He made entire sequences very intentional. In editing, you try to find the right rhythm and length to sequences that have been shot to make the story work. Just with his cue from beginning to end of a sequence, Danny complemented and elevated all our choices."

Although she would be hard-pressed to pick her favorite, Susan Downey believes that two of the recurring themes that Elfman chose for the movie are standouts. "The first incredible one is the theme created between Dolittle and his animals that captures the essence of their family," Susan Downey says. "What Danny says about each theme is that it should be something that's not only memorable, but one that can be distilled very clearly into just a few memorable notes"one that builds up into something massive. Throughout the movie, throughout the score, we hear different variations on that same theme. This allows it to be familiar but dressed up each time for a new situation."

Likewise, the producer was drawn to the theme Elfman created for John and Lily Dolittle, as well as the fanciful movements within each cue. "It's simply beautiful," Susan Downey says. "Dolittle's wife has passed before the movie begins, and he is hurting inside. Whenever he sees something that reminds him of Lily"or is doing something that they would have done together"that theme creeps in. It's heartbreaking and absolutely beautiful."

As Dolittle has many visual effects that were in various stages of rendering as Elfman scored, the composer was often responding to sketches on the screen. The producers worked with him to give intention to every scene. "Once we filled him in with what a scene would eventually look like," Susan Downey says, "Danny would say, 'I know exactly what I need to do.' The movie takes you on this epic journey, and Danny brings that grandeur to it. Still, he brings a unique sound to each of our lead characters as well, and that's something that as a fan of Danny's music always is looking for. He nailed it."

While Elfman ultimately scored Dolittle at the storied AIR Studios in London with an orchestra, his more-than-a-year process with Gaghan began quite simply. For the composer, it was an easy entre. "I met Stephen, and we hit it off," Elfman says. "It was very much his asking, 'Do you want to do it?' and I said, 'Sure, let's start!' I'm a big fan of Robert Downey as well and welcomed the fun challenge of writing a big, epic narrative type of a score for this classic story."

Elfman was pleased to be brought into the process quite early and began his work inspired by rough sketches. "There was a lot of artwork early on, and I started writing little bits and pieces to just the art before there was a movie," Elfman says. "For this type of score, the most important thing is coming up with simple and effective themes. We found the themes early on"both from the artwork and visiting the set while Stephen was shooting, hanging out a bit. I started getting a feel for it, and once I had that then everything fell into place."

As iterations of Dolittle's story have been told in many different formats, Elfman had little interest in treading familiar ground. "I approached this in the same way that I would approach any kind of classic story"one based on a series of books that's been known for generations," Elfman says. "For example, I wanted to give Dolittle a very different feel and tone than Alice in Wonderland. The fact that the movies are so different makes it easy to keep them from sounding alike, actually."

Although some composers prefer to create multiple character themes, Elfman has long eschewed that route. Well, almost always. "I avoid character themes except when I absolutely have to," Elfman says. "The one exception is if it's a cartoon movie and you've got a very clear super bad guy."

The artist believes the music and intention become complicated when a film has five, six themes or more. "If you want an audience to remember a score, you must keep it to two or three thematic pieces," Elfman says. "The important thing for me is not playing a theme for a character, and no character has a theme in Dolittle. The story has a theme, and the different sides of the story have thematic pieces that play them; the fundamental theme here is what I call the 'family' one. It isn't Doctor Dolittle's theme. It's one that plays the coming together of a family of diverse creatures.

"The other is a romantic theme that plays every time we refer to Lily, Dolittle's beloved wife who has died," Elfman continues. "Then there are little subthemes that play this-and-that different elements, but melodically there's the two primary themes. The score follows the movie, so as the movie develops"as does the themes and the tone"the score becomes more adventure-oriented, while part of it stays very heartfelt. Even though it's a big film, it still feels like a charming, lovely intimate one. It's expansive but still about coming together and creating family. That's what appealed to me in the first place, and I hope that's what people take away from it."

Time and time again, the musician finds himself returning to productions that are animation heavy. Having been a part of the production since early sketches, animatics and 2D renders, it was thrilling for him to see the film come together in its final form. "It's been so enjoyable to see Dolittle come together," Elfman says. "For months, I've worked to storyboards"sometimes unfinished animated sequences"and I imagine what they might look like. Then, suddenly at the end, all these shots come in, and I go 'Wow! That looks amazing.' I've been scoring a film to pictures of polar bears and ostriches"getting glimpses of what these extraordinary animals look like. That's the great surprise because as a composer we don't get to see what scenes and characters look like…until we're either close to being done or actually finished."

When it came to his collaborators, the composer returns Susan Downey's kind sentiments. "It was a lovely film to work on and a lovely crew of people, and it all went down very smoothly," Elfman says. "I'm grateful for that. What I like about working with Susan is that her input is very clear and concise, and when you're a composer, that means a lot. You don't have to go through a strange kind of alchemy or psychoanalytical process to figure out what is or isn't working. "Her kind of clarity makes the composer's job much more enjoyable and simpler. Every time I played music for her, she'd respond quickly and clearly. Her notes were concise and always understandable, and that takes a great amount of stress out of the process."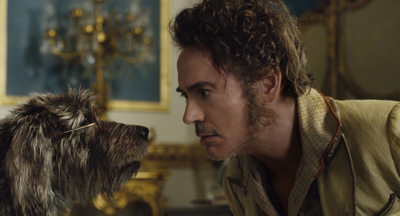 The Costume Design

A Wolf in Sheep's…
Jenny Beavan Dresses the Good Doctor

Two-time Oscar® winner Jenny Beavan, who worked with Team Downey on both films of the Sherlock Holmes series, returns to dress the cast of Dolittle. From aristocrats and the queen's guard to ruffian would-be-hunters and dishevelled veterinarians, Beavan relished the tasks ahead of her on this massive production.

She knew she'd found a kindred spirit in director Stephen Gaghan once they were introduced over Skype. "Steve lives in Los Angeles and I live in London, and during our initial meeting, the first thing he did was show me his dog, Mouse, and happily my ridiculously opinionated cat, Button, was sitting next to me. We bonded over a discussion about Dolittle's mythical voyage, as well as the creativity that Robert brings to a production. Soon after, I began a mood board of images to spark ideas and give me a sense of where I wanted to go."

Beavan appreciated the contrasts in the screenplay and aspired to underscore those as much as possible. She found opposite ends of the spectrum in designing for the world of Müdfly, who trained in his student days alongside Dolittle. "You've got a wonderful sort of separation in this film," Beavan says. "The court of Queen Victoria is very fussy and formal and dark against this wonderful world of Monteverde where Doctor Dolittle has a relationship with the people there. That island has a joyous, bright, colorful feel. It's completely mythical, so we created a world for that."

Executive producer Sarah Bradshaw was inspired by Beavan's energy and vision. "Jenny has worked with Robert before, and I worked with her on Alexander many years ago now," Bradshaw says. "She is one of the most talented costume designers in the U.K., and she understands character, story arc and humor."

When crafting Dolittle's signature costume, Beavan was inspired by images that Robert Downey sent of the character who inspired his take on the veterinarian. "Very early on, Robert showed me pictures of a 19th century Welsh doctor called William Price, who was very strange and absolutely real. He was a druid who wore rather eccentric green-velvet 'pixie outfits,' I would call them, with dagged bottoms to his trousers."

The more that Robert Downey and Beavan learned about their inspiration, the more they grew fascinated by his look. "Dr. Price was a vegetarian who cured people through that, and he also got cremation legalized in the U.K.," Beavan says. "Robert sent me this completely bonkers, wonderful picture of Price wearing a onesie with druid marks, and that was a great starting point. I took that and sent Robert back some images, and then we made outfits in prototype form and went to Atlanta to fit him. He put everything on and did wonderful poses. Susan said, 'This is a great start.' He's worn every single piece of clothing pretty much that we've given him, but not necessarily as I would've. He made the outfits work because he's working within them."

When we first meet Dolittle in his sanctuary, he is an unkempt, bedraggled mess who has been living by himself for the better part of a decade. After the animals clean him up and send him to the Queen's palace, he looks quite dashing. Then it's onto the Water Lily and a pirate disguise at Monteverde…before he takes off on Rassouli's vessel and finds pieces to supplement his wear. All those locations allowed the costume team room to play with the signature outfits.

Because they have collaborated on two other films, Beavan and Robert Downey have a shorthand with their style, and she appreciates how he finds elements in the story to weave into his characters' wardrobes. "When you read the script, you cannot see how he would change at all," Beavan says, "but Robert loves building these tweaks in. He just loves clothes, and the whole thing of dressing up. Still, he's so charismatic facially, that few noticed what he is wearing!"

When it came to pirate king Rassouli and his tribe of bandits, the costume designer's brief was to deliver pirates that no one's ever seen before. "I wanted to give Antonio Banderas a unique 'Monteverde' look, and he took to it," Beavan says. "By the time we fitted him, I'd been starting to design all the pirates and my team had taken it on. We were getting fantastic stuff made, and so I knew where the characters were going. I just wanted to make him the king of all my other pirates. As Rassouli is a vegan, I had buyers scouring Covent Garden market for weird bits of fruit to use. We were very keen to keep off leather and use dried fruits, nuts and seeds as our embellishment."

Because she was creating a new world for Dolittle, the costume designer's team required scores of helpers. Drawing a great deal from stock for the Victorian Court and pieces the team brought in from its uniform makers in Poland"the entire queen's guard of beefeaters' uniforms were handmade"was only half the challenge. Beavan underscores that the skill of the crew is having people who are brilliant fitters as well as incredible makers.

For their parts, Stubbins and Lady Rose are two sides of the costume coin. He is a young boy who doesn't quite fit into his family in their Welsh village, and Beavan tried different looks for him"including a waistcoat at one point. "We thought that it was a little bit too classic period," Beavan says, "So, I found this rather nice sweater at Cosprop, which is the costume house that always saves the day. But of course, when you're dealing with a child actor, you not only have a photo double, you have a stunt double, and then they have an evolution. You need an awful lot of said sweater."

The costume designer admits that she needed Stubbins to be gobsmacked when he first meets Lady Rose. "I wanted her to be like the fairy on the top of the Christmas tree," Beavan says. "Absolutely completely different from him. We tried a very simple, pale color for her, because everyone in his Welsh village is rustic and dark and woolly and check-y. She has just come from the queen in a very pale look, but what I loved is that we put her in clogs. She's sensible and knows it'll be muddy underfoot. It's a bit like modern kids wearing a party dress and Doc Martens."


Dolittle
Release Date: January 16th, 2020