7 Miles Below The Ocean Surface Something Has Awakened
Cast: Kristen Stewart, Vincent Cassel, John Gallagher Jr. , T.J. Miller, Mamoudou Athie, Jessica Henwick, Gunner Wright
Director: William Eubank
Genre: Action, Drama
Rated: M
Running Time: 95 minutes

Synopsis: Seven miles below the ocean's surface something has awakened.

The crew of the Kepler mining operation understood there would be hardships on their mission: Thirty days confined to the narrow corridors and cramped cabins of an undersea rig built to withstand the incredible pressures of drilling at the bottom of the ocean. But in the aftermath of a devastating earthquake, all hell breaks loose. Alarms shriek and wail as torrents of water explode through the reinforced concrete structure with unimaginable force, tearing it apart in a matter of seconds. Through her quick thinking and resourcefulness, electrical engineer Norah Price manages to save herself and stave off imminent disaster, but at great cost.

Unable to send a distress call, and with their escape submarine destroyed, things look bleak for Norah and the other few survivors. She and the remaining crew"the captain, Lucien, marine biology student Emily, operations expert Smith, systems manager Rodrigo and resident smart-ass Paul"are left with no good options. Their only shot at survival lies in walking across the ocean floor toward a distant, abandoned rig, the Roebuck, and hoping that its communication equipment is still in good working order, or that there are enough escape pods to take them all to safety.

But their perilous journey is made even more treacherous as they begin to suspect that they're not alone beneath the waves. Something is following close behind them, ready to strike at any moment. Locked in a dangerous cat-and-mouse game with a mysterious predator, Norah and the others find themselves hunted and must summon every ounce of their courage if they hope to reach the surface alive.

Underwater
Release Date: January 23rd, 2020


About The Production
A Mysterious Threat. An Isolated Location.
Survival Is Not Guaranteed.

In 1979, Ridley Scott's landmark Alien brought the horror genre to outer space. In 1989, James Cameron plunged a submarine crew into danger below the depths in The Abyss. Tapping into what both of those films did best and introducing exciting characters and creatures that feel entirely new, Underwater offers sci-fi and horror fans a compelling, visceral adventure set seven miles beneath the surface of the ocean and anchored by a fearless central performance from critically acclaimed actress Kristen Stewart.

Stewart is Norah Price, a gifted electrical engineer who becomes the de facto leader of a band of survivors after disaster strikes beneath the waves, forcing them to evacuate the mining rig where they've been living. Five thousand miles from land, they struggle to find a way to make contact with the surface in the hopes of calling for a rescue, soon realizing that a harrowing march across the bottom of the ocean might be their only path to safety. Slowly, and with growing horror, Norah and the group begin to understand that they're also facing a very different kind of threat: a biological threat that's existed for ages undetected in the murkiest depths. Suddenly, the possibilities of escape seem that much more remote.

The best genre films always are somehow rooted in the real world, and from the start, Underwater was conceived as a wildly ambitious blend of science fiction, action, horror and humor, yet one that could plausibly take place in the not-too-distant future. The film began its journey to the screen as a genre-bending pitch from screenwriter Brian Duffield, whose credits include the third installment in The Divergent Series, 2015's Insurgent. Duffield's initial script immediately captured the attention of the experienced team at Chernin Entertainment.

They saw at once the inherent potential in the story of an undersea mining expedition gone wrong and what happens when the characters must go to extraordinary lengths to survive in the unforgiving environment.

"The simplicity of the concept initially drew me to the film," says producer Jenno Topping. "The movie follows a group of individuals attempting to move from point A to point B on the bottom of the ocean while outrunning a monster. This type of structure and its affiliated themes felt original within the thriller-horror space. It built upon the traditions of both of those genres while exploiting a really cool mysterious environment: the bottom of the ocean where 95% of it has yet to be explored."

Adds producer Tonia Davis: "You could call this a survival movie because it's survival against the elements"you just don't know what those elements are. One of the things that we love the most about this undersea world is that there's so much unknown, and it's actually unknown not even that far off the shore."

The producers recruited Adam Cozad (The Legend of Tarzan) to refine the screenplay and deepen the relationships among the characters: Norah, Captain Lucien, marine biology student Emily, operations expert Smith, systems manager Rodrigo and scene-stealing jokester Paul.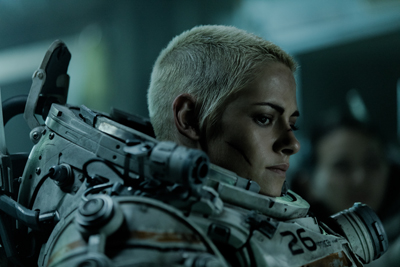 Cozad turned to Alien for inspiration, but equally important was Cameron's action-packed 1986 sequel, Aliens, both of which, of course, featured Sigourney Weaver in her iconic role as heroine Ellen Ripley.

"When it came to the character of Norah, she's a bit of an homage to Ripley," Cozad says. "It didn't matter if Ripley was male or female, and that made her such a trailblazer. No one else had really done a character like that. That was the real inspiration, to try to write Norah as a character where her sex really had nothing to do with what her arc was. That felt like a very authentic representation of a character. It felt like the world we're living in right now, it's the right message to put out there."

As the screenplay took shape, the producers searched for a director who would be able to sustain the white-knuckle tension the story required and who would feel comfortable with the visual effects necessary to tell a story set entirely under the ocean and introducing new aquatic species. William Eubank proved to be the perfect choice. After a well-received indie debut, Love, the writer-director-cinematographer broke out with his second feature film, The Signal, a twisty scifi thriller that made waves when it premiered at the 2014 Sundance Film Festival.

Once the former cinematographer pitched his vision for the movie, it was clear that there was no other filmmaker for the job. "Will Eubank felt exciting to us as a filmmaker," says producer Topping. "In initial meetings, he had a striking sense of curiosity. He was obsessed with discovering how little we know of the mysteries surrounding the ocean's depths. Visually, we were drawn to him because he is an incredibly confident and inventive filmmaker. Beyond his talents creatively, he is energetic, smart and a tireless worker, all qualities that ended up being crucial to the shoot."

Adds Davis: "He was full of energy and enthusiasm and had visualized the whole thing. When he's pitching ideas to you, it's like they already exist in his brain. He said, 'This is how we're going to open the movie.' And literally, even the camera that we used is what he talked about in that very first meeting. That gives you a sense of the precision with which he approached this process and this project. He really knows exactly what he wanted."

For his part, Eubank was excited by the script's themes of survival against the odds, the mysteries beneath the ocean surface and the inherent claustrophobia of the setting. "Our fears of the water and the unknown are so intense," he says. "The second you're in the water, you're out of control. You can't breathe. It's totally dark. The deeper you go, the weirder it gets. There could be anything down there."

Eubank and Cozad worked together closely to avoid the tropes of the "monster movie"; it was important to them both, as well as the producers, to keep the audience guessing and to ratchet up the tension as the story evolved. "There's a lot of movies that have one monster, and you have to set them up in a very particular way," Cozad says. "This is very fluidly and very organically creating this escalation that in a normal horror movie you can't do. The stakes just keep going up."

As the screenplay progressed, Cozad would send drafts of various scenes to the director, who would build computer models to help determine how the sequences might look when they played out on the big screen. "He was building these CG representations on his computer on the weekends that were so much cooler than what I had in my mind," Cozad says. "His image of it that he would render was so much more epic."

To test out some of Eubank's wildly ambitious ideas, the filmmakers did a one-day test shoot to create a 90-second piece that would serve as a proof of concept. In it, a member of an underwater mining crew hears something over the radio that doesn't sound right, walks across the ocean floor to check on a coworker in another area and finds her missing"only one of her gloves remains behind. As he turns, a monster leaps at him as if from nowhere. The studio liked what it saw, and Underwater was a go.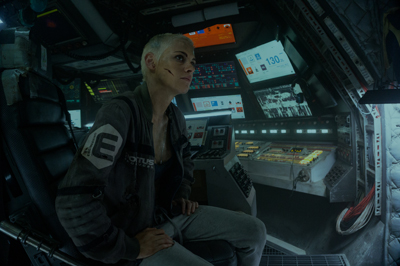 The Characters And The Cast

Once the story was established, the filmmakers sought to assemble a stellar team of actors to bring the crew of the Kepler mining operation to life. They began with the lead role of Norah Price, an electrical engineer haunted by her troubled past. "She's tough, she's cool, she's enormously capable and she doesn't suffer fools," says producer Tonia Davis of the character. "Norah's journey of the movie is really going from a place of not being sure about her role in the world to being enormously certain and taking on the mantle of both leader and shepherd for the rest of her crew"and then also facing her own demons and her past, which we discover along the way."

Finding a gifted actress who could deliver a nuanced performance while holding her own in breakneck action sequences was paramount. From director Eubank's very first meeting with the producers, there was only one actress he could envision as Norah: Kristen Stewart. "She's so dramatic, and she's so charismatic," says Eubank. "Her face, without her even saying anything, delivers so much. The things that she's able to do subtly, with just a nuanced facial expression, are incredibly powerful."

"Norah starts this film completely caught unaware," says Stewart. "She's quite literally caught with her pants down, brushing her teeth in the morning, when the rig explodes. People tend to get emotional or show different colors in trauma, and Norah is closed off, a little emotionally unavailable. In the course of the movie, you find out that she's in the midst of a pretty intensive grieving process and she really doesn't think she has anything left to lose. Just when it might be too late, she realizes that there's really never a point where you have nothing to lose. There's always something to keep fighting for. Life is precious. Then she really finds her feet and becomes a hero."

"I love watching Kristen on screen because she always conveys a unique combination of strength and vulnerability, which was exactly what the character of Norah required in spades," says Topping. "The whole point of her character was to cause the audience to lean further in, hoping to understand what she is hiding of herself."

Although the physicality of the role helped shape Stewart's performance, her connection with the character was immediate and required little in the way of training or research. "I didn't have to prepare for the role," Stewart says. "They're not soldiers. They're completely normal people doing a job working somewhere they were told was safe but was not. What she's good at is fixing screens and tightening screws and making sure the oil rig runs functionally, but she's definitely not somebody who knows how to survive a situation like this. So, the most preparation I could have done would be to be as present as possible."

It was Stewart's suggestion that Norah's head should be shaved. "Kristin was so game from the very get-go," Davis says. "Literally, 48 hours later, 72 hours later, we were at a hotel room with a hairdresser, and she was shaving her head and dyeing it blonde. To meet somebody who was so immediately committed and not just willing to do the intensely hard work of shooting this movie but also was really willing to completely transform herself to do it? That was just inspiring to us all."

Caught in this predicament with Norah is the captain of the Kepler Station, Lucien, a good soldier who knows the lay of the land and the possible route the remaining members of his team can take to survive. He's determined to get everyone out alive. Veteran French actor Vincent Cassel had both the dramatic chops and the gravitas necessary for the role. "Vincent has an amazingly powerful, enigmatic air about him that just screams captain of an underwater mining vessel," Eubank says. "He's super tough. He looks like he could give you great friendly or fatherly advice. But he also looks like he could wrestle a bear if he needed to."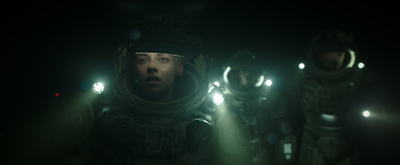 The same could not be said of Emily, a marine biology graduate student who possesses tremendous academic knowledge of both deep-water plant and animal life but very little experience working in the field. When disaster strikes, she's terrified and must dig deep within herself to find the courage necessary to continue on. To portray Emily, the filmmakers chose Jessica Henwick, who was previously seen as the warrior Nymeria Sand on HBO's Game of Thrones and accomplished martial artist Colleen Wing in Marvel's Iron Fist.

"Emily, in some way, serves as the audience's eyes in that her reaction to everything is very real and innocent," Henwick says. "Since most audience members will not have gone through this situation, she's probably the closest point of contact."

Smith, a good-natured operations expert who shares some history with Norah, does his best to help Emily through peril. Having been based at the Kepler facility almost as long as Lucien, he's the designated optimist of the group. John Gallagher, Jr., who starred in the films Short Term 12 and 10 Cloverfield Lane, won the role. "He's a good-hearted person who cares a lot about the safety and survival of the team, about getting everybody else out alive," says Gallagher, Jr. of Smith. "There's an everyday quality to all the people in this film. They're really tight-knit, and they take care of each other, and they depend on each other."

"He's warm, he's funny, he's smart and he's super engaged," Eubank says of Gallagher, Jr. Adds Davis, "John is charming, sweet and handsome, and like Smith, a little nerdy."

Mamoudou Athie, whose credits include the series The Get Down, The Detour and Sorry for Your Loss as well as the films The Front Runner and Patti Cake$, plays Rodrigo. A systems manager who is emotionally and spiritually grounded even under duress, he inspires Norah to confront her traumatic past. "There's just so much soul and power in his eyes," Eubank says. Rounding out the group is Paul, a macho welder with an ego to match his imposing physical size. With a fair amount of technical know-how, he's spent more hours outside the rig than anyone else doing the underwater equivalent of space walks. A surrogate big brother to Norah, he does all he can to protect her. At the same time, Paul has a great sense of humor. And a stuffed rabbit he cherishes. "Will came to me and said he thought we should add a little bit of levity and a little bit of fun to Paul, who had been originally conceived as just a tough guy," Davis says. "There was only one actor we could all think of who's big and strong and burly on screen but who could also keep us going on the fun journey that we wanted to be on"that was T.J. Miller."

It turns out that Miller, who was coming off HBO's hit comedy Silicon Valley, was fascinated by the underwater world; The Abyss is one of his favorite movies. After meeting with Eubank, he was impressed by his vision for the project and his earlier work. "I thought he would give me the space to make this character whatever I wanted it to be," Miller says. "Plus, there's not a movie like this in the landscape right now, and that's often what attracts me to stuff. There's no movie that is Aliens crossed with The Abyss crossed with a completely new kind of claustrophobia that's going to be in this film."

In Underwater, time is short and oxygen is in short supply, and the characters must surmount every new obstacle to have a second chance at life. "The fact that the story all takes place underwater feels thematically compelling to me," Topping notes. "This sense of claustrophobia feels like it mirrors the evolution of Norah as she evolves over this extremely compressed period of time. You become incredibly emotionally attached to her and root for her to survive against all odds so she can have a chance at life again."

As Norah grapples with her personal demons and the literal monsters all around her, Topping is optimistic that the audiences who turn up ready for excitement and thrills will connect with her journey on a deeper level, too. "I hope they go for a ride and indulge in the fun and scares of the film"and maybe when they leave the theaters they take with them the emotional catharsis of watching a character choose to not only live, but to fight for what they want out of life," Topping says.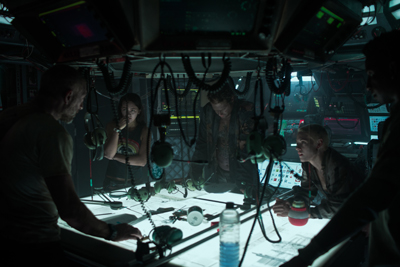 About The Production

Underwater was filmed in New Orleans across three soundstages and a few exterior sets, but the hurdles the production faced were significant. "One of the most difficult aspects of this production was that a majority of the story had our characters traversing the ocean floor," says producer Jenno Topping. "This meant we had to figure out how to realistically convey that the characters were underwater. To do this, we used a combination of visual effects, placing the actors in water, and utilizing technology that we created specifically for the shoot."

Director William Eubank worked closely with cinematographer Bojan Bazelli and production designer Naaman Marshall to shape immersive environments that would help transport the actors into the confining spaces in which the story unfolds. Complicating matters for Marshall, most of the Kepler sets"the hallways, the suit rooms, the control rooms, the barracks quarters"had to be designed to shake or to be flooded or to be set on fire, and then they often needed to be completely redesigned, repainted and restructured to function as suit rooms for Roebuck, the decommissioned station that offers a last chance at survival for the beleaguered crew. It was important that both the Kepler and the Roebuck sets looked weathered and worn, as though they had been miles beneath the ocean for years.

Marshall describes the film's visual aesthetic as "future past," while producer Tonia Davis adds, "Visually, there are elements reminiscent of sci-fi, heavy metal and anarchy. The look and feel of the movie were meant to be utilitarian, lived in, a little punk rock, a little bit futuristic." Marshall also wanted to amplify the sense of claustrophobia and confined spaces by building sets with very low ceilings. "I even put insulation on the walls just to even bring it in further," he says. "It was all about not having these big, vast spaces."

Underwater's dynamic opening sequence quickly sets the tone for the film in both pacing and style. Norah is first glimpsed inside the crew locker room before disaster strikes"things are eerily quiet, and there's a sense of danger close by. "The locker room was really important for me to have a space which, when we open up the film in it, you don't know where you're at," says Marshall. "I liked the idea that you could be in a locker room at a high school or a college, or you could be in some sort of corporate building, just playing with the muted colors and opening on Norah in that environment."

Once the Kepler facility is breached and water comes rushing through, the audience quickly has a chance to understand the massive scale of the mining operation, which was designed to be able to believably house between 30 and 60 people, with crew quarters, a cafeteria and a command center that serves as the control room.

"The control room started out as this really claustrophobic space that we wanted super cramped, lots of monitors," Marshall says. "I think we had over sixty monitors in the set, and the set was no bigger than, you know, 16' x 20'. We had super-low ceilings, and we put in a light box that everybody could congregate around. It was that moment where we actually meet everybody in the same room. We get to know the characters within that moment."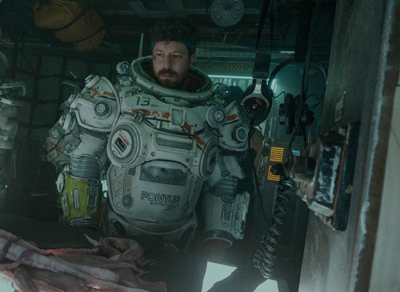 The sets also were constructed and painted in such a way to accommodate a "dry-for-wet" approach to filming. Dry-for-wet, which was also used on such recent films as Guillermo del Toro's Academy Award®–winning period fantasy The Shape of Water and the astronaut drama Lucy in the Sky, sees the production film scenes that are meant to take place in water on dry stages rather than, say, filming the action in enormous tanks. During filming, specialized lighting effects help create the illusion of a full-scale aquatic environment on soundstages, which can be flooded with fog to enhance the effect. The actors (or their stunt doubles) perform movements on wires or in harnesses to appear as though they are floating.

In post-production, state-of-the-art visual effects are used to create the appearance of the scenes unfolding entirely underwater with digital waves, bubbles and particulate matter. "We're shooting a movie at the bottom of the ocean, but we're not really at the bottom of an ocean, so we're using a lot of technologies to get there, both low-tech and high-tech"visual effects, digital effects, special effects," Eubank says. "Basically, if you can think of it, we're probably using it to some degree."

For the scenes in which characters go from dry environments (like the interior of the rig) to, say, the ocean floor, the production team built a transitional wet-for-wet environment, constructing tanks that could hold tens of thousands of gallons of water. One set known as the "moon pool" was rigged with elevators on top of the tanks, allowing the actors to be submerged into the water for specific shots. "It's a room designed to take you from a dry environment to the bottom of the ocean," Marshall says. "You go down this elevator in a pressure chamber and then, by the time you get to the bottom, the doors open up and you're able to go out on the bottom of the ocean." Throughout, lighting was critical. Cinematographer Bazelli and his crew controlled the light and shadows seen on the set remotely, adjusting every detail as needed. "Bojan was able to build an atmosphere and a mood that would both enhance the film, enhance the adrenaline and the performances," says Davis.

The dry-for-wet approach also greatly impacted the way the actors moved in certain sequences and the way that stunts were performed. Stunt coordinator Mark Rayner was responsible for designing the rigging and other devices designed to emulate the gravitational force and pull of walking underwater. "When I first read the script, I was super excited because there's a ton of action," says Rayner. "When Will said we were going to shoot a lot of it dry-for-wet, I was a little surprised. Stunt coordinating, you're usually looking to do things with tons of energy, tons of speed, but in this instance, trying to stage action underwater, I was like, wow, we're going to have to slow everything down, and that's going to be the challenge."

"Initially, we were going to have the actors wear knee and elbow braces to slow down their movements to replicate being underwater," Rayner continues, "but once we got in the suit, it was pretty authentic, just naturally heavy and slow. Without any visual effects, when you watched the monitors, it looked like they were underwater without any help there. We all had a love-hate relationship with the suits. They look authentic, but they were definitely a challenge for everyone, even the stunt performers. It was tough hanging up on a wire and waiting for camera or lighting and having a hundred pounds hanging off your body and then, you know, getting snatched through the air."

The Poseidon dive suits that the crew members wear when they are outside of the pressurized environment of the stations were designed and created by award-winning Legacy Effects with the understanding that they would be dry in some scenes and submerged in water in others. "We were keeping an eye to keeping them as light and mobile as possible," says Legacy key mechanical designer Richard Landon of the suits. "But we also had to make them in such a way to where they could be fully immersed in actual water, and then still be able to operate and not pick up water."

That presented a challenge, as lighter-weight materials such as foamed polyurethane or foam rubber absorb water the same way sponges do. Landon and his team came up with a kind of rigid-shell construction, like an exoskeleton, inspired by various hard-shell spacesuits used by NASA. The Legacy team made hard-plastic versions of the suits using 3D printers; molds were made of the individual pieces of the suits, and the costumes were made using those molds. There were essentially two sizes"one for men, a smaller version for women"although each costume was tailored to suit the actors' bodies.

A total of nine suits were produced"one for each of the principal actors, with stunt suits for Stewart and Henwick and one extra utility stunt suit for the male cast members. The suits, which weighed between 65 and 100 pounds, could withstand being submerged in water and strung up from the ceiling. To help the cast shoulder the weight, backpack-style supports were built into the interiors of the costumes, and shoulder pads, straps and harnesses also helped distribute the weight more evenly.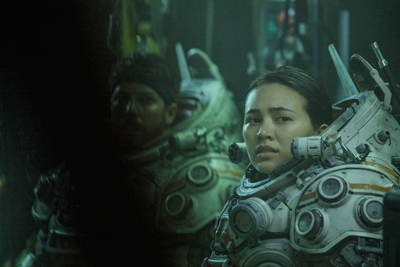 "I had a hundred pounds on my back every day," Stewart says. "I couldn't go two steps without breaking a sweat. It was so physical. But there were moments of this story that you couldn't achieve without feeling as raw and nervy as this environment made us feel, and so that was something I actually looked forward to. There was no way to fake that. I didn't want to hyperventilate and pretend to look afraid. I looked at it as a challenge."

"The first day that I put one on, my first thought was, I'm not going to be able to finish the movie"I can't do this," adds Smith actor John Gallagher, Jr. "Then we realised that we were all feeling that way, and we had to figure out ways to tough it out. There was a lot of improvisation on set, just figuring out how we were going to muscle through wearing these things. But then you see a shot on the monitor, you see Kristen Stewart treading through the water in this thing, and it looks so amazing. It's so striking that you think, Okay, I have to tough it out because if it looks that cool, then it's going to be worth it."

To illuminate the actors, the suits were wired with multiple lines of circuitry, with six different channels of lighting inside the helmet: two "cheek lights," two "brow lights" and one referred to as the visor that had lights on both the left and right sides. The suits also had small electronic displays on the backs designed to look like oxygen/CO2 percentage monitors.

The lights allowed the filmmakers to add subtle visual cues to scenes. "If they wanted to add a little bit of green if the water's murky, or add a little bit of red to make the scene look more intense, they could," Landon says. "And there are a couple of scenes where they have to turn all their lights off because the bad guy's coming and they're on the ocean floor."

For the sequences in which they come face-to-face with the creatures of the deep and are forced to fight, special wearable railguns were designed, which property master Ed Borasch, Jr. describes as "a staple gun on hyper-steroids. All of the departments have figured out ways to contribute that basically just makes this crew underwater bad-asses."

Following the wrap of principal photography in New Orleans, Eubank and visual effects supervisor Blair Clark began a lengthy and intensive process in Los Angeles working with top visual effects house MPC (Moving Picture Company), which has produced award-winning work on such film as The Jungle Book, Life of Pi and Harry Potter and the Deathly Hallows: Part 2. The visual effects team needed to make it appear as though all the action takes place underwater, whether it's ensuring that the movement of the water itself is realistic or keeping the characters' movements consistent with the motion of the body at that incredible depth.

MPC also brought the film's terrifying creatures to life. The Clinger is based on both squid and barnacles and is fast-moving, grotesque and predatory, while the translucent Ghost, inspired by a jellyfish, is more ethereal. Finally, the enormous Behemoth, unseen until the film's dramatic end sequences, combines elements of both designs to become the ultimate sea monster.

"The Behemoth is essentially a nest or a host for hundreds and hundreds of Clingers," says associate producer Jared Purrington, who also served as a storyboard artist on Underwater and who previously worked with Eubank on his film The Signal. "Because the thing is so massive, they attach themselves. The Behemoth is like ground zero for where this stuff is coming from. He's so big, he's an ecosystem unto himself."

Adds producer Davis: "The creatures are the villains of our movie. There's no making a movie like this unless you are completely in love with"and I mean totally grossed out by"the monsters. So, for us, how and when we reveal the monsters is built on that notion of what is the most terrifying thing at any moment. It's been a very deliberate process of when do we mete out exactly what information."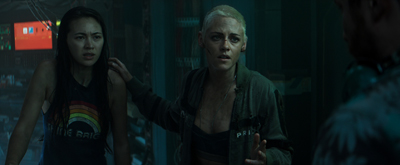 The creatures are not only terrifying to behold, they also add to the larger thematic weight of Underwater. "There's an element in the film that is a little bit about this theme that's been kicking around for a long time, the hubris of man and the feeling that we can just go and explore any part of nature without any consequence," says Gallagher, Jr. "These people are in a sense drilling too deep and going too far and turning over all these stones. There's no telling like what you might find down there."

"It's a gripping thriller about the repercussions of taking things that don't belong to you because we are tapping our Earth to a diminishing extent," offers Stewart of the film. "It's an action survival story about a group of people who really don't know each other, but at the end of the day are connected by way of just being human."

Concludes Eubank: "This movie has a lot of twists and turns and surprises around every corner. Hopefully, we blow people away."


Underwater
Release Date: January 23rd, 2020