Welcome To The Neighborhood
Cast: Tom Hanks, Chris Cooper, Matthew Rhys, Tammy Blanchard, Wendy Makkena, Enrico Colantoni
Director: Marielle Heller
Genre: Biography, Drama
Rated: PG
Running Time: 107 minutes

Synopsis: Two-time Oscar®-winner Tom Hanks portrays Mister Rogers in A Beautiful Day in the Neighborhood, a timely story of kindness triumphing over cynicism, based on the true story of a real-life friendship between Fred Rogers and journalist Tom Junod. After a jaded magazine writer (Emmy winner Matthew Rhys) is assigned a profile of Fred Rogers, he overcomes his scepticism, learning about empathy, kindness, and decency from America's most beloved neighbour.

A Beautiful Day In The Neighborhood
Release Date: January 23rd, 2020


About The Production
The door swings open to a familiar cozy living room. The jacket comes off, a warm cardigan goes on and heavy shoes are swapped out for comfy sneakers. We've returned to the neighborhood and it's time to have a heart-to-heart with Mister Rogers.

From 1968 to 2001, Fred Rogers imparted words of kindness and wisdom to millions of children on PBS' long-running program Mister Rogers' Neighborhood. In a fast-evolving world where young children grappled with a growing array of difficult issues and often may have felt misunderstood, Mister Rogers took the time to listen, understand and connect to them, earning his status as cherished source of comfort for millions of Americans.

Hollywood's own beloved entertainer Tom Hanks dons the famous red cardigan and steps into the canvas tennis shoes to play Fred Rogers in TriStar Pictures' A Beautiful Day in the Neighborhood, directed by Marielle Heller and written by Micah FitzermanBlue & Noah Harpster .

TriStar Pictures presents, in association with Tencent Pictures, a Big Beach / Mr. Youree production, A Beautiful Day In The Neighborhood. Starring Tom Hanks, Matthew Rhys, Susan Kelechi Watson and Chris Cooper. Directed by Marielle Heller. Produced by Youree Henley, Peter Saraf, Marc Turtletaub, and Leah Holzer. Written by Micah Fitzerman-Blue & Noah Harpster. Inspired by the article "Can You Say...Hero?" by Tom Junod. Executive Producers are Bergen Swanson, Noah Harpster, Micah Fitzerman-Blue, Edward Cheng, and Howard Chen. Director of Photography is Jody Lee Lipes. Production Designer is Jade Healy. Edited by Anne McCabe, ACE. Costume Designer is Arjun Bhasin. Music by Nate Heller. Music Supervision by Howard Paar.

"Fred Rogers was beloved in the eyes of the children who watched him right at that core time when they needed somebody to explain the world to them in a calm and almost quiet kind of way, because their parents are always too busy to explain such things," Tom Hanks says.

When investigative New York journalist Lloyd (Matthew Rhys) is assigned a profile on Mister Rogers, he approaches the children's icon with cynicism, not believing that anyone can really be that good of a person. But he is immediately thrown off guard by Fred, disarmed by his honesty, and the way he seems to somehow look into his soul. Suddenly Lloyd's gaze turns inward. A new parent, with a troubled childhood, Lloyd is forced to reconcile with his jadedness and pain. Famously, Fred Rogers had an uncanny ability to turn interviews around on his interviewer, and that cat and mouse game is the catalyst for the movie. Bit by bit, as Lloyd's cynicism is chipped away, we as an audience find ourselves looking inward as well, letting our guard down and reconnecting to a part of ourselves long buried.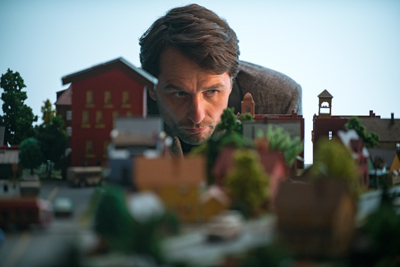 Inspired by award-winning journalist Tom Junod's 1998 Esquire profile on Fred Rogers ("Can You Say...Hero?"), and the real-life friendship that developed between the two men, A Beautiful Day in the Neighborhood gently reminds us of Mister Rogers' dedication to empathy, kindness and decency, qualities that may be even more pertinent today than they were five decades ago.

"I rediscovered Mister Rogers when I became a parent, and we started watching Daniel Tiger's Neighborhood, which incorporates all the teachings of Mister Rogers," Marielle Heller said. "It's just been the most incredible experience for me with my kid. We use episodes from that show to help us deal with difficult parenting moments, and it's brought me back to Mister Rogers and all of his teachings."

In A Beautiful Day in the Neighborhood, Lloyd is our entry point to Fred, and for many people his cynicism is relatable and it is hard for us to truly believe that someone can be as pure as Mister Rogers was. And Heller subtly pulls back the curtains on Fred's more private, quieter moments when the camera isn't watching, profiling a kind, calm and pensive man. At one point in the film, Fred breaks the fourth wall just momentarily, as Heller silently reminds the audience of the power of his words, actions and philosophy.

"I think it's clear by the way that everybody is reacting to anything about Mister Rogers right now, that we are thirsty and starving for guidance in this world," Heller said.

"We are at a point where it feels like the divide, politically, is bigger than ever, it feels that way. I don't know if that's true, but there's so much violence and there's so much to be confused by, and to feel lost in. And I think finding and hearing Fred's voice is really reassuring in these times. There's something about his message that feels more important now than ever."

Producer Peter Saraf says the film provided an opportunity for audiences to reunite with Mister Rogers and recognize the true impact of his words and actions. "What I loved about the script, first and foremost, was that we were going into a rediscovery of this iconic children's television host through a grown-up's eyes," Saraf says.

"He doesn't fit in our cynical jaded world. He had something really sophisticated to say, and he had something really important to say, and he had something really moving to say. And that, to me, was just absolutely genius about the screenplay."

Hanks was just in his pre-teen years when 'Mister Rogers' Neighborhood' first aired, and in revisiting the show and exploring who Fred Rogers was for this film, the actor says he realized "the origami of the brilliance of Mister Rogers."

"If I'd been smart, I would've watched 'Mister Rogers' Neighborhood' with all of my kids when they were of a certain age and I wouldn't have just sat them down in front of it," Hanks says. "I would've watched it with them to hear what they had to say when it was done because I would've been more patient, I would've understood the language in order to use with them, and I think I would have also just been able to communicate to them just the basic principles of happiness and serenity in the world."

"I think there's a resurgence of Fred because the world sort of needs it," adds Rhys. "It needs someone like that as a balm for the divide and the wound that is opening in not just in this country but everywhere else … You need people like that to come along every now and again and just go, 'You know what? Just be nice to one another.'" For journalist Tom Junod, whose 1998 Esquire profile on Fred Rogers became the inspiration of A Beautiful Day in the Neighborhood, the film reminded him of what he knew Fred Rogers stood for every day.

"When I think of Fred, I often think of him in terms of what he did every morning, which was pray and think of the people he needed to pray for and write to those people and read and write," Junod says. "He had from five to seven every morning, those two hours of contemplating not just the mysteries, but the mysteries of people." Looking to craft a story that would re-introduce audiences to Fred Rogers' philosophy of love and respect for all humanity, the screenwriters discovered countless stories of Rogers' relationships inspiring people to live more fulfilling lives.

Inspired by Tom Junod's Esquire article "Can You Say… Hero?", the writers went on a research mecca to Pittsburgh, confirming background information from numerous sources, including the personal papers and correspondence of Fred Rogers as well as Tim Madigan's memoir, I'm Proud of You: My Friendship with Fred Rogers. They formed relationships with the Fred Rogers Company and the archives who house Fred's legacy.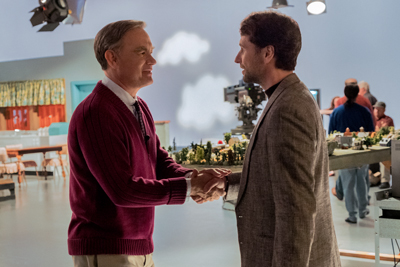 Finding Fred

From the very beginnings of making A Beautiful Day in the Neighborhood, the producers and writers wanted only one person to play Fred Rogers – actor Tom Hanks.

Their only problem was that Hanks had read the script a number of times, but had passed on the project. "I think he just felt, 'I don't need to play another historical character,'" director Marielle Heller said. "This is a lot of pressure to play another beloved person in this way."

But everything changed when Heller came on board to direct. "Tom and I developed a bit of a relationship over the years. He had seen my first movie, we had had a meeting, we had been trading scripts back and forth and keeping in touch with each other, so when I came onboard as a director for this movie, the producers told me, 'Listen, he doesn't wanna do it, but Tom Hanks was always our dream for playing Mister Rogers.' And I said, 'Well, I have a relationship with him. I mean, I could just call him and send him the script, and see what happens.' And I sent it to him, and I think a week later he was like, 'Okay, I'll do it.' And everyone was like, "How did you do that?'"

Hanks says he has been a fan of Heller's since her first film, 2015's Diary of a Teenage Girl, and had been looking for an opportunity to work with her. Although he had been sent over the script for A Beautiful Day in the Neighborhood before, when Heller sent it to him, Hanks says he finally understood what the role would entail.

"She very specifically came back to me with a perspective of the power of the force of Mister Rogers as opposed to the plot that goes on," Hanks explains. "I just knew that she was coming at this with this is the red dot of what this movie is, and that is the chosen power of empathy."

Saraf said that in addition to Hanks being "one of the best actors working," to the audience, he embodied similar qualities to that of Fred.

"Tom, over the course of his career, has built up an empathy with the audience, a trust with the audience and an adoration from the audience that is built upon the same kind of sincerity and authenticity that Fred had," he explains.

The stars may have been aligning for Hanks to play Fred Rogers long before A Beautiful Day in the Neighborhood came into existence. Heller revealed that Fred and his wife Joanne were married on Hanks' birthday (July 9), and Joanne said that Hanks held a special place in Fred's heart.

"Fred has admired Tom since his early days in movies, he loved his work," Joanne said. "He loved Forrest Gump so much that literally, he saw it at least 15 times. And, I think maybe, maybe he related to Forrest Gump a bit. He certainly related to the characterization that Tom gave it."

Getting Hanks to look enough like Fred was a fine balancing act. Heller said she didn't want Hanks to wear any prosthetics – "it's a barrier between the audience and the performance," she says – but rather, make subtle changes to Hanks' appearance. Heller recruited her Can You Ever Forgive Me? makeup artist Kalaadevi Ananda to add a simple wig and recreate Rogers' distinct eyebrows to transform Hanks. "Those two things turn him into Fred. The rest is Tom's performance: we capture the truth behind his eyes, everything that feels real," Heller said.

The most important thing for both Heller and Hanks was to make sure they captured an authentic portrayal of Fred Rogers, especially his stillness. "Tom and I talked a lot in the months leading up to shooting about Fred's voice and about his mannerisms. The trickiest thing for Tom was to slow himself down. We never wanted it to feel like he's doing an impersonation; we never wanted it to feel like a skit," she said.

For the usually quippy and energetic Hanks, slowing himself down and tapping into Fred Rogers' cadence and tempo proved to be perhaps the biggest challenge. "For me, it was being able to find the quiet spaces inside spaces that had to be filled."

"It was a quietness and not a stillness, but a slowness," Hanks adds. "Fred Rogers was not a glib man and I've made a living out of being glib, you know? He was not a smartass and I have turned being a smartass into a lucrative career," he quips.

Rhys says that having Hanks play Fred was like "America's dad playing America's dad." "I don't think there was a choice in Tom being Fred. He was kind of born to play Fred," Rhys continues. "There are so many qualities that Tom Hanks and Mister Rogers share, so many common feelings that they both elicit."

Heller says that Hanks' performance not only anchors the film – it forms a friendship with Lloyd, all through the prism of his teachings of kindness, patience, forgiveness and empathy, it's a technically stunning master class in how to make it all look effortless. "It's easy to kinda look at Tom and think, 'Oh, what he's doing is not so difficult.' But what he's doing is really difficult. It's really nuanced and subtle, and he's actually shifting his emotional body into a stiller person," Heller says.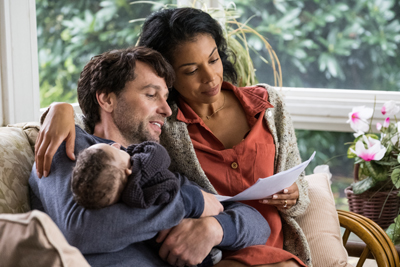 When Tom Junod Met Fred Rogers

In 1998, journalist Tom Junod was coming off a series of high-profile articles at Esquire, where he interviewed controversial subjects including convicted criminals. In his own words, Junod said he "was really risking going to the dark side on stories."

And then he landed an assignment for the magazine's annual issue dedicated to heroes that would change his perspective, although he didn't know it at the time. "Somebody at the magazine thought it would be really funny having me - this kind of hotshot, sort of badass guy - doing a story on Fred Rogers," Junod recollects.

"It was intended as this juxtaposition of good, Fred, and bad, me, a role that I was definitely willing to step into and wiling to play at the time … I thought that this is my chance to sort of not just explore goodness, but to see all of that which lurks behind it."

While Matthew Rhys' Lloyd Vogel is a fictionalized version of the journalist, Junod says that the character does bear many similarities to his real self. Just like Vogel, Junod went into his interview with Fred Rogers with skepticism, looking for a darker side to the beloved children's icon.

"The amazing thing about it, of course, was Fred wasn't having any of that," Junod says. "Fred saw me, sized me up and went to work, which is where the movie and script is very, very true to life. Fred had that amazing gift of looking at a person and seeing what that person needed, and that he was going to minister to that person. And that person, in this particular case, was me. And I look back on it now and realize how purposeful Fred was and how relentless he was in doing that."

Fred allowed Junod to witness him both in his professional and personal environments, including private moments. In his observations, Junod realized he was allowed to see something that few people had been able to see in Fred.

"The side of him that people don't know is his strength," Junod says. "Behind the softspokenness, behind the extroverted kindness, he was made of iron. He would not do what he did not want to do and he was going do what he did want to do. And that was the person I saw from the beginning to the end. And when I say to the end, I do mean to the end. I remained friends with Fred for the next five years, until he died."

The time Junod spent with Fred for the piece – which became the Esquire cover story in November 1998 entitled "Can You Say… Hero?" – resulted in a life-changing and lifeaffirming friendship between the two men.

Junod remembers his final conversation with Fred, over the phone on Christmas Day 2002, when he called Fred to tell him about something that had happened with his family that Fred's influence had impacted directly.

"Fred's answer was the answer that he often gave me, which was 'how much like you, Tom, to tell me this.' It's a classic Fred answer," Junod says. "I think that he had different things that he said to different people, and that's often what he said to me. I would call him with some sort of story, and he was like, 'how like you to tell me that story.'"

Just like the people who knew and worked closely with Fred and were moved by the authenticity of the sets and casting of A Beautiful Day in the Neighborhood, Junod found himself reminiscing about his old friend when he came to Pittsburgh to see the filming of the movie.

"Watching Tom as Fred, that was the first thing that really, really hit me, 'oh my god, Fred's gone.' But this is as close to I'm going to get to ever being with him again, and it was a powerful moment. It reminded me of this man who, at the time, took a chance on me. And at the same time, it reminded me that I have unfinished business with him."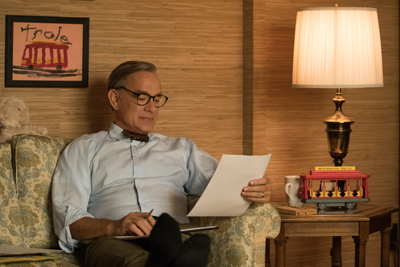 About The Characters

Forgiveness – "a decision we make to release a person from the feelings of anger we hold against them. Sometimes, it's the hardest of all to forgive the ones we love."– Fred Rogers.

Lloyd Vogel (Matthew Rhys) has carved a formidable reputation as a no-nonsense investigative reporter and profiler at Esquire magazine, but his penchant for takedown pieces of public figures hasn't left him with many friends or willing interview subjects. When his editor assigns him a short profile on beloved children's entertainer Fred Rogers (Tom Hanks), Lloyd reluctantly accepts the assignment, with the intention of revealing a hidden truth behind the kind, gentle television icon.

But right away, Lloyd realizes Fred Rogers is not like his usual interview subjects. For one, Fred calls him and asks to get to know him as a person. Their interviews, spaced out between tapings of Fred's television show, play out like therapy sessions.

"We find Lloyd at a crossroads in his life in that he's trying to figure out a number of things, trying to deal with a number of past and present familial issues that keep just shackling his progress as a human being," Rhys said of his character.

Lloyd, a father to a newborn, grapples with his relationship with his own estranged father Jerry (Chris Cooper), which is put under more duress when the two get into an altercation at Lloyd's sister Lorraine's (Tammy Blanchard) wedding.

It's the estranged father-son relationship that Fred immediately picks up on and questions Lloyd about, often entangling the journalist in an "interview jiujitsu" as he gently guides Lloyd to examine the root causes of his pain. But, as Hanks explains, Lloyd's impact on Fred is also not to be underestimated.

"Lloyd is not instantaneously buoyed by Fred. Lloyd remains cynical; Lloyd remains unconvinced; Lloyd remains almost an example of being an obstacle to Fred's natural sensibility about things, and the odd thing is that Fred just accepts it like that," Hanks says. "Lloyd gets Fred to verbalize difficulties that he has faced about his family, about growing up, about why he came up with things like Daniel Striped Tiger … Lloyd, in our movie, expanded Fred's world and he was grateful for just how special a gift that is."

For Cooper, Fred's lessons have a powerful effect on Jerry, a man that he describes as strongly influenced by the Rat Pack era and having to contend with the mistakes he made in his past, especially leaving his sick wife and adult children to find love with another woman. "As a young man, I think he made some very bad choices as a father, a very irresponsible man – maybe overwhelmed with not being able to take care of his family," Cooper explained.

In his later years, Jerry wants to make amends with his children, to introduce them to his long-term partner and try to repair the fractured relationship with Lloyd after decades of hurt. "Jerry leaves the impression that life is tough and nobody is going to give you anything," Cooper said. "I think he, through Fred Rogers and dealing with his son, sees another way in the end – a way toward a much better, happier life."

Lloyd also has to contend with strains in his relationship with his wife Andrea (Susan Kelechi Watson) as the two navigate the challenges of being new parents. Unwilling to give up the demands of his work and struggling with balancing his new responsibilities, Lloyd throws himself into profiling Mister Rogers.

"I think they are both looking for each other's support and understanding in this new chapter (the new baby) of their lives together," said Kelechi Watson. "Mister Rogers comes in and shines a light on each other's needs and shows them how to be sensitive toward one another."

Heller said she wanted to make Lloyd and Andrea's relationship feet like a couple who had been together for years. "You want to feel like they're talking to each other, like they really know each other, that their arguments feel real and that it's something that we can see are a true reflection of our own relationships, in a way that's really rare on screen," the director said. Through their interactions, Fred's gentle nature and kind spirit puts Lloyd in a mind to examine the roots of his own anger and pain – and to heal. "Fred, in a very calm way, sets Lloyd on a path of kind of reckoning and a way of growing in a way that's very much to do with his own doing," Rhys said.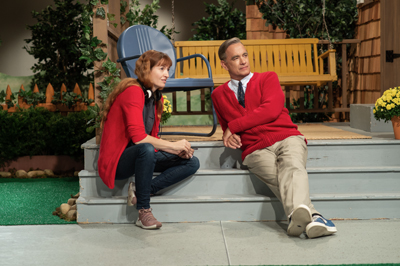 "I think he very gently guides him along this path of allowing him to see a number of things, and to grow as a result of it."

As Hanks explains using the words of Mister Rogers, "Fred was literally one of the people who loved Lloyd into existence."

"Lloyd is a better son, he's a better father, he's a better husband, he's a better journalist, he's a better friend, all because a guy who had no reason to do so but told him, 'you're very special. I think you're great just exactly as you are. You don't have to change at all'," Hanks says.

And therein lies the magic of Fred Rogers, whose on-screen persona transitions seemlessly to his off-screen self. His lessons that he calmly, carefully and comprehensively imparts on "Mister Rogers' Neighborhood" are wise words for both children and adults. It's what motivated director Marielle Heller, straight off the success of her Oscar®-nominated film Can You Ever Forgive Me?, to examine the story of Mister Rogers.

"This is a movie about men really finding voice for their feelings, but it's also so much more than that," Heller says. "It's really about all the things we deal with as adults that are really complex emotional issues that we don't talk about - we don't talk about how hard it is to become a parent, or lose a parent, or transition through parts of our life where things feel hard, or scary, or painful. To have this relationship that Lloyd the journalist has with Mister Rogers where he sort of becomes this guiding light through one of his hardest transitions in his life; I just felt like this is what we need right now."

Returning To Pittsburgh

When figuring out where to film A Beautiful Day in the Neighborhood, it was natural for the filmmakers to return to Fred Rogers' very own Pittsburgh, Pennsylvania, where he had lived for most of his life and where he filmed Mister Rogers' Neighborhood.

Pittsburgh was not only where Fred lived and worked and raised his family, it is a city on which he had an enormous impact and a community that fully embraces Fred and his philosophy to this day. The people of Pittsburgh welcomed the production fully and infused it with authenticity and warmth. So many of the people who worked on the TV show still live and work in Pittsburgh and were an invaluable resource in research and production.

And it turns out, Pittsburgh was a great stand-in for New York City as well, according to production designer Jade Healy, who recreated a New York subway station and streets to look like 1990s New York. "We found this one loft that had this amazing view out of the back of an alleyway and it just looked like New York," she says.

That loft became the setting for Lloyd and Andrea's 1990s one-bedroom New York City rented apartment, which Healy says was meant to have exposed pipes and look "just not kid-ready, and no space for yourself, no privacy."

Finding a loft like that would have been near impossible in present day New York City. "We were very happy to be in Pittsburgh, not just because of the connection to Fred Rogers and all the people here, but also because we could find locations you just cannot find in New York anymore," Healy said. "You could not find a loft like that in New York City anymore. They've all just been taken – what you could buy in the '90s, you can't buy now."

The biggest challenge for Healy was not only replicating Pittsburgh and New York City in the late 1990s, but to replicate Fred Rogers' set from Mister Rogers' Neighborhood. "It was so incredible to recreate that set. Just bringing Fred's world to life was magical," Healy said.

And luckily for Healy, the Latrobe Center in Pittsburgh held a wealth of information catalogued on the show. Healy said she and her team started from scratch, using photographs to rebuild everything from the exact curtains and couch in the living room, to the Castle in the Land of Make-Believe, which they rebuilt with the exact measurements of the original set castle.

"We built it the same way they did. That was really important to us, so the seams would be the same," Healy said. "The backside of the set is as much of a set piece as the front side so they are all appropriately aged.

Saraf added that they even tracked down original Ikegami HK-323 cameras, which were used to film the show, finding working versions of the retro cameras in England that were brought to the set in Pittsburgh to bring even more authenticity to the production.

"Fred had a very distinct approach to television – he thought it was a very useful tool for communicating with children, but that it had to be done in the right way," Saraf says. "One of those things was the long takes and very few cuts. So we decided to do it the same way."

To prepare, director of photography Jody Lee Lipes dived into watching the 1998 season of "Mister Rogers' Neighborhood" in order to find ways to recreate it as authentically as possible. The Ikegami cameras "really did a lot to make the show [in the film] feel like the show because it looked exactly like the show," he explains.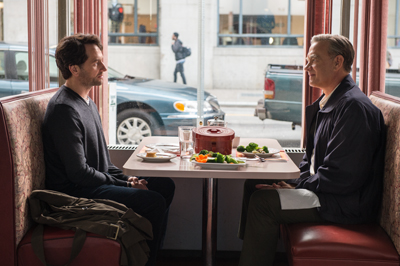 "It was just really the way they actually did it with the same lights and the same space, the same person who lit the same stage and the same set on the same camera - it all really helped to create that feeling," Lipes says. "The one variable is Tom and the actors, and I think it really helps sell that conceit that everything else is so accurate."

Bringing full authenticity to the re-creation of the television show, the production used the same studios at local public TV station WQED to film the episodes of the program and everything behind the scenes.

The effect, Saraf says, impressed even the people who worked on Mister Rogers' Neighborhood; "We recreated the sets and the props so meticulously with so much research that the people who actually worked on the show have come to visit and every single one of them has really either wept, or at least misted up a little bit," he says. For Joanne Rogers, seeing her late husband's work and world come alive once again was a special experience. "I think having the film shot in Pittsburgh would have made it so real for Fred. I think he would like this very much," she said.

The Miniatures


Part of the magic of A Beautiful Day in the Neighborhood lies in what Heller calls the screenplay's "clever device" of making the whole story feel like an extended episode of "Mister Rogers' Neighborhood." "There's something really emotional about having that happen," she says. "We've done everything we can to recreate the set so perfectly; we filmed it on the same stage with the same cameras that they filmed the original program on. It feels totally real – and then Tom Hanks walks through the door to sing 'Won't You Be My Neighbor?'"

One of the most iconic features of Mister Rogers' Neighborhood was the detailed miniature model of the 'neighborhood,' made up of rows of houses and streets through which the Neighborhood Trolley travels, weaving through the program to transport audiences between Mister Rogers' living room and the fantastical realm of the Neighborhood of Make-Believe.

In A Beautiful Day in the Neighborhood, Heller and her team didn't just recreate the exact set of Mister Rogers' Neighborhood in the Pittsburgh studios that the show was taped in; they used the imaginative world of Fred Rogers to weave the film's narrative around.

"Our concept was these miniatures and taking the miniatures from the program, which was always his transition to the real world, and expanding on it," Heller said. "We never wanted to make it look super high-tech or something out of the world, so we did everything practically."

Heller and Healy spent months figuring out the logistics of moving between Fred Rogers' set and home life in Pittsburgh, and the gritty, New York environment of Lloyd Vogel. Once they figured out that the key was in Mister Rogers' miniatures, a team of people spent 12 weeks building detailed model sets that included the Pittsburgh and Manhattan skylines, New Jersey suburbs, and of course, Mister Rogers' miniature model neighborhood.

"Our rule of thumb was, that we couldn't do anything that Mister Rogers and his team couldn't do on the 'neighborhood," says Heller. "We've expanded beyond Mister Rogers' miniatures, but it's not outside of the realm of possibility."

The real challenge, Healy said, was to get the "feeling right" with the miniature models, making them as authentic as the models Rogers used for his show. The trick, she adds, was in the simplicity of the details, approaching a city from a child's point of view and drawing on the "special buildings" that define a place. In mini New York, we see the Chrysler Building, the Twin Towers and the George Washington Bridge. In mini Pittsburgh, the city's yellow bridges and red trolleys add a whimsical feel that ties into Mister Rogers' Neighborhood.

"We didn't want to create these miniatures that were so detailed in a way. They were too fussy. We wanted to create these miniature worlds that respected the original so it trying to take a city like New York, which has so much going on, and make it sort of in the world of Mister Rogers miniatures," Healy said.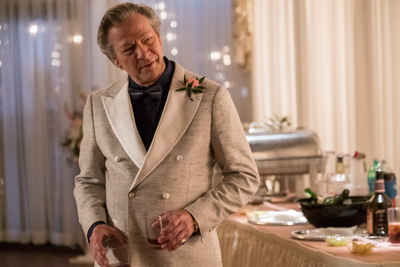 The Costumes

One of the key rituals in "Mister Rogers' Neighborhood" took place right at the beginning of the show, where Fred Rogers would enter the living room set while singing, and swap his coat for a wooly cardigan and his loafers for canvas sneakers.

Recreating Fred's wardrobe was an interesting challenge for costume designer Arjun Bhasin, who delved into the roots of why he dressed the way he did.

"With Mister Rogers, I felt like I understood something about his psychology just from looking at the colors that he chose. I feel like they were very specific and he did them for a very specific reason," Bhasin says. "The primary colors are enhancing his appeal to young people. I think the colors were very deliberate and I don't think it was a mistake that it's a bright primary world. So it was very special to look at it and try to understand why he was making the decisions he was making."

As Heller opted to keep Hanks' physical transformation into Fred quite simple, with just a wig and eyebrows added to his features, it came down to Bhasin's costumes to give Hanks the extra essence of Fred Rogers.

"It's a suit of armor that is self-defining," Hanks says. "They just seem odd until somehow they connect to your body and then next thing you know, you have a different posture, and you have a different way of sitting."

Fred's cardigans were hand-knitted for him by his mother, and so for the movie, Bhasin wanted to recreate the same feel by having cardigans hand-knitted for Tom Hanks to wear. "I found somebody in New York who works in the theater and who was a handknitter," he says. "We had those cardigans recreated the way she would've knit them, so they're all very rudimentary and hand-done."

Bhasin said he had three color palettes to work with in order to create the respective worlds of the film's characters. For Lloyd Vogel, Bhasin interpreted the environment as the "harsh, bristling, angry New York world," and the character has a city slicker vibe. "His clothing is very much a reaction to his life he's left behind in New Jersey," Bhasin explains. "He's moved to New York, he's a player, he's in the game. He's a journalist, he's part of this downtown New York scene, and we wanted that very much to reflect in his clothing."

Lloyd's look is a stark contrast to the "softer, more home-spun Pittsburgh world, which belongs to Mister Rogers." And then there's the more throwback 1980s New Jersey world of Lloyd's father Jerry, whom Bhasin describes as being trapped in the 1970s, living in polyester fabrics and white loafers.

"We had to segregate those three worlds visually and we did that with colors, textures, patterns. The three worlds are really unique and in contrast to each other," Bhasin says.


A Beautiful Day In The Neighborhood
Release Date: January 23rd, 2020