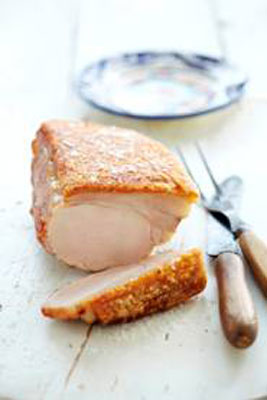 Roast Pork Rump with Crackling by Justin North, Becasse
The best pork crackling as a result of a Saxa Sea Salt Flakes massage and a few simple steps.

Serves 4 (as a main course)
Ingredients
For the pork
100g Saxa Sea Salt Flakes
900g pork rump or loin - fat and skin intact
60ml non-scented cooking oil

For the spring onion creamed potato
3 potatoes Desiree or Royal Blue
100ml milk
100ml cream
80g cold butter - diced

For the sauce
150g pork trim - from the rump or shoulder, cut into small pieces
30ml non-scented cooking oil
50g unsalted butter
2 eschallots - peeled
6 button mushrooms
3 sprigs thyme
600ml white wine
500ml brown veal or pork stock
1 tbsp grain mustard



Method
For the roast pork
Trim the pork and score the skin with a sharp knife about 2/3 of the way through the skin. Then rub thoroughly with the salt and leave uncovered in the refrigerator overnight. Pre-heat your oven to 190°C.
Heat a pan over a medium heat, add the oil followed by the pork, skin side down, and gently caramelise the skin until it is golden and beginning to caramelise.
Place into your pre-heated oven and roast for approx 25-30 minutes.
Leave to rest in a warm place for about 10 minutes.

For the potato puree
Meanwhile peel the potatoes and cut into even sized pieces. Place the potatoes in a pan, cover with cold water and season well. Bring to the boil, turn down to a light simmer.
Cook gently for 15-20 minutes until tender. Then drain in a colander.
Leave the potatoes to steam dry for about 3-4 minutes.
Push the potatoes through the drum sieve while still hot, using a pastry card. Place the dry puree into a bowl.
Heat together the milk, cream and butter, gently fold this through the potato to soften, add a pinch of salt to season.

For the sauce
Heat a saucepan over a high heat and add the oil, butter and pork trim.
Cook until the pork begins to brown.
Add the finely sliced shallots, mushrooms and thyme. Continue to cook for a couple of minutes then add the white wine and reduce until syrupy. Add the stock and gently bring to the simmer and cook for 20 minutes until the sauce begins to reduce and thicken. Pass through a fine sieve.

To serve
Carve the pork and crackling into neat slices and lay on a generous mound of potato puree, spoon around the sauce and serve while hot. Serve with buttered cabbage.

Perfect Pork Crackling
'Tis the Season for Christmas in July Celebrations

Capture the essence of the festive season by gathering family and friends for a Christmas in July feast this winter.

With 'traditional' roast Christmas meals all-but-disappearing from Australian tables winter offers the opportunity to bring the whole family together and experience a traditional yuletide feast like our friends in the Northern Hemisphere.

"Australia's relaxed style and hot summers make heavy roasts and sticky date pudding too taxing, which is why Christmas in July celebrations are the perfect fit," says Saxa ambassador, restaurateur and head chef of two hatted Becasse, Justin North"

"For me, Christmas is all about bringing the family together. What better excuse than introducing another day on the calendar to recreate the event and fully embrace traditional winter fare with loved ones."

For Christmas in July fare, North recommends roast pork with perfect crackling.

"To me succulent meat with a layer of tasty and crisp crackling; this is what roast pork is all about," says North.

While roast pork with crackling has long been a family favourite, North says creating crackling can be hit or miss if you don't follow the correct technique.

"The pork crackling should be like a crème brulee; a hard crust broken to reveal succulent fat and moist sweet pork.

"For perfect pork crackling, the secret is preparation and using a good flake salt. I use Saxa sea salt flakes to salt the pork. Not only does it draw out moisture to create the perfect crackling, the salt flakes lift the flavour of the pork to reveal the true, sweet, succulent flavour of the meat," says North.

North recommends purchasing organic pork from a butcher the day prior to serving. He urges at home cooks to select a cut of pork rump. Rack or loins are also good for roasting.

To prepare, remove any moisture from the pork by patting with paper towel. Use a sharp knife to score skin from top to bottom at 5mm intervals, cutting through the skin and fat underneath.

"The scoring is important as it allows the salt to penetrate the skin and help draw out moisture, allowing much of the fat to melt way in the cooking and resulting in airy, crisp crackling.

"The key to success is drawing-out the moisture by salting the skin and placing it upside down on a wire rack and refrigerating for at least four hours," North explains.

North states that while salt is 'an essential part of cuisine' and 'a fundamental for cooking', there is confusion about which salt to use when.

"Always taste your food and think about what you are tasting," suggests North. "Just as you use good produce to prepare your meals, the same approach is needed for good seasoning."

When adding salt to serve, flake salt is the better choice as the fine crystals melt quickly and evenly. Using flake salt ensures you avoid the gritty finish that sometimes results from larger sea salt crystals.

According to North, the flavour, texture and appearance of salt contributes to the pleasure of every dish. "Salt lifts the flavour of produce but can ruin a dish if you're not using the correct salt," he notes.

North points out that rock salt is also the cook's companion. When added to ingredients such as whole-roasted chicken, the salt forms a crust to hold in moisture as the chicken cooks.

North suggests serving roast pork with buttery smooth mash, caramelised carrots and parsnip and a creamy mustard sauce; the sharpness and acidity from the sauce compliments the sweet succulent pork.

Established in Australia in 1911, Saxa quickly earned the reputation for reliable quality in the kitchens and dining rooms of the nation. Since those early days, the Saxa brand has been offering increasingly relevant products. In 1995 Saxa seasoned salt delighted the increasingly sophisticated palates of Australian families. By 2000 Saxa was offering a range of salts and peppers in handy grinders. And in 2003 Saxa Fine Sea Salts and Sea Salt Flakes were welcomed by fine diners across the country.

Justin North, of Sydney's celebrated BĂ©casse and Etch restaurants, and Good Food Guide 2009 Chef of the Year, is one of the top chef's in the country. Well known in food circles for being a food leader, Justin prides himself on giving customers a world-class dining experience using top quality Australian produce. He continues to establish himself as one of Australians premier chefs as he works to raise his profile and the profile of Australian food industry through his menus, cook books and other industry growth promoting activities including Restaurant Australia and Masterchef.