GET JUICING FOR YOUR OWN GOOD THIS SUMMER !
ACCORDING TO THE EXPERTS IT COULD SAVE YOUR LIFE
Vitamin-rich fresh fruit and vegetable juices have increasingly become an integral part of today's health conscious and fitness-aware contemporary lifestyles. The advent of Juice Bars to popular café culture are a case in hand, offering everything from good old carrot-and apple to the latest wheat grass elixirs.
Now, the experts go as far to say
RAW JUICES CAN SAVE YOUR LIFE!
In her book of this very title, women's health specialist Dr Sandra Cabot cites a host of ailments from high blood pressure to the common cold which can be treated effectively with the right regime of freshly made raw juices.
Cabot dedicates the book to her grandmother whom the author claims recovered from a severe form of kidney disease in the 1930's as a direct result of a program of raw juicing, undertaken by her visionary grandfather. Her grandmother lived to the ripe old age of 78.
According to Dr Cabot raw juices are readily absorbed by the body and so the concentrated vitamins, minerals and anti oxidants in the juices can have a profound healing effect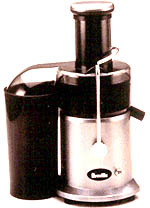 As prevention is always the best cure, including plenty of freshly made raw juices in your everyday routine is a good idea for us all. Feeling inspired to get started is as easy as the first hint of Summer returning but keeping it up can be challenging for anyone with a busy family, professional or social life. Keeping preparation quick, clean and easy is essential and the Award Winning
Breville Juice Fountain
has all the right equipment!
Recently awarded a permanent place in the Powerhouse Museum for its technological innovation and design excellence, this commercial strength juicer is the only one of its kind on the market.
The feed chute is purpose designed to take whole pieces of raw fruit and vegetables such as apples or tomatoes - no need for cutting or chopping and no mess!
Its components are simply rinsed clean under the tap for quick and easy cleaning and the Breville design team have ensured that there are no troublesome grooves or corners to catch food or fluids.
A very handy feature is the generous catchment for the fibre and raw waste. Line this container with a plastic bag and simply lift out and throw away the remaining dry fibre or use this to make healthy muffins or other energy treats.
For just $199.95rrp the Breville Juice Fountain is a far more economical (and probably faster) alternative to commercial juice bars for your daily juice.
So what are you waiting for? Get the book - get juicing and get more out of your life!