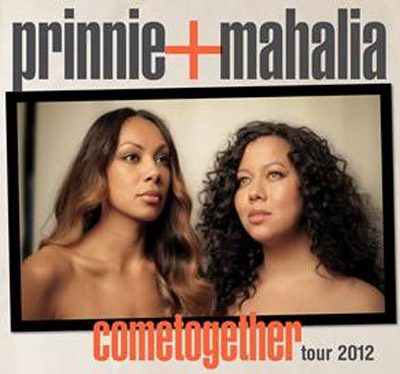 Prinnie Stevens and Mahalia Barnes Interview
Prinnie Stevens and Mahalia Barnes put on the most talked-about, nail-biting, emotional battles in the first season of Australia's hit music show "The Voice". Fresh from recording their brand new duet album "Come Together", released October 5th, the two divas have announced that they will once again be taking the stage together - this time for a national tour with tickets on sale 9am Friday September 14th.
After the fun and organic process Prinnie and Mahalia spent in the studio, laying down tracks 'as live' for their new album, it was a natural progression to take the show on the road. The Soul Revue inspired tour will kick off on November 2nd and stop at most capital cities, with some regional shows along the way.
With a stellar collection of classic soul tracks under their belts, the girls are set to deliver dazzling, powerful performances...and they both have a wide circle of musical friends and family, so expect to see a few surprise guests joining them on stage for some impromptu appearances.
"The best part for me is being on stage. I love the energy I get from a live audience and from the band. They push me to sing better, work harder, it's so exciting. Especially having Prinnie up there with me, I just know these shows are going to be powerful, energetic, raw, and a lot of fun! I can't wait to get out on tour."<.i> - Mahalia Barnes

Joining the girls on stage will be Mahalia's gigging outfit, "The Soul Mates", supersized to include a three piece horn section and backing vocalists - taking in eleven people on stage. The Soul Mates have played hundreds of gigs together, with members who have performed with the likes of Cold Chisel, Diesel, Renee Geyer, The Whitlams, Phrase and Silverchair to name a few and are some of the tightest, most seasoned musicians the country has to offer.

"I'm loving to be able to share the stage with friends and explore the soulful side of my voice! So excited to start the tour!" - Prinnie Stevens

As well as performing songs from their new album 'Come Together', Prinnie & Mahalia will be performing original songs and some of their favourite soul and dance tracks that didn't make the album.

Prinnie and Mahalia both thrive on stage and have been gigging for as long as they can remember. Those who saw the girls go head to head in The Voice battle rounds know that we're in for one hell of a show. The soul sisters' rendition of the classic 'Tainted Love' became one of the show's most memorable and celebrated moments - so much so that they were invited back to sing in the finale so fans could experience their electric on-stage chemistry again.

With mostly all-ages shows and a repertoire that spans generations of soul favourites, the girls are putting on something spectacular for young and old alike. Each show will be a unique, high energy Soul Revue experience that is unlike anything else in Australia. Not to be missed!

Tour Dates
Friday 2nd of November: SS & A Club, Albury: 02 6041 2222
Saturday 3rd of November: Palms at Crown, Melbourne: 1300 795 012
Thursday 8th of November: West, Newcastle: 02 4935 1200
Friday 9th of November: Waves, Wollongong: 02 4283 3340
Saturday 10th of November: The HiFi, Sydney: 1300 843 443
Sunday 11th of November: The Abbey, Canberra: 02 6230 2905
Friday 16th of November: Country Club Showroom, Launceston: 1300 795 257
Saturday 17th of November: Westpoint Showroom, Hobart: 1300 795 257
Wednesday 21st of November: Regent Theatre, Ballarat: 03 5330 5555
Thursday 22nd of November: Lighthouse Theatre, Warrnambool 03 5559 4999
Friday 23rd of November: Sir Robert Helpman Theatre, Mt Gambier: 08 8723 8743
Saturday 24th of November: The Gov, Adelaide
Thursday 29th of November: Redlands Performing Arts Centre, Brisbane: 07 3829 8131
Friday 30th of November: Twin Towns, Tweed Heads: 1800 014 014
Sunday 2nd of December: The Brewery, Byron Bay: 02 6686 5833
For more information go to www.prinniemahalia.com


Interview with Prinnie Stevens and Mahalia Barnes
Question: How would you describe Come Together?

Mahalia Barnes: I would say Come Together is a real mixing pot of songs that really mean a lot to the both of us. We feel the songs are a great representation of both of us as artists, mothers, and strong women; the songs are songs that we love. It was a lot of fun!


Question: How did you choose which tracks to cover on Come Together?

Prinnie Stevens: When we were asked to come back on The Voice and do the finale we sat down and went through a whole bunch of songs on our iTunes and found that we had a real love of soul music. Even though we are both very different now, we came from the same roots such as Aretha Franklin, Tina Turner and those artists and that made it really easy, after the show had finished, when Universal approached us to do an album together as we already had a not-so-little list of songs and we built on that.


Question: What/who was your inspiration to go into the music industry?

Prinnie Stevens: Aretha Franklin has been a huge influence on both of us. I listen to a lot of Ella Fitzgerald and jazz music.

Mahalia Barnes: I probably listened to more of the blues and rock side of music, growing up. There are definitely a lot of cross over points such as Donny Hathaway and Stevie Wonder; we both have learnt a lot from those types of singers.


Question: What are you looking forward to most about the upcoming tour?

Mahalia Barnes: Just being on tour because I can't wait to be on stage, for us, we're both at our best on stage and that's where we love being, most of all when it comes to music. We both love creating and writing but being on stage is a whole other level! The energy that flows between the band and each other and then you add in an audience to that - I can't wait, it's going to be so much fun! We've really tried to make the show exciting, high energy and there is a whole lot of heart in the show because we are both the same in the way that we only do things that we believe in 100% and we know we'll enjoy this as singers and that will translate well to the audience during the live shows.

The show is going to be exciting, fun and appropriate for the whole family, I hope parents and kids will enjoy the show as much as each other, for different reasons.

We are working on our set list and working on songs that we may want to add into the live show that don't feature on the Come Together, album. A lot of rehearsing which is a lot of fun!


Question: Tell us about how you both met?

Mahalia Barnes: We met through similar music circles growing up in Sydney as we were both out doing lots of local gigs and we had a lot of friends in common. We've known each other now for about twelve years but we became very close in the last six years and I would say Prinnie Stevens and I really are best of friends. We have a lot in common and we are very similar as women as we are both mothers, both very tenacious, we're very passionate and we love what we do. We both work hard and have a lot of other things in common including loving to travel (we've travelled the world together), enjoy food and both come from big families. We have A LOT of history!


Question: What did being on The Voice teach you?

Mahalia Barnes: First and foremost one of the things that taught us as a pair is how natural and easy it was to work together because even though we've been friends for such a long time and we've worked in similar scenes we'd never thought about joining forces as such and that was the natural progression coming off The Voice; we definitely have Joel Madden and the show to thank for that because we probably would have never put ourselves together otherwise.

The Voice reinforced what I already knew - I'm doing the right thing and I love what I do. I'm so grateful we had such a good reception from the audience and the country as a whole for what we all were doing.


Question: What music/artists do you listen to when you are not playing your own?

Prinnie Stevens: We're dramatically different when it comes to that! I listen to a lot of current music including the Top 40; I'm loving Rita Ora, Dawn Richards, Kayne West and I enjoy listening to underground pop, hip-hop and R&B. Mahalia is very different again.

Mahalia Barnes: To be honest I'm pretty stuck in the 60's and 70's as far as what I listen to! I like to listen to the bluesy gutsy soul/rock and roll singers. For me it's not about genre it's about lyrics that connect to me and singers who sing with a lot of heart, that's what I love!


Question: If you could collaborate with another artist, who would it be?

Prinnie Stevens: 100's of people! I would really love to do something with Chris Brown; I am a huge Chris Brown fan, that's just me!

Mahalia Barnes: I would probably absolutely die if I got to work with Aretha Franklin or Tina Turner. There are hundreds of artists out there that I respect and love; for me, one of the greatest joys of music is getting to share that with different people and that's why I'm so excited about this project because I've always loved doing duets and working with different singers because it really pushes you in a different way and it inspires you to sing differently and work harder. I don't know where to begin with who I'd love to collaborate with.


Interview by Brooke Hunter