That's How You Want It To Be
Brisbane rock band Port Royal have put in the hard yards and made a name for themselves through honing their craft of live performance and sweating it out on stages all across the country. Sold out shows at venues including The Zoo and Lefty's Music Hall in Brisbane are a testament to the band's live chops. They've also appeared at Bluesfest 2019, St Kilda Festival 2019, and will later in the year will be performing a headlining spot at the Caloundra Music Festival. They have supported international heavyweights Dead Kennedys (US), Supersuckers (US), and Australian favourites The Delta Riggs and The Jungle Giants.

The band has two EP's to date. Their first, The Express was released in 2016 and Love, Passion, Satisfaction in 2018. Amongst both EPs were a collection of catchy singles, including fan favourite "Rock & Roll is Dead", which reached #3 on the 4ZZZ Hottest 100 in 2018 and a month long feature on Rage.

Port Royal's January 2019 single "Don't You Forget About Me" received enthusiastic support from their fans and met critical acclaim, scoring airplay on Triple j. The band hit the road for a 17 date tour up and down the East Coast earlier this year in support of the single, selling several hundred tickets.

Their sound makes for a musical flavour that evokes a joyous celebration of song and dance. Recently the band bunkered down in their Brisbane studio and have now emerged victorious with new single "That's How You Want It To Be".

"'That's How You Want it to Be' inspires the attitude of playing it your own way; not buying into the fickle social games we all play (romantic or otherwise), and expressing your emotions with confidence and honesty."
- Lawson Doyle (vocals, rhythm guitar)

"'That's How You Want It To Be' is another massive step for us as a band. We have been sitting on this track for a few months now and we are very excited to put out what we believe is our best work to date."
- Connor Arnold (drums, backing vocals)

Formed over a shared passion of classic rock n roll culture, Brisbane's Port Royal are fast spreading their message of self belief and unity through their music.

'That's How You Want It To Be' Single Release Tour Dates
Byron Bay Brewery - Byron Bay, NSW
Saturday, Nov 23, 2019
The Pacific Hotel - Yamba, NSW
Monday, Dec 30, 2019
Elephant Hotel - Brisbane, QLD
New Years Eve


Interview with Port Royal lead vocalist Lawson Doyle
Question: Can you tell us about That's How You Want It To Be?

Lawson Doyle: Lyrically, That's How You Want It To Be tells the story of two people essentially playing 'love games' with each other. It's that tug of war we've all experienced at one point in life where both of you know you're into each other but neither one of you wants to come across too strong. Thus the fun and games continue. A constant battle of what the heart wants vs what the mind thinks -or overthinks for that matter...


Question: How would you describe your music?

Lawson Doyle: I would describe the music as high energy, straight-forward and most importantly, genuine.


Question: Which is your favourite song to perform live and why?

Lawson Doyle: There's a few at the moment considering we are in the middle of writing and recording. The new kid on the block is always the most exciting, right? I can't give just one answer on this one. In terms of new (unreleased) songs that we're playing at the moment, I'm very fond of 'Flying Blind'. It has a great energy and every time we play it I can't help but feel like I'm one of The Black Keys or something like that. The bassline also came to me very quickly so that probably has something to do with it.

In terms of released songs, at the moment it's a tie between 'That's How You Want It To Be' or 'Lucy'... Both of these songs give me a feeling of fulfillment. Almost as if the blood, sweat and tears have been worth it. Whether that's actually true or not, well… only time will tell (laughs).


Question: What should we expect from your upcoming tour?

Lawson Doyle: Everything we've already showed you and more: bigger songs, bigger shows and bigger outfits. We want you to come to a Port Royal show and forget the happenings of the world around you until you exit the venue doors. Who knows, maybe you leave with more than you came.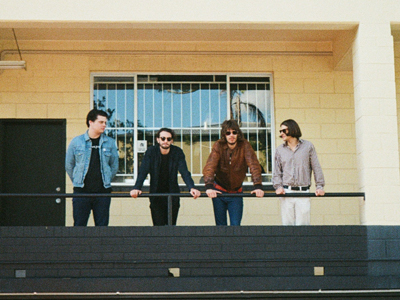 Question: If you could have anyone, in the world, attend a show, who would it be?

Lawson Doyle: Big question, well, the chats relatively recently put up a photo with Alex Turner, Matt Helders (AM), Josh Homme (QOTSA) and Dave Grohl (FF) and to be honest that would have to be dream star audience hey! Except for Dave, I'd probably swap him out for Thom Yorke or John Frusciante; no offence Dave, you still rock!

If the others were to answer this though then the likes of Liam and Noel Gallagher, Malcolm Young, John Bonham (RIP), Matt Bellamy, Mick Jagger and Keith Richards would also be at said gig.


Question: Do you prefer performing live or recording?

Lawson Doyle: Both are great for completely different reasons, in terms of adrenaline and bringing smiles to faces


Question: What is the story behind the band name?

Lawson Doyle: Well prior to Port Royal I believe the band went under the name 'Kalopsia'. However as the story goes the guys didn't want to run with that name any longer. At the time Connor had a pouch of Port Royal tobacco laying around and somehow it stuck ever since.


Question: How did the band come together?

Lawson Doyle: Look it's a bit of a long story from back then to now. To keep it short and succinct through a mutual love and want of all things music!


Question: What motivates you most when writing music?

Lawson Doyle: Inspiration is drawn from all facets of my life, whether it be current or past relations, a story one of the guys told me earlier or be it something as simple as Lawson or Liam writing a potential banger and me and my competitive self-going 'must write banger also'. We are pretty competitive with each other when it comes to writing. It keeps things interesting and in a constant state of motion.


Question: Which music/artists are you currently listening to?

Lawson Doyle: Where do I begin? Within the past couple weeks I've had Arctic Monkeys, The Black Keys, Radiohead, Foals, Queens of the Stone Age, Led Zeppelin, Reignwolf, Bernard Fanning as well as Powderfinger, The Jungle Giants, Holy Holy, The Vanns, Twin Haus, Pacific Avenue, Julia Jacklin and Olympia all on heavy rotation. I'd love to say there's one artist/album that I've particularly paid attention too but with how accessible everything is these days it's pretty hard to maintain one focus. Which to be honest isn't such a bad thing!


Question: What or who was your inspiration to go into the music industry?

Lawson Doyle: I found a lot of inspiration in John Frusciante (RHCP) when I first started playing. My best mate at the time also gave me a lot of inspiration, he had been playing heavily for a year and a bit by the time I picked up a guitar and I remember walking down his street and instantly lighting up when I heard the wails of his Les Paul as I got closer to his door. His looping ability, pedal setup and lead work all completely astounded me at the time.


Question: If you could collaborate with another artist, who would it be?

Lawson Doyle: Tough question, real tough, it would probably be a tie between Dave Leaupepe (GOY), Thom Yorke (Radiohead) or Alex Turner (AM), Olivia Bartley (Olympia) or Julia Jacklin at this point in time; I have so much love and admiration for those guys. Oh and Kimbra, love Kimbra.


Question: What is the biggest challenge you have faced along the way to your musical success?

Lawson Doyle: Honestly, putting up with all of the conversations and lectures about getting a real job and being realistic with your dreams. The worst part about it is that these conversations are often had with family more than anyone else. I remember having to basically yell down the phone at my Dad one night in order for him to take me seriously. Those closest to us will always impact you the most. Ironically, later that year he heard me play for the first time and was reduced to tears. I guess the gist of this all is to do whatever it takes to keep the self-belief alive. Make a bit of noise, stamp your feet if you have to -eventually people start believing too.


Question: What's a typical day like?

Lawson Doyle: Currently it's a constant almost daily battle between getting a decent amount of sleep, eating well and regularly throughout the day, getting as much practice and songwriting done as possible, responding to emails/keeping on top of promo and other associated band admin, going to work/local gigs which inevitably ends up always being a late night, and repeat. Sort of not very rockstar at all really...


Question: Can you share your socials?

Lawson Doyle: @portroyalofficial/
Facebook.com/PortRoyalOfficial/
Spotify



Interview by Brooke Hunter