Get your (Zero Alcohol) Sparkle on this 'Ocsober' with Plus and Minus Prosecco!
If you love to party with Prosecco but you're looking for a zero-alcohol alternative, then get your sparkle on with Plus and Minus Prosecco! This delicious Prosecco is the latest addition to the popular Plus and Minus zero-alcohol range which are vibrant, full-flavoured wine varieties – minus the alcohol.
"Prosecco continues to trend in Australia, as does the demand for great tasting zero alcohol wines and so crafting a zero-alcohol Prosecco was seemingly the perfect combination. Plus and Minus Prosecco ticks all the boxes if you still want to enjoy a delicious Prosecco without the addition of alcohol," said Ross Marshall, general manager, Fourth Wave Wine.
Featuring delicious citrus and just-cut apple on the nose, Plus and Minus Prosecco has a softly effervescent palate that delivers a firm weight with great fruit flavour. It has a touch of sweet fruit and a cleansing acidity on the finish.
"Whether you are looking to go sober in October, enjoy a cosy-up dinner with your partner, or a Zoom party with friends, Plus and Minus Prosecco is a great option. It tastes great on its own or is a fabulous addition to a wide variety of cocktails, from zero-alcohol Aperol Spritz, to Margheritas and more," said Ross.
Irene Falcone, owner of alcohol-free drinks company, Sans Drinks says; "Prosecco is currently enjoying a bit of a moment. In the UK, Prosecco has been outselling Champagne, in fact, such is the thirst for Prosecco that it's become a bit of a lifestyle trend with Prosecco merchandise and even a Prosecco festival. It will be really interesting to see if this trend is adopted in Australia. As for non-alcoholic Prosecco – it's so exciting to see wine makers including this variety in their offerings."
To celebrate the launch of Plus and Minus Prosecco, Fourth Wave Wine has put together a '10 Fun Ways to Enjoy Prosecco' guide which is available for free download on the Conscious Drop website: www.theconsciousdrop.com.au – a website providing information and inspiration on wines to suit a variety of lifestyle choices.
Plus and Minus wines are hand-crafted using the highest quality grapes from premium, dry-grown South Australian vineyards. This ensures the wine retains its vibrancy and full-flavour once the alcohol has been removed. The added ''Plus'' in Plus and Minus refers to the addition of grape-skin extract giving the additional benefit of all of the naturally occurring antioxidants normally found in wine.
The Plus and Minus zero-alcohol range is available from major liquor retailers nationally RRP: $15.00 each. For further information, visit: www.fourthwavewine.com.au or follow Plus and Minus on Instagram @plusandminuswines.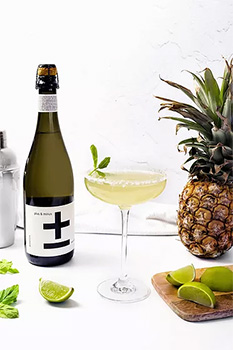 Plus Side: (our take on a southside)
30 mls Sugar Syrup
4 Mint leaves
30 mls pineapple juice
60 mls Plus & Minus Prosecco
Mint leaf to garnish
Method: Add sugar syrup, lime juice, mint leaves and pineapple juice into a cocktail shaker half filled with ice.
Shake and strain into a cocktail glass
Top up with 60ml Plus &b minus Prosecco
Use mint leaf as garnish
Plus and Minus Prosecco Scones.
400g self raising flour
175 mls double cream
175 mls Plus and Minus Prosecco
Method:
Preheat oven to 180c and line a baking tray with paper.
Mix together all the ingredients in a bowl then roll out on a floured surface. Use a cutter to cut into 12 small scones
Bake for approx. 15 minutes then cool on a wire rack before serving.
Review: While it's an inital adjustment, not to have the aftertaste and zing of alochol, I really enjoyed Plus and Minus Presecco, it was easy to drink allowing me to not only be able to drive home and have a clear head the next day, but also not feel excluded from celebrations.