PIMM'S
The Aussies show the pommies how it's done. Summer that is.
Introducing the Pimm's Pop.
Pimm's launches an Aussie take on the British tipple To celebrate summer (and show the Brits how it's
done properly), Pimm's is partnering with all natural Australian artisan, ice pop company, Pure Pops, to
create the Pimm's Pop!
The Pimm's Pop sees the classic Pimm's serve, reinvented in the form of a non-alcoholic smashing ice
pop, perfectly suited to the Australian climate. Ideal for the upcoming entertaining season, the Pimm's Pop
is a jolly good fresh and fruity ice pop recipe that you can create and freeze at home. Combining strawberries, cucumber, orange, mint and other delicious ingredients featured in the classic Pimm's
serve, this delectable and eye-catching ice pop will be the star of your Pimm's cocktail.

Pure Pops founders Alice Storey and Georgina Larby are excited for Pimm's lovers to try their Aussie take
on the classic Pimm's serve this summer. Alice says, 'Brits may have started the Pimm's tradition, but we
all know Aussies have the better summer. Pimm's Pops give the signature fresh flavours of a classic Pimm's serve an original twist just right for stylish summer get togethers."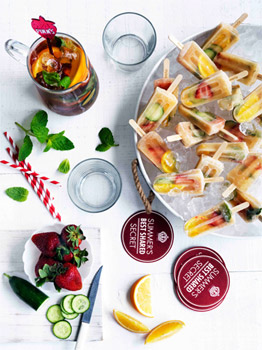 As the sophisticated summer crowd know, a glass of Pimm's is an unrivalled drink, bursting with fresh fruit and mint, coupled with the light taste of spice and citrus. It's already the ultimate fruity concoction and go-to tipple for picnics, summer weddings, garden parties, the races and the polo, and with this new recipe, Pimm's will become a top choice when entertaining.

So what are you waiting for? Don't dilly dally about, make your own Pimm's Pops by following the
step-by-step instructions for a delightful drink that is sure to impress.
How To Guide For The Pimm's Pop.
By Jove, It's so Simple!
Prepare in advance of your shindig, and when the time is just right, simply place your Pimm's Pop in a tumbler with 1 serve (30ml) of Pimm's No. 1 Cup, top up with lemonade and ice and garnish to taste. Once served, let the Pimm's Pop melt, releasing all of its flavours, or nibble the pop while you sip on your Pimm's, the choice is yours old chap.
Pimm's Pop by Pure Pops
(0 Standard Drinks)
Makes 6-8 (700ml) depending on mould size

Ingredients:
500ml (2 cups) flat ginger ale
70ml freshly squeezed orange juice
40ml freshly squeezed lemon juice
80ml mint syrup
Thin slices of strawberries, cucumber and orange
and mint sprigs to garnish

Mint Syrup:
100ml water
100ml sugar
1.5 cups of firmly packed mint leaves

Method: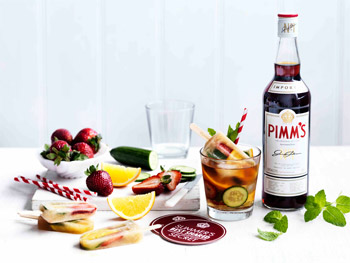 Mint Syrup
1. Combine water and sugar in a saucepan
over medium heat stir to dissolve sugar, bring to the simmer
2. Remove from heat and set aside to cool
3. Bring a saucepan of water to the simmer. Add mint leaves, stir to submerge leaves. Blanch until bright
green (20-30 seconds)
4. Drain into a fine sieve and refresh in a bowl of iced water. Drain mint well, squeeze to remove excess
water and combine in a food processor or blender with cool sugar syrup
5. Blend until mint is finely chopped. Strain through a fine sieve (discard mint)
6. You will need 80ml for the recipe. Remaining mint sugar syrup will keep in an airtight container in the
fridge for 1 week

Pimm's Pop
1. Combine ginger ale, orange juice, lemon juice and mint syrup in an ice
pop mould
2. Arrange fruit slices and mint sprigs in moulds
3. Top with liquid mix and freeze until slightly frozen (approx. 60 minutes)
4. Insert ice cream stick and freeze until solid and fully frozen
5. Submerge moulds halfway in cold water to remove, pull sticks gently and
place in glass tumblers

To serve: Top each tumbler with a 30ml of Pimms No.1 Cup, lemonade and garnish to taste with strawberries, orange, cucumber and mint (0.6 Standard Drinks)
Follow us on Instagram @PIMMSAUSTRALIA and FACEBOOK.COM/PIMMSAUSTRALIA