Sydney's indie electronic Patches Paradise, the solo project of multi talented composer, producer and instrumentalist Charlie White has revealed his latest single "Runway". The song is a sun soaked dance track with both nostalgic touches and a futuristic edge.

Patches Paradise has spent the past two years evolving his sound and mastering his craft. He has now defined his production style and solidified his sound. After bringing home inspiration from the cultural hubs of Chicago and New York, he further developed the project; embracing a love for indie-dance that is evocative and keeps you moving. Packed with hints of disco, dance and electronic genres "Runway" represents the feelings of nostalgia, a yearning for the past and hope for things to come.

"Runway is essentially about being on the precipice of a new phase of life. The decisions I've been making have become bigger in their gravity and Runway is about sticking your neck out into a new unknown" said Patches Paradise. "The song reflects on what was and hopes for what is to come as it takes you to a world where the coastline never ends and the future glows in the distance."

As a touring musician, Charlie White aka Patches Paradise has shared the stage with familiar names Pnau, Vera Blue and Mammals. By day Charlie is a renowned composer, whipping up anthems for television, films and brands across the globe, having produced music with the likes of Sam Spiegel (N.A.S.A, Sam I, Squeak E. Clean), Owl Eyes and Drew the Kiiid.

"Runway" comes as the second single from Patches Paradise, following his debut "Fever" in 2018 which was praised by Triple J tastemakers Declan Byrne and Dave Ruby Howe who described it as "Spiraling indie dance stuff from this up and comer. It glistens like the crystal waters of a tropical destination."

The bright, evocative track sees the artistic changes of Patches Paradise as he returns with the wholly self created work "Runway", the first in a series of releases to come.


Interview with Charlie White aka Patches Paradise
Question: How would you describe your music?

Charlie White: In its current form I'd describe it as indie-dance / pop. I like writing music that evokes a bit of nostalgia whilst keeping people moving.


Question: Can you tell us about Runway?

Charlie White: Runway happened during the lockdown of 2020 and it came about after struggling with some writer's block. I wasn't quite sure which direction I wanted to take Patches Paradise as I'm always so influenced by a diversity of genres. When I wrote the chord progression I became excited by the sound and the song evolved around that. Essentially it's a reflection on simpler times and feeling nostalgia for things we've cherished in the past whilst looking forward to creating a bright future for ourselves. In a way it's like an abstract letter to myself to say 'hey, just create something and run with it. It doesn't matter what it is.'


Question: Is there a particular message you hope listeners take from your music?

Charlie White: I think a running message and theme for me right now - which is totally and utterly cliche by the way - is that life is short so it's important to create, reflect and celebrate. I know the message is something so subjective, my music might mean one thing to me but I'm sure people will interpret it and find their own meaning as well. I'm excited to hear other people's perspectives on it!


Question: Which is your favourite song to perform live and why?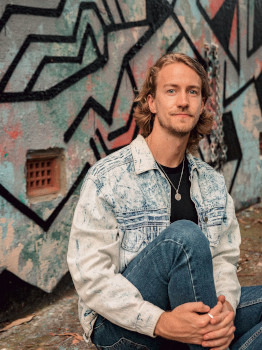 Charlie White: Fever is fun to play live though it's been a while since performing, I basically have an entirely new setlist now and I'm excited to unveil that. It's much more electronic and glossed up. I've got a few new songs I think will translate really well live.


Question: What is the story behind Patches Paradise?

Charlie White: I've been writing songs since I was about 12 and have played in various bands over the years, I've always used song writing as an outlet. I wanted to create Patches Paradise as my solo project to tell some stories and make music that (whilst it's essentially pop in structure) has something different to offer people. I've always loved the blend of acoustic and electronic elements and off kilter pop, so Patches Paradise is my take on that.


Question: What motivates you most when writing music?

Charlie White: Sometimes I really need to visualise where I see the music, whether it's a live setting or a cinematic experience, if I can feel that when I'm writing an idea that's usually a good motivator / indicator that I'm onto the right vibe.


Question: Which music/artists are you currently listening to?

Charlie White: Genesis Owusu, LCD Soundsystem, London Grammar, Alice Ivy, Hot Chip


Question: What or who was your inspiration to go into the music industry?

Charlie White: I think the biggest defining moment was seeing Green Day's Bullet in a Bible documentary on Channel V when I was 11 years old. I thought it was the coolest thing ever and I wanted to do it! Commence many months of air guitar followed by learning the real thing after that...


Question: What moment in your musical career stands out the most?

Charlie White: I work as a composer so there's a few milestones from that such as doing a remix of Rhythm of Life for SEAT in Europe and having all of these random Spanish fans try to track down the music from the TV advert. There's this community of people that have been reposting it on YouTube and doing their own edits so that was very cool! Another was touring with Mammals and supporting Pnau in Wollongong, it was awesome to play such a big room.


Question: If you could collaborate with another artist, who would it be?

Charlie White: In my fantasy world I'd start a supergroup with Frank Ocean, Quincy Jones and Daft Punk


Question: What's a typical day like?

Charlie White: I work as a composer and sound designer for TV and film so I'm at the studio 9-5 during the week working then I'll usually stay back a couple of nights to work on Patches music as well.


Question: What has been your favourite part of becoming a music artist?

Charlie White: The joy and pure terror of sharing my music with other people. But more than that, creating a small community and bringing people together through music.


Question: What's next, for you?

Charlie White: There'll be a few more releases coming up and some gigs soon, I have a lot of work to do!


Question: Can you share your socials? (links please)

Charlie White: Instagram
Facebook
YouTube


Interview by Gwen van Montfort