Thrilling singer, songwriter and visual artist, PARKER has shared her fierce and empowering new single and video, Superhuman, a powerhouse indie electro track with an 80s wash and a commanding message about being brave and evolving, complemented by an extraordinarily cinematic video clip that could easily be mistaken for the trailer of the next Hollywood blockbuster. PARKER will be celebrating her bold new single with two livestream single launch shows on July 2 (electronic show) and July 16 (acoustic show).

Written by PARKER in collaboration with and produced by Hans Van Vliet, and mixed and mastered by Becki Whitton, Superhuman is an 80s soaked electro dream, transported by the unmistakable, glassy voice of Tash Parker. With oscillating stratified synths bubbling throughout, Superhuman is steeped in nostalgia and will be lapped up by fans of Robyn, Bjork and Portishead.

"Superhuman is about being brave, facing your fears and evolving," explains Tash. "I wrote it in response to developing anxiety and insomnia a few years ago. Dealing with the challenges led me on a journey of self discovery. I learned meditation techniques and developed a fitness/health practice that brings me to today feeling superhuman. Overcoming my worst fears and facing my problems head on wasn't easy but it's given me the gumption to tackle anything that challenges me."

Accompanied by a masterful film clip that was created and co-produced by PARKER's long-time audio and visual collaborator, Hans Van Vliet, the video was made in the game engine, Unity and takes inspiration from 80s cinema. PARKER offers insight into the video's essence and the deep thought and workings that saw this video become a reality, saying, "We wanted to tell the story of a character who works hard to rebuild itself and evolves to become superhuman. Set in another world, the clip starts in a magical cave with 3 distinct light colours of red, gold and cyan symbolising the past, present and future respectively. The pulsing light represents the heart or essence of a being. Outside the cave is The Oracle which represents the higher self or future self. We are made up of our past, our present and our future potential, and only when these three elements are embraced can we become superhuman."

Chatting about her livestream shows in July, Tash insights, "Just before the lockdown we were all set to go for national touring this year, so it felt like a false start in regards to launching my new live show. Luckily my band and sound engineer all live in Launceston and we are able to do a livestream show. We will be presenting one full band and production show, and an acoustic show with stripped back arrangements of the songs, plus some new material that I have written during iso. Unfortunately for the full production shows you won't be able to feel the subs hit you in the chest unless you have a massive sound system at home, but the audio will be super high quality so I can recommend getting some really nice headphones to listen to the show on. I love the idea of people at home finding a comfy space to lay down with their eyes closed while we perform."

Superhuman is out now.
PARKER is Tash Parker.


Interview with Tash Parker
Question: How would you describe your music?

Tash Parker : Someone recently described my latest single Superhuman as Retro-Futurist Electronica. I love it!! That's exactly the music I want to be making. Alternative Art-Pop is also how I have been describing my sound. Although it's electronic I always have organic elements and lots of layered vocal hooks. I think whatever I do I want it to feel surprising and exciting for my audience.


Question: Can you tell us about Superhuman?

Tash Parker : I wrote Superhuman at a time when I was battling with anxiety and insomnia. I took up running as a way to combat my anxiety and consequently became really fit and strong. I wanted to write a song that empowered me to embrace change and evolution in my life. I love this song in particular because it was the first song I wrote by starting with a bass part. The bass as an instrument can be supportive or it can be like another vocal and play a really hooky melodic part. I just love the way the bass and the vocal parts weave in this song. It creates a real surging feeling in me when I listen to it.


Question: Is there a particular message you hope listeners take from your music?

Tash Parker : I wrote Superhuman as a song about facing challenges and not backing down or compromising. Whenever I face my problems head on and work through them I feel stronger and more determined. I really hope to inspire others to do the same for themselves.


Question: Do you prefer performing live or recording?

Tash Parker : Oh gosh this is such a hard question. I definitely can't choose between them. It's like asking someone to choose between their favourite main meal and their favourite dessert. Preferably you want both equally, but not at the same time. I have really missed playing live over the past few months. I love the feeling of giving it my all on stage and connecting with the energy of the crowd. But I really love writing and recording too. There is something amazing about creating sonic worlds for songs and stories to live in.


Question: Which is your favourite song to perform live and why?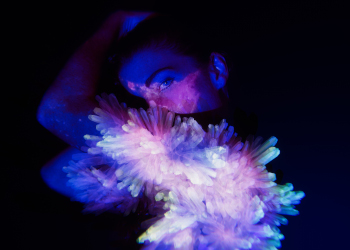 Tash Parker : Superhuman!! It's the one that gets the crowd going. And I get to yell 'I AM SUPERHUMAN!' At the top of my lungs. It's like affirmation therapy. Each time I sing it I'm basically brainwashing myself. If I did a world tour I would probably believe I was a superhero by the end of it.


Question: How has COVID19 influenced your music?

Tash Parker : The influence has been unexpected. At first I was sad that I wouldn't be able to tour and play shows because I had just got my band together. But having lots of time at home has allowed me to do some more writing and focus on releasing more music independently, which takes a lot of time behind the scenes. One thing that has been most surprising is the local government funding for the Arts here in Tasi. I've actually just received two grants. One from Arts Tasmania to make a concept album with Hobart based Art-Pop artist Costume and another from Regional Arts Network Tasmania to put on my live stream shows next month. With no distractions or excuses I'm looking forward to connecting with my audience more online and providing some much needed entertainment and distraction for people during such an uncertain time.


Question: Can we expect a tour when all restrictions are lifted?

Tash Parker : Oh my goodness YES!! I am so ready to get this show on the road. But until then I am also really excited to be able to live stream my show on July 2nd. I have a killer band and an amazing engineer who is helping me work out how to get the best possible sound into everyone's ears around the world via the Internet. It's actually amazing that the live show will be able to reach places around the world that I might never get the chance to travel to, to play live.


Question: What or who was your inspiration to go into the music industry?

Tash Parker : I've had a few really important people influence me throughout my life.
When I was 5 years old it was Mariah Carey singing with Boyz II Men who made me want to be a singer.
When I was 16 it was Guy Ghouse who inspired me to learn to play guitar and write songs. Guy is one of Australia's most understated and incredible guitarists. He is from Broome, WA and he writes and accompanies Gina Williams who sings all songs in her birth language Noongar, the Indigenous language of south-western Australia.
The most significant influence of my life, the one who encouraged me to learn about the music industry and start my own record label to release my music under is Wally De Backer. He was my greatest supporter in the early stages of my career and he taught me so much during the time we shared our lives together. He showed me it was possible to be a successful independent artist and stay true to my art.


Question: If you could collaborate with another artist, who would it be?

Tash Parker : I'm really excited about my collaboration with Costume. It's going to sound like Nine Inch Nails produced an album for Lee Halewood and Nancy Sinatra. Costume is such an inspiring local artist and we have got our first meeting with the fashion designer who is creating our outfits for this project next week. It's going to be outrageous and I'm so excited for our live show. With our powers combined!!


Question: Was there a moment you contemplated throwing in the towel?

Tash Parker : I actually quit music a few years back. I had released a solo record called Waking Up and I'd lost my way in the process getting caught up in the music business side of things. I had stopped writing and playing music and felt very lost at the time. I had a bit of an existential crisis and wanted to find out who I was without music because it had been my whole identity since I could remember. So I ended up doing a visual arts course at Tafe and my teachers encouraged me to go onto an undergraduate in Fine Arts. I was half way through my undergraduate degree when I realised…. I'm an ARTIST! Songwriting is just my primary medium. The songs started to pour out from me again and this is when I met Hans and started to work with him. It's also when I joined forces with Emma Anglesey to create Runaway Belles and joined Ladychoir. Sometimes you have to throw everything down and walk away only to come back and discover it was all right.


Question: What is the biggest challenge you have faced along the way to your musical success?

Tash Parker : Finding self belief has been the biggest challenge for me. In my early career I was surrounded by incredible artists and musicians and I believed I could never be as good as them. This way of thinking really held me back from writing and performing. I justified not doing things because I was supporting my partner who's work and career I believed was more important than mine. I let myself get distracted and I was constantly making excuses to not make, to not write, to not try. In 2015 I was so depressed with where I had let myself get too. I wasn't following my dreams and I felt like I was wasting my life. My friend Mijo Biscan had just started working with artists as an accountability coach so I signed up and I've been working with him every week for the last 5 and a half years. He really helped me to turn my whole creative practice and consequently my life around.


Question: What's a typical day like?

Tash Parker : I have a daily gratitude and affirmations practice that I do every morning when I wake up. I make a tea and read over my 5 year vision/plan and my list of goals for the current 6 month period. I then do some sensory writing exercises and journaling. I do a minimum of 30minutes vocal practice each day and usually go for a run or walk in the gorge next to my home. The rest of my days are filled with working on current projects and rehearsals. I've been doing live streams with Runaway Belles every Monday night so we have been rehearsing every day for those. I'm also rehearsing for the Parker live stream shows. Today I went to my keys player's house to work on acoustic arrangements for one of the live streams. I'm also working on a couple of new tracks with Hans and a local Launceston producer Jack McLaine. And I'm collaborating with Emma Anglesey and Jack Stafford on a music video for my next release. A day off for me consists of putting on a flannelette t-shirt and spending all day working in my garden.


Question: What has been your favourite part of becoming a music artist?

Tash Parker : The best part about becoming a music artist is that I get to collaborate with so many amazing film makers, animators, photographers and visual artists on all the art that accompanies my music. I've met so many incredibly talented and lovely people through making music and I feel like I truly belong in a wonderful and supportive community.


Question: What's next, for you?

Tash Parker : I'm really looking forward to my live streams next month. I hope these first shows are just the beginning of being able to connect with my audience more online. I'm also really excited about a music video that we are making for my next song called Single which will come out in early August. And I've just started developing the concepts for 2 more music videos with Hans for our 2021 releases.


Question: Can you share your socials? (links please)

Tash Parker : Facebook
Instagram


Interview by Gwen van Montfort