Tasmanian indie-pop singer-songwriter, Nuria has revealed her opulent new single "Juliette" a lavish look into the contemporary artists classically trained piano and vocal skills. Investigating both the rewards and downfalls of deep love, "Juliette" is a magnificent display of talent and development.

Fathomless with introspective lyricism and stunning yet haunting vocal layering, this single is exemplary of Nuria's pure excellence. "Juliette" follows Nuria's 2020 debut album "Alive" which has received praise for its smooth production, gorgeous vocals and mature sound.

"Sometimes when you fall in love with someone the experience is so intense it can feel like both pleasure and a poison," said Nuria. "Juliette is about that feeling. How we can need, and want something so much that the ache feels almost like an illness, yet the attainment of that love is the ultimate salvation."

Nuria is the stage name of Tasmanian indie pop artist Anna Maynard. Pronounced NOO-ree-ah, this name from her childhood meaning "Fire of the Lord" speaks of passion, boldness and captures a spirit unhindered by the constraints of growing up.

Nuria's story is reflected in the depths of her songwriting - a childhood of fantasy, a tumultuous adolescence of desires, insecurities and self discovery, the "sensible" choice of a day job as a doctor and all the while a burning and insatiable desire to create and connect through music.

A seasoned performer, Nuria has previously worked under her name Anna Maynard having notable past performance opportunities including the Cygnet Folk Festival, Nannup FolkFestival, Top Half Folk Festival and support act for the Waifs with fellow artist Dave Crowe (aka Resin Moon). She is also a regular feature at MONA, the Wrest Point Casino Hobart and an active member of the Australian Songwriters Association.

With the release of her debut album "Alive" in 2020 Nuria's music is being received by audiences throughout Australia. With massive community radio support and her songs being added to the ABC rotation, this Tasmanian artist is building momentum with each release. Singles from her debut album have made it into the Top 30 for the 2020 Australian Songwriters Association Songwriting Contest as well as being selected in the Unsigned Only Competition semi finals.

With no signs of slowing down, Nuria is preparing for the release of her second album in 2021. With her soulful and enigmatic vocals wrapped up in the multi-textured and elegant production work of Sam Phay and mix/master engineer Peter Holz, this emerging artist is stepping into an exciting new chapter.


Interview with Nuria (Anna Maynard)
Question: How would you describe your music?

Nuria: I always find it hard describing my music to be honest! I feel like it probably sits somewhere in the alt-pop/indie-pop realm. I'm a pianist but I feel that my voice is my real instrument and I love exploring the way the meaning of a line is so exquisitely dependent on its delivery. I love the artistry of words so the lyrics are always a key component of my songs and I try to hone in on little moment and feelings and find different ways of capturing and describing them. Essentially though, my writing comes from a place of expression rather than focus on an end product. There are lots of different ways of writing music but for me that feels the most compelling and authentic.


Question: Can you tell us about Juliette?

Nuria: My song ideas pop up for various reasons - sometimes it's something I'm experiencing right there and then, other times it's a memory of a feeling that comes to me from a past time. 'Juliette' is a song about the feeling of falling in love and that deep, whole body infatuation. When I think of those most intense early romantic experiences in my life I notice there is such complexity in the emotion of wanting. It's incredible and exhilarating but it's also somehow torturous until that want and need can be satisfied. 'Juliette' explores that feeling and how that stage of falling in love can be both a pleasure and a poison. I wanted that totally over the top, dramatic feeling to be reflected in the production and I couldn't have been more happy with they way my producer Sam Phay made that happen.


Question: Is there a particular message you hope listeners take from your music?

Nuria: To me the ultimate goal is to make people feel something - to tap into the core of other people and evoke an emotion seems the most incredible concept. My songs are personal and the lyrics often very introspective but I hope that honesty can resonate with other people.


Question: Do you prefer performing live or recording?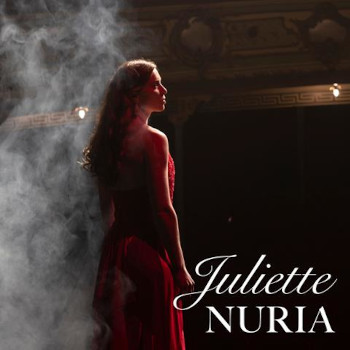 Nuria: I don't think I could choose either way! There is something entirely magical about the early stages of songwriting and recording in particular. I usually write the songs whilst concurrently developing them with some basic production and I can lose myself for hours in this endless creative space. On the other hand performing live is completely exhilarating and I love the dynamic surprise factor of not knowing how the listener will react. Sometimes a song can feel so differently when I play it to different people, I can somehow sense how it is being received and that can completely transform the experience for me.


Question: What was your first performance?

Nuria: I've done a lot of classical singing and musical theatre throughout high school but I guess my first real full set of original music was in a pub in Hobart when I was about 22. I was so nervous but somehow I pulled it off. I was probably rough as guts but in my mind it was one of my best performances. I think I could feel my own rawness and I recognise the power in that.


Question: Can we expect an upcoming tour?

Nuria: Unchartered territory for me! I would love to tour and should the right circumstances and opportunity arise I would do it in a heartbeat. I've got a pretty devoted little fan club consisting of my husband and two little boys, so while it's a slightly more complex exercise to arrange there would be no stopping them coming along for the ride!


Question: What motivates you most when writing music?

Nuria: It's always a feeling I want to express. It comes from somewhere - past or present - and I feel compelled to write about it. I love the way an experience then becomes transformed into a song and whilst the core of that experiences is still there, the song is a new entity which can go on to have its own journey, touch people in ways I might never have imagined and continue some mysterious exchange of human connectivity. It makes all the shitty, sad, embarrassing and difficult experiences so worthwhile.


Question: Which music/artists are you currently listening to?

Nuria: I'm listening to Valis Alps, Mallrat and Imad. Ask me next week and it'll be something different!


Question: What or who was your inspiration to go into the music industry?

Nuria: I don't ever remember a particular influence to start songwriting, I just wanted to do it. And the music industry is goddam tough so I don't always feel like I actually want to be in it to be perfectly honest. Certainly though there have been some key inspirations along the way that have made me feel incredibly passionate about this medium of creativity. In particular in my early years of songwriting I took huge inspiration from Missy Higgins, Kate Miller-Heidke and Regina Spektor. I love these artists for their uniqueness, authenticity and the incredible way that they paint with words.


Question: If you could collaborate with another artist, who would it be?

Nuria: I'd like to write and perform a song with George Ezra. I think our voices would sound quite nice together - but really, his voice with a horse's fart would probably sound quite nice together.


Question: How does it feel to hear your song played all over the airwaves?

Nuria: Oh my god ridiculous. I have to stop what I'm doing and just do a little happy dance because it feels completely insane.


Question: What has been your favourite part of becoming a music artist?

Nuria: I love that it gives me some kind of licence to be honest and talk about such core emotions with people I might not even know. There are so many barriers we put up in our lives and so much masking of how we really feel. I get incredibly bored with that and I love that somehow music gives me a space where it feels like I'm allowed to express myself more deeply.


Question: What's a typical day like?

Nuria: Oh my god do you really want to know? My life is a little bit crazy but since you asked…Get woken up with two little kids climbing all over me. Spend the next hour or so in the depths of getting ready for school/childcare or whatever other activity is planned for the day. Try to get out of the house and have to go back to change someone's nappy, or wash yoghurt out of my hair. Manage breakfast and a coffee sometime around 10am. Do some study for my upcoming medical exam. Attend to some social media upkeep (sigh). Listen to the latest mix from my producer Sam Phay or mix/master engineer Peter Holz. Email graphic designer about artwork for next single. Pay bills and sort through boring mail. Cook dinner and make lunches for tomorrow cos I'll be at work all day and the morning will be crazy. Shit it's already school pick up time. Get there late. Come home. Wash more yoghurt out of my hair. Make a helicopter out of a cardboard box. Clean the Wheetbix that was thrown all over the floor. Eat dinner. Read stories. Clean up. Go to bed. I'll try playing some music on the weekend.


Question: What's next, for you?

Nuria: Super excited to be releasing my second album later this year, and well on the way to the bones of the album to come in 2022. There is no time, but somehow always time for music.


Question: Can you share your socials? (links please)

Nuria: Instagram
Facebook


Interview by Gwen van Montfort