If like me, you have trouble growing your hair thick and long, or want a fringe but are too afraid to cut your hair? Headlines Hairpieces have come to the rescue.
Headlines Hairpieces are made from 100% natural hair, that add length and glamour to celebrities such as Ricky-Lee, ex-McLeod's Daughter star Rachael Carpani and many others rely on Headlines Hairpieces to provide natural clip on celebrity hair extensions.
So why do stylists to the stars, models and celebrities all choose Headlines Hairpieces? Firstly, their clip in hair extensions are one of the most natural looking hair pieces available, and are a great alternative to hair extensions. They are comfortable to wear, affordable, and come in a range of colours (such as brown and blond hair extensions) and styles to suit everyone. Headlines Hairpieces are the specialist you are looking for to achieve that perfect look!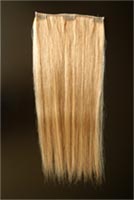 Secondly, with the clip in system there is less damage to your own hair. And unlike many on the market, can be attached in one piece instead of having to use multiple hair pieces to get the look that you want.
The hair pieces last for many years, if cared for properly, and Headlines Hairpieces supplies you with a net, making them easy to store. How to care for your clip on hair extension is simple - just treat them like your own hair. Wash with a salon recommended shampoo and conditioner, comb with a wide toothcomb, blow dry or leave to dry naturally.
Headlines Hairpieces have many different styles available, the complete range and prices are on the website headlineshairpieces.com.au. Prices range from only $15 to $495. Definitely far more affordable than the salon based hair extension "operations" that can do more damage than good.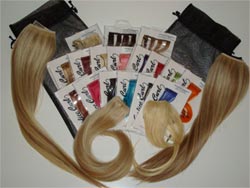 Available in the Headlines Hair pieces range are:
Add On - Clipped in front to add volume to your hair
Volumiser - For fine hair, to add body and length
Extended Layers - Layered hairpiece for Medium textured hair
Extended hairpiece - For very thick hair
Curls - For curly hair, can be straightened if desired
Cube - Clip on ponytail extension, designed to give a thicker ponytail
Simply Highlights - A clip in hairpiece which gives highlights without having to go for professional colouring
Fringe - An easy clip in hair piece for a different look without having to cut your hair
Splice Curls - Are a clip in colour, for young girls that don't want to colour their hair
For more information and ordering please visit Headline Hairpieces - headlineshairpieces.com.au