Self proclaimed 'future-pop' Queen 'MUKI has dropped her new single 'Level Mind Fuck' from her upcoming body of work set for a 2021 release.

Sonically and visually inspired by Ridley Scott's 1982 Blade Runner, 'Level Mind Fuck' offers a glimpse into the Mukiverse - a futuristic soundscape that pairs glitchy bubble pop with unapologetic tongue-in-cheek lyricism. Wittingly sneak in sound effects from everyday life and you have pop music in its most advanced form, or in this case, you have MUKI.

"When I originally wrote Level Mind Fuck, it was about a very vulnerable moment in my life, but when I went back to refine it with Sam (Sakr), it took on another meaning entirely. I hope that everyone who listens to it feels like a badass!" shares Muki.

Alongside 'Level Mind Fuck' MUKI shares a striking visual accompaniment that further accentuates the dystopian future inside the Mukiverse. Set in a chromatic state, the singer finds herself in a compromising situation when her master plan goes awry… but maybe this is what she wants you to think?

Redefining the traditional pop structure, 'Level Mind Fuck' came to fruition from an Instagram photo of MUKI in an elevator in LA and then developed into two parts unofficially with producers and co-writers Sam Sakr and George Nicholas (Cosmos Midnight, George Maple).

MUKI explains the song's design, "It almost feels as though it's two songs stuck together, but it's meant to feel like by the second half of the song you're on a new level...We also wanted to leave a little golden nugget for listeners, so we added in an elevator sound between the two levels, as a little homage to the humble beginnings of the idea for the song!"

The last 12 months have seen MUKI showcase her immense songwriting talents on cuts with Briggs, PACES, The Veronicas and Jessica Mauboy, garnering the pop savant two ARIA Award Nominations for her co-writing work on Jessica Mauboy's record Hilda and Briggs' Always Was EP. It was these efforts that captured the attention of international/UK based management company Tribe, who have been working closely with MUKI in establishing her as an Australian pop-heavyweight. MUKI also hit our TV screens on the latest episode of The Sound performing alongside Briggs for his latest single 'Good Morning'.

Bursting onto the scene with her debut single 'Sassaparilla', MUKI amassed a legion of fans especially among the media who praised the young artist for her 'forward thinking pop', positioning her as Australia's reigning "PC Pop Princess" (Pilerats). A successful string of singles and the release of her debut EP It Won't Hurt landed MUKI a once in a lifetime opportunity, supporting 5 Seconds of Summer on their Australian arena tour.


Interview with MUKI
Question: How would you describe your music?

MUKI: My music is like getting a really nice polite slap but like a slap that feels good. It's a bit sassy, but mostly it's fun and cheeky.


Question: Can you tell us about Level Mind Fuck?

MUKI: The idea for Level Mind Fuck came to me because I had captioned a photo of me in an elevator 'I'll push your buttons take you to level mind fuck' and I just liked how Level Mind Fuck sounded. I didn't write the song until a few months later, initially the song was about how guilty I felt for breaking up with someone, however I didn't complete the song for a whole year, so by the time I went back in to finish it with Sakr, the song morphed into something else completely. That is why it sounds like it has two parts and it really plays into it being 'fucked up'. It is definitely the most vulnerable song I have ever released.


Question: What inspired the video?

MUKI: I was inspired by the chase scene at the end of Ridley Scott's (1982) Blade Runner, we actually used Vangelis (the composer for Blade Runner) as a reference for the sound design in this song. From the moment I heard the first demo, I really wanted to replicate a similar scene in a warehouse and of course I wanted there to be an elevator.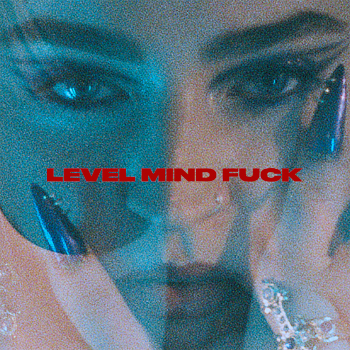 Question: Is there a particular message you hope listeners take from your music?

MUKI: Overall, I want people to feel like a badass boss when they listen to a Muki track; with LMF in particular I want people to feel like they should never be made to feel like they are small and feel guilty for being themselves.


Question: Do you prefer performing live or recording?

MUKI: BOTH! I really don't have a preference, I love being in the studio and writing and recording. I find that process therapeutic, but there isn't anything like playing those songs live. Both of those experiences are unmatched and so enchanting.


Question: Which is your favourite song to perform live and why?

MUKI: I love playing Sassaparilla because it's at the end of the set, everyone sings along, me and my MD have a choreographed dance and it's so much fun, also at that point in the set there is a bit of relief because it's like 'you've made it'. I am really looking forward to playing my new stuff live too, because there is going to be a big shift in energy, and I can't wait to explore that live when venues start opening up again!


Question: Tel us about your tour with 5 Seconds of Summer?

MUKI: That was a huge world-wind, I literally found out I was playing the tour the day before the tour started in Sydney! So there was so much to organise (flights, accom, and outfits!!) and by far the venues were the biggest I have ever played! It was so crazy because there was so much anticipation on the first night, so after I got off I had a little happy cry because it was just so overwhelming being able to do that tour -- and their fans are so fun and welcoming! The boys were also super friendly and it was just such a great experience!


Question: Which music/artists are you currently listening to?

MUKI: I listen to such a huge range of stuff! I will forever have the classics on repeat, I draw a lot of inspiration from artists like; Madonna, Whitney, Kylie and my favourite Robyn. I've been getting into a lot of underground hyperpop stuff too; Shygirl, Arca, CouCou Chloe.


Question: What or who was your inspiration to go into the music industry?

MUKI: I've started writing songs at around the age of 11, so maybe at the time Hilary Duff? Or Hailey Williams from Paramore? It wasn't like a moment where I felt like it was something I would like to do, it was always something I just thought I WOULD do. I just loved to write music and had a desire to put out my own songs. I look up to artists like Robyn who have a very distinct sound, and vision and they write their own songs. So she inspires me even to this day!


Question: If you could collaborate with another artist, who would it be?

MUKI: Robyn! I love her, can't you tell? I would also love to work with Shygirl.


Question: What is the biggest challenge you have faced along the way to your musical success?

MUKI: Being an artist means you have to have incredibly thick skin, it is so easy to be knocked back on so many different elements of your career. So I think the biggest challenge is perseverance and not letting one (or many) setbacks knock you off.


Question: What's a typical day like?

MUKI: I think that's the most exciting thing about being an artist, there generally isn't a typical day. You have to be very flexible and take what comes. One week you could be in the studio and the next day you're on tour. Sometimes it's incredibly mundane, where you are just doing emails.


Question: What has been your favourite part of becoming a music artist?

MUKI: I think being an artist is almost like being a parent, my music is like my baby. So it's kinda awesome to see how I have progressed and developed as a writer and an artist over time. It is definitely super cool to be able to see an idea come to life and then have it get released.


Question: What's next, for you?

MUKI: Well! I have a body of work coming out next year, and then after that we have a few more exciting things in the works.


Question: Can you share your socials? (links please)

MUKI: Website
Instagram
Facebook
Spotify
Tiktok


Interview by Gwen van Montfort