Jennifer Hawkins escapes the everyday to launch new Mount Franklin, with a Hint of Natural Flavour
Jennifer Hawkins has teamed up with Mount Franklin to launch a new range of Mount Franklin spring water, now with a hint of natural flavour.

The new Mount Franklin range is available in three mouth-watering fruit flavours, Pineapple & Mint, Lemon & Lime and Strawberry, all with no sugar, no sweeteners and no preservatives.

Unveiling the new Mount Franklin range, Ambassador Jennifer Hawkins said Mount Franklin provides delicious hydration.

Jennifer said, "Hydration is so important, particularly during busy summer months ahead of Christmas when I need to remain energised and productive throughout the day. Like many people I know I struggle with mid-afternoon energy slumps when I'm often tempted to reach for a sweet treat.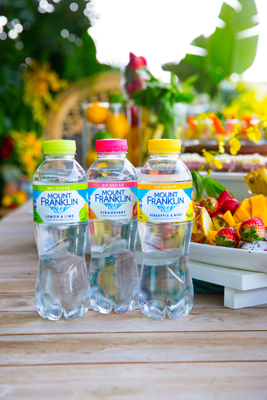 "A better way to take a break is with a tasty hydrating beverage such as the delicious Mount Franklin spring water with a hint of natural fruit flavour, and with no sugar, they're a treat you can feel great about at the same time.

"I encourage all Aussies to pause their busy lives to take a moment to escape and hydrate every day."

Jennifer Hawkins also shared her top three quick and easy wellness tips that can help you beat the classic 3pm slump:

1. Take a moment to focus on your breathing; a couple of deep breaths can help clear your mind.
2. Move your body; a short walk outdoors can re-energise you for the afternoon.
3. Stay hydrated! It's so important and can help you beat that 3pm slump. Mount Franklin with a Hint of Natural Flavour is available now across Australia in 600ml bottles ($2.70 Recommended Retail Price each), ideal to keep you hydrated throughout the day.
Review: The new range of Mount Franklin spring water with a hint of natural flavour is incredibly delicious! The water is nice and although they smell very strong the taste is beautifully subtle.
The new range of flavours are an enjoyable change from the classic hint of lemon and none of the flavour is over-powering, there truly is just a hint of freshness that will quench the need for a refreshing sugary drink in Summer, whilst still being a healthy option.
Even more refreshing cold, this new range will encourage you to drink more water and the natural flavour won't leave you feeling unhealthy as it's created with no sweeteners or preservatives.
- Brooke Hunter