Sweat It out Partner with Majestic Casual, Signing Belgian Born Singer/Songwriter Moli
At only nineteen years young, the future for Belgian born, UK singer/songwriter Moli is beyond bright. Combining her vibrant and fascinating storytelling with a vocal style that's completely refreshing from her contemporaries, Moli is cementing herself within the ranks of tomorrow's indie-pop elite. And so with the release of her debut EP 'Résumé' we are excited to announce our partnership with Majestic Casual, and the signing of Moli to Sweat It Out.

On the signing, Moli explains, "I'm super happy to be bringing my music to Australia & New Zealand with Sweat It Out & Majestic Casual! It's an honour to be part of Sweat's roster, with some of my favourite artists such as What So Not, Anna Lunoe, Motez and Yolanda Be Cool. I'm very excited and looking forward to this release." With the Majestic Casual team adding, "Moli's one of the most exciting newcomers we had the pleasure of working with this year so we are thrilled to have found a partner in Sweat It Out who will help spread the word of her down under."

The five track EP is an impressive debut from the Belgian native, with the music easily sitting within the space between Saturday night dancefloors and Sunday arvo chills. Whether exploring the complexities of young love, examining one's attributes introspectively, or just doing it for a bit of fun, Moli's delivery is nothing short of soulful, innovative, and lush.

On the lead single 'Didn't Mean To,' Moli says "I remember dating somebody a while back, where nothing was made official relationship-wise, and things were good, but then feelings changed for me" explains MOLI, who preaches honesty in all her songs to come, continuing "This song is about getting caught-up, thinking what you have with somebody is great, only to find it isn't reciprocated back, and because you're not technically official, it's easy for the other person to feel no empathy nor guilt. It's heartbreaking."

A natural writer and thrilling performer, the exciting young artist has already amassed millions of online streams, while staying true to her vitalising, personal language. With a plethora of support across music and fashion tastemaker outlets including The Line Of Best Fit, Clash, Complex, Hunger, Born Music and Spindle, to name a few, it is clear that Moli's honest storytelling is connecting across borders. Whether you want music to dance or cry to, Moli's EP has got your back.

Moli's debut EP 'Résumé' is out now on Sweat It Out and Majestic Casual Records.
https://sweatitout.lnk.to/Resume
Interview with Moli
Question: How would you describe your music?

Moli: I always find it difficult to put music in boxes but I guess I would say its RnB/ indie pop.


Question: Which is your favourite song to perform live and why?

Moli: "Didn't Mean To" is my favourite as it's the most poppy, positive tune and I enjoy seeing people get into it.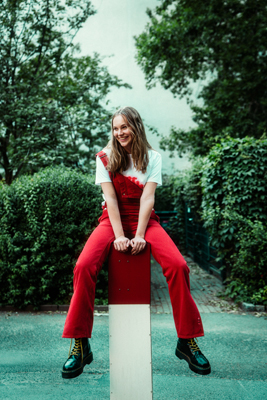 Question: If you could have anyone, in the world, attend a show, who would it be?

Moli: That's a difficult one as I would be very scared to disappoint someone that I admire. This might be cheesy but I would love for my grandparents to be able to see me perform live. I hope to be performing near where they live someday soon!


Question: Do you prefer performing live or recording?

Moli: They are two very different things that I both really enjoy doing! I would say I enjoy performing live more as you get to connect with the audience and communicate your emotions directly.


Question: What motivates you most when writing music?

Moli: My feelings; I will usually write about something that's going on in my life and head that I need to get off my chest.


Question: Which music/artists are you currently listening to?

Moli: Dominic Fike, Parcels, Billie eilish, Col3trane, Omar apollo and many others!


Question: What or who was your inspiration to go into the music industry?

Moli: My manager. I have always dreamed of being an artist but never really knew how this whole business worked. It was only once my manager found me online that he introduced me to this world. I took what I called "a gap year" after school to come to Berlin and try it out. I ended up falling in love with this job and not seeing myself do anything else.


Question: If you could collaborate with another artist, who would it be?

Moli: Tom Misch; that would be amazing.


Question: What is the biggest challenge you have faced along the way to your musical success?

Moli: Learning to trust my own opinion. I found myself constantly doubting my work and what direction to take.


Question: What's a typical day like?

Moli: I usually wake up around 9, get ready and head to the studio. There isn't really a fixed time on when i start or finish. It all depends on the song we write and the people I am working with. In the evening, I usually go out for some drinks with friends or head home to get cozy and watch a series.


Question: What has been your favourite part of becoming a music artist?

Moli: Meeting so many amazing people that share the same passion as I do.


Question: Can you share your socials?

Moli: Of course!
Insta: @whoismoli/
Facebook: https://www.facebook.com/whoismoli/
Twitter: @whoismoli
Youtube: https://www.youtube.com/c/MoliTV

Interview by Brooke Hunter