Michelle Reid Health Star Rating System Interview
Aussies who live life on-the-go and are looking to reduce their sugar intake can now enjoy a delicious new way to start their day, following the launch of Up&Go Reduced Sugar, a highly-anticipated addition to the nation's best-selling liquid breakfast range.

Available now, Sanitarium's new Up&Go Reduced Sugar contains one third less sugar than regular Up&Go while still containing the protein and fibre of two Weet-Bix and milk. It is also 98.5 per cent fat free, high in fibre and provides half of an adult's daily calcium needs.

Daniel Derrick, General Manager Marketing – Sanitarium, said the new product has been developed in response to consumer feedback and is ideal for those who don't have time for a sit down brekkie.

'Sanitarium is committed to the health and wellbeing of Australians, and providing nutritious products they love. We know that some consumers are looking to reduce their sugar intake and so we've developed Up&Go Reduced Sugar# to provide a convenient, great-tasting reduced sugar liquid breakfast choice, in addition to the market-leading regular Up&Go," he said.

Michelle Reid, Accredited Practising Dietitian and Nutritionist at Sanitarium, said the new Up&Go Reduced Sugar has a 5-star Health Star Rating, under the new Government-led initiative which rates foods from ½ star to 5 stars, based on their nutritional credentials.

'Up&Go Reduced Sugar achieved a high HSR score due to the protein content, low saturated fat and sodium content, and reduced sugar content. When you're unable to take time out of your hectic morning for a more traditional breakfast such as wholegrain cereal or toast and fruit, Up&Go Reduced Sugar is the ideal option to enjoy on the go."

'In addition to being high in fibre and calcium, Up&Go Reduced Sugar# also contains protein and 10 essential vitamins and minerals, does not contain any artificial sweeteners or colours making it a brilliant choice for a nutritious start to the day," she said.

Reid said when compared with reduced fat flavoured milk or low fat yoghurt, Up&Go Reduced Sugar contains on average half the sugar.

Up&Go Reduced Sugar is available in two great flavours – Choc Ice and Vanilla Ice. It can be found in all major supermarket retailers and a pack of 3 has an RRP of $4.79.



Interview with Michelle Reid
Question: What is the new government-led Health Star Rating system?

Michelle Reid: The Health Star Rating system is a government-led initiative designed to provide Australians with convenient, relevant and easy to understand nutrition information on pre-packed foods. It provides a scientifically sound and simple visual snapshot of the nutritional credentials of food products, allowing shoppers to compare similar foods and empowering them to make informed and healthier food choices. The scheme ranks products on a scale of ½ a star to five stars, with five being the highest nutrition endorsement. The system will be implemented on a voluntary basis by manufacturers over the next five years.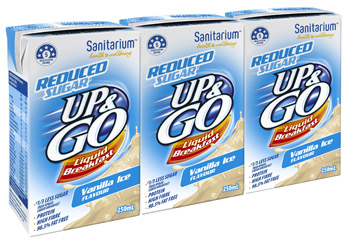 Question: How will this change the way Australians shop?

Michelle Reid: Nutrition labelling can be difficult to understand and contextualise for many people, so the star system, provides an easy, reliable reference that consumers can use when selecting products. It's a major win for Australian consumers and a positive step forward for the health of the nation.


Question: Why do you think the Health Star Rating system is the best idea for Australian packaged foods?

Michelle Reid: It's a brilliant idea for Australian packaged foods because it will allow Australians to compare the nutritional value of similar products across brands, based on a products overall nutrition profile, rather than looking only at certain nutrients in isolation. The Health Star Rating system is strongly aligned with the Australian Dietary Guidelines, and supported by considerable research. It's a simple system which helps promote better food choices: the more stars you see, the healthier the food.


Question: Can you talk us through how Up&Go Reduced Sugar works alongside the Health Star Rating system?

Michelle Reid: Up&Go, as well as Weet-Bix, were the first Sanitarium products to feature Health Star Rating labelling. New Up&Go Reduced Sugar with a 1/3 less sugar then regular Up&Go, is a delicious reduced sugar breakfast option for Aussies to enjoy on the go and it achieved a high 5-star HSR score based on its nutritional credentials.


Question: The new Up&Go Reduced Sugar has a 5-star Health Star Rating; what does this mean?

Michelle Reid: Up&Go Reduced Sugar achieved a high 5-star Health Star Rating due to the protein content, low saturated fat and sodium content, and reduced sugar content. When you're unable to take time out of your hectic morning for a more traditional breakfast such as wholegrain cereal or toast and fruit, Up&Go Reduced Sugar# is the ideal option to fuel your mornings.


Question: Why did Sanitarium choose to implement the voluntary labelling?

Michelle Reid: Sanitarium believes in providing consumers with transparent, accurate and readily understood nutrition information about our products, which is why we were one of the first companies to support the voluntary Health Star Rating labelling initiative when it was announced in June 2014. The Health Star Rating system is a major preventative health initiative which offers an opportunity for the food and beverage industry to significantly contribute to improving the health of our nation and that's reason enough for Sanitarium to get involved.


Question: How is the star rating for a product determined?

Michelle Reid: Health Star Ratings are determined using a specific calculation based on the amount of energy, saturated fat, sugars, sodium, protein and fibre in a product, along with values for the fruit, vegetable, nuts and legumes content.


Question: Will this method of Health Star Rating system become compulsory for packaged foods?

Michelle Reid: Currently the system is voluntary however in the supermarket aisles you will already be noticing a variety of products appearing with Health Star Ratings. The more companies that support the system, the greater the potential benefits for consumers through access to clearer nutrition information.


Interview by Brooke Hunter