Mayraki Professional, a vegan hair care brand founded by a group of passionate hair professionals, herbalists, and chemists that have been researching for nearly a decade how to solve people's most common hair and scalp problems using tested, proven and natural ingredients. Mayraki´s hair care products combine all-natural ingredients with the latest science and technology, making salon-quality hair treatments available from the comfort of home.
All Mayraki´s hair care products are Paraben-free, Silicone-free and Sulfate free, the latter being a common cause of premature hair loss and thinning in both men and women. Below I´m sharing some detailed information about three of their flagship products: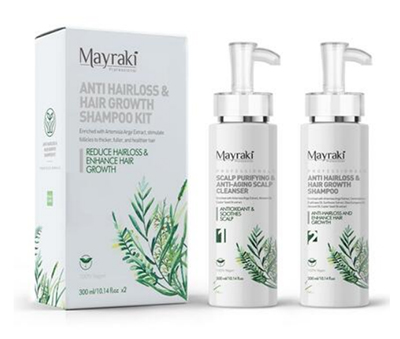 Hair Growth & Anti Hairloss Shampoo Kit
Consisting of a cleanser and a shampoo this two-step cleansing program is purifying, whilst being gentle on the scalp, anti-aging and full of natural ingredients. Formulated with Commiphora Erythraea Oil (Better known as Myrrh), Sunflower Extract, Olea Europea Oil, Almond Oil and Castor Seed Oil it is full of rick oils that promote hydration, repair and hair growth.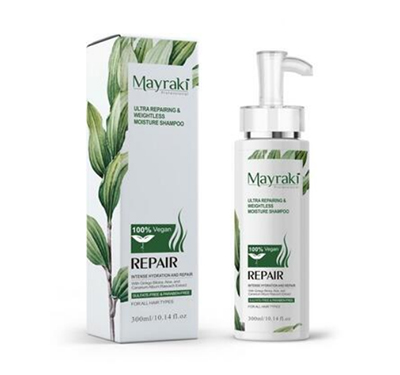 Mayraki Ultra Repairing & Weightless Moisture Shampoo
Combines the power of the latest haircare technology with the nourishment of sustainably sourced natural ingredients such as Gingko Biloba, Aloe, and Canarium Album Leaf Extract to provide a cleansing and moisturizing anti-dandruff shampoo that is free of sulfates and parabens. The perfect shampoo for regular washing that thoroughly cleanses buildup and gives hair weightless body without stripping it of its moisture. It provides nourishment to the scalp and strands that repairs any signs of damage such as dryness and split ends.
Mayraki Proactive Hair Repairing Treatment
Contains essential nutrients and herbs. An all-natural solution able to completely transform and heal your hair. After just the first use you'll visibly notice the improvement in appearance and feel physical a change in the condition in your hair.
Pack of Mayraki Repair Shampoo & Treatment RRP: $134.60
Mayraki Wooden Paddle Brush is perfectly designed for every day detangling. Features extended bristles with elastic nylon tips which can easily stretch even those with thick hairs for easy detangling, effective natural oil distribution, and a soothing scalp massage. Smooths down frizz and gentle on the hair, preventing pulling and breakage.
RRP: $54.94

100% vegan and professional hair care products aimed at all possible hair woes. Their products are sulfate-free, paraben-free and silicone-free.
Review: Loving Mayraki's Repair range; the shampoo has an anti dandruff quality that leaves your hair feeling really clean, which is a huge relief lfrom the windy alergy laden melbourne. The Mayraki treatment must really coat the hair folicals as I saw a noticeable softening to my coarse hair. Happy to report Mayraki is a quality product Shampoo/Treatment that i'm happy to recommend. Do love the detangle brush as well, glidies through the hair with pulling.