Maya Forbes Infinitely Polar Bear DVD Interview
Infinitely Polar Bear DVD


Cast: Mark Ruffalo, Zoe Saldana, Imogene Wolodarsky
Director: Maya Forbes
Genre: Comedy, Drama
Rated: M
Running Time: 90 minutes

Based on a true story, Infinitely Polar Bear is a funny and heartbreaking portrait of the many unexpected ways in which parents and children save each other.

Cam (Mark Ruffalo) is a bit of a mess – as a man, as a husband and as a father. Diagnosed with bipolar disorder, he seeks to win back his wife (Zoe Saldana) by assuming full responsibility for their two young and spirited daughters (who don't make the overwhelming task easy). When his wife reluctantly goes to business school in another city, Cam's daughters are as much of a parent to him, as he is to them. Cam is determined to break his trend of not fulfilling expectations and prove to his family that he can be the man they need him to be.

Infinitely Polar Bear
RRP: $39.95
Blu-ray: $47.95
Interview with Maya Forbes
Question: What was it important for you to share the story of Infinitely Polar Bear?

Maya Forbes: I wanted to celebrate what it is to be in a family, with all the highs and lows, joys and sorrows. I wanted to portray real little girls. Little girls can be tough cookies. I wanted to show a mixed-race family, like my family. I wanted to put all these real things in a movie.


Question: Because of that; was this project more difficult than other films?

Maya Forbes: I like being emotionally engaged with my work, so it was difficult, but in a good way.


Question: When did you know it was time to share your own experiences regarding bipolar disorder?

Maya Forbes: There are many people I care about deeply who struggle with a mental illness of some kind. I wanted to show that people with bipolar disorder can make meaningful contributions. I wanted to see a humane and loving treatment of the subject.


Question: It was a long process to see Infinitely Polar Bear on the big screen – how did you overcome challenges such as these?

Maya Forbes: I kept pushing and I didn't give up, though at times it seemed it would never get made. That's how it is with your first film. I made sure to nurture my relationships with my two main actors, to keep them involved through the ups and downs of getting financing and losing financing.


Question: Can you talk about the casting process for Infinitely Polar Bear?

Maya Forbes: Mark Ruffalo read the script and he loved it. We met and we were in sync creatively, so he signed on. I was thrilled. Then I met with Zoe Saldana, who said she was laughing and crying on every page. Zoe is an outspoken feminist, as is Mark, and they were happy to support a first-time female filmmaker. Both actors really understood, from the script, what I was going for. Because this was such a personal project, it was important to me to have a strong personal connection with my actors. I cast my daughter as the older girl, Amelia, which is essentially me. And I was lucky to find such a smart little spark plug to play the younger daughter, Faith. The kids have very big roles and they are very authentic.


Question: What was it like working with Mark Ruffalo?

Maya Forbes: Mark is extremely collaborative. As a first time director, I benefited greatly from his wisdom and experience. We talked about this role for three years, which gave it time to percolate in him. We discussed the character's physicality, his bearing, his diction. I said I wanted him to speak crisply and savor the words. Then when it came time to shoot, I said -be yourself.' Because the character was in there. I wanted it to feel natural.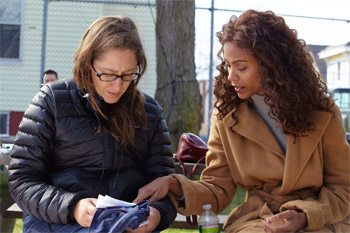 Question: What do you hope Australians take away from the Infinitely Polar Bear; film?

Maya Forbes: Sometimes taking care of others is the best way to take care of yourself.


Question: What are you currently working on now?

Maya Forbes: My husband and I are working on a film for Jack Black, where he plays a polka singer who runs a ponzi scheme. It is based on a true story about a man who emigrated from Poland to chase the American dream. And I'm hoping to cook up something else for Mark Ruffalo and Zoe Saldana; they're amazing.

Interview by Brooke Hunter