Mark Skaife with Specsavers Safer Roads Interview
Australian motoring legend, Mark Skaife OAM, has launched a road safety campaign in partnership with Specsavers, calling on all Australian motorists to protect themselves and other road users by ensuring they have clear vision before getting behind the wheel.

The campaign comes in response to new research from Specsavers, which reveals that as many as two million motorists – over a quarter (26%) of those who wear prescription glasses – admit to driving a vehicle even though they don't have their glasses with them.

Alarmingly, more than six million motorists (38%) in total say they have trouble seeing while driving. Difficulties reading road signs from a distance (23%) and straining their eyes while trying to read road maps (11%) were cited as key problems.

These figures show an apparent complacency from Australian drivers towards not only their own, but others' safety on the road. In 2015 19.1% of Australian motorists reported having at least one crash a year1 and so far there have been 12.9% more deaths in 2016 than 2015. Some of these crashes could be prevented by simply ensuring we all have clear vision when we drive.

In Australia the top reasons for driving without clear vision include;
Forgot or misplaced their glasses (18%)
Thinking that it is ok to drive only a short distance without their glasses (8%)
Having broken their glasses (3%)

Mark, a five time champion of the V8 Supercar Championship and six times a winner at Bathurst 1000, knows only too well that good eyesight behind the wheel can be a matter of life and death. Mark is encouraging all drivers to take responsibility for their vision on the roads, urging drivers to have an eye test every two years and ensure they are wearing the right prescription frames, at all times.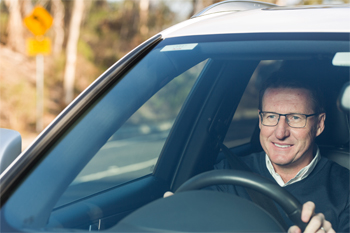 Mark Skaife said, 'From my career as a racing driver, I've learned that preparation is key to being in the safest position on the race track and it's no different when it comes to driving on the road. The importance of drivers having the right prescription glasses with them at all times, both for their own safety and for the safety of other road users can not be underestimated."

'I recently had an eye test at my local Specsavers store and the results took me completely by surprise. I had thought that my current prescription was fine however a quick consultation showed that I needed to upgrade to a stronger prescription for driving, so I'm encouraging all motorists who wear glasses to ensure they get tested regularly. I always ensure that I keep a second pair of glasses in my car at all times, so I don't forget to use them while driving!"

Specsavers Optometrist and Director of Professional Services, Peter Larsen, is calling on motorists to book an eye test. 'As an optometrist, I find the number of Australian motorists driving without their prescription glasses worrying. I recommend that all motorists have an eye test every two years and carry the right prescription eyewear with them at all times when on the road. At Specsavers, eye tests are bulk billed to Medicare, so there is no out of pocket expense to customers."

For more information or to book an eye test online, visit www.specsavers.com.au.



Interview with Mark Skaife
Question: Can you tell us about the road safety campaign you've launched in partnership with Specsavers?

Mark Skaife: Specsavers conducted research in 2015 where they uncovered alarming stats including as many as two million motorists (a quarter of those who wear prescription glasses) admit to driving a vehicle without their glasses on. Another alarming stat was that six million motorists have trouble seeing while driving. When Specsavers saw the results of their research they wanted to encourage people to wear their glasses and to get their eyes checked.

I went into a Specsavers store and had my prescription updated. From a genuine road safety stand point, I am fronting this campaign to hopefully make some difference in terms of Australians having their eyes checked and being less complacent in terms of wearing their glasses.




Question: Are you surprised that 'two million motorists admit to driving a vehicle even though they don't have their glasses with them"?

Mark Skaife: It's staggering; it's an unbelievable number and in terms of excuses roughly 20% of being said they forgot or misplaced their glasses and 10% said they were just going round the corner and thought they didn't really need to wear them. It's quite strange that people, under any circumstance, decide to get behind the wheel and not be able to see properly.

I'm passionate about road safety and we always talk speed, fatigue and other high profile reasons for accidents but clearly visibility and knowing what is going on around you is a very big element of road safety.


Question: How do you ensure you never had to drive, without your glasses?

Mark Skaife: I have a spare set, in my car, especially for my prescription sunglasses. Having a second pair, for convenience and to make sure when you do get in the car, you have a pair of glasses.


Question: What do you hope to achieve from this campaign?

Mark Skaife: The biggest thing I'd like to achieve is to encourage Australians to go to Specsavers and have their eyes tested especially because six million Australians have admitted that they have trouble seeing when they're driving – you've got to make the time. Go to www.specsavers.com.au find the Store Locator; make it as convenient and easy as you can to get your eyes tested. The Optometrists are recommending that you have your eyes tested every two years especially as you get a little bit older.

Go and make the effort to get your eyes checked.


Question: When did you first realise you needed glasses for clear vision when driving?

Mark Skaife: I always knew I would need glasses as my Dad was short-sighted and he wore glasses from the age of 40. I have had glasses now for almost 20 years and I have had the prescriptions updated, in terms of lens, two or three times.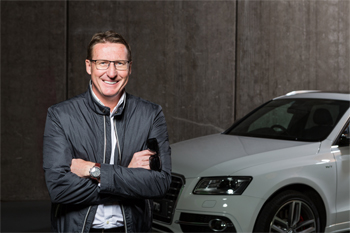 When I was racing I wore contact lenses because of the convenience of not wearing glasses inside a helmet or having the glasses fog up in the sweaty environment.

I knew I was probably going to end up having glasses at some stage. On a race track it didn't really make that much difference, to begin with, because the closing speeds are so fast but what ended up taking place was the edge of every word and the ability to see things really clearly was imperative and that's the same for road usage.

We do road safety talks and driver training or advanced-driver training and the visibility and the approach of your eye-line, making sure you're looking forward is really important and knowing what is going on around you in terms of awareness is vital. The eye-correction is a fundamental part about being able to operate safely.


Question: How easy is it to get your eyes tested?

Mark Skaife: For me the experience was fantastic, I went to the Prahran Specsavers store in Melbourne and the gentlemen who was the Optometrist was fantastic, I was there for 15 minutes and I left with a slight upgrade of the prescription that I had. The glasses were ordered in and I had them, the following week, it was very easy.


Interview by Brooke Hunter