Rhianna Buchanan Monster Jam Interview
Thrill seeker and motorcycle stunt driver Rhianna Buchanan is the first Australian to be invited to join the exclusive Monster Jam® driver line-up. Renowned for her no fear attitude and need for speed, Buchanan will fly to Illinois to train at Monster Jam University (MJU) ahead of the Australian national tour in October.

While at MJU, Buchanan will be put through her paces and audition against other potential candidates from around the world to become Australia's first Monster Jam driver.


Fans of big trucks and high-powered vehicles rejoice - Monster Jam® is heading back to Australia in 2016, with up to five brand new trucks and drivers and even more super-charged moto-tainment providing a unique sensory experience like no other.

General public tickets for the world's premiere of Monster Jam – Expect the Unexpected are set to go on sale Monday 23 May 2016, with fans able to witness jaw-dropping displays of punishing stunts across seven shows in five major cities.

With three out of four cities sold-out last year, Monster Jam is back and bigger than ever with the first Adelaide Oval show added to the 2016 tour.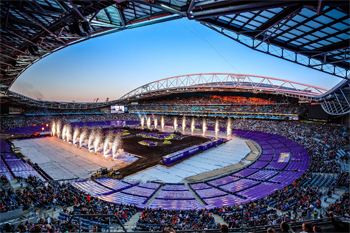 Kicking off on October 1, full dates and show locations are as follows:
01 October – 7pm – QSAC, Brisbane
08 October – 2pm and 7pm – AAMI Park, Melbourne
15 October – 7pm – Adelaide Oval, Adelaide
22 October – 7pm – ANZ Stadium, Sydney
29 October – 2pm and 7:30pm – Domain Stadium, Perth

The show will feature four unique Monster Jam driver competitions – Monster Jam Wheelies, Racing, Donuts and the coveted Freestyle competitions, with the Freestyle Motocross and Quad Wars also set to return.

Each city will also host one Party in the Pits ahead of a show, where fans can get up close with their favourite Monster Jam trucks, before meeting the superstar drivers.

The 2016 lineup includes a number of fan favourites, with -Grave Digger', -Monster Mutt Dalmatian' and -Max-D' back to tear up the track, alongside new additions -Alien Invasion', -Pirates Curse' and the yellow -El Toro Loco'.

Standing nearly four metres tall and four metres wide, Monster Jam trucks are custom-designed machines that weigh around 5,500kgs. Built for short, high powered bursts of speed, the powerful Monster Jam® beasts perform breathtaking stunts and can accelerate from 0-100kph in under 3 seconds.

They literally fly – covering up to 50m in a single leap (a distance greater than 14 cars side by side) and up to 12m skywards.

Monster Jam events are affordably priced for the whole family with seats starting from just $28*
Tickets for Brisbane & Perth visit Ticketmaster:
www.Ticketmaster.com.au/MonsterJam or call 136 100.
Tickets for Melbourne, Adelaide & Sydney are through Ticketek:
www.Ticketek.com.au/MonsterJam.com or call 132 849.
With over 170,000 tickets sold nationwide last year, Monster Jam fans are encouraged to purchase their tickets early to avoid missing out.

For more information and to purchase tickets, visit www.MonsterJamOnline.com.au. Follow us on Facebook, Twitter and Instagram



Interview with Rhianna Buchanan
Question: How does it feel to be the first Australian to become a Monster Jam Truck driver?

Rhianna Buchanan: So incredible! I'm super pumped to be the first Aussie to be given the opportunity to become a Monster Jam Athlete! Even more so because there are only 10 other females driving Monster Jam Trucks, so it's very exciting to have the chance to join this talented group and be part of highlighting and encouraging women in motorsport!


Question: Are you excited to be behind the wheel rather than the microphone?

Rhianna Buchanan: For this October I believe I will still be on the microphone as a host. Being a little bit of a perfectionist, and having a coach like Tom Meents (11x Monster Jam World Finals Champion) who I dare say is a perfectionist as well, we discussed and agreed that getting more training in before competing was the best idea. I feel totally safe and confident behind the wheel of a Monster Jam Truck but I really want to make an impact and do all the Aussie Girls out there proud, which means more practice and more training before launching into competition.


Question: Has it been difficult to get to this point, in the world of monster trucks?

Rhianna Buchanan: You could say in this regard I am a lucky girl, but one thing I do honestly believe is the harder you work, the luckier you get! I do have a natural talent, and can thank my family genes for that - My father and his family have always been into bikes and cars, he grew up racing dirtbikes, roadbikes and Mini's, my mother raced Gemini's for a while too and dirtbike riding and -paddock-bashing' was a favourite past-time for myself, my brother and sister and most of our cousins. All the time we were playing we were also learning skills which I am utilising to the max right now. In saying that, what got the initial attention of Monster Jam was my announcing. I had worked for a different part of their company and they were in need of an Australian Host for the tour last year in October. Discussions within the company flagged me which lead to my first experience being part of Monster Jam! After my first taste in Brisbane I was totally hooked and as the tour continued would joke about me switching roles with one of the female athletes. This must have sparked an idea somewhere in the chain of command and thinking back to it now, there were lots of conversations that probably served as an interview process for the position I am now applying for!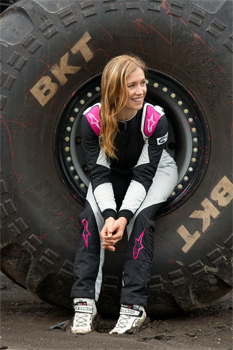 Question: Is it difficult to work within this male-dominated industry?

Rhianna Buchanan: I think that these days there is more acceptance for women in industries like this. There will always be a few that don't agree, but at the end of the day all that is, is someone's opinion! It shouldn't dictate how we feel about wanting to be part of something we have a passion for and there will always be people that support the growth of women in all industries and that's what we should focus on. I know I have great support from both females and males alike in becoming a Monster Jam Athlete and it's a great feeling.


Question: What inspired your passion for monster trucks?

Rhianna Buchanan: Growing up I always had an obsession, maybe it was an extension of riding bikes and needing something awesome to carry my motorbike around in! When I started looking for my first car (years before I had my licence) I was always picking out big American trucks! I settled for driving dad's Landcruiser Ute around first but had decided that at some stage I needed an F250. It took a while, but I do now have an F250 as one of my Flair Riders work trucks!!


Question: Can you explain to us the feeling of being behind the wheel of a monster truck?

Rhianna Buchanan: It's incredible and really is the ultimate adrenaline rush! The Monster Jam Trucks have separate controls for steering both front wheels and rear wheels and an accelerator with the power of launching you to 100kms per hour in just 3 seconds. A V8 engine that sends thrills right through your body and moves 5,500kgs of metal with ease. Massive BKT tyres (almost 2 meters tall) and custom built suspension that will ride over any obstacle you point them at and absorb the impact of the craziest jumps imaginable!


Question: Have you always been into fast machines?

Rhianna Buchanan: Obviously there's a connection through my upbringing, but it doesn't always have to be about the speed. I also ride Trials with my team – Flair Riders. It's about having absolute control and balance and using short bursts of power to launch up and over lots of different obstacles, pretty similar to how the Monster Jam Trucks as used!


Question: Can you tell us about your time at Monster Jam University?

Rhianna Buchanan: Exhilarating!! I had access to one of the best Monster Jam Drivers of All-Time in Tom Meents, he has been competing for 23years so I really wanted to learn as much as possible from him. He is also really fun, supportive and has a wicked sense of humour so every day we were learning and laughing too! The Monster Jam Crew are adamant that Safety always comes first so they were always making sure I understood everything, double and triple checking what I was doing and always asking how I felt which was comforting knowing that everyone was looking out for me. The training facility mimicked a real-life Monster Jam course and the Monster Jam truck was adjusted in every way possible to suit me personally. Definitely an experience I will never forget but one that I look forward to re-living again soon!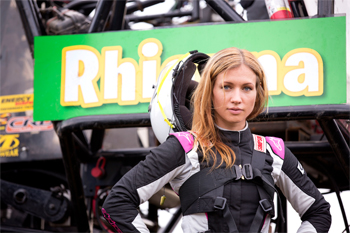 Question: Do you feel more confident after leaving Monster Jam University?

Rhianna Buchanan: Monster Jam University was the first time I had the opportunity to actually get behind the wheel and after completing my first course I am 100% that this is something I can do and want to achieve! Question: Are you looking forward to your home state being first up for Monster Jam?

Rhianna Buchanan: Totally pumped that the first stop is in QLD! I'm super excited to meet all new faces and Monster Jam fans and get a chance to talk with everyone. I have lots of friends and family coming too which is great too. And now that I do have the experience of driving a Monster Jam Truck up my sleeve, I'm really looking forward to sharing deeper insights with everyone throughout the show.


Question: What advice do you have for young girls hoping to step out of their comfort zone and achieve their goals?

Rhianna Buchanan: Go for it girls! If you really want it, set down not just one main goal but try and think of smaller goals that you can use a stepping stones. It won't be easy and like me, you will occasionally fail but use that positively and as Tom Meents says 'Learn from your mistakes!"

Another very important lesson I have learnt is to not let intimidation get the better of you. I can totally say that I have, at times, felt intimidated BUT most of this also came from my own insecurities and perception of the situation. Being afraid to try something new, especially while others are watching is natural, however in my experience, make the effort, give it your best go and you will receive encouragement from those peers because they have been in the same situation. Finding positive and like-minded people that will support you is also important but remember, to give what you get, be the same positive and supportive friend to those around you.


Interview by Brooke Hunter