Lowell I Killed Sarah V Interview
Lowell is like dynamite: ferocious, unrelenting and determined. This shines through in the Canadian singer's first single 'Cloud 69' lifted from her forthcoming debut EP I Killed Sara V.

Literally and figurately, Lowell is a wolf. Her very name stems from the French origin of the word, but her approach to music, creating, and the way she's embraced both are a testament to both she and her namesake: fearless, determined and natural pack leader.



Interview with Lowell
Question: How would you describe I Killed Sarah V?

Lowell: A little bit of pop, a little bit of jazz.


Question: What are you looking forward to about your upcoming festival performances?

Lowell: Tacos.


Question: Do you write your own songs? What's your inspiration?

Lowell: I do. My songs are usually autobiographical. I'm not really sure what my inspiration is. I guess it's just frustration with people that really gets me going. Melodies usually just come to me in dreams.


Question: What music/artists do you listen to when you are not playing your own?

Lowell: Braids, Chad VanGaalen, Blue Hawaii, Beyonce, Fucked Up, P.S. I love you, Danny Brown (any rap that is not crap).


Question: What's next? Tour/Album/Single?

Lowell: I'm looking to get on a tour for sure. Album will be coming out later in the summer. Single will definitely come out before the album and The Bells video!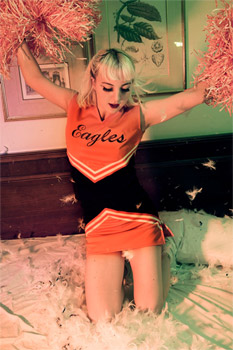 Question: Was there a moment you contemplated throwing in the towel?

Lowell: All the time. I've had a struggle. I get sick of having to be a certain way because of the sexist fatties in the industry. I'm sick of having to prove myself to men who are not as talented or smart as me. Still, I'm not a quitter, so I just keep trudging through and doing my thang.


Question: Do you prefer performing live or recording?

Lowell: I love spending time in the studio. I'm a bit of a studio rat.


Question: What/who was your inspiration to go into the music industry?

Lowell: I had some encouragement at an early age doing open mics around town, and responded quickly to that. When people tell you that you're good at things, it makes you want to do them more.


Question: What's a typical day like?

Lowell: Wake up, coffee, write music. Make things. Get mad, get happy, get bored, and get busy, party, dj. Pizza, bed.


Question: What has been your favourite part of becoming a music artist?

Lowell: Getting to make music a lot.


Question: If you could collaborate with another artist, who would it be?

Lowell: I would kill to collaborate with Kanye West. I would love to get in that guy's head.



60 Second Quiz
Full Name: Alabama Whitman
Nickname(s): Wit
Star Sign: Beaver
Favourite Food: Hot Sauce
Favourite Film: Nakedness Tonight
Favourite Actor: Bill Murray
Pet: Invisible cat
Person You Would Most Like to Meet: Jon Stewart
First Job: Strippin'
Are you a Pub, Bar or Club kind: Yeeehaw.
What Can You Never Leave Home Without: A home
What is the first thing you think of when you wake up in the morning: Donnie Darko.

Interview by Brooke Hunter