Low Fat Persimmon Muffins
Makes 12Ingredients
1 1/2 cups wholemeal plain flour
1 cup plain flour
1/2 cup sultanas
2 teaspoons baking powder
2 teaspoons bicarbonate soda
1/2 teaspoon cinnamon
1 large egg, lightly beaten
1 1/2 tablespoons vegetable oil
3/4 cup honey
1 cup ripe persimmon pulp, mashed
Method:
1.Preheat the oven to 180 C. Grease a 12-hole (1/2 cup capacity) muffin pan.
2.In a large mixing bowl, combine all dry ingredients. In a small bowl combine all wet ingredients.
3.Add wet ingredients to dry ingredients. Gently fold together until just combined. Over-mixing will create a tough muffin.
4.Spoon into muffin pan, bake for 15-18 mins or until the tops bounce back. Serve warm or cooled.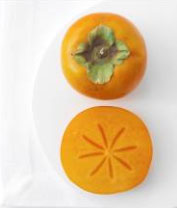 AUSTRALIAN FRESH PERSIMMONS
Fresh Australian sweet persimmons are fast becoming a fashionable choice amongst fruit and vegetable buyers in autumn with the fresh crisp and crunchy delectable taste just pure pleasure. With their versatility in the kitchen and the natural sweet tasting goodness it's not hard to see why they are climbing up the popularity ladder!
The adaptability of this bright red-orange, sweet delight in the kitchen makes it an ideal pairing to sweet or savoury, hot and cold dishes, as well as a compliment to many snacks and finger foods.
The astringent variety of persimmons are perfect for a cheap and easy way to make your own sorbet. Make sure the fruit is well ripened, pop in the freezer, then when frozen slice the top off and spoon the frozen pulp right out of the skin - you can sprinkle some lemon or sea salt for added taste!
Don't forget, when selecting persimmons, the fruit should be brightly coloured, glossy and firm. The green calyx (the flower shaped cap) will become easy to remove as the fruit ripens. The appealing exterior hides a surprising centre - a unique star pattern, which is only visible when the fruit is cut horizontally.
They have high levels of vitamins A and C, as well as potassium, phosphorus and beta-carotene. These brightly orange glowing fruits contain virtually no fat - which makes them great snacks, that won't go straight to your hips!
Serving suggestions:
Persimmons are perfect to use as an ingredient, whether in hot, cold, sweet or savoury dishes as the flavour is not over powering making it subtle, sweet and delicious.
Place a ripe astringent persimmon into the freezer, then slice off the top and scoop the frozen pulp right out of the skin for a natural sorbet. Add a sprinkle of sea salt or lemon zest for a hit of acidity.


For breakfast add chopped or blended sweet persimmon to your pancakes, waffles or French toast.


Blend persimmon with low fat milk, honey and ice cubes to make delicious smoothies or with juices for a healthy and fresh beverage.


Add lemon juice, cream or sugar before spooning the flesh from the skin.


Add a persimmon to school lunch boxes as you would any other fruit.

Did you know...


Persimmons are high in food values and are thought to assist in reducing the risk of atherosclerosis (clotting of the arteries).


In some countries, surplus persimmons are converted into use as molasses and in the making of cider, beer and wine. The roasted seeds can even be used as a substitute for coffee.


For many years before 1900, persimmons were the most important and popular fruit in Japan and still to this day it is one of the most highly consumed fruits in Asia.


Persimmons are a member of the Diospyros family meaning "divine food". The have been grown in China for thousands of years and from there spread through southeast Asia, Japan and the rest of the world.


The colour ranges from a light yellow-orange to a bright red-orange and vary in shape from round to elongated and heart-shaped.


Grown in most states of Australia, with major regions in southeast and sub-tropical QLD, NSW, Mildura, Shepparton, SA and southwest WA.