Lipton Ice Green Tea Fact Sheet
Lipton Ice Green Tea is naturally low in calories, with no preservatives, artificial flavours or sweeteners. It's made with real green tea leaves and will leave you feeling completely refreshed.
The Lipton Ice Green Tea range includes flavours such as Original, Citrus and Mango. Lipton Ice Green Tea is one variant of the Lipton Ice Tea range, which also includes Peach, Lemon, Mango, and Raspberry.
The Lipton Ice Green Tea range is available in all leading supermarkets:
Single serve 500mL PET bottles (RRP $2.31)
Multi-serve 1.25L PET bottles (RRP $2.99)
1.5L PET bottles (RRP $3.46)
1.75L PET bottles ($3.89).
Lipton Ice Tea is also available in all outlets for on-the-go consumption:
500mL PET bottles (RRP $3.55)
new 330mL PET bottles (RRP $2.00)
325mL glass bottles available in many cafés (RRP $2.58)
Kate Waterhouse's Ice Green Tea Party Tips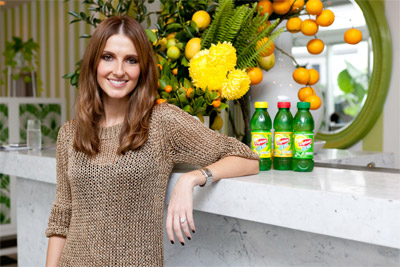 1.If the idea of cucumber sandwiches bores you, or the thought of sugary cakes gives you a stomach ache, try something a bit more refreshing to go with your Lipton Ice Green Tea. Sesame crusted sushi, Vietnamese rice paper rolls or chilli-salted edamame are not only lighter options they're bound to get your taste buds pumping.
2.For a refreshing twist on party treats for your guests, serve a selection of exotic fruits such as dragonfruit, starfruit or lychees cut up and arranged on beautiful oriental platters. Experiment with different fruits to find the types that best complement your green iced tea selection.
3.Instead of using old glasses and china, serve your Lipton Ice Green Tea and treats in an unexpected way. For an ultramodern aesthetic, serve everything on glass or stainless steel. If your taste is more modern-eclectic, scavenge local vintage stores and antique shops for unusual or unique glasses, plates, and tableware.
4.Set the mood with some ambient lighting. Round paper lanterns and clusters of tapered candles provide a soft but striking effect to any room and will help make your guests feel 'at home'.
5.Instead of drinking one type of Ice Green Tea, turn the occasion into a taste-test party. It's an excellent excuse to show off your designer glassware and accommodate your guests' palates. Set out several pitchers or jugs and pour a different type of Ice Green Tea in each one. So you know what you're drinking, make little folded display cards ahead of time to stand in front of each jug.
6.Rather than sending your guests handwritten letters (very old world), invite your guests online. A quick Facebook event page will give you a chance to monitor RSVPs or for a personalised touch, hit the web for pre-prepared e-invites. There are lots of different templates you can use, depending on your style and theme.
7.For a special touch, make your own flavoured ice cubes. They look divine and will keep your drinks refreshingly chilled throughout the day. Just add a little lemon juice and peel to water and pour into ice cube trays. Or for a summery mango twist, blitz mango and ice and pour the puree into trays to freeze. Alternatively, freeze your favourite Lipton Ice Green Tea into cubes so the tea won't dilute throughout the day.
8.Flowers are a must and don't have to break the bank. Arrange pretty posies of your favourites around the table, or for a vintage touch, use old jam jars and bottles as vases. Now place single-stemmed flowers in each and clutter them around the space.
9.Everyone loves to dress up, so to get guests excited, give your day a special theme - whether it's dressing in a particular colour or going for more of an specific dress code like Oriental Bazaar or Mediterranean Delight - either way it will provide some entertaining photo moments which you can share with everyone post-event.
10.Everyone loves a goodie bag; so why not make your own? If cooking's not a hardship, whip up some savoury spiced relishes for guests to try at home. Pour them into old jars and wrap in beautiful paper with a simple string. Or if you've got more of a sweet tooth and so do your guests, why not give them a selection of hand-picked sweets from your local deli? It's the little touches that will make the day memorable.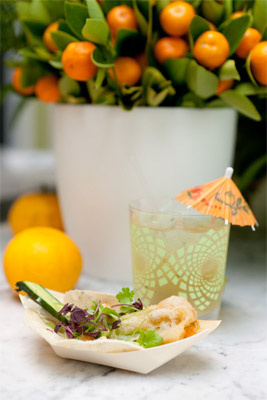 Kate Waterhouse's Ice Green Tea PartyCanapé Menu
ROUND ONE: Original Iced Tea
Tuna tartare with cucumber, wasabi, soy and yuzu
Asparagus and fontina cheese tart with shallots and parmesan (v)
Italian prosciutto with savory ricotta and parmesan on gnocco fritto
ROUND TWO: Citrus Iced Tea
Fennel and orange cured kingfish with white miso, fennel and shiso
Crostini of fresh tomato, bocconcini and basil (v)
Herb crusted salmon ballontine with horseradish and watercress
ROUND THREE: Mango Iced Tea
Spiced prawns with green mango salad and burnt chilli salsa
Alaskan king crab, black pepper and lime pillow sandwiches
Crisped zucchini flower in a soft flour tortilla with avocado salsa verde
Need more info?
www.liptonicetea.com.au
www.facebook.com/liptoniceteaAU