Christmas is a time of year when wine sales peak across the nation. Most households will enjoy a few bottles, if not boxes, of wine while catching up with friends and family. According to Paul Gordon, highly respected winemaker and chief winemaker at the award winning Leconfield Wines, there are interesting changes in wine consumption happening across the market at the moment.

"We are starting to see a marked increase in the consumption of pink or blush wines across Australia," Paul said today.

"Rosé wines are proving very popular across all genders, all ages and all social demographics. It seems Australia has fallen in love with blush wines. Many producers are experiencing an increase of 100% in sales. Certainly at Leconfield our sales have increased significantly. Our 2018 Leconfield Coonawarra Rosé is flying off the shelves.

"I think the market is really appreciating the wine because it is not too sweet and not too dry, very refreshing and slightly crisp. It can be pared with any meal that you would ordinarily drink white wine with.

"For this reason, I think a good quality rosé is definitely a must this Christmas. It can be served as an aperitif, a drink to enjoy while relaxing around the deck, or with Christmas lunch. It really is the perfect wine for this season.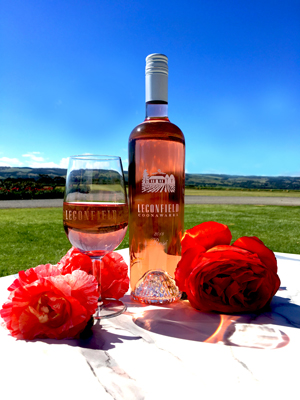 "If you are having turkey, which many people do, there are some wines which are always good to pair with the big bird.

"My top tips for your Christmas wine list this year are:
- Make sure you've got plenty of Rosé on hand
- Aim for a good full bodied Chardonnay
- Include a smooth Cabernet/Merlot
- Add a Sparkling Shiraz
- White sparkling is always a must – everyone loves their bubbles

"While Christmas is usually a very busy time of the year for everyone and it can be challenging figuring out what wine to serve, it is also important to check the serving temperatures of your wines.

"My simple guide to wine temperature is:
- Blush or rosé wines and lighter white wines should be served between 7 – 10 degrees celcius.
- White wines with more body or oak, should be served at slightly warmer temperature of 10 – 13 degrees celcius. As a general rule, it is better to serve your whites too warm than too cold as it can be difficult to detect their delicate flavours if the wine is too chilled. Put your white wine in the fridge for two to three hours before serving.
- Sparkling wines are best served nice and chilled between 6 – 10 degrees celcius. Put your sparkling into the freezer for about an hour before you serve it to make sure the temperature is perfect.
- Full bodied red wines appreciate in flavour in warm temperatures. Unfortunately most Australian room temperatures are too warm. My advice is top pop your red wine in the fridge for a few minutes to chill it down slightly.

"Enjoy your Christmas and drink responsibly."

2018 Leconfield Coonawarra Rosé

COLOUR: Pale light blush pink
BOUQUET: Floral nose reminiscent of freshly picked rose petals with hints of strawberry and melon.
PALATE: An elegant palate of good length and depth. Dry in style with a refreshing soft acidity, finishing crisp especially when served lightly chilled.
FOOD SUGGESTIONS: Our rosé can be enjoyed chilled as an aperitif, perfect on a warm relaxed afternoon. Food wise, it will match any dish that would normally be served with a white wine or through serving it a 12-16 deg C, it would go well in the company of a Thai curry.
CELLARING POTENTIAL: This is a perfect wine to be served in its first year or two while still young and fresh.
$26.00
www.leconfieldwines.com