The highly-anticipated EP is made up of three tracks: Summer Lover, a dreamy, indie-pop song produced by Xavier Dunn, about a summer romance which evokes a warm and nostalgic feeling for the listener through the vinyl crackle and harp, accompanied by dreamy harmonies; On & On, a 90's inspired production by Matt Hurt which references pushing through self-doubt and re-igniting your passions and the final track, Cala Gonone Nights, a cool, feel-good summer song inspired by long, balmy European summers, produced by Alex Preston and featuring live guitar and saxophone samples set to put anybody in a good mood.

Lauren grew up in Wellington, New Zealand and has always loved music and singing. Since moving to Sydney, Lauren has recorded seven tracks and produced six music videos as an independent artist, working with some of Sydney's upcoming talents to bring her visions to life. Her music encompasses smooth, soulful vocals and contagious hooks, combined with effortless delivery through dreamy, chilled out, lo-fi pop with RnB and neo soul influences. Through her music, Lauren sings about love, nostalgic romances, chasing summer, emotional struggles and relationships aiming to empower her female listeners.

"I wanted to create music that was uplifting but also easy listening. I wanted the songs to spark a memory whether it be about a holiday or summer with friends to that feeling of over-coming a hard time.

I'm really attracted to dreamy, whimsical sounds so when I wrote the songs I had used a lot of bells/marimba type sounds that we then replaced with instruments like the harp and saxophone in production. At the time of recording the EP, I had just returned from an amazing summer holiday and was about to get married which is why two of the songs are very summery and reflect on love," says, Lauren.

On & On was written about a personal breakthrough I had in my music and my self-confidence to stop doubting myself and take time to discover who I am. The repetition in the chorus of the lyrics "on and on, and on and on" really represents the slow process of working through challenges day by day."
Interview with Lauren Day
Question: How would you describe your music?

Lauren Day: Dreamy, chilled out, Indie Pop with Neo-Soul and Alt-R&B influences.


Question: Can you tell us about your self-titled EP "Lauren Day"?

Lauren Day: This EP is really special to me. It's been a bit of a self-discovery project with my music and what my sound is and that's really how 'On & On' came about. It was the first track that I wrote for the EP and it was all about pushing through self-doubt and that when we go through a hard time there is always a light at the end of the tunnel we just have to work at it day by day. Just before I started work on the EP I had just come back from a trip to UK/Europe and that is where 'Cala Gonone Nights' came from. It was such a beautiful place in Sardinia, Italy and this song is just all about the vibe I was feeling whilst there. I wrote 'Summer Lover' as a tribute to my childhood in NZ with the lyrics I visualise some of my childhood memories in my backyard on a hot summer's day. I turned it into a bit of a nostalgic love story as a nod to one of those summer flings you may have had.


Question: Is there a particular message you hope listeners take from your music?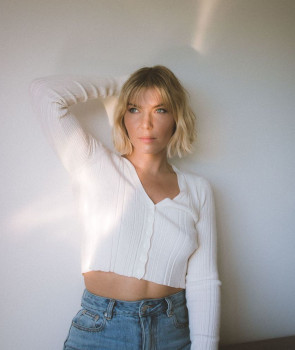 Lauren Day: With 'On & On' I really hope anyone who may be going through a tough time can connect to it as guidance to keep pushing and working through things. It's not always a quick journey, sometimes it's a long road and we just have to keep pushing "on and on". I hope that this EP can lift people's spirits with whatever song they are listening to.


Question: Has moving to Sydney influenced your music?

Lauren Day: Absolutely. There has been so much more opportunity for me here and for that I will always be grateful for this city. There are so many incredible Artists here I'm always taking inspiration!


Question: Do you prefer performing live or recording?

Lauren Day: This is a hard one because they are so different. I love recording! I love the whole process of recording a song and hearing it come to life as it builds and just creating something from nothing. I get sooo nervous when I perform but I also think that sometimes I mistake nerves for excitement. There is nothing quite like the adrenaline of being vulnerable up on stage and connecting with an audience.


Question: Which is your favourite song to perform live and why?

Lauren Day: I'm yet to perform my new EP live but I have a feeling one of those will take the #1 spot at my upcoming show! It will probably be 'On & On'. The bass line just gets me in a vibe during rehearsal! I always loved performing Forever Young live though from my existing work.


Question: What motivates you most when writing music?

Lauren Day: I do it for my mental wellbeing. Times when I have stepped away from music I have gotten really down. I have learnt that I just need this in my life to keep me happy. It's like therapy for me and I'm so lucky to have it and know that this is what helps me.


Question: Which music/artists are you currently listening to?

Lauren Day: My current faves are Joy Crookes, Pip Millet, Clairo, Cleo Sol, Jorja Smith, CLAY and always Lana Del Rey


Question: Did you always want to pursue a career in the music industry?

Lauren Day: Yep 100%, it's always been what I wanted to do.


Question: If you could collaborate with another artist, who would it be?

Lauren Day: At the moment I would say Joy Crookes. She's such a talented writer and musician and I just think she would be so much fun to work with as well without being too intimidating.


Question: What is the biggest challenge you have faced along the way to your musical success?

Lauren Day: There are always so many challenges in this industry. But I guess the main one would have to be taking criticism and picking yourself back up when it doesn't go the way you'd hoped. I say this because it's so ongoing! And it's something I think other people need to hear. You just have to never give up on yourself if it's something you really love, and something you really want to do, then do it for you!


Question: What has been your favourite part of becoming a music artist?

Lauren Day: The growth. Looking back on how I have changed, adapted and developed my skills. It's been a great journey so far!


Question: What's a typical day like?

Lauren Day: Most days start with a morning walk with my dog and a coffee stop but every day is so different because I have a few different jobs! I do like to incorporate music into everyday whether it's being in the studio with Matt Hurt (Most Mondays) or my home studio for a bit of writing to just playing a bit of guitar in the morning sun before work.


Question: What's next, for you?

Lauren Day: I have two new songs for release this year! There are a few songs I have in the works as well. I've got my gig coming up May 30th so if you're in Sydney make sure you get your tickets! I hope to do more live shows nationally after this one so stay tuned.


Question: Can you share your socials? (links please)

Lauren Day: Instagram
Spotify
Facebook
Twitter
Website


Interview by Gwen van Montfort