Kalite Pestemal Co.
Cool water, Warm sun, Soft Turkish Cotton

Nothing gets you in the mood for summer like beach towels, and Kalite Pestemal Co's new lines are sizzling.

Nautical, Balik and Su Diamond join Kalite's existing range of 100% Turkish cotton pestemals in bright and hushed tones.

Features:

Nautical - wide striped design. Available in 4 refreshing shades: apple & turquoise, cobalt & spearmint, lime & pink and navy & white.
RRP $44.95

Su Diamond - double weave cotton in a diamond and water weave design. -Su' meaning water in Turkish. Avaialable in 6 shades: black,
cobalt, grey, orange, red and turquoise.
RRP $59.95

Balik - double weave cotton in a luxury diamond and herringbone weave design. Available in black, grey, pink, spearmint, teal.
RRP $59.95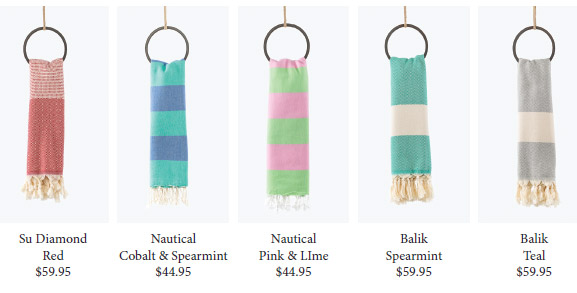 Lightweight, absorbent and fast drying, Kalite's pestemals are made from 100% Turkish cotton using traditional techniques.

More than just a beach towel, use your pestemal as a sarong, scarf, tablecloth, throw, picnic blankett or pram shade. Something
to carry with you always, your Pestemal will become a life long friend because Turkish cotton grows softer with age.

Pestemals measure 100cm X 180cm

Continuously evolving, Kalite's collection is inspired by traditional and contemporary Mediterranean designs, offering a range of different colours, patterns and weaves. To see the full collection visit our brand new look website www.kalite.com.au