Just Go With It
Starring: Jennifer Aniston, Adam Sandler, Nicole Kidman, Nick Swardson, Brooklyn Decker, Dave Matthews, Bailee Madison, Kevin Nealon, Griffin Gluck.
Director: Dennis Dugan
Rated: M Sexual References

Sometimes a guys best wingman.... is a wingwoman

The hilarious romantic comedy Just Go With It, from director Dennis Dugan (Happy Gilmore, Big Daddy, Grown Ups), follows Danny (Adam Sandler) on his journey to maintain an elaborate lie to keep his gorgeous dream girl Palmer (Brooklyn Decker).

Danny engages Katherine (Jennifer Aniston), his faithful receptionist, to pose as his soon to be ex-wife in order to maintain the lie - but when the group heads to Hawaii for a "family holiday" with Danny's new girlfriend, covering up one lie soon turns into many...

Just Go With It is now available on Blu-ray and DVD from all major retailers across Australia.

Review: I love this movie, definitely one of Adam Sandler's better movies, there are some hilarious moments with Jennifer Aniston, Nicole Kidman & Nick Swardson.

When Danny's (Adam Sandler) elaborate lie turns on him, he bribes his receptionist to pose as his soon to be ex-wife in order to keep his young girlfriend Palmer interested. But it all goes horribly wrong when his receptionist (Jennifer Aniston) runs into her old school frenemy and makes up her own lie. If them can just get their stories right....

Just Go With It
Buy Now from Fishpond


ABOUT THE FILM


At the center of Just Go With It is an everyday guy who has let a careless lie get away from him. "At the beginning of the movie, my character, Danny, was going to get married, but he gets his heart broken," says Adam Sandler. "The night of his heartbreak he happens to have the ring on and a young lady is nice to him, because she thinks he's married and thinks he's harmless and won't do anything that other guys were trying to do. A light goes off in his head."

The ring becomes his scheme to avoid getting his heart broken: the ladies think he's off the table, and with no strings attached, no one gets hurt - especially not Danny. But when he meets Palmer (Brooklyn Decker), the girl of his dreams, his lies come back to haunt him - she thinks he's married. Instead of coming clean, he chooses to weave an even more tangled web: he invents a fake wife - to be played by his long-suffering assistant, Katherine (Jennifer Aniston) - from whom he can get a fake divorce, clearing the way for smooth sailing with Palmer.

How does a single mom like Katherine, trying to get by and provide for her two kids, get roped into Danny's outrageous scheme? "She's just exhausted by him," says Jennifer Aniston. "She feels she has to help him save himself from his own web of lies, even though she doesn't approve. When she's in the middle of it, you can see her thinking, 'How did I get on board with this?'"

But she does help, because Danny and Katherine have a unique relationship. "They work together and have a great relationship - she thinks he's funny and he obviously cares about her, and even though he lies to everybody else, he always tells her the truth. She's the only one who knows what he's really like," says Jennifer Aniston. "She can't help but like him, even when she thinks he's been acting like a pig." When he convinces Katherine that he is done playing the ring game and ready to settle down with Palmer, she does what any friend would do and helps.

But that's just the start - as Danny and Katherine attempt to keep up the charade, the lie keeps getting bigger and bigger. "Every lie has a domino effect," says director Dennis Dugan. Dugan most recently directed Adam Sandler in Grown Ups, the star's biggest worldwide hit to date, taking in more than $260 million.

Before Katherine knows it, her kids, Maggie and Michael, have been looped into the lie, but they'll need a little more convincing… especially when Michael sees a way to turn the tables on Danny. Before he knows it, Danny is on his way to Hawaii with a fake wife, fake kids, his real cousin (who's playing the fake wife's fake boyfriend) - all in an effort to convince Palmer that he's a stand-up guy.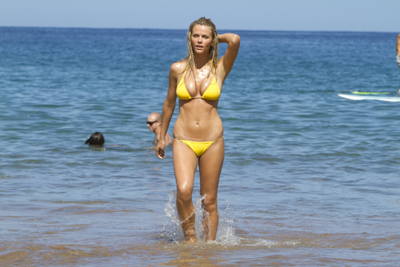 Anybody could fall for the object of Danny's desire - schoolteacher Palmer Dodge. The role is played by Brooklyn Decker, who makes her big-screen debut in the film. Last year's Sports Illustrated swimsuit issue cover girl, it's easy to see why a guy like Danny would fall for her. (Obviously, it's that she's funny and charming.) "Palmer is a really sweet girl, a naïve, compassionate, and hopeful math teacher. She falls in love with Danny, Adam's character, and he decides this girl might be the one for him. So he gets caught up in this whole web of lies to try to convince Palmer that he's a decent guy."

Decker had auditioned for Adam Sandler and was in the mix for the part when last year's Swimsuit Issue hit newsstands. "That was a total whirlwind," she remembers. While she was doing publicity for the magazine, "that week, I got a call asking if I could come out for the table read with Adam, Jen, Nicole, and Nick - so I came out to do it, and that evening I got a call from Adam saying, 'Hey, kid, you want the part - it's yours.'"

Dennis Dugan says Decker had the chops to hang with her more seasoned co-stars. "Obviously, she's extremely beautiful, but it turns out she's just a natural actress," says Dennis Dugan. "She's very sweet and a good actress."

"Acting is effortless for her," says co-star Nick Swardson. "She's just so funny, natural, charming, organic; it's so real. There's nothing corny about her - her performance is just genuine."

It might have been intimidating to take on such a key role for her first film, but Decker couldn't have asked for a better set. "I'm the new kid on the block, and I'm surrounded by these amazing people, but they were all very encouraging and made the set a lighthearted place. Everyone was so talented - everyone was funny - it was really an opportunity for me to challenge myself under the best circumstances."

Of course, it wasn't all serious work. "The guys were playing pranks on each other and making jokes and laughing all day. It's a really fun way to work."

Decker tried a prank of her own - but it didn't work out so well. "I had the fart app on my phone - you push the button and it makes this wretched noise," says Decker. "It was a scene where Adam and I were in bed together - it's incredibly quiet and the camera pans were very slow. I had the phone under the pillow, and I'm snuggled with Adam and when the camera panned over I was planning on releasing the fart app. So I do, and he barely hears it. He thinks it's my stomach growling, and he just says, 'All right, let's do that again.'" That was my failed prank."

Once in Hawaii, the lies get piled on top of lies: when Katherine runs into an old frenemy (Nicole Kidman), she cooks up a fake life of her own - she says Danny is her husband.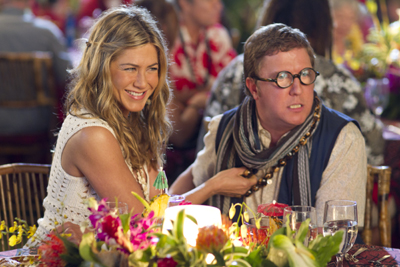 Nicole Kidman describes her character, Katherine's college nemesis, Devlin: "She's very ostentatious and very competitive, and that's what makes her so mean. It all comes from a deep-seated insecurity."

Nicole Kidman admits that she's "not a comedienne, so it's totally unusual for me to do something like this." Still, any actor will find it difficult to resist Adam Sandler when he calls offering a part. "He called up and said, 'Look, I've got this completely outrageous character; do you want to do it?' I've always loved his movies, and I worked with him on 'Saturday Night Live' 20 years ago, and I thought he was great, so it was lovely to be asked. I just love doing comedy, but I don't get asked to do it very often. I did To Die For years and years ago, but that's a black comedy, so it was great to be asked to do something outrageous."

The outrageous comedy allowed Nicole Kidman to play out different kinds of scenes - for example, a hula contest, where Devlin's ultra competitive nature comes out. And the result is unacceptable to Devlin: "She hates that it's a tie," says Nicole Kidman, "so the tiebreaker is a contest where we have to move a coconut up our bodies without using our hands. It was so goofy - it was fun to do."

But the biggest difference, Nicole Kidman says, is the low-key vibe of the set of a Adam Sandler movie. "I just can't believe how relaxed the set is. I'm used to working on these sets where everyone has to be really serious. To work on something where you get to play it's been such a fun thing for me. It doesn't feel like you're making a movie; it feels like you're just hanging out, and at this stage in my life, I just want to have fun."

Playing Devlin's husband is musician Dave Matthews. Nicole Kidman says, "It's so wonderful working with Dave; he's unique and fun."

After taking cameo roles in Sandler's films I Now Pronounce You Chuck & Larry and You Don't Mess with the Zohan, Matthews moves up to a featured supporting role - and who could ask for more than playing Nicole Kidman's husband?

"He's earned it," says Adam Sandler of casting the musician, a longtime friend, in the role. "The guy is funny as hell."

Acting opposite Nicole Kidman could have been intimidating, but Matthews says that while Nicole Kidman is every inch the actress that you expect, she was also a lot of fun. "What a good sport," he says. "Her power is obvious - even though this is a fun comedy, she's still astounding. She came in and stood next to me - this hairy-backed beast - and she was just game, all game. But I guess that's why she is who she is."

Channeling his character, Ian Maxtone-Jones, Matthews describes the role: "He thinks he's awesome. He has a great mind and he's not afraid to use it. He's mildly burdened by the prospect of having to stoop to socialize with people less qualified for the world than him."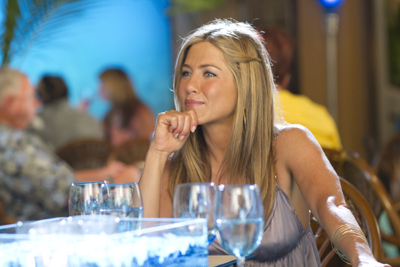 Matthews admits that acting is outside his comfort zone, but that's OK - so is music. "I don't have confidence in a lot of the things that I do. It's nice to do things that are outside of your comfort zone. I'm not even all that comfortable in music - I'm still self-conscious about it - but I think that's healthy, right? I've always liked the challenge of something. They don't seem that different to me, music and acting." Music has worked out OK for Matthews; his eponymous band has been the most popular live music act in North America over the last decade.

"Here's a guy who plays to stadium-sized crowds, and he's doing his scene and he goes, 'I'm so nervous!'" Dennis Dugan remembers. "I said, 'Dave, you kill. You sell out the Hollywood Bowl. This is nothing, just look at them and talk.' He's playing a straighter part, a regular human being instead of some wacky character, so he had to be more vulnerable than he's ever done before, but he did great. He's a very funny guy, terrific - the kind of guy who hangs around the set even when he's not filming."

Bailee Madison and Griffin Gluck take on the roles of Katherine's real (and Danny's pretend) kids. "My character really wants to be an actress - that's her main focus - so she's constantly trying to do accents," says Madison. Naturally, she sees being Danny's pretend kid as an acting job - so when Danny needs a fake kid, Maggie becomes Kiki. "She's so excited to play Kiki - she starts using her Cockney accent. It's just a really cool role to be able to play, because you get to be two different people in the same movie."

Of course, as much as Hawaii was a playground for the adults on set, it was doubly true for the kids. "The set was really not work," says Madison. "One day, we spent three hours in a swimming pool for a scene - you wouldn't call that work. Plus, we were in Hawaii. We learned how to kayak and ride horses for this film. It was just so much fun."

In an art-imitates-life moment, Madison admits that, like Michael in the movie, "I have asked my mother since I was little to take me to Hawaii to swim with the dolphins. And when I read this I saw dolphins, Hawaii - I was so excited. It was so much fun."

Playing her brother, Michael/Bart, is Griffin Gluck. "My character is very shy. He's in his own shell. He doesn't really talk that much, but he's pretty playful, and during the movie he gets to come out of his shell."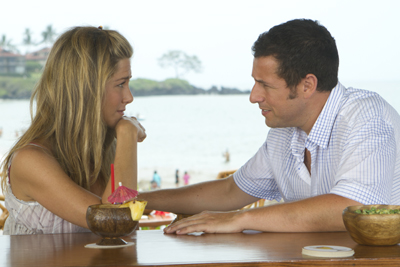 Naturally, Madison and Gluck spent many hours together on the set - developing a relationship like a real brother and sister. "Griffin's great. He has spent every day with me on the water slides, horseback riding. We're always together," says Madison. "And I've been able to take him as my little brother and he's so great. We're always constantly joking with each other. He's so much fun."

Gluck says, "We've been going on the water slides, horseback riding, kayaking, scuba diving. The dolphins, the kayaking, swimming in the waterfall."

What's it like to pretend that Jennifer Aniston is your mom - and to pretend to pretend that Adam Sandler is your dad? "It's amazing to be able to go on set and be able to look up to this amazing actress that you can learn from and she's so kind. She's like a mother. She makes sure she's right with you and she's funny and she's a great actress. It's a real pleasure to be able to work with her."

"Adam is a real funny guy," says Gluck. "He's nice to work with. We always play jokes on each other."

Of course, making a PG-13 movie required a freewheeling set that reflected that tone and spirit - and it fell to Madison and Gluck to hold the reins, which they did by instituting the "Curse Bucket." Gluck explains, "We have this curse bucket that Tim Wiles from Props - Teddy Bear we call him, he's such a great guy - made for us."

Madison continues, "It's fun to be able to walk around and say, okay, you cursed, you owe us five bucks. We're just constantly making charts and I feel like we're like little business people making sure that all the tallies are correct."

Gluck adds, "Nick Swardson owed us $145 dollars in one single half hour. It is $10 for the big one. It has four letters."

Madison continues, "And then $5 dollars for any of the rest of it. We made $1780 that we are going to give to charity."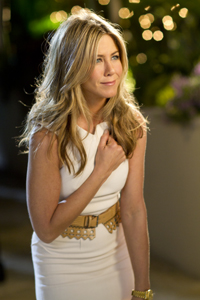 Nick Swardson rounds out the cast as Danny's cousin, Eddie, who gets tangled up in the lies and is soon posing as Katherine's make-believe boyfriend, Dolph Lundgren (not that Dolph Lundgren).

"He puts on this character to get a free trip to Hawaii and maybe have a shot with Jennifer's character," says Nick Swardson. "He adopts this alternate persona, but doesn't really plan it out - so when he gets to Hawaii he's confronted with so many questions about his Austrian background and what he does. All he can come up with is that he's an Internet sheep dealer."

Nick Swardson has worked with Adam Sandler a number of times. "He's a funny guy. He gets loose on screen and we try to reel that in," says Adam Sandler. "Jennifer Aniston kept it under control. She would give him the beautiful blue eyes look and Nick Swardson would say, 'I have to calm down.' Aniston would nod her head. 'That's enough.'"

Laughing, Jennifer Aniston adds, "It was very Godfather-like." But of course, Jennifer Aniston is another Nick Nick Swardson fan. "He's my new favorite person - at the table read, I couldn't handle the amount of laughter."