The Third Installment
Cast: Olga Kurylenko, Emma Thompson, Jake Lacy, Rowan Atkinson, Ben Miller
Director: David Kerr
Genre: Action, Adventure
Rated: PG
Running Time: 89 minutes

Synopsis: The UK is in peril. Five days before the PM is to host her first G12 summit, MI7's security is breached and every agent in the field identified and exposed. The only hope of finding the perpetrator is to bring an agent out of retirement, but with most of them either dead or close to it, the head of MI7 is left with only one choice, and his name is English… Johnny English.

Casting aside his job as a teacher, Johnny English accepts his mission, but things have changed since he was last in the field; guns and gadgets have been replaced by digital phones, sports cars by electric hatchbacks. English is aghast, but quickly finds a way around this new protocol, reasoning that it takes an analogue approach to catch a digital mastermind. And so, blowing the dust off the fully loaded Aston Martin, digging out the exoskeleton suit and magnetic boots, arming himself with transmitter sherbet dips and exploding ear buds and retrieving Bough from the forgotten basement of MI7, English embarks on his mission.

English and Bough head to the French Riviera where the last signal was detected that exposed the British agents, but chaos quickly ensues when their undercover activity leads to the razing to the ground of one of the most glamourous restaurants on the Cote D'Azur. Undeterred, they pick up the scent again. This time their sights set on a state of the art yacht moored in the bay, that just happens to belong America's youngest billionaire, super savvy, super sophisticated tech giant Jason Volta. It quickly becomes clear to our hero that Volta is behind the plot, but English needs evidence if he is to convince the PM, who has been won over by Volta's persuasive charm.

What ensues is a battle of wit versus the witless, mastermind versus Mr Mindless, high tech versus analogue as Johnny English lurches from one mishap to the next in his attempt to expose Volta and save the world from his master plan – to have complete control of the world-wide web.

Johnny English Strikes Again
Release Date: September 20th, 2018


About The Production
The Name's English…Johnny English

In 1992 Barclaycard began a hugely memorable series of television adverts. Featuring Rowan Atkinson as a bumbling MI7 agent, Richard Latham, he stumbles from disaster to disaster because – unlike his sidekick Bough – he doesn't have a Barclaycard to help him out. The campaign produced seventeen different adverts and ran for five years, earning Rowan Atkinson a BAFTA Advertising Award for best actor in 1992 and securing Barclaycard as the market leader. Ten years later the character would have his first screen outing as Johnny English.

"The whole attitude of the character was that he hated the product he was selling, which was a very counter-intuitive idea and I have to say quite a unique 'Rowan' approach to things," says producer Chris Clark. "He will think counter-intuitively towards things and as it happens the Barclaycard ads have turned out to be one of the UK's most famous ad campaigns, which is remarkable given the lead character hates the product. It's a fantastic piece of satire."

Successful producing duo Tim Bevan and Eric Fellner, of British company Working Title Films, recognised the cinematic potential of the character and went to Atkinson with a proposal to develop Richard Latham for the screen. Clark was working in-house at Working Title at the time and helped develop the project. "When I first met Tim and Eric there was already discussion about turning the Barclaycard ad into a movie," he says. The film gained traction when Clark met with Atkinson, who was keen, and a first draft was developed in 1999 by Rob Wade and Neal Purvis, who that very year saw The World Is Not Enough, their first James Bond script, released in cinemas. By 2002, when the film went into production, Will Davies had established himself as the main writer. Davies later received a 'story' credit for the 2011 sequel, Johnny English Reborn, scripted by Hamish McColl, a close collaborator with Atkinson after co-writing 2007's Mr. Bean's Holiday.

Traditionally, Atkinson has usually taken several years between producing sequels for his most famous characters, the hapless Mr. Bean and Johnny English, to ensure they remained fresh and didn't stagnate. When it came to a third Johnny English film, Atkinson gradually began to warm to the idea. "If you think you can have another go at something, you tend to think 'Why not have another go?'" he says, "as long as you feel mentally and physically capable of doing the job."

Having made seven films with Atkinson over more than two decades, Tim Bevan estimates that it's the actor's restraint with his characters that is one of his most admirable qualities. "He's never over-exploited his own brands. He's always made the audience wait a little bit. In this very quick cycle world we live in now, people say 'Oh, is five years too long?' or eight years or three years, or whatever. The answer with Rowan is 'No it's not.' Actually the audience are about ready for it again."

After some early script development, Davies received a call from Clark, telling him that Atkinson was ready to return to the character. "Rowan had got to the stage where he was really serious about making it," explains Davies. "And he wasn't quite sure what was in the existing script he was going to do." To move the script on, Davies was joined by Atkinson, Clark and Bevan for some intensive brainstorming. "We get in a room and start to thrash ideas around," explains Bevan. "And it literally starts with a blank sheet of paper."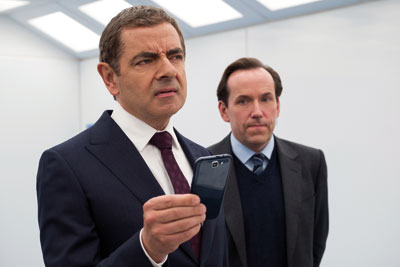 As co-chairman of Working Title, with a host of projects in development, production and post, Bevan is not expected to be in the writers' room, but a Johnny English film is different. "Tim was there for at least ninety percent of those sessions," says Davies. "I think he really loved being at them and we loved him being there. He finds it funny and if there are things that he laughs at…well then it's probably going to work. And he would notice things that maybe we hadn't realised how funny they were."

After these initial sessions, Davies went away, gave thought to what might work and came back to pitch potential story ideas to the gang. "Tim, Chris, Rowan and I then picked out the ones that felt most appealing." Johnny English 3 – or Johnny English Strikes Again, as it would soon become known – was underway.

Analogue Versus Digital

The experienced Clark, who returned to the series for a third outing after producing the first two films, knew what the scripting process would entail. "As we've discovered, it takes many years to develop to a position that we're happy [with]," he says. "There's a lot of dedication that's needed." Ironically, it's this embryonic process that excites Atkinson the most. "Shooting a movie, I've always found incredibly difficult and stressful and worrying," he admits. "But when you're just sitting in a room with some likeminded souls thinking, 'Wouldn't it be funny if this happened?'…then it's fun. That's what drives you."

The script development process sees ideas, set pieces and storylines presented, with Atkinson studying each for potential. "Rowan is completely across everything from the word go," says Clark. "He doesn't write it per se, but he brings whole comic sequences to the table or he then collaborates with the writer and whomever else is in the room." Davies notes it's a case of being "guided by Rowan's instincts about what's going to be right for the character", fleshing out amorphous ideas until they "gradually become more shaped along the way".

As the process unfolded, the team hit on a theme: analogue versus digital. From this, the plot and villain for Johnny English Strikes Again began to take shape. It opens with a cyber attack on MI7, with all the agents' identities compromised and the country held to ransom. With nobody left to defend Britain's national security, the Prime Minister is left to turn to former agents to help save the day. Now teaching geography at a prep school in deepest, darkest Lincolnshire, after being forced into early retirement, Johnny English is one of the agents called upon to find the cyber criminal.

A man who perhaps was more in his prime in the pre-digital days, Johnny English remains the perfect symbol for the analogue world. "The more the world becomes digitized, the more extraordinary analogue is," says Davies. "There's something so physical and appealing about it. And of course analogue has an advantage over the digital high tech of 21st Century. Analogue is invisible to the digital world."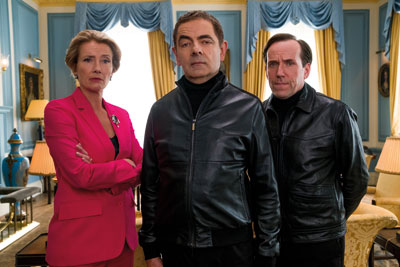 Representing the hi-tech digital world is American billionaire Jason Volta, the head of a tech company who meets with the Prime Minister to convince her to hand Britain's digital security matters over to his company. While the PM also pressures EU leaders to do the same, little does she realize that Volta is the one behind the security breach and the accompanying ransom demand. While Johnny English stumbles upon his scheme, when nobody believes him, he must set out to find proof.

With Johnny brought back to MI7, the plot and characters began to be fleshed out for a story that takes Johnny English from London to the French Riviera and finally Scotland. As Atkinson explains, the script development comes down to two factors: "Is this an appropriate joke for Johnny English and is it a good enough joke?" His task is to ensure the tone of the ideas remain consistent with the Johnny English character – "this spy who's not as good as he thinks he is".

Davies praises Atkinson for his innate comic sensibilities and the way he understands the Johnny English character. "The thing about Rowan is he knows exactly what's true to the character and the way the character is going to be in a certain situation. Certain things are too big or too wacky. It has to feel real and it has to feel true, otherwise it doesn't work. The world around Johnny has to feel as real as possible to be funny. Rowan is very careful about how that stuff is calibrated."

Director

The script for Johnny English Strikes Again was nurtured for a year before a director was brought onboard. In came David Kerr, a filmmaker with an impressive track record working with comedians, after helming two series of the BAFTA award winning That Mitchell and Webb Look, as well as Fresh Meat, Inside No.9 and Whites. Having also directed a television movie version of William Shakespeare's A Midsummer Night's Dream with Matt Lucas as Bottom, the offer to work on a high-profile comedy like Johnny English was simply too tempting to resist.

"I was a huge fan of the first two Johnny movies," says Kerr. "I found them really funny, and my kids enjoy them. And I'd been a long time fan of Rowan Atkinson. I mean who couldn't be? I had grown up with Not The Nine O'Clock News, Blackadder, Mr. Bean and all of the movies that he had made as well, so I was already predisposed to liking the project. And then when I read an early draft of the script, I loved it; it was a real page-turner, full of action, full of adventure, and I thought I could do a lot with it."

For Clark, Kerr was the ideal choice to help hone Atkinson's remarkable comic talents. "David is a director with great comic instincts, but also someone who can collaborate with somebody who is at the heart of everything," he explains. "There's no film without Rowan. It's all about his comedy and also his comic process and that needs someone who is tuned into that. Rowan is quite unique in that respect. He's not a 'normal' actor. He's more than that. He's a comic performer and you need someone who understands that process."

Kerr was recommended to Atkinson, who met with the director and felt he was just the sort to handle the project. "He's very used to dealing with writer-performers, with actors who are also creators or writers because he knows in the end it's very much a partnership," says Atkinson. "It tends not to be the director telling the actor what to do because the actor's already got an idea of how he sees it on screen and it's a matter of the director plugging into that and trying to shoot it in a way that is empathetic with what the lead actor is trying to achieve."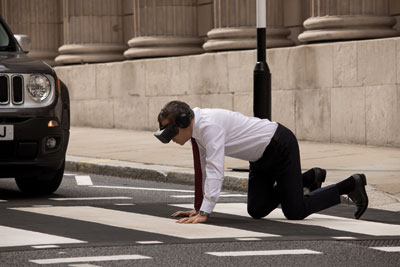 With Kerr on board, the team continued to tweak the script, the heart of which is Atkinson finessing scenarios, ideas and jokes to feel true to the character. It's a process that gets more and more detail-oriented the closer the team gets to production. Davies recalls the day before pre-production began, he and Atkinson went through the script, analyzing every line of dialogue to ensure that each comic beat hit perfectly. "We were making important changes right up until the last minute, so that it was funnier, quicker but still true."

"In terms of visual style and pace, I wanted Johnny English Strikes Again to feel like a Bond movie", says Kerr. "No less exciting or glossy - just a lot funnier. I'd worked with Director of Photography Florian Hoffmeister on commercials. He lights beautifully - and I knew he could help me achieve the look I wanted for the film: the widescreen lustre of classic Bond - with a contemporary edge: atmospheric and slick - without losing sight of the comedy. I storyboarded most of the movie, especially the action scenes, but the film really came together with a lot of painstaking work in the edit suite, where I collaborated closely with editor Mark Everson."

"From Alan Partridge to Paddington Bear, and now Johnny English" says Everson. "Yet again I've been entrusted with a national treasure. Rowan Atkinson is a life long hero of mine and his physical comedy second to none. My challenge was to honour Rowan's phenomenal comic performance while maintaining the momentum and intrigue."

Bough Is Back

Johnny English Strikes Again sees the return of Bough, Johnny English's MI7 underling. As played by Ben Miller, the character was introduced in the 2003 original movie but did not return for Johnny English Reborn. "One of the first things we talked about when we were sitting down very early on in this development is that the Bough-Johnny relationship from the first Johnny English movie was a very good one," recalls Bevan. "The actors worked very well together and it is a good give and take: Ben was a very good second banana to Rowan's comedy."

While Bough was the first character to be chosen to return alongside Johnny English, it proved a wise decision. "It was immediately obvious that they are absolutely brilliant together," adds Clark. "Bough's a brilliant foil to Johnny English's comedy and in a way he represents us as the audience. We're often seeing the silliness of Johnny through Bough's eyes so he becomes a great viewpoint for us. But he's also incredibly loyal to Johnny which is so sweet and endearing."

Returning to the character of Bough and reuniting with Atkinson was eerily familiar, says Miller. "It was like time travel. It felt like nothing had happened between the end of filming the first and starting this one. It felt like we picked up exactly where we left of." Well, almost. "We were the same, but we were surrounded by a completely different world," Miller adds. "You know, the cameras are different, the technology is different."

The filmmaking tech may have changed, but so has the world of spy-craft. Bringing Bough back also dovetailed perfectly with the analogue-v-digital theme. "It felt like it was the old team being put back together, who had been slightly passed over and don't fit in anymore and they weren't contemporary," says Davies. "Which isn't to say they don't know how these things operate, but their heart is really in a previous generation."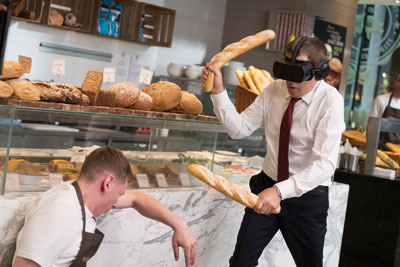 As Miller puts it, the analogue Johnny English – a man who prefers an old-fashioned car to a computer-equipped one – flourishes in an adventure where technology can track your digital footprint. "In order to not be tracked in the digital world, they need an analogue spy. So Johnny, who's been on the scrapheap, is suddenly right back in the thick of things, and he's the guy Britain needs to do the job."

Bough plays an important role in the story, keeping the mission on track and Johnny out of his scrapes. "The important thing to understand about Bough," says Miller, "is that he is hopeless in situations where he has any responsibility. He has zero ability to improvise, which Johnny is so brilliant at. And he just hero-worships him. He is very competent, but has no leadership qualities at all and I've always found that quite funny. Whenever we are doing a sequence, Bough is like a rabbit in the headlights, just hopelessly unable to do anything without Johnny. Johnny's the swan. Bough is the swan's legs," he laughs.

For Atkinson, it was the chance to revive a working relationship forged on the first Johnny English movie. "There are very few people I feel more at ease with as a comedy partnership," he says. "Tony Robinson, who plays Baldrick in Blackadder, he was definitely one. We connected and I've got a very similar relationship with Ben. I think we just play off each other extremely well."

Kerr was also delighted at bringing Bough back, re-igniting the classic master-servant comedy trope. "Bough is kind of a servant to Johnny's master. He never questions the master's judgment, but you can see occasionally that privately he's asking himself 'Is that really what I want to do?'" A natural double-act, like a latter-day Laurel and Hardy, Kerr praises the way the pair communicate on screen. "It's beyond verbal. It's purely a sort of physical timing."

The Newcomers

With a number of key supporting roles, Johnny English Strikes Again afforded the chance to reach out to some fantastic talent. None more so than Emma Thompson, who plays the Prime Minister.

"Emma was a bit of a coup for us to get because she is a masterful actor," says Atkinson, "but she also comes from a very similar comedy tradition to myself." Thompson's early work was in sketch-comedy, and she even co-starred with Atkinson in the 1989 romantic comedy The Tall Guy, penned by Richard Curtis.

Emma Thompson was delighted to be part of the team. "I thought the script was very well written and very funny: simple but charming. A good story, kind and funny and silly. There's not really enough silly in world! ", she says. "I love Johnny English. He really is the anti James Bond. He's a very good antidote to the extremely overpowering and frankly quite tiresome male role models out there."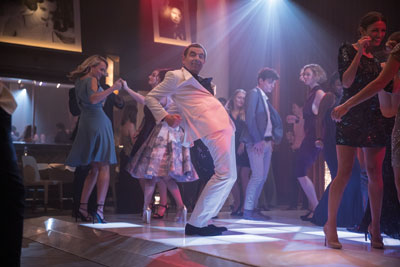 Being Thompson's first role as prime minister, she drew inspiration from a wealth of politicians. "She's a real mix. She's Thatcher, Blair, and May. She is the darkest version of those politicians who use their office because the power appeals. By the time we get to meet her she is desperate. She is making quite catastrophic decisions. Even though this is a comedy and is silly, it has been interesting to think, well what if you did hold that kind of power. This PM feels herself to be very important, and as she senses that slipping away, it makes her desperate, like a caged animal."

"I think she's done us proud," Atkinson continues. "You need someone who's strong and serious and believable as a Prime Minister. It can't be a comedy Prime Minister. And yet, of course, we do want our Prime Minister to have a twinkle in her eye and a sense of the absurdity of this man, Johnny English."

As absurd as the situation might be, it does revolve around reality.

"The digital age has changed everything," says Thompson. "Crime's always been something that changes as humans change, but now it's invisible and that's part of the story. There is this woman who's my age – late fifties – who didn't grow up in the digital age and is now dealing with threats to security presented by something that she's not au fait with."

Clark calls it a "dream" to secure Thompson for the cast, with her character providing the perfect foil for the hapless Johnny English. "She is the person who is effectively his boss, but also is judging him. There is something fantastic in that dynamic. To have somebody as strong as Emma in that role and to plumb not only the comedic, but also the dramatic depths of it, was just amazing. They only actually have one scene together, but it's absolutely extraordinary, I think."

Thompson, who first met Atkinson when she was just 18, is full of praise for the Johnny English star. "I've worked with him on and off for years, and I've admired him for years. I really do think he's a remarkable presence in our cultural pantheon. He's our Buster Keaton, our modern day Charlie Chaplin really. You don't need to hear him speak, he's just funny." She cites his classic sketch playing a headmaster who reads out the classroom register of names. "I remember watching that in the Oxford Playhouse thirty years ago and just going, 'this man's a genius.'"

For Jason Volta, the American tech billionaire secretly behind the cyber breach, the production turned to Jake Lacy, known to audiences for his roles in The Office and Girls. Volta, who is peddling his own data security algorithm, emerges as the film's villain after the Prime Minister gives him unprecedented access to Britain's data.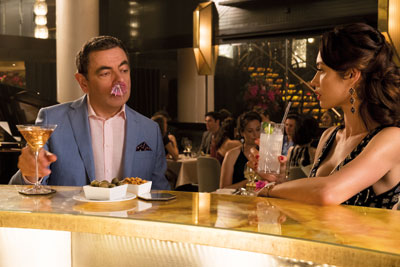 "He certainly stands to gain personally from the implementation of the algorithm," argues Lacy. "But there is also an argument that Volta believes this truly will push the human race forward and that the human race is not always as risky and progressive as it could be, even if the results would be magnificent. And truly what he's doing is forcing the hand of human nature to adjust and change to the realities that he sees to be important."

Davies notes that they conceived Volta as the polar opposite of Johnny English. "Johnny is slightly outmoded, shuffled sideways by the progress of time; Volta is riding that new technology wave and shaping this new world in his image and he would never be someone who would think the analogue world would be anything other than curiosity and certainly could never get in his way." He also holds contempt for Britain, another element that puts him in opposition to our hero. "Johnny really does care about his country and he doesn't want it to be beaten up by some smarmy technological bad guy."

Another key cast member was Olga Kurylenko, who plays Ophelia, who – when Johnny first meets her – is working as Volta's assistant. "In the beginning she's a mysterious character," says Kurylenko. "You don't know what she's about and who she is." While her true identity is only revealed later on, Johnny English falls for her. "He's immediately attracted to her and he thinks he's going to have some sort of romance," the actress adds. Needless to say, Johnny is way off the mark.

Kurylenko is no stranger to espionage tales, having starred in 007 adventure Quantum of Solace, and fitted in perfectly with what Davies envisaged for the character. "We always imagined somebody who could exist in a world not dissimilar to a Bond movie. It's tough because the world the other characters inhabit has to be real; in reaction to what Johnny is doing it has to be grounded in reality. They can't be funny. They have to react to him in a real way, and Olga is incredibly good," says Davies.

Kerr calls Kurylenko a "revelation" in Johnny English Strikes Again. "She's a really fine comic actress. And she understands how to downplay some of the performance. Again, it's about rooting Johnny in a believable world. So a lot of what Olga does…she earths quite a bit of what Rowan might be doing in a scene. But more than that, she brings her own kind of comic intelligence and understanding to it."

Also joining the cast was Matthew Beard (The Imitation Game) as gadget-master P and Adam James (Doctor Foster) as Pegasus, "the thrusting new head of MI7", as the actor puts it. "He's there to reintroduce Johnny into the world," adds James. "He comes in full of ideas and it's a juxtaposition between the old and the new, so there's a nice conflict there."

Following on from Tim Pigott-Smith and Gillian Anderson, who played Johnny English's superiors in the first two films respectively, James was an ideal choice, says Atkinson. "It's perfect for us the way that he does it because he's very strong and very straight and that's just what you need, and he just has to deal with Johnny as best he can."


For a scene where other retired agents are also brought in to help with the cyber-attack crisis – until an accident caused by Johnny seals their doom – the production turned to some of Britain's most distinguished performers. Charles Dance plays Agent Seven, Michael Gambon is Agent Five and Edward Fox takes on the role of Agent Nine.

"I don't often get asked to play comedy," says Dance, "In this business you are what you are seen to be, and if you are seen to be austere and villainous, the odds are you will be asked to do it again. So on the rare occasions when I am asked to do a bit of comedy I jump at it."

"It's a funny idea to get three old fogies who are known to the audience for other reasons to become these agents," agrees Fox.

It's rare indeed for such esteemed actors to have such minor roles in a major feature. How do they feel about that?

"It's a relatively small but significant scene. The whole plot hinges on the outcome of this scene," says Dance wryly.

"Oh, it's a very important scene!" insists Gambon.

Whilst the older generations make their mark, the film also requires a host of young actors to take on the parts of the schoolchildren that Johnny is first seen teaching. Playing Johnny's favourite pupil, Ibadulla, is Kendra Mei Dicker. "She looks up to Johnny English," she remarks. "He's her idol. She wants to be like him when she's grown up; that's why she's top of the class." Others under Johnny's watch include George Turner as Hattersley and Nifemi Bankhole as Nigel Ojo.

Adam Greaves Neal, meanwhile, plays the struggling student Baggaley, who is even seen falling into a trap in the woods during one school exercise. "I think he's the student who needs improvement," comments Neal. Fortunately, Johnny English is on hand to offer encouragement. "He tells you that you're doing well and that it only needs a slight improvement which boosts Baggaley's confidence."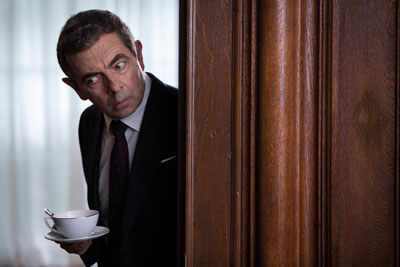 Creating The English Look

A good director needs a good team and after signing onto the project, Kerr began to surround himself with highly talented collaborators, starting with the German-born cinematographer Florian Hoffmeister, whose work includes David Koepp's Mortdecai, two films for the acclaimed Terence Davies, The Deep Blue Sea and A Quiet Passion, and Antonia Bird's 9/11 drama The Hamburg Cell. Another key appointment was Simon Bowles as production designer, an intriguing choice given he worked on Spooks: The Greater Good, the 2015 feature-length adaptation of the BBC espionage drama series.

For Bowles, designing Johnny English Strikes Again was like working on a James Bond movie. "When I came on board, that was very much the look I wanted. It's great that it's a comedy film, but I wanted to approach it as if it wasn't a comedy film. We should really be in the world of Bond. The only anomaly is Johnny. Everything and everyone else is straight, so the sets had to be straight as well. There's not one funny set, there's not one funny prop. It's only Johnny's involvement in those sets and those props that makes it funny."

Whilst budgets are but a fraction of a Bond movie, the creators of Johnny English Strikes Again found ways to create a Bond-esque environment fit for MI7's most infamous agent. The majority of environments were shot on location, from the established wealth of the French Riviera to the establishment piles of English stately homes, but the design team did get an opportunity to build some sets - a high tech super yacht, the interior of a submarine and a large French Riviera restaurant, which Johnny happens to burn down.

"I wanted the restaurant to feel really fantastic, somewhere you would really want to go to," explains Bowles. "We ended up building it as a set because we're shooting on it for two days and for the fire to show up it has to be dark, so to shoot two days during dusk at a location is impossible." A set was also the perfect way to control a fire, of course.

Another glossy-looking set was Volta's super-yacht, the ultimate status symbol for anyone with villainous ambitions. With certain interior elements built on a sound stage, the actual yacht is completely conceived in CGI, because the type of yacht Bowles was after simply doesn't exist. "I designed the boat from scratch," says Bowles. "Whilst I did a lot of research, yachts like the type we are using usually have teak decks, but with my version I wanted there to be a contrast between Volta and Johnny. Volta is completely synthetic. Everything he carries is synthetic, whereas Johnny's world is wooden."

Furthering this idea, Bowles conceived of Volta's world as futuristic and hi-tech, but also transparent – a reference to his nature, hiding in plain sight. "Everything he's using, all his tech, is clear, it's transparent, so his laptop is clear, his phone is clear, his gun is clear, the big screens in his house are all clear, with graphics projected onto them." This includes Volta's digital and omnipresent assistant Xander.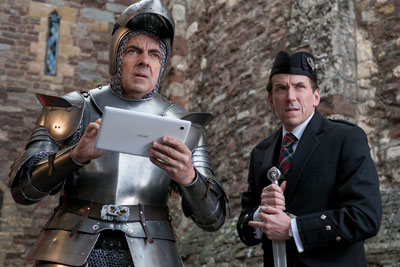 Because the yacht is a CGI creation, designing the yacht required help from the visual effects department. Angela Barson, the film's Visual Effect Supervisor, worked closely with Bowles throughout. "Everything we do stems from his designs, his concepts," she says. A CG model was built for certain shots where a real yacht simply can't be used, which was easier said than done. "It's a very shiny, blingy, massive super yacht," she says. "So if you saw it for real, you would be taken aback." Tying it into the environment, making it look authentic, was a huge task.

Barson was also involved in the film's finale, where Johnny English tracks Jason Volta to his Scottish castle. "You've got a number of things that come into play," she explains. "For starters you've got the castle itself." The castle exteriors were shot at Berkeley Castle in Gloucestershire, a landlocked location. Volta's castle, however, is by the water. "We have to put that castle into the Loch location up in Scotland." After location plates were shot, Barson and her team got to work marrying the two together – with some additional key elements. "Off the coast of this Loch, you've got the submarine, which is fully CG, and you've got the yacht, which is also fully CG. So there are a lot of quite big elements that come into play."

Costume Designer Annie Hardinge has worked with Rowan since the very early days. In fact one of her first jobs as a Costume Designer was on Blackadder when Rowan was twenty-two years old, although her first meeting with him was a few years earlier when she was a design assistant on Not The Nine O'Clock News. Has Rowan changed in all those years? "He's actually exactly the same, just a few years older!" says Hardinge. "He's always been very respectful of everyone he works with, which is one of he reasons I like working with him so much."

Having worked with Rowan for so many years Annie knows intuitively what works for him. "He'd be the first to admit he doesn't know a great deal about clothes, but he has an opinion. Because he's such a tactile performer, it has a lot to do with how things feel when he first puts them on as opposed to how sharp he looks. If he feels he can't get the right body language across, he won't want to wear it." Because of this, Annie was able to eliminate designers quite quickly, ending up with Zegna and Prada. The Prada suits are English's bright blue Riviera suit and the dark blue suit he wears for the virtual reality sequence. What Hardinge calls his 'first Bond MI7 suit' - that being the suit he wears when he arrives at MI7, back from the wilderness of teaching - is made by Zegna.

But there is more to a suit than just a cut. There are the little details that make up the whole. During an early costume test, Annie added a small detail to the breast pocket: a folded handkerchief. In the gentlest of ways Rowan questioned her reasoning behind this new detail. Why would Johnny wear it? What did it say about his character. How does Hardinge find working with his level of scrutiny? "I like actors who are, what I call method, because they feel what they are wearing. I like it when actors get into character for a costume fitting and be that character because then you can see exactly what you are doing. I pay a lot of attention to detail so I always appreciate it when the actor pays even more attention, as in Rowan's case. He's all about the detail. He looks at every single aspect of what he is wearing. On that occasion he needed reassurance that we were going for that total Bond look and we needed to therefore up the ante a bit."

In that respect the Costume Designer plays an essential role in facilitating the actor in accessing the character, and for Hardinge, as with Bowles and Kerr and all the other creative heads of department driving Johnny English, it's about making Johnny look real. "If you make it look as realistic as possible it accentuates the comedy. As far as this film is concerned we went for a total Bond look. Sharper and more sartorial."

That said, they didn't want him to be in suits all of the time, so Hardinge and her team came of up with a number of other looks, one being what they refer to as 'Milktray Man' – black polo neck and black leather jacket. "We wanted him to have a more relaxed look and that's the in between, the middle ground between his combat gear and the suits. It's smart but functional. And he does look fab in a polo neck," Annie laughs.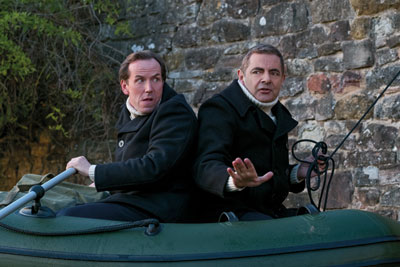 No spy movie is complete without a glamourous side-kick and for Johnny English Strikes Again, Annie Hardinge had an actual Bond girl to design for. When asked about the looks Hardinge created for her character Olga said the clothes she got to wear made her feel more glamourous than the actual Bond film she did.

"Olga is incredibly beautiful and has her own style in real life. So it's like being given a present, an actress who is actually stunning and that makes my job so much easier. I haven't had to take a diamond in the rough and gloss her up. When we discussed Ophelia's look it was all about that pared down understated elegance. Plus she is always in situations where she is doing something, like trying to garrotte English! So we went for a simple silhouette, everything fitting her really well and colour coded to the sets." For example, for the castle she is dressed in a red McQueen creation, to make her stand out against the grey stone of the castle sets and for the scenes at Volta's house, she wears an oriental orange and black look, by DVF. "I worked closely with Make-up Designer Graham Johnston and Make-up Artist Gabor Kerekes, to create the total look.

The quickest costume fitting for Hardinge and her team was with Emma Thompson. "One and a half hours it took with Emma to do five outfits! On paper it should have taken at least three fittings, but she is a joy because she is very decisive. For the scene where she looses her temper she wanted a bright color so we went with the shocking pink." Quite a controversial colour for a PM, but it works. "Emma and I discussed it and she decided that the PM was quite a complicated human being and if she wanted to wear hot pink she would wear hot pink! I've always liked strong colour, and all of her suits are quite simple so they rely on strong colour." All of the PMs outfits are by Stella McCartney and the jewelry is Marni and McQueen.

"We wanted to give the PM a really strong, groomed look because the whole premise of the government was that it's high tech, it's slick, it's modern so we wanted to show that in her look as well," says Johnston. "So to complement the costumes we avoided heavy make-up, emphasizing a strong lipstick colour, that says 'that's my character. I'm strong. I'm here.'"

By contrast the look for Volta stood out in opposition to establishment and to the tailored look of English. "He was the guy with the t-shirt and trainers, his own man and completely different to Johnny and Bough. Being American, we wanted to relax him a little bit, so he was quite understated even when meeting the PM."

Finally, we come to Bough, whose character in this story is revealed to the audience far more than in the first film, even down to meeting his wife! How did Annie approach his character? "He's the one who does look quite English. He has an Englishness to the way he dresses. He has his Gieves and Hawkes grey suit that he wears to all formal occasions at MI7 and the rest of the time we see him in a navy blue blazer and beige chinos, always a shirt and tie. He's quite a good foil for Johnny who is very elegant in a cosmopolitan way. Bough is more stiff and formal and quite preppy."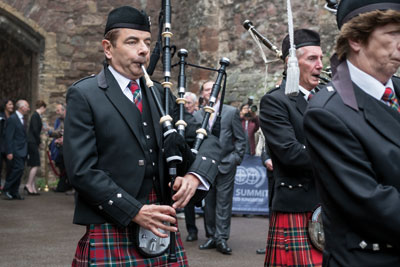 Tools Of The Trade: Fast Cars & Gadgets

When Johnny meets with P to get equipped for his mission, he realises that times have changed. No guns or gadgetry allowed; just a do-it-all telephone that, other than the gift of communication, doesn't actually do anything. Naturally Johnny refuses to head into the field without the requisite tools; after all, how better to catch a digital mastermind than by using an analogue approach? All this meant that the filmmakers were able to keep their imaginations in both the digital and the analogue world, giving birth to an array of toys.

"Johnny loves the gadgets," says Davies. "Even though there might be a simpler way of achieving the aim, he will choose to use a really cool gadget that he loves. It also gives us an opportunity to dip back into things from the '70s. These are all really old school gadgets that nobody would think of using and yet Johnny does. The more involved and complicated they are the more he loves them."

Davies is the first to admit that he had a lot of fun conceiving gadgets for analogue Johnny. "It was great," he says. "Not only thinking of gadgets that would be really appealing to Johnny, but also what he would be able to make go wrong. That's a brilliant combination." Among his armory: sweets from the '70s that all hide surprising functions. "We had a whole list of Spangles, sherbet lemons, aniseed balls; it was great thinking about all of that!"

"It's gadget-tastic all the way through," says Bowles. "There's not a quiet moment without something going on."

Of course the choice of gadget for each character was a great way to further accentuate the analogue versus digital theme. Everything about Volta's world is state of the art technology, and his accessories reflect that, from his holographic telephone to his transparent gun. "There's a pseudo-transparency to him, but actually he's hiding behind the transparency," says Bowles.

In contrast, Johnny's gadgets are very old school: pills to keep you awake and put you to sleep, sherbet dips transmitters, magnetic boots and shoebox inflatable boats. He even deploys an exoskeleton suit to help climb the walls of the Scottish castle. "Even the modern gadgets are really old school and he always finds a way of making them go wrong," laughs Davies, "and yet somehow, out of the wrongness, he always manages to make something go right!"

The exo-skeleton suit was made by FBFX, a specialist costume making company. Their brief was to make a working suit that would have a home-made feel to it, and the result, after 7 weeks of designing, crafting, testing and editing is a working pneumatics suit where each joint is engineered to move, powered electronically and controlled remotely. "This is meant to be a proto-type that was made but never went into production, he's found it in is kit in the back of his garage. It's not meant to be slick" laughs Grant Pearmain.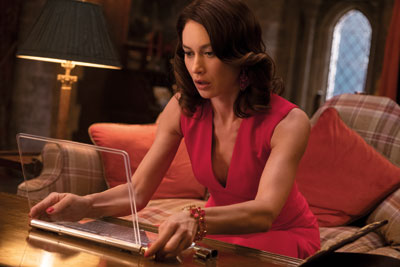 There is one gadget however that bucks the '70's trend: Virtual Reality goggles. In preparation for infiltrating Volta's house, Johnny uses the goggles to walk – virtually – through its rooms and corridors. Being inexperienced with this relatively new form of technology it's a comic disaster waiting to happen. The idea originated from a trip Clark had taken to the South By Southwest Festival in the States in 2016. That year, the festival featured a large VR area, which Clark got immersed in.

"When I got back I told the guys about this VR experience I did and out of that came this idea: Wouldn't it be fun to throw Johnny into something like this? We were sitting at Working Title's offices and we conceived this concept of him walking out accidentally from a VR room onto a busy high street." Davies even studied shops and cafes on Marylebone High Street to get a sense of the situation he could place Johnny in. The result is a brilliant and perfectly positioned platform to showcase Rowan's style of physical comedy.

"When Johnny puts his VR headset on, he walks out of the room but he thinks he's in his own space, which he isn't and he's causing considerable hurt and chaos to a number of members of the public," explains Atkinson. "That is the essential joke and it always just felt like a very good idea because VR is funny. Indeed, I think often when you watch people with VR headsets on…of course they are in their own world, they're not in the world in which they are physically sat or stood and exploiting that for humour felt to me to be an absolute no-brainer."

While Johnny is soon seen attacking pedestrians and passers-by with umbrellas and baguettes and any other 'weapon' that comes to hand, pulling the sequence together was anything but easy. Kerr calls it a "jigsaw puzzle", with the need to figure out where Johnny would go in the real world, finding locations that would accommodate the comic misunderstandings, and then matching these seamlessly to what he sees in his VR universe. He began by designing the sequence with storyboards.

Drawing out the scene step by step didn't initially inspire hilarity amongst the crew. "Nobody was laughing and everybody was thinking 'Uh oh, we thought it might be funny. I don't think it's going to be funny.' I was really hoping it could be. I'd say, 'Let's keep working up the VR point of view, let's take it to the next stage. I'm sure it will get funny.' And as we started working up what Johnny sees and putting that into the cut and playing it to people who didn't know the scene, it really started singing."

Any spy movie worth its salt requires some sleek automobiles and a Johnny English movie is no exception. Atkinson, a noted car enthusiast, calls it a "gift" during the writing process to consider what Johnny might be driving. "We've always been contemporary with the previous Johnny English films, with whatever car we gave him to drive," he says. "But there was an excuse here to go back." The team selected an Aston Martin V8, finished in Storm Red, an exact replica of a car that Atkinson bought for himself back in 1981.

"I thought this would be a perfect car for Johnny English," laughs Atkinson. "And it looks great, I think it's such a wonderful tomato red [colour] in the sunshine of the Cote D'Azur. And it was great fun to revisit the past in a contemporary way."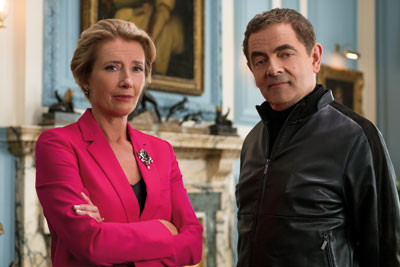 Kerr calls Atkinson's knowledge of cars "encyclopedic", which comes in useful for fleshing out Johnny English's character. "He is very specific about the car that Johnny would be driving at any point. So even when we first meet Johnny he's driving a Triumph Dolomite Sprint. It's no Aston Martin, but it's the affordable classic that he as a geography teacher would have. And so he still loves that car even though it's not the car he then has for the rest of the movie."

When it came to Johnny's Aston Martin, production designer Simon Bowles was already conceptualizing the car's hidden gadgets, including rocket missiles. "I played with them," he recalls. "Should they come out of the boot? Should the boot lift up and out? Should they come out from the wings? Or should they be from the bonnet? Obviously the bonnet has a lovely advantage as you can actually see the missiles rising out of the bonnet with Johnny and Bough right there behind it."

There are no two Aston Martins that are the same, each one made is bespoke, so the team had to purchase another one for stunt rocket launcher car, turning it into a replica of the original. "We found a black one with a red interior so we had to completely re-upholster and re-spray the car." says Bowles.

Even more than the first two films, plans were afoot to make the cars integral to the story. "There's a lot more car action that people can expect, a lot more driving," estimates Paul Herbert, the film's Stunt Coordinator, who has worked on all three of the Johnny English films. The first of the two major sequences was in the South of France, where Johnny is in his Aston Martin embroiled in a chase with an electric and eco-friendly BMW i3, driven by Ophelia.

Olga Kurylenko, who had worked with Herbert on The Death of Stalin (2017), was delighted to get behind the wheel. "I was a bit sad they didn't let me drive like a maniac more," she laughs. "I would have loved to do all the stunt driving. Driving like a maniac is my thing! I love it! And it's a great car."

Atkinson, meanwhile, spent a day at Longcross Studios in the UK, where the stunt team helped him get familiar with driving the Aston Martin. Despite being a competent driver, there were times when he had to let the stuntmen take the wheel. "If he had his way he'd basically be doing all of the stunts on the film," laughs Clark.

Another chase scene sees Johnny pursued by Volta's men, escaping in a vehicle alongside a learner driver. With so much dialogue in the scene, the car was controlled by a stunt driver sitting in a pod above the vehicle. "It's a little bit unnerving for the actors at first," says Herbert, "when they're sitting in there and the car is going left and right and turning and they've no control."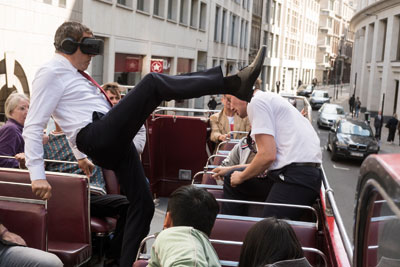 The Gadget List

Johnny English:
1. Shoebox Inflatable Boat
2. Exoskeleton Suit
3. Magnetic Boots
4. Sherbet Dip Transmitter
5. Aston Martin with built in rockets and gas dispenser
6. Instant Release High Energy Pills
7. Total Knockout Sleep Lozenges
8. Low intensity exploding ear buds

Ophelia:
1. USB lipstick
2. Compact mirror unlocking device
Garroting watch

Volta:
1. Transparent laptop
2. See-through gun
3. Holographic communications unit

Visual Comedy

With Rowan Atkinson as Johnny English, the jokes will always be free-flowing. "I enjoy visual jokes and I enjoy silly movement and I enjoy falling over," says Atkinson, who seems delighted that Johnny English Strikes Again features plenty of the above.

"Rowan knows exactly how to communicate with his entire body, and how to make that part of the comedy," says Kerr. "So you'd be mad not to embrace that when you're planning the shots."

Timing is everything, of course. Take the scene where Johnny English first meets Ophelia. Entering a swanky bar, he orders a 'London Lemming', much to the bemusement of the barman and our heroine Ophelia. The epitome of suave sophistication, as befits an agent of Her Majesty's Secret Service, he toasts Ophelia, takes a sip and gets the cocktail umbrella stuck up his nose. Mastering the art of getting a cocktail umbrella stuck up the nose is not the work of a moment. It can be a painstaking process, just because Rowan is at the heart of what makes it funny.

"So much of what people read in film is how they move, how they look, how they react physically, how they time a walk or a smile, and Rowan is the master of all that," says Kerr. "He really understands what he's doing physically and he knows consummately how to communicate non verbally, so when we are watching those takes back, we are almost invariably looking for those details. Sometimes it is verbal stuff as well, but a lot of the time it is non verbal, whether we've got the suaveness of Johnny, or the sense of innocence. These are quite subtle things. A lot of the time you can look at a take and say that was just like the last take, but there's always some subtle distinction, and that's what we are looking for."

The comedy evolves further as Johnny mistakes a sleeping pill for the Instant Release High Energy Pills. Dressed in white, a homage to Saturday Night Fever, he catapults himself across the dance floor, limbs moving in all directions. Achieving that sense of discord and chaos is a very exact science. David Kerr brought on choreographer Litza Bixler, with whom he had worked before, and together they shaped the dancing sequence with Rowan.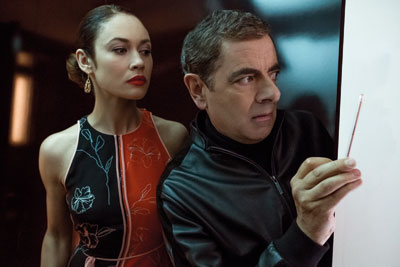 The three spent time identifying the music, the tone and where the physical comedy was going to be set. "We loosely structured everything, but always leaving breadth in there for improvisation," says Bixler. "You work with the unique things he can do. It's not about achieving a precise performance, but getting the balance between Rowan's own precision and the fact that the character shouldn't be too precise. He's a precise thinker, which is an interesting contrast to his character."

For Atkinson, it felt like a crossover to another of his most famous characters. "It's the kind of dancing that probably Mr. Bean would do, but of course we can excuse it by the fact that Johnny English is on drugs while he's doing it…prescription drugs in a sense, but nevertheless he's sort of on cloud nine. So that's how we can get Johnny English to do very un-Johnny English things."

Of course, this is just one of the numerous Atkinson-inspired comic set-pieces that will tickle audiences watching Johnny English Strikes Again. From leading his pupils on a training exercise through the forest to scaling Volta's yacht in magnetic boots, working undercover as a waiter, to the meticulously choreographed Virtual Reality sequence, the possibilities are endless and perfectly tailored to Atkinson's comic genius. "It's that physicality that people of all generations endlessly find funny," says Tim Bevan. "He's got this fantastic elastic face and elastic body that lends itself to physical comedy like virtually no one else in the world." Just as Johnny English strikes again…so does Rowan Atkinson.


Johnny English Strikes Again
Release Date: September 20th, 2018