Sound the Alarm: Night School's in Session
Cast: Rob Riggle, Kevin Hart, Romany Malco, Tiffany Haddish, Taran Killam
Director: Malcolm D. Lee
Genre: Comedy
Rated: M
Running Time: 111 minutes

Synopsis: Star Kevin Hart and producer Will Packer, who partnered for the hit Ride Along and Think Like a Man series, bring their signature style to Night School. The comedy from director Malcolm D. Lee (Girls Trip, The Best Man franchise) that co-stars Lee and Packer's Girls Trip' breakout star Tiffany Haddish follows a group of misfits who are forced to attend adult classes in the longshot chance they'll pass the GED exam.

In Night School, we meet Teddy Walker (Hart), a successful salesman who"after losing his job when he accidentally destroys hi workplace"is forced to attend night school at his former almost-alma mater, Piedmont High School, to get his GED. If he passes, Teddy will once again be gainfully employed and continue to impress"although quite deceptively"his successful girlfriend, Lisa (Megalyn Echikunwoke of TV's House of Lies)

At school he falls in with a group of misfits also trying to get their GED, meets his match in his no nonsense teacher, Carrie (Haddish)"the mentor who sees right through Teddy's manipulative ways"and once again faces his former high-school nemesis, now turned principal, Stewart (Taran Killam of TV's Saturday Night Live), once mocked by Teddy in high school and who now finds himself in a position of delicious payback.

Teddy's wild cohorts consist of Rob Riggle (Let's Be Cops) as former jock Mackenzie, who is only getting his GED to force his ungrateful son to get his diploma; Romany Malco (The 40-Year-Old Virgin) as Jaylen, who lost his job to a robot and is now understandably distrusting of technology; Al Madrigal (TV's The Daily Show) as Luis, a waiter and wannabe singer who gets fired after a run-in with Teddy; Mary Lynn Rajskub (TV's 24) as Theresa, a homemaker returning to night school to help her family"or maybe to just get out of the house for some peace and quiet; Anne Winters (13 Reasons Why) as Mila, the disinterested millennial who knows more than she lets on; and Joseph Cartegna"aka Fat Joe"(Netflix's She's Gotta Have It) as Bobby, the student who attends school via Skype because, well, there's little else to do in the joint.

The multitalented comedic cast is joined by Ben Schwartz (TV's Parks and Recreation) as Marvin, Teddy's loyal friend who promises to get him a job when he completes his Ged; Bresha Webb (Ride Along 2) as Denise, Teddy's brilliant (and often insufferable) little sister; legendary character actor Keith David (Armageddon, The Thing) as Gerald, Teddy and Denise's long-annoyed father; and Yvonne Orji (TV's Insecure) as Maya, Lisa's best and most protective friend…who doesn't trust Lisa's fiancé as far as she can throw him.

Night School
Release Date: September 27th, 2018
About The Production
Oddly enough, Night School actually did start with the ringing of a bell"although not a school one. On a quarterly basis, Kevin Hart and the writers at his production company, Hartbeat Productions, get together and pitch ideas for film and television. When somebody believes they have a good idea or have found that "Eureka moment," as writer Harry Ratchford describes, they ring a bell to get their collaborators' attention. The brave hand-raiser explains to the team what's on their mind, and the group decides whether the premise is worthy of additional creative exploration.

"Every bell-ringing moment doesn't necessarily lead to comedy gold," reflects Ratchford. "But everyone recognized that Kevin had struck the motherlode when he stood up in the middle of the pitch room and explained his idea for Night School."

For Hart, it was important to have a project that could bring a number of creative people together, longtime friends and new ones alike. Says the multihyphenate, who serves as writer/producer/actor on Night School: "We asked how can we put a lot of funny people in one room and create an environment for laughter, and at the same time tell a great story. Think about films like School Days, Cooley High and The Breakfast Club; they all had very funny ensembles."

It would take a good deal of development in order for the inspiration that became Night School to come to fruition. Still, Hart's core team at Hartbeat"including Ratchford & Joey Wells & Matthew Kellard"fleshed out the story of Teddy Walker, a fast-talking guy who'd gotten through so much of life on simply charm. Forced to drop-out of high school after a learning disability sidelined him, Teddy made the best of his situation and relied on his rapid-fire mouth and innate street smarts to get by. Once he loses his job and sees that he'll also lose the girl of his dreams if he doesn't change things, Teddy swallows his pride and heads back to get his GED. Along the way, he is supported by a ragtag group of students, each facing challenges of their own. Joined by fellow screenplay writers Nicholas Stoller and John Hamburg, the writers were off to the races.

Hart gives his take on the character, one who is as industrious as he is hilariously shady: "Teddy is a fake-it-till-you make it individual. He feels like he needs to be a certain type of guy to keep the woman that he has. Teddy's always been able to get around situations because he's had the gift of gab; he's a likeable manipulator, but he is never malicious."

The performer expands on what the film entails, reflecting that, ultimately, Teddy's story is one of second chances. "It is about a bunch of adults who are living their lives, but not living up to their full potential. The reason is because of a piece of paper, which they feel is holding them up. They think by getting that GED that more opportunities can open up, which will lead to a better life for them and their families. They feel like maybe they have cheated themselves up until this point." One of the hardest-working men in Hollywood pauses, reflecting on the more serious side of the comedy: "It is also about how the power of putting your mind to something can mean so much."

While on an international promotional tour with producer and longtime friend Will Packer, Hart saw his opportunity to take the project a step further. Their shorthand is a constant source of amusement to each other…as well as to anyone who overhears the conversation.

"Kevin comes up to me at a club in London. We have gone on a long, multi-city tour. I'm tired. I want to party. I don't want to hear anything Kevin has to say, especially since he's talking about work," muses Packer. "He says, 'Will. I've got an idea.' I'm like, 'Yeah, Kev, I got it; let's get another drink.' He says, 'No, no, no; listen, I got an idea. What if we take a group of misfits who have to go back to night school to get their GEDs?' I say, 'That's brilliant.'" Turns out that turnabout is fair play. "I started talking about it, and Kev goes, 'Man, we're in a club! I don't want to talk about this. I just wanted you to get the idea,' and he left. That is literally how he pitched me Night School."

Prone to drop a creative idea and jump into the details when he's on the clock, Hart has nothing but love for his fellow producer and Packer's process. "Working with Will is a beautiful thing," says Hart. "We're on our seventh or eighth film now." Then, he adds with a laugh, "What I'm noticing about Will is, the more successful he gets, the brighter his teeth get. I don't know what's going on, but it's just getting tough to look at Will in the mouth..."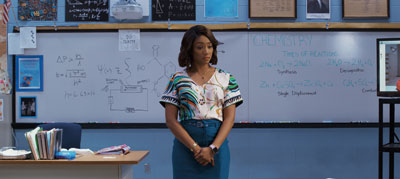 Clubbing and friendly jabs accomplished, upon returning to the U.S., the duo pitched the concept to Universal Pictures' executives, who were excited to partner once again with the studios' frequent collaborators. Hart and his Hartbeat Productions writing staff fleshed out the idea, and the project was greenlit. With polishes from Stoller and Hamburg, it was go time.

Packer and Hart were certain that once they got the go-ahead from the studio, they wanted to move forward with Malcolm Lee as the film's director. Lee was fresh off the joyous success of the Packer-produced Girls Trip, which was the first film directed by, written by, produced by and starring an African-American cast to cross the $100 million mark at the box-office, and one would be hard pressed to find a more cohesive creative team. "I'm dragging Malcolm along. There was the 'pre-Will Packer' Malcolm career, and then there's 'post-Will Packer' Malcolm career," jokes the producer. "We can agree that his career has been on a very different trajectory since I got involved in his life…so Malcolm, you're welcome."

Jokes aside, Packer admits he almost wasn't able to get Lee to join for this go-round. "This is a true story," the producer tells. "Malcolm was trying to take a vacation with his family after Girls Trip. I told him that sounded amazing, but he couldn't do it because 'I have this movie and you got to do it.' He said, 'We just did Girls Trip. I want to celebrate.' "I told him, 'You can celebrate when you die, and we're not dead. We have movies to make; we have this opportunity with Night School and Kevin Hart.'

Those were the magic words, as Lee had long wanted to work alongside Hart. Able to push his vacation back a bit, Lee and Packer struck while the iron (and timing) was hot. The producer explains the importance of landing Lee as this comedy's director. "The thing about Malcolm is he's very specific about what he wants," lauds Packer. "Actors like to have a director who is aware of what he wants. They hate it when someone is unclear, because that makes the actor unsure. He is a director who has a lot of confidence in what he's trying to get out of the performances. In addition, Malcolm does ensemble comedy very well."

For the director/executive producer, it all boiled down to what he knew was in front of him. "I saw great potential in the movie, and I wanted to work with Kevin Hart," sums Lee.

Hart has nothing but love for the captain of this ship. "Malcolm's a great guy, and he did so much work helping shape and mold the story to get it where it is," says Hart. "He's great with his actors and actresses; our relationship got better and better as we went along. He's a director that I can see myself working with for a while."

That feeling permeated production, extending to those running the set behind the scenes. "This is our second movie with Malcolm," says executive producer James Lopez, head of motion pictures at Will Packer Productions. "He is always steady and prepared. The best thing about him is that he is the kind of director who makes my job as a producer easy."

Lopez's fellow executive producer Preston Holmes sums what Lee's collaborators"both in front of the camera and the ones behind it"have long experienced: their director builds characters and films that are equal parts heart and humor. "Malcolm's particular sort of talent is that he has a way of making comedies that are funny as hell, but also smart with characters that are not cartoons," reflects Holmes. "They are well rounded, often well-educated and accomplished. We see a whole range of qualities in these people."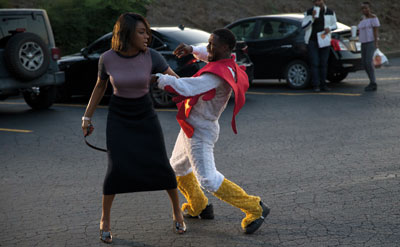 I Got You: Haddish Meets Hart

Lee, Packer and Hart didn't have to spend much time thinking about who they wanted for the role of Night School's no-nonsense teacher Carrie. They went straight to the breakout star from their last comedy. "We did Girls Trip with Tiffany Haddish, and as soon as we started working on Night School, I gave her a call," recounts Packer. "Still, everybody was calling Tiffany wanting her to be in their projects. I said, 'Listen, don't you do a damn thing until you come to Atlanta with me, Kevin and Malcolm and make this movie. After that, you can go off and do Avengers 3 or Transformers or whatever else. But we're doing Night School next.' She said, 'Will, you know I got you. I'm in.'"

Packer muses on what Haddish brings to the role of Carrie; in fact, he invents a Haddish-specific vocabulary. "I said Tiff, 'I need some of that Tiffany magic.' She brings to Carrie a sophistication, a ratchet, sophisti-ratchet, a little boo-ghetto, boojie and ghetto, and just a pinch of Dina, her character from Girls Trip. She plays her characters so they feel natural to the world that they're in. When you're putting together an ensemble cast, you need somebody who feels real to help ground the rest of the cast."

"The role of Carrie was originally written as straightforward, but once we cast Tiffany, I wanted to put more of her into the character," explains Lee. "When we meet Carrie in her first scene, she is accosting the principal because he's dumped another class on her increasing her workload. From the beginning, she comes out blasting."

It's been quite gratifying for her director to watch his breakout star reach for them herself. "Fortunately, I was able to work with Tiffany on Girl's Trip. She's continuing her work here, and not only is she funny but she's growing as an actress as well," compliments Lee. "This is a role that's not just her delivering the funny; it's about her delivering plot and driving scenes. When she and Kevin get together they are able to play off of one another very well."

Hart agrees with his team that it was a coup to get the multitalented Haddish. "We felt that she could go above and beyond and bring so much laughter and color to our script," he says. "She came in with a level of excitement that it is much needed on a day-to-day basis, especially when you have a long shoot. You want to come and smile, to be happy about work, and she definitely makes it a brighter place when she's around."

From their days on the comedy-club circuit to her first film roles, Hart has served as an industry mentor to Haddish; they have a true brother/sister relationship, a closeness reflected in their performances. "Working with Kevin has been a great and fun learning experience. I learned that you can do several different things at one time," says Haddish. "Kevin is an expert at improv, and he says and does a lot of funny stuff."

Packer expands on the Hart/Haddish chemistry that makes this project click: "Kevin and Tiffany have different styles, but both have a kinetic energy about them. They are passionate in their roles, and they're extremely amazing at spontaneity. They do extemporaneous performances like it's nothing, so they're ready to riff at a moment's notice. You can feel the energy between them, and they're going toe-to-toe because he's the student and she's the teacher. A lot of times they're bumping heads, and both give as good as they get."

Haddish also became known for her unpredictably delightful off-screen peccadilloes. "There's always antics on a set with Tiffany. She doesn't realize she's a big star, and she's going to enjoy every minute of it," laughs Packer. "Whenever I see her, she's sneaking craft services into her purse. I'm like 'Tiff, you know we got more Doritos.' She's like, 'Whatever. Where are the Fruit Roll-Ups?' She's always in her trailer playing the music on 10, grooving in between takes. She's the person that likes to stay on set, even when Malcolm tells the actors they can go back to the trailer; she's hanging out, talking with the camera team, the grips and electric. She's just enjoying herself."

Part of her enjoyment is the chance to work with Lee and Packer again. "Being reunited with Will and Malcolm has been amazing," Haddish shares. "I love these guys; they allow me to be creative and to be myself. I've really enjoyed working with them."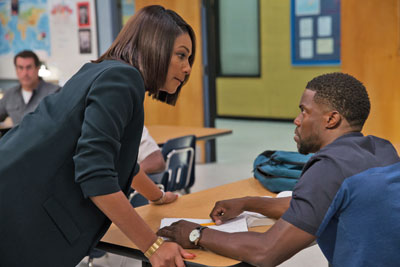 Haddish jokes about the similarities between her character and her reality: "Carrie struggles on a teacher's salary, so she took on extra classes to create more financial security"those things a woman needs," she deadpans. "I decided to do Night School so I can afford such things as my mortgage, sanitary napkins, Wi-Fi, hair…these clothes they want me to wear on red carpets that cost way too much money. First off, I would prefer to just wear things I could get at the swap meet or at any garage sale or what not."

Although Carrie sees through Teddy and his half-ass attempts to manipulate her and pass the GED exam, she also cares deeply about her students. Carrie soon realizes that her most annoying pupil may have a learning disorder. Haddish thinks the film's take on Teddy's academic issues are a part of Night School's appeal.

For the actress, one of the reasons the comedy is important is that she struggled with a learning disability as a child; she feels the message of overcoming obstacles is one the world needs to hear. "I'm going to tell you right now, this one right here couldn't read for a long time," Haddish says, reflexively. "Everybody's brain is capable of doing amazing things, and we all learn differently. I met a special teacher who sat me down and showed me a different way, and now I can read. I bet you I can pick up anything and read it to you and comprehend it; that is because somebody cared. That's what this movie is about: somebody taking the time to help you be the best you can be."

Smart-asses and Felons: Populating the Classroom

The night school cast, made up primarily of actors with comedic backgrounds, developed an appreciation for Lee's grasp of their world, as well as Hart's encouraging them to play around with takes. "We felt that putting a bunch of adults in a classroom and making them revert back to childish-like ways would be funny, especially with the right group of people," sums Hart.

For the director, it was crucial that the production up Hart's game by casting signature voices, and not just allowing their star to be the principal comic person.

"When you get funny people around him, it challenges Kevin to be his best self, and vice-versa," says Lee. "This cast broke each other up throughout production."

The director has learned how to handle a cast of wiseguys; it turns out you just let them run with it. "I worked with a room full of scene stealers and my job was not to wrangle them. You have to keep certain things in the pocket, but you also have to let them fly free and find the funny," Lee reflects. "It is hard to keep a straight face"to keep from laughing over the soundtrack because they come up with some unexpected stuff. It's fantastic when it happens."

Similarly, Lopez is confident that they found the right group. "To portray our melting pot of misfits we put together a murderers' row of comedians who bring something special to the table," he offers. "They have different nuances, how they deliver lines, and how they ad lib and improvise. It gels together to make great scenes, and the chemistry is amazing."

"Malcolm gets the nuances of the human psyche, and he knows how to play them into comedy or drama," says Romany Malco, who plays Jaylen. Malco shares that love with his Almost Christmas cohort. "Will is one of the most loyal producers I have ever worked with," says the actor, "and he comes with the most dope screenplays."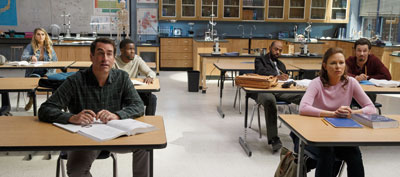 It wasn't just working with Lee and Packer, it was the combination of Hart and Haddish in one comedy that was too much for Malco to pass up. "This is Kevin's first feature under his company, so I wanted to show a lot of support for that. Plus, I had just seen Tiffany in Girls Trip; then add the chance to work with Will and Malcolm? Any of those reasons is enough to get involved; there was no way I wasn't going to join."

A conspiracy theorist who doesn't trust anybody"or machines, computers or technology, for that matter"Jaylen is a character who easily could have slipped into cliché. Still, Malco embraced his wackiness. This was a feature that Hart really appreciated: "I have worked with Romany several times and will always jump at the opportunity to work with this man. He is one of my favorites," lauds Hart. "He is funny, but he always manages to ground the funny."

Packer proclaims that he didn't know if Malco himself knew what he was going to do each day of the shoot. "When we would see Romany transform into Jaylen, you couldn't help but laugh. This is our fourth or fifth time working together, and what I see every time is that Romany is very method. When he gets into a character, he fully commits."

For the role of Stewart, Teddy's teenage nemesis before he grew up to become principal of their high school, the Night School team enrolled SNL alum Taran Killam. "I've been a fan of Taran's for a while. He has made his character such a loveable asshole," says Packer. "Taran is surprising because he brought the character to life much differently and funnier than it was on the page. While we're cheering for them, all Stewart wants is for them to fail."

This former classmate and nemesis of Teddy sees himself as the guardian in his way of Teddy's GED. For Killam, he relied on an unexpected hero to flesh out the part. "Stewart roams the halls of Piedmont High School with a baseball bat, visualising himself as the white Joe Clark, the teacher played by Morgan Freeman in Lean on Me," laughs Killam. "Stewart played by the rules and is angry at anyone who didn't…especially Teddy. Now that he is in a position of authority, he can impede Teddy in getting his GED. Stewart flexes his muscle; he is going to make Teddy jump through hoops."

The actor shares his experience of production. "Malcolm is a delight," lauds Killam. "You can take that to the bank. A big selling point of Night School was Malcolm. He came off of Girls Trip, which was one of the funniest movies of the year. He is so patient, smart and funny. He is very encouraging of input and collaboration because he wanted this movie to be as engaging as possible." Killam says Lee's collaborative spirit extends beyond the cast. "Malcolm has worked with a lot of the department heads and crew before, so there was a shorthand camaraderie. It further enhanced the fun, light atmosphere on set."

His director and cast not only appreciated Killam's comedy chops, but also his super-sweet dance moves. "About Taran," laughs Haddish. "He is so talented and super funny; he can sing and, oh my God, he can dance his ass off! We had so much fun, playing characters together and making up stories. I just love working with him."

Lee and Packer both have had another SNL alum, Rob Riggle, on their lists of someone with whom they wanted to work. When it came to the role of the furniture mover with the bad knees"who promises his son he'll get his GED if he doesn't drop out of high school"there was only one name on the list. "I have known Rob for a while," says Lee. "We circled each other on a couple of projects, but nothing ever worked out. I knew he would be a perfect fit for the role of the group's lovable doofus, Big Mack. When we got together to discuss the character, we discovered that we shared a similar vision for who he is."

According to his producers, Mackenzie (aka Big Mack) is the testosterone-fueled ex-jock, and Riggle's genius as a lummox belies the genius of who he is off-screen. "He used to be that guy who was a big-time athlete in high school," explains Packer. "I have wanted to work with Rob for a while because he's just funny. He finds the comedy, and he will make whatever it is bigger. He's the person who is going to ratchet up and augment every scene he's in."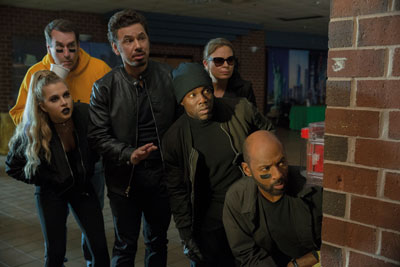 For Riggle, the chance to work with his fellow performers, especially "the king of the misfits," as he calls Hart, was one that was too good to pass up. "I enrolled in Night School because the cast is amazing," he gives. "Working with this caliber of comedians, the hardest part of my job was to not laugh and screw up the take. Plus, Malcolm, who is so laid back and efficient, lets comedians play. He encourages the crazy and the improvisation. It is the curse of the comedian to do anything…but don't bore us."

Brought on to play Theresa, the long-suffering mom of the night-school group, was Mary Lynn Rajskub. She drew much inspiration from Haddish's characterization. "Tiffany is this crazy woman," Rajskub laughs. "It was fun to watch how that filters through the lens of her character, who is the responsible one. Every student has his or her own issues, and Carrie tries to reel us in and help us succeed."

"The cut and dried reason Theresa gives for going to night school is to help provide for her family," explains the actress. "But what you find out is that she is lonely. She doesn't realise how smart she is and how shut down she has been. All of the characters have some aspect of themselves that they are discovering through taking the class."

Her director loved the versatility of Rajskub's resume. "Besides her dramatic work on 24, Mary Lynn has been a stand-up comedian and a comedic actress for a long time," says Lee. "She was a great addition to the cast because she brought so many levels of funny that were way beyond what we expected. Here's an opportunity for her to play it straight as a wife and mother who is finding her way back into the workplace, a character who dropped out of school early because she had children."

When it came to bringing aboard The Daily Show alum Al Madrigal, who portrays Luis"the waiter whom Teddy gets dismissed from his job"his primary interest was the spirit and energy of his producer. "Will Packer is probably younger than I am, but when I grow up I want to be like Will," he states. "He is motivated and wants to get a ton of stuff done; you see everyone on set being happy. You have Will, as well as Malcolm and Kevin, being super cool and great. Everything trickles down from the top."

Introducing us to his role, Madrigal says: "Luis is a failed American Idol contestant. He came to the United States from Mexico with dreams of being a pop star. He has been trying to get on The Voice or American Idol for years but he can never make it past the first round so he has become a waiter."

We meet Luis the night that Kevin tries to treat Lisa and her friends to dinner, where he wants to be the big baller and pay for the meal. But with no money and maxed-out credit cards, Teddy resorts to other means… His scene partner loved working with the antagonist: "On paper, there wasn't much to Luis. We needed a comedic actor to bring that special something to the part," says Hart. "That is exactly what Al did; the character is all developed because of him and through him."

Madrigal is a comic actor that Packer has wanted to work with for a long time. "Finally, when Malcolm and I discussed the character of Luis, Al was the first name that we came up with because we knew he'd be perfect for it," he says. "Al is so funny, the way that he comes in randomly. He will ratchet up a scene with something that you're not expecting."

For the young Mila, who is the only principal young person in Night School, producers turned to Anne Winters, known for her role on 13 Reasons Why. "Anne is the millennial of the group, who's a spoiled rich girl," explains Lee. "But at the same time she is reaching out for help. She needs some connectivity in her life, and she finds it in this group of people."

"Mila is trying to get her GED because she was a badass who didn't fit into high school. She has to wear this ankle monitor because it is keeping her out of juvie," says Winters. "She has her guard up against her classmates in the beginning. Then she warms up to them and feels like she fits in with this family of misfits."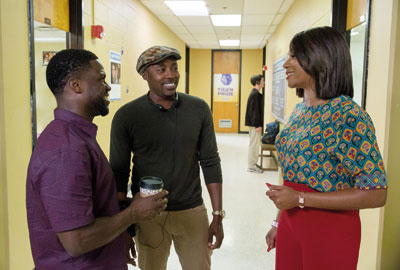 The comic tone on set got the classmates through the long hours of principal photography. "You're shooting a 14-hour day and it's 6:00 in the morning," Winters reveals. "This group of comedians just kept delivering cluster after cluster of funny things to make the hours fly by. Plus, you are trying so hard not to laugh to keep from disrupting the set. It reminds me of trying to behave and not laugh in church."

For the role of Bobby, the student taking night school via Skype because he is in prison, filmmakers went with Joseph Cartagena, a.k.a Fat Joe, known more for his rapping skills than his acting ones. Packer walks us through how the burgeoning performer came onto the project: "Fat Joe was doing the Netflix series She's Gotta Have It with Spike Lee, Malcolm Lee's cousin. When his name came up, Malcolm called up his big cousin and said, 'How was Fat Joe?' Immediately, Spike said, 'Hire him!' He was right. Fat Joe is so natural as an actor. He is quick and has great comedic timing. So, thank you, Spike."

"I worked on a few of Joe's records while I was at Atlantic Records, so we have a long-standing relationship," says EP Lopez. "I knew he had this idea of taking his next step into acting. He embraces Bobby so well because he comes across as someone who you don't fool around with, but there is a large part that is very likable."

At first the night school classmates assume their institutionalized fellow student is a violent felon…largely because they watch him being attacked in the prison library as he takes his class online. "I had to stab a guy. Throw some guys over a table and go through this big-ass fight. Then I sit back and focus back on class like nothing happened. It was crazy," laughs Fat Joe. "Bobby is fronting, but he ain't no real killer. He's in jail for stealing from Whole Foods. He is the Tony Montana of kale, grass-fed beef and Tuscan truffles. He is in the program to get his GED with the hopes of getting home a little faster."

Like Winters, Fat Joe wasn't expecting the night hours. Still, he respected that everyone pays his or her dues, and was inspired by the team's tenacity. "I'm the new guy on the block in the acting field; I hustle for everything," he proudly says. "It is important to be professional. Acting is intense. I hired an acting coach, locked myself in the room and just focused on the role. It is such an honor that Kevin chose to do an ensemble comedy for his first Hartbeat Productions film, and he chose me to be a part of that. Plus I got to be on set with Kevin, Tiffany, Rob and everyone else."

Outside of School: Loves, Family and Frenemies

Filmmakers signed Megalyn Echikunwoke to play Teddy's girlfriend, Lisa, who is fabulously successful and just wants her man to be a stand-up guy; she doesn't care that Teddy is broke as a joke…she just wants him to be honest and aim to make their relationship a happy one. Hart explains their interplay: "Teddy loves her; she is his rock and the one thing that he thrives for. He overextends himself so much to simply make her happy. He doesn't realize that she doesn't need anything. She has him, and she's fine with that."

Portraying the straight woman to Hart's wacky husband-to-be was challenging, but Lee knew the actress was perfect for the role. "Megalyn plays right in the pocket," says the director. "I love what she did with the role. We root for Teddy and Lisa as a couple, which is extremely important, and so much of that is due to her performance. We talk about elements of comedy in the film, but you have to care about the character. Because if you don't, the comedy falls short. What we have in Teddy and Lisa is a couple worth fighting for."

Although Haddish didn't have a lot of scenes together with Echikunwoke, they found time for off-screen bonding…and cooking. "Not only we did get along on set, but we also got along at my house. Megalyn said she wasn't that good of a cook," shares Haddish. "So she came over to the house, and I showed her how to fry up chicken and how to make spaghetti. I showed her how to make a variety of meals. So, we're cool; we text and talk and all that."

Echikunwoke's instinct of wanting to join the production was sound. "It was inspiring to work with them and get some of their juice…their vapors by osmosis," she muses. "Malcolm is easygoing and was open to my ideas. He listened to my input as we created my character. Tiffany is just one of the most fun people you'd ever want to meet"both on and off the set. And Kevin…he is on 100 all the time. He's out of his mind, but in a good way. I don't know how he does it, but it's always fun."

Every Hart character needs a wingman, and Night School would bring on Parks and Recreation and House of Lies' Ben Schwartz as Marvin. Teddy's best friend in high school, Marvin is still his best one to this day. "I wanted to make sure we cast the movie with funny people," sums Lee. "It's important to not be playing the same stuff all the time because it gets stale. You want to keep the energy of the scene alive, keep the humor alive. Ben is one of the most inventive improvisationalists working in Hollywood today. He is a good young talent and game for anything."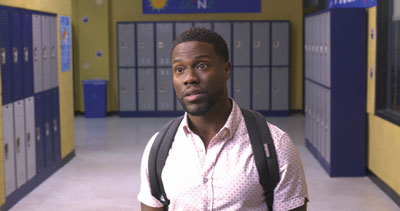 "The difference between the friends is that Marvin finished school; now he is selling stocks and bonds," says Packer. "He is somebody who is honest and up front, to a fault. But he also has a sarcastic wit, which is the charm of him. Ben brings all of those qualities to life in a way that we never expected."

Schwartz appreciated that there was no competition between the lifelong friends. "Marvin has been there for Teddy since high school," he explains. "Whenever he is having triumphs or failures, Teddy comes to Marvin and they try to get him to a place in his life where he is happy. Marvin is like the angel on Teddy's shoulder; the devil is on one shoulder telling him to stretch out payments on a Porsche for over 20 years. Teddy thinks he is nailing it, but he is just bleeding money."

Marvin is again there for Teddy when he loses his BBQ City job. He starts Teddy on his night-school journey by telling his friend he can get him a job if he will get his GED. Schwartz's first day on set was for the much-talked about restaurant pubic-hair planting scene. "It was such a fun first day because we got to play back and forth," says the performer. "We were just going nuts at each other. You get to see Kevin being Kevin and improvise with someone who is at the top of their game."

Yvonne Orji was brought on to play Lisa's best friend, Maya. "I am a friend and big fan of Yvonne's work on Insecure. I threw my two cents in pulling for her," says EP Lopez. "She is great as Teddy's nemesis, and the way she gives him a hard time created this dynamic reminiscent of the Gina, Martin and Pam dynamic."

Hart offers that he's long been a cheerleader of the actress. "Yvonne is another young, amazing talent. I'm a fan of her show Insecure," he lauds. "It's almost like a brother-sister relationship between our characters; it's very subtle. She can take it, and she can dish it."

Orji reflects that it was an easy decision to enroll in Night School. "I am a huge fan of Kevin, and Tiffany is just blazing the scene," the actress says. "I had to be a part of this. There is this beautiful band of brothers with Will, Malcolm, James and Kevin and they have opened up this ensemble to invite us all in. This is my first film, and I am so grateful that this is my introduction into features."

Odd Seductions and Easy Rage: Improv on the Set

A Malcolm D. Lee set is always one that welcomes improv, and Night School would be no different. As well, in Hart's mind, the best joke always wins. Getting to play the antagonist to Hart's Teddy offered a number of opportunities for Killam, especially. "Kevin is an incredibly generous star," gives the actor. "He is very encouraging of improv and going off script; he just wants to find the funniest, best, strongest moment. He will pitch you jokes from off camera, and he equally accepts jokes from cast mates. Cast and crew were constantly biting their lips and knuckles to keep from laughing out loud during takes."

Riggle loved how willing to improvise his fellow performers were, and one of his favorite memories from set was when Rajskub as Theresa seduces the principal. That moment comes when Patowsky returns to his office as the gang breaks into the school and is rummaging through his office to steal the GED test. "She is this sweet and funny person in real life," says Riggle. "But she has a scene where she has to pretend to flirt with Taran's character; it is one of the most hilariously awkward moments that has been captured on film."

For Rajskub, the freedom to improv with her most seductive dance moves and dirty words offered a lot of creativity. She explains her logic for the scene: "Theresa feels invisible, but she is put to the task of trying to seduce Stewart by any means possible. I come out of my shell in an unexpected sort of over-the-top way, where I am just going with my gut instinct, which is pretty bad. At first, I was foolishly thinking this movie's going to be PG-13, so I don't want to be too filthy. But Malcolm kept encouraging me to take things even further."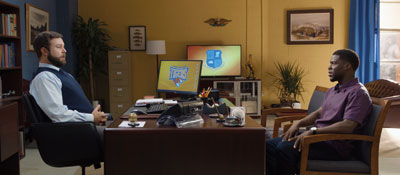 Speaking of taking things to the next level, it would be impossible to discuss improv on this set without going into details about the first day of shooting. In the scene, Teddy is trying to get out of paying the bill by planting his own pubic hairs in his dessert. As the cast did take after take to get it just perfect, their slap-happiness turned into filthy, unbelievably funny improv.

Madrigal sets up day one: "Luis goes from being this gracious waiter saying, 'Thank you for joining us. Is there anything else I can do for you?' to 'I will watch you die' in about 45 seconds. One of the best moments from the entire scene is when I get to describe the pubic hairs. Once I got the lines down the way they were written, then Malcolm let me play with it. All of that was on my first day on set. I couldn't have started with a better first day."

It's all in the service of comedy, according to the director. "The pubic hair scene; it's pretty nasty stuff," laughs Lee. "I was going over the scene with one of the writers, and we debated about how we were going to be able to do this. "But I had people pee on a crowd in a movie prior…so pubic hair's kind of a step backward. Anything goes at this point."

Since it was on the first day of principal photography, the scene set a vision for how the rest of filming would go. "We shot the scene on day one. What was great was it gave a good sense of where our funny was going to be; it got the momentum rolling," adds Lee. "It gave us a good sense of where we were and where we were headed. That was such a great sign and a bit of relief. I don't laugh too much on the first day because it's just a little nerve wracking, even though this is my 10th movie as a director. I recognised that it was funny, but it was also a time when we're trying to feel out each other out."

Madrigal expands on his appreciation for Lee's method. "I have been doing stand-up comedy for 20 years, and Malcolm trusts that. He would come up and ask, 'Do you have another idea for this?' So I'd have lines ready to go, and we were always welcome to pitch alternatives. Will, Malcolm, Kevin and the rest of the producing team put together a cast whose members have distinct comedic voices and who are completely able to improvise on a high level. As a comedian, this is the experience that spoils you for all other experiences. It is rare that you get a group of actors like this and a director like this. It is fantastic."

An Explosive Proposal and A Chicken-Suit Beating…

After the owner of BBQ City tells his number-one salesman that he is leaving the business to him, it inspires Teddy to finally pop the question to his girlfriend Lisa. "Teddy proposes to Lisa in the most unexpected way," offers Echikunwoke. "He comes up with the brilliant idea to propose to Lisa in BBQ City. He lights up all of these grills and sets up a bunch of candles; it's a highly flammable environment. After she says 'Yes' to his proposal, he pops open a bottle of champagne. The cork dislodges a gas-hose connection and things get a little hot." She deadpans. "They get explosive, if you will,"

This scene would represent the second time that Packer and Hart decided one of Hart's characters should fly across the room. "This reminds me of a scene I did with Kevin in Ride Along, where he gets blown backwards by a shotgun blast," says Packer. "Except this one is 10 times bigger and better." Stuntman Justin Charles Evans is thankful for that signature move as it has put him on the big screen three other times (Ride Along, Ride Along 2 and Get Hard) as Hart's stunt double. "It's different being on set with Kevin than on any other set," says Evans. "It's always a light spirit. There are cheerful people all around. He wasn't even working on the day of the stunt, but he showed up on set to watch me work and congratulated me. He values me as much as I value him. That's an honorable feeling."

In the stunt, Evans is blown out of BBQ City, across a parking lot and onto the windshield of Teddy's Porsche. Evans walks us through the scene: "The stunt was done in three parts. One part shows Kevin as the person being blown out of BBQ City…just his face. Then another shot was me being blown out of the building across the parking lot while I was attached to the ratchet. The final shot is where I actually ran onto a ramp and jumped off and crashed into the Porsche windshield and shattered it."

Being blown out of a window wouldn't be the rock bottom for Teddy. Unable to pass the GED test, Teddy works at a fast food-chicken restaurant. Among his duties at Christian Chicken is wearing the eatery's mascot costume. "There's a scene in the movie where Kevin is in a chicken suit, and let me just tell you, that alone is worth the price of admission. He is actually in a full body"real feathers"an actual chicken suit," says Packer, shaking his head. "As a black man, it's offensive. Even white people were offended. It's just bad."

To add insult to injury, Carrie shows up with a belt and proceeds to beat some sense into Teddy. "She is literally whipping this grown short man in this chicken suit in the restaurant parking lot," continues Packer. "It gets no funnier or more inappropriate than that, and she let him have it. I remember when we shot it I was like, 'Oh God. I hope this isn't the end of my career. I don't want to go out as the producer who did this scene.' I told Malcolm, 'Please make this scene work.' And he did. It's one of the funniest scenes in the movie."

Carrie decidedly busts up Teddy's pity party when she shows up at the restaurant to tell him she is not going to let him give up. "The first time I saw Kevin wearing that chicken suit I thought to myself, 'Why is he wearing the chicken suit? Could we write something different?' laughs Haddish. "But he did look a damn mess funny. Originally, in the script, I'm supposed to just rip his chicken suit off of him, but I said to myself, 'I'm not breaking my nails. I'm going to do what I would do in real life. In real life I'd get a belt and I'd beat that chicken; I'd tenderize that meat.' You are not going to do what I tell you to do and take the test? Then I'm going to whoop you just like my mom used to whoop me when I didn't do what she wanted me to do."

The method of punishment was a surprise to Hart, as well as the rest of the cast and crew on set. "When I broke out that belt, Kevin was like, 'Whoa; wait, wait a minute, wait!' laughs Haddish. "I said, 'No we are going to light that ass up today, then you are going to get in the car and go take the test.'" She pauses. "At first I felt like he wasn't cool with it, but then he kind of liked it."

Hart appreciated his on-screen partner's willingness to go rogue, feeling it was completely in keeping with the character. "In this case, Teddy decides to go backward in life," explains the actor. "She sees so much potential in me that she felt that she had to go hands-on to get me to see the potential in myself. In doing so, she created a lot of comedy. There's a lot of fun and laughter, but ultimately, there's a great message at the end of it." He adds, "The belt part of the scene, that's all Tiffany. That's Tiffany Haddish doing her improv thing."

A skillset not lost on her fellow cast. "She has a natural gift," reflects Killam. "You can just tell. Some people are born to play golf. Some are born to play tennis. Tiffany was born to beat people with a belt."

Crashing the Prom: Night School Formal

Not only does Carrie challenge Teddy outside of Christian Chicken and in the classroom, she also challenges him at the high school prom, which the night school students decide to crash. "What starts off as a fun, 'Let's go relive our high school and go to prom,' that kind of an innocent stop-in becomes a dance battle where you have Kevin and Tiffany on the floor going toe-to-toe with these kids all around them," explains Packer. "The scene is off the hinges. If you didn't make it to your prom, we got you covered."

The sequence, which required two days of prepping, was one of the biggest scenes and undertakings for cast and crew. In addition to the principal cast, there were an additional 12 featured dancers and close to 300 extras to fill out the gym.

Lee and production designer Keith Brian Burns came up with the theme of "An Evening under the Stars" for the big dance. "Part of the challenge is that you want the room to look like it's in a high-school gymnasium, but you want it to look far better than if it is in a gym because every kid wants their prom to be magical and beautiful," says set decorator Patrick Cassidy. "Not only did we shoot in a gymnasium, we were in the former Westlake High School, which has not been in use for about 10 years. It took a bit more work to freshen it up."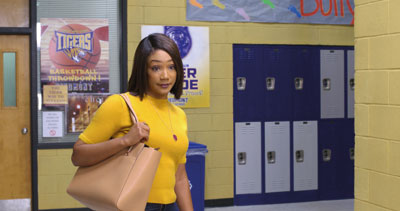 To achieve the almost-dreamlike atmosphere, 70 panels of 18-foot-tall and 10-foot-wide drapes"known as rain curtains"were placed around the gym. "They are called rain curtains because they move and shift, and when the light hits them they sparkle like rain drops," explains Cassidy. "We also sometimes refer to it as being 'like a Tina Turner dress.'"

Crew also had to build a stage strong enough to support cameras, a camera dolly, actors and a deejay. Various vendors were used to fill in other elements"including tables with candles, pretzels, snacks and punch for the students, as well as more 400 helium balloons, with extras on standby in case some deflated.

The gym lobby was also decorated with a photo area for couples to get their prom picture taken, a blue carpet, stanchions, flowers, a sign-in table, potted plants and more balloons. "Sometimes it gets to be as much about coordination and logistics as it is about design," adds Cassidy, who emphasized the dedicated work of other departments, especially lighting and electric, to create the magical night.

Although it took a lot of work, the cast and crew were thrilled with the payoff. "I am not saying whether there was any real drinking going on the day of filming or not," says Rajskub with a smile. "I had not moved my body from the chin down in years…so I wasn't sure if I was going to hurt something or not."

While most of the actors ad-libbed their dance sequences, Rajskub was caught behind the scenes getting twerk training from Andrea "Mona" Bowman, key hair for the film.

"Mary Lynn starts twerking, which, let me tell you: That's a sight to behold. I don't know if Mary Lynn can twerk, but she definitely did something…and was serious about it," notes Packer.

"I knew Mary Lynn would do something that would be unexpected," laughs Lee. "She knew it was written in the script that way, but she took it to another level. Nobody was expecting it, especially the extras. It was a great moment."

Killam also impressed the crowd with his signature moves. "Taran breaks out into the worm right there in the middle of the prom scene," states Packer. "All the actors had a moment to cut loose and perform and bring their personality into their character on the dance floor. I love it whenever you see that in a movie and you know they're actually having fun filming the scene."

Filming the scene had cast and crew reminiscing about their own high school proms. "I wore semi-bellbottoms, a tuxedo and a red cummerbund," shares Malco. "My date, Nicole, was very quiet and shy, while I was voted 'Most Outgoing.' That should give you an idea of the vibe we had that night."

One cast member takes the cake with his recollection. "I had a very cool date to my prom, which was on the Queen Mary that was docked in Long Beach. My date pitched going to the prom as Star Wars characters. We did the prom as formal versions of Luke and Leia in Return of the Jedi garb. I don't know if anybody else can top that."

After two months of principal shooting in the metro Atlanta area, filming wrapped in November 2017. Now, cast discuss what they hope the appeal of the movie will be. "Night School is the kind of movie that audiences should flock to see because we haven't had a comedy in a while with an ensemble cast like this with a theme like this. You get to see this group of hilarious characters all going back in an attempt to get their GEDs with Tiffany as their teacher. Kevin is leading the crew made up of all these amazing actors," says Packer. "I promise you it lives up to the promise of that premise."

Hart has nothing but love for his new comedy family. "As much as I would want to be here and take this great material and use it all for myself, I can't. It's an amazing cast of people, great material, nonstop laughter, and more importantly, always promoting love." He pauses, reflecting on Hartbeat's mission. "We're always promoting something positive in the film."

Riggle is slightly blunter. "Audiences should see this film because the world sucks right now. Give yourself a break and go laugh your ass off at your local theater courtesy of Malcolm Lee," sums the actor. "It doesn't matter your age, gender or race; everybody can identify with these characters because they represent the spectrum of the human experience."

Orji loves that the comedy is never just about the laughs. "Audiences will be touched by the heart, not just the Hart, of the movie," concludes the performer. "They will appreciate Carrie, who never checks out because there is always one more student to inspire. There are those students who never got that inspiration from a teacher who pushes you to be a better version of yourself, and she inspires us all."


Night School
Release Date: September 27th, 2018