A Film For The Whole Family
Cast: Cate Blanchett, Kyle MacLachlan, Jack Black, Sunny Suljic, Owen Vaccaro, Colleen Camp, Renée Elise Goldsberry, Vanessa Anne Williams
Director: Eli Roth
Genre: Adventure, Fantasy
Rated: PG
Running Time: 105 minutes

Synopsis: In the tradition of Amblin classics where fantastical events occur in the most unexpected places, Jack Black (Jumanji: Welcome to the Jungle, Goosebumps) and two-time Academy Award® winner, Cate Blanchett (Blue Jasmine, Thor: Ragnarok) star in The House With A Clock In Its Walls, from Amblin Entertainment, Reliance Entertainment and Mythology Entertainment.

The magical adventure tells the spine-tingling tale of 10-year-old Lewis Barnavelt (Owen Vaccaro of Daddy's Home, Mother's Day) who goes to live with his eccentric uncle in a creaky old house with a mysterious tick-tocking heart. But his new town's sleepy façade jolts to life with a secret world of warlocks and witches when Lewis accidentally awakens the dead.

Ten-year-old Lewis, recently orphaned and sent to stay with his Uncle Jonathan (Black) has discovered a hidden world of magic, mystery and supernatural menace – and it's all in his sleepy little town. When Lewis moves in with Uncle Jonathan, he discovers that the curious mansion he now calls home is full of secrets – chief among them an incessant tick-tocking coming from somewhere in the house…

He's not sure which is more astonishing: the wondrous, sprawling house…or his oddball Uncle Johnathan and Jonathan's best friend, verbal sparring partner and neighbour, Mrs. Zimmerman (Blanchett).

If adjusting to a new school and new friends weren't enough to deal with in this unexpected suburban life, Lewis' entire world turns upside down when he discovers Uncle Jonathan and Mrs. Zimmerman are both powerful practitioners of the magic arts.

Lewis is now caught up in something equally wild with a warlock and a witch – who are on a secret mission to discover the source and the meaning of a foreboding ticking doomsday clock… hidden away somewhere within the house's walls.

All of this, plus deadly curses, attacking jack-o'-lanterns, endless hours of homework, and an evil wizard who has returned from the grave? Lewis' new life is more than enough for any clever and cunning 10-year-old to juggle.

As a lost orphan transforms into one of the world's most powerful young wizards, he won't only have the adventure of a lifetime… he'll help heal two very broken people and allow them to rediscover their magic.

The House with a Clock in Its Walls
Release Date: September 20th, 2018


About The Production
Tick Tock: A Fan Letter Starts It All

For some time, producers Bradley J. Fischer and James Vanderbilt of Mythology Entertainment had wanted to work with screenwriter and producer Eric Kripke.

The filmmaker, had created the long-running fan favourite TV series, Supernatural, a tale of two brothers who grapple with unexpected superpowers… and the gifts and curses that accompany them. In turn, the Mythology producers were eager to partner with the writer on one of the projects about which he was most passionate. To do so, they'd head to the source material that inspired a young Kripke as a boy – the inaugural book from John Bellairs' timeless 12-book series: The House with a Clock in Its Walls.

In the first novel in Bellairs' canon, we meet Lewis Barnavelt, a precocious young orphan living in the 1950s who initially doesn't fit in with his peers or his adoptive family. Mourning the loss of parents who suddenly die, the introverted, delightfully nerdy boy is whisked into a world of witches and wizards just as suddenly as his parents were taken from him. Now residing with his Uncle Jonathan, a mystic of dubiously helpful and/or bizarre gifts, he finds himself an apprentice to the world of the mystical arts.

Executive producer Tracey Nyberg walks us through the project's background: "The first story was published in the early '70s, and there's 12 in all. The last book was published about 10 years ago. What we love about The House with a Clock in Its Walls is that it's a classic story. There's a young orphan sent to live in an unfamiliar place, and he feels like an outsider. Over the course of the series, he finds himself and discovers what makes him unique."

Like many children of the '70s – and those who continue to devour Bellairs' books today – Kripke was fascinated by the manner in which the author spoke to kids, as well as the pageturning, Gothic drawings of Edward Gorey – equal parts droll and spooky.

"We've been longtime fans of Eric, and this all started with his love of the book," reflects Nyberg.

"Brad and Jamie asked: 'If I could make any movie I wanted, what would I pick?'" explains Kripke. "For me, it was no question – this book. It's been my lifelong obsession to bring this book to the screen. It was my all-time favourite book as a kid. I devoured everything John Bellairs wrote; he inspired my career in a large part. I wrote a letter to him, the only fan letter I ever wrote. He wrote me back, and to this day, I keep that letter in my desk."

What spoke to producer Fischer about Lewis' arc was the relatability of a boy who finds himself a stranger in a strange land. The filmmaker has long found that the most interesting stories are the ones in which the protagonist is suddenly dropped into a new world and must grapple with some very grown-up decisions. Sums Fischer: "Owen ends up finding a family where he least expected them."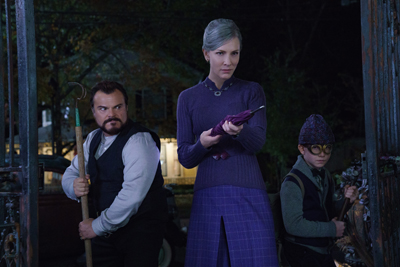 Similarly, what pulled readers into Bellairs' stories of owning your truth was the manner in which he so passionately wrote about celebrating where you're from… and where your destiny is taking you. The story's setting is the fictional city of New Zebedee – based on Marshall, Michigan – a quaint city replete with tree-lined streets and a wondrous collection of mysterious-looking houses. It appears to be the idyllic world in which to grow up, but the town's secrets and mysteries hidden just behind a simple façade reveal themselves in a shocking manner.

As a young writer, Bellairs would walk past the large, looming houses, and there his inspiration for the books began. "John cherished his memories of his hometown," offers Brad Strickland, who has written the Bellairs books since The Ghost in the Mirror. While the setting is 1950s America, the characters in The House With A Clock In Its Walls reside and embody a time all to themselves. Jonathan is obsessed with his magic, and his house is a shrine to an era gone by. Dressed in clothing that is more-than-slightly anachronistic – donning his festive fez and magician robes – he relishes being the oddest duck in the neighbourhood.

His neighbour and closest friend, Florence Zimmerman, also remains trapped in a time when she was happiest – an idyllic life before she suffers a terrible tragedy that left her heartbroken and her magic scattershot. To assuage the pain, she surrounds herself in a world of colour… complete with purple décor and aubergine clothing; everything is thematic.

For Fischer, it was important to assemble production partners and a director who could do justice to the delightfully weird – but oh-so-accessible – stories of Bellairs. They would be none other than legendary Amblin Entertainment and director Eli Roth, who knows a thing or two about scaring audiences. "Amblin brings this story to life in a way no one else could, by branding it under the same banner as those classic Amblin films like The Goonies, Gremlins, and E.T., which – as a kid growing up in suburban New Jersey in the 1980s – is what inspired me to make movies. And Eli was a natural choice to direct," Fischer gives.

"I always wanted to reach back into the Amblin canon and find a way to tell that kind of story again on the big screen. Eli had exactly the same impulse and childhood references, and from the second he came aboard, we quickly found that we were finishing each other's sentences." Roth, who has built a career based on much darker scares, was drawn to this PG story for myriad reasons. It wasn't just a chance to make the type of movie he had always dreamed of making, it was the shot to partner with Amblin, whose films had arguably some of the biggest influence on him as a child and burgeoning filmmaker.

The director walks us through an introduction to this world: "There are certain things that give this story an Amblin feel, and I wanted to come out and make the next great Amblin movie. I want The House With A Clock In Its Walls to be side-by-side with Gremlins and Back to the Future." He's not worried about making younger audiences nervous about the things that go bump in the night. "I wanted this movie to be very scary, and I think that you can have funny and scary at the same time. Gremlins showed that, and E.T. did as well."

The Mythology team was interested in bringing on a director who wasn't a safe, workman choice, but a risk-taker. "Eli is well known for his horror background, and the majority of his movies have been solidly in that genre," notes Nyberg. "His love for the genre is clear. What a lot of people don't know is that he is bringing to Clock his love of cinema – top to bottom. He knows all of the classics and movie references, obscure and popular."

"Eli and I have known each other for many years," explains Fischer. "And I knew it would raise eyebrows to hire someone to direct a family film whose body of work is filled with such terrifying genre fare. But I also knew that Eli grew up on and was inspired by the Amblin movies of the '80's like E.T., The Goonies and Gremlins. And recapturing classic Amblin for a new generation is something that we have both strived our whole careers to find a way to achieve.

"For me, there were two primary qualities that defined classic Amblin: the first was how scary they were – not in a jump-scare kind of way, but in a way that stays with you because of the jeopardy and stakes that these kids you could really relate to ended up facing when they stepped outside of their otherwise normal, everyday lives to answer a call to adventure," Fischer continues. "And the second was that they unfolded squarely from the point of view of regular kids who discovered something about their world that would take them on an extraordinary journey and change their lives forever. There was no doubt in my mind that Eli could tap into both of those elements in a profoundly personal way. In a way, House With A Clock is the kind of movie he was destined to make."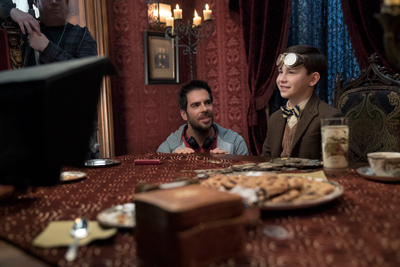 For the director, his lifelong interest is in exploring the best and the worst of humanity… as well as the manner in which we handle crisis. Do we rise to the occasion, or do we crumble?

For him, Lewis' story of heartbreak and healing allows that. "How do you deal with and process tragedy?" Roth asks. "This is a story about terrible things happening, and some want to deal with it by moving forward while others want to turn back time so it never can happen."

Roth shares that his affinity toward the series, and ultimately the film he'd direct, began with Bellairs' cover art. "I have a strange connection to the books in that I collect Edward Gorey artwork. I had an original cover for a John Bellairs story written by Brad Strickland: The Hand of the Necromancer. I read this script and couldn't believe there was a book that I had missed with Gorey art in it"

The filmmaker has long had a desire to shoot "a scary kids movie." He reflects: "I wanted to do something that felt like Gremlins, E.T. or Time Bandits – something fantastic and Halloween-themed. This story had pumpkins; it had automatons. There were so many ingredients and elements in the book and script that I connected to. Especially Lewis, this misfit kid. I did not grow up an orphan, but I certainly grew up an outcast and an outsider." Roth shares that perhaps some of the best direction he's ever received was from the head of Amblin himself, a man who knows a thing or two about genre blending. "I told Spielberg what a seminal experience Poltergeist was for me as a kid, and I wanted to give a new generation of kids those same thrills. "He gave me amazing advice. He said: 'Don't design it so much that people can't get into the story. And most important, make it scary. Kids love to be scared.'"

Choose Your Magic: Cast Of The Adventure

For the role of Jonathan Barnavelt, it was important to Roth and his producers to find someone who would serve as the initially frightening relative to live with… then the really fun uncle to join you on an adventure. "Jack just encapsulates all of it," says Roth. "It's hard for me to think of anyone else in the role other than him. I'd seen him perform live in Tenacious D; I've seen all of his movies. You think of Jack, and you just laugh; he has so much personality, so much charm, and he's so funny. But he also has such heart. In his films like School of Rock or Bernie, he's an incredible dramatic actor. He has such humour, life, and such a soulful quality to him. It's a dream come true to watch him create this role." Black has long thought of himself as a kid at heart, and like his collaborators, he appreciated the fact that Kripke's script brought the spirit of Bellairs. Despite its dark themes of loss and tragedy, the story offers lessons, excitement and pure joy. "This is a movie that kids of all ages can enjoy," reflects Black, "but we want to give them a thrill. Sometimes you have to go dark to give them that." He particularly appreciates the secret at the story's core: "They're living in a house that has a living clock of doom, and they have to disengage the clock to save the world."

One of the core themes to The House With A Clock In Its Walls is honouring one's individuality. In the film, Jonathan plays certain notes on his saxophone, and it will open up his magic… unique to him. Likewise, Florence Zimmerman's broken magic is uniquely her, while Lewis learns the hidden power of words. Black reveals that element is one of his favourites about the story: "Tapping into our unique weirdness is the key to a person's individual magic. Let the individuality out."

Casting two-time Academy Award® winner Cate Blanchett in the role of Florence Zimmerman, one of the most powerful witches on Earth, was a major coup for the filmmakers. Known for a body of dramatic work, Blanchett has also stunned audiences with her darkly comedic chops in films such as Thor: Ragnarok. Shares Roth: "When you ask, 'Who's the greatest actress in the world? People say, 'Cate Blanchett, Meryl Streep, Judi Dench.' That's it. I'm so excited because I haven't seen Cate do a role like this. I feel like she's had fun in classic roles like the wicked stepmother in Cinderella. She's so thoughtful, careful and meticulous, and she was excited to create this incredible role."

The performer appreciates Roth's eclectic aesthetic, and offers that the director was one of the primary reasons she decided to join the production. "What I love about Eli is that he didn't just come at the story from one perspective," says Blanchett. "He has incredibly electric tastes, and I felt like he didn't shy away from the danger and excitement. But he was also able to bring such heart to the film."

Blanchett agrees with her collaborators when she discusses her appreciation of the themes and humour in The House With A Clock In Its Walls, ones that speak to the entire family. "In the best possible way, it's a family film," she gives. "It is genuinely scary. It's a privilege to sit there as a parent and hold your child's hand and say, 'We're going on this rollercoaster together.' I'm always disappointed when I go and see a children's film and feel the jokes are for me. This film is a sophisticated, dark, heart-rending, hilarious, surprising journey, and that goes back to the heart of the novel."

While the audience grows to learn more about the reasons for Mrs. Zimmerman's "stuck magic," when Lewis meets the character, all he understands is that she has somehow broken her magical abilities. Blanchett comments on where we find her: "She's encouraging Lewis and Jonathan to step up to the plate, to embrace who they really are. Still, she needs their encouragement to do that herself. The beautiful thing about this film is that not one of these characters can tackle this problem by themselves. They need each other to do it."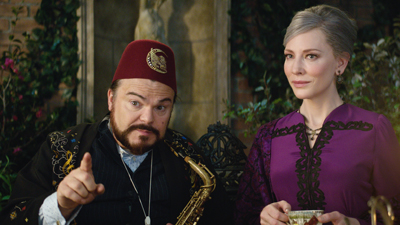 Black was duly excited about Blanchett's casting, and he remains appreciative of their time on set together. "The idea of working with Cate was exciting and daunting," he states. "I told everyone I knew I was working on a Cate Blanchett movie; I think she's the best actor in the world. Blue Jasmine is one of the best performances of all time."

The chemistry between Black and Blanchett is unexpectedly whimsical, and Blanchett and Black had a ball delivering Kripke's zingers at one another. The director reflects that watching them reminded him of scenes from his favourite classic comedies: "When I saw them, I thought, 'This is Tracy and Hepburn. It's like we're making a Howard Hawksscrewball comedy. This is his Girl Friday.' There are moments where Jack and Cate are sniping at each other where I thought, 'We are making a Preston Sturges/Howard Hawks film.'"

"Jonathan and Florence have been long connected through their love of magic," adds Blanchett, "but also a mutual respect. They bicker and fight like George and Martha from Who's Afraid of Virginia Woolf. But they have a deep love of one another, and they understand each other's foibles – as well as the pain that they've both experienced. There's a great love between them, as much as they tussle with one another." To play the irrepressible Lewis Barnavelt, the production would search high and low for a boy capable of mixing humour and pathos. For Roth, one of the inspirations for this character was from one of his Amblin favourite films: E.T.: The Extra-Terrestrial. "I heard an interview where Steven Spielberg talks about Henry Thomas when he walked in the room and he had him in tears," the director recalls.

Roth knew he wouldn't settle on Lewis until he had that experience with a young performer. "Spielberg knew that was Elliott, and we wanted to find a kid like that for Lewis. We wanted to find someone who had the sensitivity, who was vulnerable, fun, and an outcast you could root for and love." They discovered that in young actor Owen Vaccaro, who had made a name for himself in both Daddy's Home and Mother's Day. "Owen walked in the room, and he was the kid. He is Lewis, and his performance is so strong dramatically. He is so funny, and he has such great natural timing."

Blanchett was equally as impressed with Owen's abilities and demeanour. "He is so down to Earth and practical," she commends. "I've never met a child, or another actor, with such an extraordinary work ethic."

Black agrees with his leading lady. The actor has worked with child performers in many of his films, and he was admittedly blown away by the depth of Vaccaro's performance. "It seemed like an awful lot for a 10-year-old to take on, but Eli was insistent on Owen," notes Black. "I realised that he was right. These scenes came alive because of his innocence and youthful magic. The story is really his story."

Vaccaro remembers one day in particular that struck a chord about how to play the brilliant Lewis, and that was the day of his audition. He tells: "One of Lewis' lines is 'I like new words. I think they're pulchritudinous.' I didn't know what that word meant, and so at the screen test, Eli gave me a list of words to look at and memorise. They never ended up asking me but they were words like cosmological, meteorological and pulchritudinous." He pauses: "Yeah, I forgot them."

One of his favourite scenes during production was when Lewis meets Uncle Jonathan. The performer shares: "I think my favourite part about that scene was, first of all, there were eggplants everywhere. I like eggplants because they're squishy, but they set-dressed all the fronts of the stores so everything was back to the 1950s, which was so cool and the bus was super fun. When Lewis arrives in New Zebedee, he is very confused about everything. I remember when we walked into the house, I play being confused about all the clocks. He thinks Uncle Jonathan's pretty weird, so he's weird with him."

Vaccaro admits to being blown away during his time on set, especially by the amount of clocks. "There were a bunch of cuckoo clocks everywhere, which were always my favourite," he says. "I think a lot of the clocks were given to us by Cham's Clock Shop, and they were great. It's a strange, magical house. The La-Z-Boy chair moves! If you've ever seen Beauty and the Beast, it's just like that."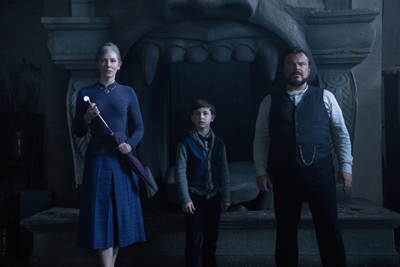 No good Amblin film would be complete without a most wicked villain, and lauded actor Kyle MacLachlan stepped up to play the recently-back-from-the-grave wizard, Isaac Izard. Blanchett was amazed at MacLachlan's transformation. "He was totally unrecognizable… so sinister and creepy. She laughs: "Deliciously so."

Roth gives respect to a legendary filmmaker who first brought MacLachlan into our homes during the era of Twin Peaks. "David Lynch understood the incredible range that Kyle has, and he's so smart," he commends. "You believe this is an evil genius who holed up in a house and built a doomsday clock. I wanted someone who was going to have humour and heart, but who can also be very scary. After Twin Peaks, he said, 'I've been reading scripts, but nothing has grabbed me except this one.' I said, 'Let's create this iconic role for you.'" Black agrees with Blanchett and Roth, adding that it was MacLachlan appearing to so effortlessly slip into the role that made him all the more terrifying: "I've never seen him like this before as the main villain. His performance comes from a stillness and relaxation; it's chilling."

In the role of Isaac's equally evil wife, Selena Izard, is the multitalented Renée Elise Goldsberry – the Tony and Grammy Award-winning performer who now brings a deliciously wicked sensibility to the big screen. "I am so excited to have Renée from Hamilton and The Immortal Life of Henrietta Lacks playing Selena Izard," commends Roth. The only thing that can stop the Izards' return is a group of three misfits… who must use their combined magic to save the world. Goldsberry walks us through her character's part of the story: "Everything is set into motion by the arrival of this special young boy. He shows up just in time to tip the balance in this epic battle of good versus evil."

The actress appreciated getting to play such a complex character… a witch who will do anything for love. "The 1950s were a charming time for great music and fashion... but a challenging time for women of colour. I think that's why Selena has chosen shape-shifting as her form of magic. It gives her access that black women didn't have. Selena can become whoever she needs to be to get what she wants."

A longtime fan, Black sums the feelings of his fellow cast when he discusses just how enchanting Goldsberry is in her performances: "I went to Broadway with my son to see School of Rock and Hamilton. Renée, in particular, was spellbinding; she blew my socks off.

She sings like an angel and is a powerhouse. When I found out she was going to be in the movie, I was so excited." He also loves the duality she provides with character choice. "In Hamilton, she is a brilliant gorgeous force of nature… but in this movie she is pure evil."

Rounding out the cast are actress Lorenza Izzo, who portrays Lewis' mother in flashback sequences, as well as two school friends of Lewis who are as opposite as can be. Vanessa Anne Williams portrays as Rose, Lewis' fellow nerdy friend – who accepts him just as he is – while Sunny Suljic was brought on to play Tarby, the cool kid in school whom Lewis wants to impress so desperately… that's he's willing to accidentally wake the dead to do so. Discussing the power of this story, Izzo reflects: "There are three big themes in the material that make it very rich and relatable. Family is a huge theme in the book and in this movie.

There is the big theme of loss, and sadly but truthfully, it's more common than we'd like to know. Third, there is the power of magic. There's a reason why these tales include these elements. When you mix family and loss and magic, those are three beautiful themes that make a story very rich and interesting to watch. It certainly makes me want to see that."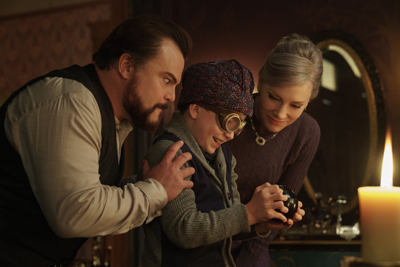 Secret Chambers And Velour Walls: Design And Camerawork

The centrepiece of The House With A Clock In Its Walls is most certainly a mansion with a deep, dark, world-stopping secret. But the 1950s town of New Zebedee itself had to be created in Newnan, Georgia. From the sweet shop to Mrs. Zimmerman's purple house, the filmmakers were delighted to find the look they sought in this small southern town.

Roth's inspiration for creating this universe alongside production designer, Jon Hutman, is an interesting one: a Quentin Tarantino film in which he acted. The director explains: "Acting in Inglorious Basterds was one of the most fun experiences in my life. I got to live in the world of the 1940s and be in Europe."

Not just that decade… but the one just right after. As a massive fan of Amblin's Back to the Future movies and of the '50s in general, Roth was particularly keen to dig into the design of New Zebedee. "I loved that town square from the films; I loved 'Save the Clock Tower.' When we got to Newnan, we all thought, "Oh my God, this is like the town square in Back to the Future."

Roth and Hutman have long been intrigued by the post-World War II era. Drawn to not just the lull when the nation was catching its collective breath and healing from the war, they love the boon in music, culture, technology, monster movies and Technicolor. Of course, a film titled The House With A Clock In Its Walls had to have a star, well, house. "We wanted it to look lush and beautiful, but the house is the character," sums the director. "At the same time, we have to open up to the whole world in the town of New Zebedee." Filmed in downtown Newnan, about 30 minutes outside of Atlanta, the small town had the look designer Hutman was seeking, including turn-of- the-century homes similar to those found in Michigan.

Roth and Hutman had actually collaborated before The House With A Clock In Its Walls, albeit in a much different capacity. "It turns out that I had worked with Eli 20-plus years ago on a movie called Quiz Show, where I was the production designer," shares the production designer. Eli was the assistant to one of the producers." He laughs: "So one of us has had a meteoric career trajectory since then!"

In Roth, Hutman found a thoughtful partner who approached film design in the manner that he did. "What I like about Eli is that he's this hybrid guy who's director, producer, writer, and actor. I found him to be hooked into what the movie should feel like," says Hutman. "I always believe, on any movie, my job is to make the world of the movie look the way it feels to the characters." He pauses: "I'm a house guy. So the opportunity to design any house, but particularly a haunted house is a bucket-list item. I love the opportunity to do it from a kid's point of view."

For the visual look of The House With A Clock In Its Walls, Roth's decisions with Dutch cinematographer, Rogier Stoffers – whose fascinating career spans work from Mongol: The Rise of Genghis Khan to a previous partnership with Black on School of Rock – dovetailed perfectly with Hutman's design. "Rogier and I collaborated on Death Wish and had such a great experience that we wanted to work together again," shares Roth.

"This film gave us a chance to express ourselves in a visual language not possible in a revenge thriller. We wanted to something wild, creative and beautiful."

Their cast felt the attention to detail the filmmakers gave in making Newnan their mystical new location. "What I loved about the book," reflects Blanchett, "but also the way the film is realized, is that you feel like it could happen, right here, right now, but yet, it's happening in this little town of New Zebedee. It's a town that time has forgotten, a throwback. You see all of these fantastic things, but they're seen through a magical prism. Newnan is this fantastic town with these incredible houses where we shot the exteriors. To be in that town at night, it felt that we were close to the experience of being in the film."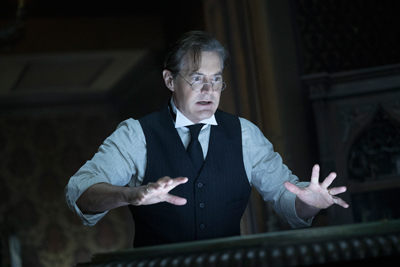 Blanchett discusses the house that was created on set, offering that it definitely brought out the kid inside her: "It was this terrifying, wonderful, but also very human house that needed a lot of help. The wallpaper, the staircase, the stained glass window that moved. Every single weird and kooky clock and all of the taxidermy animals. You were able to play with everything, and the set decoration was creepy but super magical." Her favourite element? "The pooping griffin! Every time we stepped onto a new part of the set, I was like a child in Disneyland."

Hutman and Roth felt that tone was a very important decision… not just in design, but also in scariness. Since Lewis is moving into this new home after his parents died, it couldn't be just spooky, but elements had to be warm and inviting about the house. There's something unusual and off-putting at first… but it turns out to be warm, loving and inviting.

However, Roth didn't need the movie to feel that it's entirely set in a house itself. "We want this movie to have secret chambers, mystery, clocks and weirdness. That you always feel like there's something moving and something looking at you," he says. "There's a magicallabyrinth feeling. The heavy drapes, velour wallpaper, chandeliers – the fact that it's lit by candlelight. I want to feel like you entered into another world."

For the director, it starts and ends with his brilliant production designer and his crack team.

"Jon is such a genius. He worked on Nancy Meyers' films, and I wanted to bring that level of detail to this film. We wanted it to be the lushest, visually and stylistically, but everything is about the characters. If the design puts a wall between you and the characters, you've overdesigned it. You look at E.T., Gremlins, and Raiders of the Lost Ark, and everything draws you into the movie."

Just next door to Lewis and Jonathan, Florence inhabits a whimsical house of her own. Hutman explains that world: "She lives next door to Jonathan in a purple house, and she only wears purple. She's stuck in the 1920s before World War II, so it's this time-capsule place where she keeps her memories. The purple-on-purple-on- purple is a challenging thing. It turns out that there's a lot of like different shades of purple… from the red or pinker end to the bluer end. It's a delicious set!"

Another key location in The House With A Clock In Its Walls was the Candler Mansion, owned by the prominent Candler family in Atlanta. It provided the set for Jonathan's solarium. "This was the mansion owned by the Coca-Cola family," explains Roth.

"It was built in the 1920s, and it's been in disrepair. It's been closed for a long time, and not a lot of movies have been in there. We tricked out this solarium with these automatons, and it is so creepy."

The youngest member of the principal cast had quite an experience at the Candler Mansion, completely befitting the spirit and theme of the shoot. "We walked in, and we just had a phone flashlight," recounts Vaccaro. "We looked into one of the rooms and right there, written in yellow spray paint, it said, 'Where are the ashes?' I swear this happened. I'm getting shivers right now, and I'm terrified thinking of it. I screamed as loud as I could and ran away!"

Automatons And Sleight Of Hand: Magic Of The Shoot

From vomiting pumpkins and an animated recliner seat to creepy automatons and musical instruments that play themselves, the magic in The House With A Clock In Its Walls is spontaneous, delightful and scary. All under the supervision of VFX supervisor, Louis Morin, who brought Beauty and the Beast to glorious life just a few years ago. Roth recalls one of his favourite scenes: "Watching Jack Black take a face full of pumpkin was one of the highlights of my career. I've never been so happy."

Blanchett remembers that day of shooting quite well: "Probably one of the more disgusting, fabulous experiences I've had as an actor was the spewing pumpkins." Still, her favourite day on set – and one of the truly scary moments in the film – is, as Blanchett puts it: "the attack of the automatons." The performer shares what happened that day: "Spielberg unleashed the clown onto my childish subconscious, from which I don't think I've ever recovered. The automatons really brought back that whole, amazing, terrifying moment of dolls that look both sweet and sinister. It was scary to film. With Eli behind the lens, I think it was exhilaratingly scary to watch."

About the mechanical oddities, EP Nyberg says: "The automaton sequence is inspired by the history of old-school magicians. There are a couple of very famous ones: the note writer, the orange tree. We thought it was a great opportunity to take something that is real and then add our bit of genre magic to it, and have them come to life. Ultimately, once Isaac is back and the house starts to turn evil, what exists in this house, and how it makes it evil, is fun."

Some of the automatons were borrowed from the personal collection of Spielberg. Black gives a bit of insight: "We had some amazing artistry that went into the automatons. Some of them are actual antiques. Spielberg loaned some from his private collection, and they are super creepy. He had them in storage but loaned them to us for the movie." The automatons weren't the only ones delivering sleight-of-hand. Black plays a magician, so it was important to him to learn some of that dexterity for his role. "It comes down to finger and hand dexterity. I learned from a master, David Kwong," the performer states.

Lovecraft Meets Newhart: Costumes Of Clock

Legendary costume designer, Marlene Stewart, took the helm to create the dressed world of the characters of The House With A Clock In Its Walls. From Jonathan's robes and fez to Florence's strictly purple wardrobe, this is a world of magic, drama and whimsy. For Stewart, it wasn't mandatory that the time period match the dress. "Although the story is set in the 1950s, the costumes of the characters don't necessarily represent that era," she explains. "All of our characters live in their own private realities; it's magical realism." Much like Hutman with Mrs. Zimmerman's domicile, Stewart found that her biggest challenge creatively with Florence's costumes was to be able to use different shades of purple. Pulling in different fabrics and textures, she created a wardrobe that reflected someone who was sophisticated and worldly.

That said, it was important to both designer and actress that the character not devolve into caricature. "Cate wanted to be grounded in reality," says Stewart. "It was a study in trying to find different colours and fabrics – these tweeds, silks and prints.

Another challenge was to take into account the background: Jon's amazing production design. We had to make sure that it was a good partnership with the background so that purples he used in the design were not clashing with the purples in our clothing." Stewart collaborated at length with Blanchett on her costume and accessories. "We don't know exactly where Florence was born," the designer reflects. "We know that she lived in Paris, but she had an Eastern European influence. So we used some Czechoslovakian crystal, and a lot of her jewellery has gold or silver with Czechoslovakian crystal gems in it. It also helped to match her umbrella. When we first started doing the illustrations I had these amethyst stones and worked with Brad Einhorn, the prop master, on a look that came together."

Transforming into Florence had Blanchett with a grey wig, head-to-toe purple costumes and a stiff demeanour. Roth marvels at her chameleon ability: "I don't think there's been an actor like Cate since Peter Sellers, who completely transforms into another person – unrecognisable. She just changes her voice and her physicality."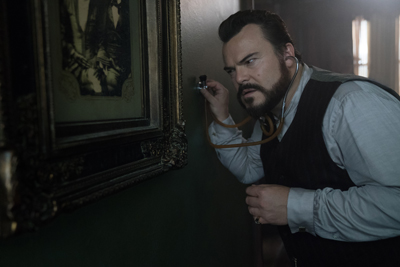 To transmogrify Black into Jonathan, Stewart started with design reference that could marry the actor's magician and musician backgrounds. She says: "For Jonathan's look, I referenced Modigliani for visuals to show Eli. He wears a vest and high-waisted trousers. This is a look that would have been common at the turn of the century or in the late 1890s. There's also reference to Mrs. Zimmerman being very tall and structured, and Jonathan being a more tussled, unkempt and round."

In Stewart's conversations with Black, they discussed his outfit not feeling like a costume, but something that a real person would wear. She emphasises one piece in particular: "A jacket that he wears is a railroad engineer's jacket from the 1920s. Today, any artist or musician might wear a vintage piece and have it be mixed up; they're not looking like the fashion of the day, but they're very much more of an individual."

Stewart laboured to craft a "buttoned-up" look for Vaccaro's character of Lewis. She remembers: "In my research, I found an image that looked a bit like a young Truman Capote – with glasses, pocket square and a buttoned-down shirt with bowtie. I remember the script saying that he was reminiscent of Bob Newhart! He is a bit precocious."

"When you hear him speak you realise that he's a little man. He has an advanced vocabulary and seemingly an unending ability to learn magic very quickly. He's smart and curious, very adult in this juxtaposition to Jonathan. He cares about his appearance, and he does find a way to express his own magic. In the film, he wears a 1940s vintage sweater which became his magic sweater and then he wears a toaster cosy which is his magic hat."

Vaccaro appreciated that he got to put input into the design: "Lewis in every single scene except for the bedtime scenes wears the bowtie, a button down, a blazer and a sweater," he states. "He has really cool shoes and corduroy pants. He also buttons up his sleeves, which I don't normally do. I usually fold them back, but I guess this is 1954 and it's 2018 right now; it's a big-time difference."

In searching for a backstory for Isaac, which would help inform MacLachlan's costumes, Marlene was inspired by another beloved author. She explains: "I found a reference for HP Lovecraft, and I showed Eli the look for him. He was a famous writer of horror stories who was at the height of his career in the 1920s. I pitched a look for him in which he's wearing a severe, three-button suit – with a high collar and dark tie – that would have been appropriate for that period."

It's a very severe, slightly sinister look and at the same time it's a different silhouette than any of the other characters. Taking into account the audience's interaction with the character, the designer says: "When we see this character we're a little confused perhaps.

We know something is a little mysterious and dark about him already. As we go through the story and it unfolds, we find out that he has had a troubled past. In fact, he was quite a humanitarian in World War II."

For the evil Selena, Stewart wanted a unique palette to set the villainess off. "Because Mrs. Zimmerman lives in this very purple, violet, lavender mystical world, I wanted Selena to be the opposite. I thought, 'Let's go to the opposite of the colour wheel; we'll go to the deep green."


The House with a Clock in Its Walls
Release Date: September 20th, 2018