John Leguizamo Walking With Dinosaurs – The Movie Interview
A small bright bird with teeth (Alexornis). In the movie, these birds have a symbiotic relationship with the Pachyrhinosaurus - they eat the ticks and other insects that bother them and in turn get a free meal and a safe place to perch. Alex becomes Patchi's unlikely friend and ally and has a tendency to show up at the right place at the right time to nudge him in the right direction. Funny and maybe a bit sarcastic, he's fascinated by Patchi and his adventures.

Walking With Dinosaurs: The 3D Movie takes us back in time 70 million years. The exciting story revolves around Patchi, a young Pachyrhinosaurus, the runt of the litter, who embarks on a perilous journey with his family. Against the odds, he survives formidable challenges and grows up to become a true hero.

Justin Long stars as the voice of Patchi. John Leguizamo voices Patchi's loyal friend, Alex the Alexornis, a sarcastic, amusing and very endearing prehistoric bird. Together, they face the fearsome, carnivorous Gorgosaurus, meet new friends and migrate to new lands.

Directors Neil Nightingale and Barry Cook deliver a thoroughly immersive, realistic and riveting experience.

The multi-talented, Emmy award winning actor John Leguizamo, on bringing a prehistoric bird to life, the wonders of dinosaurs and why he is still a kid at heart.

It's a role that seems tailor-made for the hugely talented John Leguizamo: the funny and very colorful Alex: a small, bright bird with teeth who becomes the life-long friend, side-kick and constant supporter of Patchi, the story's intrepid hero. The actor was thrilled to join the voice cast as Alex, the narrator and one of the key characters in Walking With Dinosaurs, a gripping and immensely entertaining survival story featuring the most realistic prehistoric creatures ever seen on screen. Directed by Neil Nightingale and Barry Cook, the film immerses the audience in the heart of what is now Alaska, four million years before dinosaurs went extinct.

Patchi the Pachyrhinosaurus is a typical underdog, overshadowed by his arrogant older brother, Scowler. He may be small but Patchi is also determined, with a strong spirit and a good heart. He sets off on the annual migration with his family and herd in search of food, and faces many challenges on the path to adulthood. There are confrontations with predators, notably the ferocious Gorgosaurus. Patchi falls for a female Pachyrhinosaurus, Juniper, but discovers that there are seemingly insurmountable obstacles, which will keep them apart. Juniper cannot choose her mate and has to follow the dictates of herd protocol. Throughout his journey, Patchi's loyal, wise cracking friend Alex is there to support him.

Leading paleontologists acted as consultants on this rousing adventure, which combines state-of-the-art technology and the latest scientific discoveries to deliver a vivid story that reveals what life was like when dinosaurs dominated the Earth.

Walking With Dinosaurs was inspired by the triple Emmy award winning BBC television series, which became a global hit and went on to become a popular live arena show seen by more than eight million people around the world.

Born in Bogotá, Colombia, John Leguizamo was raised in New York. He began his career as a stand-up comic before making his television debut in MIAMI VICE. His early film roles included Mixed Blood, Casualties Of War, Die Hard 2 and Carlito's Way.

In 1991, Leguizamo created a sensation as the writer and performer of his award-winning one-man show Mambo Mouth. A series of one-man shows followed: Spic-o-rama and Freak, which led to Tony Award nominations for Best Play and Best Performance by a Leading Actor in a Play. A special TV presentation of Freak, directed by Spike Lee, earned Leguizamo an Emmy Award in 1990. His stage credits also include Sexaholix… A Love Story, A Midsummer Night's Dream and La Puta Vida. In 2011, Leguizamo returned to Broadway with his solo play Ghetto Klown.

His films include Too Wong Foo: Thanks For Everything, Julie Newmar, Baz Luhrmann's Romeo and Julie, Dr Doolittle, Moulin Rouge, Love In The Time Of Cholera, The Lincoln Lawyer and Fugly! which he wrote and produced. Leguizamo also starred in the Spanish language film El Paseo 2. The actor recently appeared in director Ridley Scott's drama The Counselor and in Kick-Ass 2. His upcoming films include Ride Along and Chef.

The versatile actor was the voice of Sid in the hit animated comedy Ice Age and the equally popular sequels: Ice Age: The Meltdown, Ice Age: Dawn Of The Dinosaurs and Ice Age: Continental Drift.

Leguizamo is also an accomplished author. His autobiography Pimps, Hos, Playa Hatas, And All The Rest Of My Hollywood Friends, was released in 2006.

His TV work includes roles in ER and My Name Is Earl.
Leguizamo lives in New York City with his wife and two children.

The consummate performer sat down in New York for the following interview.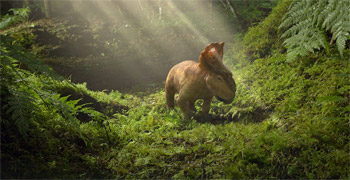 Question: What was the appeal of Walking With Dinosaurs?

John Leguizamo: I was so happy to work on the film because I was already in love with the BBC series Walking With Dinosaurs. It was incredible, man; you just couldn't believe what you were watching. It blew me away. It looked like actual documentary footage about dinosaurs. I began watching during the middle of an episode and I was like, -oh my God, where did they get this footage on dinosaurs? Who was around at that time?' (laughs). The film is great. It is very realistic, it has a sense of humor and it is exciting. I was really impressed with the directors' ability to create this hero, Patchi, who had a great buddy and a nemesis. I was ecstatic to be a part of it and to play Alex; it was a -no brainer'.


Question: What kind of character is Alex and how do you portray him?

John Leguizamo: Alex, the Alexornis is a prehistoric bird"I imagined him to be like a precursor to a parrot. When I did my research, I decided he had to have a Latin sounding accent, because parrots hail from Latin America (chuckles). The challenge for me was finding the right pitch for the voice. Because he is a small bird, I had to make my voice seem small, but when I was narrating, he also had to be patriarchal. We ended up creating a really cheeky, sassy kind of bird. Alex is a fun, loveable guy who just roams around. He's very loyal to Patchi.


Question: Justin Long voices Patchi, the hero of the story. What's the appeal of this little dinosaur do you think?

John Leguizamo: Patchi is the runt of the litter, the little Pachyrhinosaurus, who is full of joy and life. He even falls in love. His only enemy in the pack is his brother, Scowler, the Alpha male who wants to take over and become the leader. He also wants to kick little Patchi out of the herd. Eventually Patchi proves to be the smarter of the two. Brains beat brawn! Patchi's relationship with Alex is symbiotic, so Alex gets something out of it and Patchi gets something out of it too. Patchi has a lot of bugs on him, so essentially he is my walking, four-legged buffet! I am a wise bird with a bird's-eye view. I've been around, so I can guide him. As a pal and advisor, Alex helps Patchi find his way in life, find his herd and find his source of power and strength. He's like a surrogate dad.


Question: How will families relate to the story do you think?

John Leguizamo: What makes this story great and beautiful is that it is a coming of age tale about a loveable dinosaur. He is awkward and silly and trying to find his own way. Like most animated characters, these dinosaurs are anthropomorphised and are given human qualities. That's the way we can really identify with characters; we have to see ourselves in them. Also the film is very topical and relatable. It asks: what happens when your brother is your competition to become the leader of the pack? What happens when you fall in love for the first time? And what happens when you have to deal with your enemy and face a disaster? It's incredible how this story is told through realistic dinosaurs.


Question: How impressed were you by the amazing visuals?

John Leguizamo: The 3D alone makes it look so realistic. It is a great adventure but it also feels like one of those wildlife shows that feature animals in Africa or the Amazon jungle. It's as if somebody went back in a time machine and was able to film the dinosaurs in their natural environment and then after following them for years, put together this story. It's fascinating how they achieved this. Man, the whole thing is just bewildering to me.


Question: Will we actually be able to learn about dinosaurs while enjoying this film?

John Leguizamo: The beautiful thing about Walking With Dinosaurs is that you're learning precise information about them. There was no detail left to chance or to the imagination and there was no loose fact checking. It is very scientific. The dinosaurs are not cute, cuddly, furry creatures. They look real. The kids are going to be educated, while also being entertained. The film is funny and a little bit scary. You need a little bit of scariness. Dinosaurs were scary. Children like that, they don't want the story to be totally cute. You want it to have teeth, and the film's got teeth.


Question: Why do you think people are so fascinated by dinosaurs?

John Leguizamo: It's almost like we're programmed into thinking about dinosaurs; it's in our DNA. Kids are constantly playing with little plastic dinosaurs, creating worlds and having them attack each other. Human beings love dinosaurs so much I think, because they're the only real monsters that have ever existed. They were gigantic; they were incredible. The other thing is that we feel superior to them because we are not the ones who went extinct (laughs). We have this love affair with dinosaurs because it's so hard for us to believe that they existed. And now they're gone. That's the mystery that entices us.


Question: You have played some classic animated characters like Sid in the Ice Age films. What draws you to animation?

John Leguizamo: I love animation; I don't do it for a pay check. I don't do it to see my name up in lights. I just love it, man. Cartoons were really my babysitters growing up; we were broke and we didn't have babysitters. But I had Bugs Bunny, Woody Woodpecker and Huckleberry Hound to keep me entertained. As a kid I loved the way someone was able to make a voice that sounded like it could really come out of a certain character. That's what I try to do. I always try to find a way of making myself sound like I'm coming through the body of the creature, as opposed to just hearing my own voice. I want to be the Latin Mel Blanc [the late American voice actor and comedian]. That's my goal.


Question: What is it about animation that you continue to enjoy as an adult?

John Leguizamo: There's still a big kid in me. I still really love animation. I'm a huge fan of (Hayao) Miyazaki; [Japanese film director and animator] he's one of my favorites. I have watched Princess Mononoke at least fifty times. I still watch Popeye. A lot of animated movies speak to me, because it feels like I am entering a magical world when I watch them. I love the challenge of how to do a voice that can make a creature come to life. It's a challenge making a character really sound as though it is struggling, fighting, or running. You really have to make that happen. And it is beautiful when you see the final result and think, -yes, now that voice is really alive.'


Question: Do you employ a specific technique?

John Leguizamo: I have finally figured out a technique that I love doing. If the character is being choked, I will [pretend to] choke myself. If he's being pounded, I will pound myself. You got to go through the same thing as the character is experiencing.


Question: What did you do specifically to play Alex in Walking With Dinosaurs?

John Leguizamo: When he was fighting, I was hitting myself. When he was flapping really hard, I flapped my own arms. When he was being sassy, I riled up my own sassiness inside me. When he felt terrified, I terrified myself. Sometimes, I prepare the voices beforehand. It can take a minute. I go to the bathroom and I search for the things in my mind that will bring out the emotion I want. You have to feel the same things as your character. There's no other way around it.


Question: Growing up in New York, how did your environment influence you as a performer?

John Leguizamo: I read in New York Magazine that Jackson Heights, where I grew up, was the biggest melting pot in the world. And it was like that for me. I grew up surrounded by many different nationalities, ethnicities and religious groups in my neighborhood. There were wonderful Jewish old ladies and you had the Jamaicans. You heard a lot of Spanish. (He puts on different accents and adopts a Puerto Rican dialect) -Tenemos toda la gente hablando puertorriqueños.' [translation: We had all the people speaking Puerto Rican].' You had the Italians, you had Germans in the neighborhood, as well. I grew up with every sound in the world. My ear received a crazy education. It was great because all the accents helped fine-tune my ear for certain sounds. I use it all when I'm doing voices and imitations for animated movies and my stand up comedy; I can meld my voice to anything.


Question: It sounds like your childhood played a big part in inspiring you as a performer?

John Leguizamo: I was trying to escape a pretty tough environment and neighborhood. Humor was the thing that kept me sane. I had a lot of great friends I could goof off with. We would joke and have the best time of our lives. That's how I learned to be funny and do voices. I would make them laugh and they would make me laugh. We would imitate all the neighbors. That's how we spent many days until the sun went down and my parents called me to come back home.


Question: Is it true that your father Alberto wanted to be a film director at one stage?

John Leguizamo: Yes, I found out much later in life that my dad loved neo realism, which was an Italian movement of the 50s and early 60s. He went to Cinecittà (in Rome) to study film directing. It never panned out though because there wasn't a healthy film industry in Latin America other than in Mexico and Argentina.


Question: When did you realise you were a talented actor and comic?

John Leguizamo: I didn't realise it, somebody realised for me, which was great. One day my math teacher said, -stop annoying us in class. Why don't you use your comic abilities to be somebody?' And I said, -hey that's an interesting concept.' So, I went to an acting school and the lady at the school loved me. She really took care of me and nurtured me. I went to NYU [New York University] and there were a lot of people who mentored me and supported me and helped me along the way. It takes a village to raise an idiot, and I had it!


Question: It must be fun for your kids that you can do so many voices?

John Leguizamo: My kids are teenagers, so I'm not so cool (laughs). Nothing I do is cool anymore. But you know the thing is, they're great at voices too. I used to do all my voices for them constantly when they were younger, so they have a great ear. My daughter walks around doing Southern accents, New York City accents and English accents. (He puts on an English accent) -She likes to talk as though she's from London. It looks like they're following in my footsteps. Which means I'll be supporting them for the rest of my life! (laughs)


Question: Do you still feel excited about your career?

John Leguizamo: Oh yes. I still want to direct and I still want to keep writing. I love independent films and there are so many characters that I still want to play. I've never really done a historic piece; I'd like to do that someday. And of course, I want to do a lot more animation in the future. I would love to do a project in which I can do a lot of different voices in one piece.


Question: Returning to Walking With Dinosaurs, what would you say families have in store?

John Leguizamo: The film is very realistic, it's charming, it's funny, but it's got gravitas and good life lessons. The camaraderie between Justin Long and me is really touching and cute. Kids will learn that doing the right thing will lead you onto the right path. Adults will also enjoy watching the journey of this young dinosaur growing up to become a true hero. And everyone is going to enjoy the information about dinosaurs.The film is entertaining, but it is not just silly and goofy. It's got weight. People are going to be immersed in an incredible experience.



Walking With Dinosaurs – The Movie
Voice Cast: John Leguizamo, Justin Long, Karl Urban
Directors: Barry Cook and Neil Nightingale
Genre: 3D Family Adventure
Rated: PG
Running Time: 87 minutes

The groundbreaking 3D movie Walking With Dinosaurs transports audiences 70 million years back in time.

The film marks a cinematic milestone, the latest scientific discoveries are combined with state-of-the-art technology and woven into a vivid story that reveals what life was like when dinosaurs ruled the Earth.

We discover what dinosaurs actually looked like, how they lived, the dangers they faced and the challenges they overcame in order to survive. A thoroughly immersive experience, the film blends live action footage of real locations with impressive CGI creatures. The hero of the story is Patchi, a tenacious and courageous Pachyrhinosaurus who is born the runt of the litter and, against all odds, grows up to become the leader of the herd. Join Patchi on the biggest adventure of his life, as he tries to find his place in a spectacular world with friends and foes.

Neil Nightingale and Barry Cook, the formidably talented co-directors of Walking With Dinosaurs, discuss the excitement and magic of the most authentic dinosaur movie ever to be seen on the big screen.

Special Features:
Dino files
Match the Call game

Special Features Blu-ray:
Ultimate Dino Guide
Interactive Map
Match the Call game
Brainosaur Trivia Track
Nickelodeon Orange Carpet Dino Rap

Walking With Dinosaurs – The Movie