Australia's own Healthy Honey Water
According to Water Logic Australia, the average Australian only drinks 1.29L of water per day – which for men and women alike, barely reaches half the recommended daily intake. This means that most of us Aussies are living in a constant state of dehydration, reaching for sugar-filled energy-drinks over the relief our bodies are begging for. But a new player in town is changing the game, hitting shelves with a light, refreshing and tasty alternative.

Understanding that hydration is the cornerstone to maintaining optimal daily health and energy levels, Melbourne-based sisters, Joanne and Marina, fused together nature's dream team of purified and mineralised water with 100% natural cold-extracted Australian honey to create Bee Hydrated Honey Water – Australia's own healthy hydrating lifestyle beverage. Containing a mere 3 grams of naturally occurring sugar per 100ml, not only does Bee Hydrated blow many fruit juices and even coconut waters out of the sky with its uniquely low sugar content, but it really does taste as good as it looks.

Infused with high grade natural extracts and packed full of energy, anti-oxidants and electrolytes, Bee Hydrated Honey Water is nature's hydrating energy booster all packaged in 100% recyclable BPA free bottles. The deliciously healthy range boasts 3 unique flavours each encompassing their own health benefits.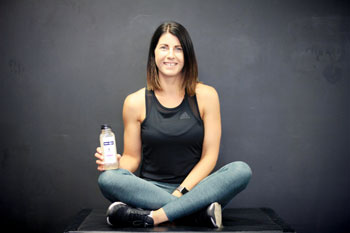 Relieve is the powerful combination of pure cold-extracted honey with orange blossom and cinnamon to promote a good source of calcium, iron and magnesium while providing a calming and relaxing effect on the central nervous system.

The Replenish flavour boasts the super blend of pure cold-extracted honey with lemon myrtle and green tea for a delicious source of antioxidants and other phytonutrients to help replenish the mind, body and soul.

Lastly the Revitalise flavour includes pure cold-extracted honey, ginger and ginseng to aid in revitalising our metabolism while enhancing nourishment and helping to strengthen the protective function of our immune system.

As we delve into a scorching Aussie summer, keeping hydrated is paramount to feeling, looking and performing at our best. Luckily our local friends at Bee Hydrated Honey Water have created a beverage line that not only suits the Australian lifestyle and climate but will keep us hydrated, energised and feeling great all summer long.

Review: Healthy and delicious, honestly what more could you want?


I am always on the hunt for healthy drink alternatives since I stopped consuming soft drinks many years ago and the Bee Hydrated Honey Water certainty fulfills especially for those types you don't want to drink another glass of water!
I was most surprised at how sweet the Bee Hydrated Honey Water was – as the water is sweetened with natural sugars I didn't expect them to be as sweet, as tasty or as hydrating! #mindblown

I think the Replenish is my favourite – mostly because it tastes like a honey-licious iced tea and almost naughty ;-)
- Brooke Hunter

450ml RRP: $4.99
All stockist details and locations can be found at www.beehydrated.com.au

Interview with Joanne and Marina, Co-Founders, Bee Hydrated Honey Water
Question: What is Bee Hydrated?

Joanne: In 2016, my sister Marina and I created Bee Hydrated Honey Water, a healthy hydration drink infused with honey and natural extracts - it was an Australian first at the time, wasn't it Marina?

Marina: Yes, there were honey waters overseas but we couldn't find one in Australia, so we decided to make our own!


Question: Why inspired you to create the Bee Hydrated range?

Marina: From a young age, we had beekeepers in the family so bees and their amazing honey have always fascinated us. We always knew about honey's health and medicinal benefits and would drink tea with honey every day.

Joanne: And to be honest, we were underwhelmed by the sugary drinks available at our local gym, and wanted something a bit tastier than just water but still healthy.

Marina: We started to make our own homemade electrolyte drinks using water, honey and salt and found that we were rehydrated quicker and felt refreshed and alive. After caving in to some very curious friends and family, we decided to create our own brand to share with the public.


Question: Is the Bee Hydrated low in sugar even though it tastes sweet?

Joanne: The beauty of Bee Hydrated is that they taste fantastic but have much less sugar than most fruit juices, iced teas and even coconut waters. Each drink contains approximately 3 grams of sugar per 100mL.


Question: How does Bee Hydrated compare to tap-water?

Marina: Well it's definitely tastier! While we need to be drinking water as our main source of hydration, Bee Hydrated is a tasty alternative when we want something a bit more fun but still good for us. It contains purified Australian water, Australian honey and Australian made natural extracts. We have three delicious flavours: Lemon Myrtle & Green Tea, Orange Blossom & Cinnamon, and Ginger & Ginseng.



Question: Were you surprised that the "average Australian only drinks 1.29L of water, per day?"

Joanne: I was actually! Especially here in Australia with our harsh summers, and we love the beach so much, love the water… but don't drink enough ourselves!

Marina: Yeah, I drink more than double that usually and when I don't, I feel pretty ordinary.


Question: What are the symptoms associated with dehydration?

Marina: The worst! You know that sluggish feeling you get and then you think you're hungry and need to eat? You're probably dehydrated.

Joanne: I become dizzy, I get headaches and I tend not to look my best either when I haven't had enough water.


Question: How can we ensure we're drinking more water, this year?

Joanne: I carry a bottle of water with me so I'm always reminded to drink. I also tend to drink water before I eat as sometimes like Marina says, you may think you're hungry when you're actually thirsty. Also, staying hydrated pre, during, and post-workout – for this, Bee Hydrated Honey Water is an especially refreshing hydrating boost!


Question: Where do you source the honey from?

Marina: We source all our honey from local beekeepers in Victoria. We will only ever use 100% pure Australian honey.


Question: Are you able to talk us through running your own bee farm?

Marina: We actually do have our own beehives for personal use – it's a pastime that goes back generations in the family. There is a lot to it, first and foremost you need to love to be around bees, and thousands of them! Bees are actually pretty calm animals, and you would be surprised how inconspicuous their hives are, you probably wouldn't notice they were there. Until they swarm – this happens in spring and basically half the colony leave the hive to find a new home. It's really important to capture the swarm so that you can rehive it. It's also important to be educated about bee health, as not managing pests and diseases can cripple your colonies. The primary reason that we keep bees is to aid pollination of local flora, however a sweet bonus is harvesting surplus honey! If you're interested in finding out more, google your local beekeeping club and find out when their next meeting is.


Question: How else do you ensure you keep healthy?

Joanne: Diet, exercise, sleep, relaxation and of course hydration. Coming from a Greek background we are very aware of the Cretan diet, which is touted as one of the best in the world.

Marina: I travelled to Crete when I was younger, the food was amazing – and so good for you!

Joanne: Yeah, you need to be aware of what you're eating and it's really so easy these days with so much information available, but also hard too because of the plethora of unhealthy options that you try to avoid. I also love to exercise – I've recently been doing a 12 week program by Kayla Itsines, another Australian girl who's all about health!


Interview by Brooke Hunter