Jo Hall Announces She Is Going To Be A Grandmother
At the age of 60, Jo's dream of becoming a Grandma is finally here as her eldest son Rhyss (and best friend) recently announced he will soon become a dad.


Interview with Jo Hall, Nine News Regional Victoria Presenter
Jo Hall Presents Nine News Regional Victoria to Bendigo, Border North East, Ballarat and the Gippsland regions, weeknights at 6pm on Channel Nine.

Question: Congratulations on the news, how did you find out you were going to be a Grandma?

Jo Hall: I found out via a phone call which I always knew would be the case. My eldest son lives in London with his French wife so there aren't very many ways to share the news over such a distance.


Question: When are your son and his partner due?

Jo Hall: The due date is June the 29th which is a week after my middle son's birthday, four days after mine and two days before my twins!


Question: How do you hope to welcome the baby into your lives?

Jo Hall: Given the distance it's a bit hard to say. I think women need their mums when giving birth especially for the first time. My daughter-in-law's Mum will fly in from Nice (the family home) for the actual birth and I'll look at going over late July/August when everything has settled a bit. My son Rhyss and Caroline have an apartment in Camden.


Question: How have you been preparing for the arrival of a grandchild?

Jo Hall: There's not much I can do to prepare – I have been receiving gifts! And I guess all I can really do from across the other side of the world is plan and organise a visit and work out what I'll take as special gifts and tips.


Question: What advice do you have for others who will shortly become Grandparents?

Jo Hall: To be honest, I have no advice whatsoever for prospective grandparents – as I won't be one for another five months I'm asking and seeking advice from others as to what to expect. The more advice the better!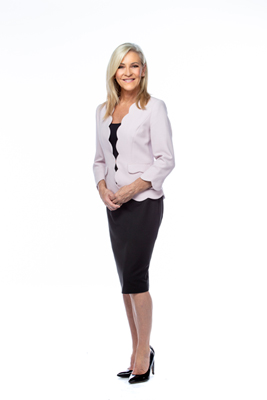 Question: What's a typical day like, for you?

Jo Hall: An average day is organising dinner for that night before leaving home, taking the dogs for a walk before heading into work. My make-up call time is 1.30pm, we start recording newsbreaks and the local regional news windows from 3.30pm and it's fairly constant from there until 6 when I present the live one hour bulletin. Of course, that varies when I'm assigned a feature story. My producer and I usually shoot them on one day in the morning. I then shotlist the interviews and write the piece in the hours before I switch over to presenting Nine Local News across Victoria.


Question: How do you prepare for going on air?

Jo Hall: Sometimes we can be recording very close to 6pm so there can be little time to prepare. I ALWAYS clean my teeth (it's a habit!) and get two glasses of water and have a toilet stop. An hour is a long time! It also helps not having too many distractions – as in dramas or requests from my children. They sometimes call or text and forget I'm reading the news.


Question: What advice do you have for women striving to be a news presenter?

Jo Hall: My advice to anyone wanting to be a presenter is perseverance. There are limited positions so it's a fairly competitive business. When I started there were cadetships but these days aspiring reporters usually head to the country to cut their teeth or apply for social media positions within newsrooms. There is then potential to move into reporting roles where the opportunity can arise for presenting.


Question: What's next, for you?

Jo Hall: As for the future, I will celebrate 40 years in the Nine Newsroom this June just before becoming a grandmother. And I don't see a time when I won't be presenting and reporting the news.


Interview by Brooke Hunter