With more than 670 thousand followers on Instagram, lifestyle and travel influencer, Emma Rose is a modern day success story. Her followers and fans love her for her genuine love of life, her honesty and her fabulous Insta-style. Emma Rose has recently re-settled in Sydney from LA and has turned her hand to styling her new Bondi Beach apartment with the latest furniture range from Focus on Furniture.
Question: Tell us a little about yourself. You have been living in the US for the last few months. What was the reason for the move and how did you find life there compared to Australia?

Emma Rose: I'm a lifestyle and travel influencer now based in Sydney after spending a lot of time in the US over the last three years. LA offers amazing opportunities for creatives and it was great for me and for my work as being closer to other areas of the world provided a lot of travel opportunities. LA weather is also amazing.



Question: Where did you grow up and what is your cultural/family background?

Emma Rose: I was born in the Blue Mountains but actually grew up in Tasmania until I was 18. My mother's side is Scottish and American.


Question: You've just moved into an apartment in Bondi – what do you like about it?

Emma Rose: I love it! It's so light and beautiful and I'm blessed to have a pretty view of the city. This is actually the first time I've ever lived alone (laughs) I'm getting older so it feels right - so far I'm loving it. I love seeing the water and being close to it. It's always felt like home. Bondi is amazing - it's the best place for me right now.


Question: What are you most looking forward to about settling back in Sydney?

Emma Rose: I'm now based in Sydney for good, other than a content trip every six weeks. I'm actually excited to be settled and live in one spot. Also, my business partner is excited about this too – it can be challenging working remotely in a different time zone.


Question: What design style are you aiming for with your new apartment interior?

Emma Rose: Modern with a feminine twist I think. The lounge is so perfectly retro, I've added some cushions and they suit perfectly.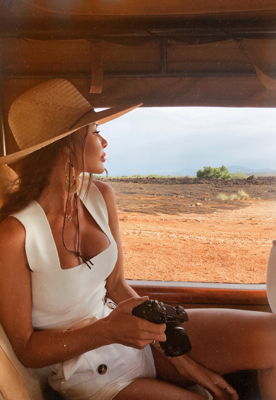 Question: What challenges do you have to get the look you want and how do you aim to address them?

Emma Rose: I really have to try hard to put things together - styling has never come naturally to me. I find the challenge is picking a bunch of different items that I really love and hoping they go together. I think we are so liberal with colours and testing boundaries these days that an eclectic style is so much more accepted. I love this mindset right now as it gives me so much more freedom and fun than sticking to guidelines that I find quite restrictive.


Question: What tips do you have for others looking to create their own design style in their home but may be unsure where to start?

Emma Rose: I guess I always draw inspiration from somewhere. Pinterest is amazing. Instagram is my main search engine/platform. The 'saved' button will help you so much! Pick a theme, draw some inspo and recreate it in your own unique way.


Question: What is the most important room/space in your apartment and why?

Emma Rose: My lounge room/dining. It's the main area and the area that feels like home the most. It's where my plant is (a pot plant is a must for a killer post!) - it's the room I want to spend the most time in.


Question: Why did you choose the furniture pieces from Focus on Furniture? What do you like about the range?

Emma Rose: I love the quality and I love how unique the designs are. It was really hard for me to choose what I wanted - I spent a few days going over it in my mind!


Question: Tell us about your Focus on Furniture choices for your new apartment and why you chose them.

Emma Rose: I found the sofa the hardest to choose - the variety at Focus on Furniture is so amazing! In the end, I chose the Frankfurt Reversible Chaise because I love the flexibility of being able to move the chaise around if I need to and I also really like stretching out. I knew that my chaise would be essential in my modern living room, but it can also be a stand-alone piece used in virtually any room of the house. As my apartment is smaller, I needed that one piece that really stood out. Hence why I chose the blue – it gives it such a standout retro look! It's funky and fresh, and I've added a few big cushions to co-ordinate with the baby pink throw which gives it a feminine touch, which I love.

I love the wood in the Alice Dining Table - it's just such a gorgeous finish and the colour is quite unique, which is why I also chose my coffee table in the same style. They compliment each other perfectly. My preferred dining table centerpiece has always been a vase with white flowers, which are simple, elegant and tend to go with all of my styling. And several candles to complete the look.


Question: What are your must-have home accessories?

Emma Rose: Candles, pot plants and vases with fresh flowers are always a must in any apartment. They give it warmth and a homely feel.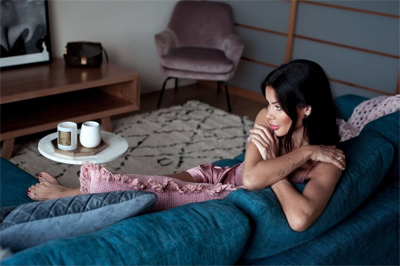 Question: How do you like to relax when you are at home?

Emma Rose: A glass of wine, a facemask and Netflix - the ultimate night in! If I feel like cooking, a home cooked meal is amazing too!


Question: You have great success on Instagram. To what do you attribute this? What advice would you give someone looking to launch an Instagram career?

Emma Rose: I think being original, setting goals and working at it. I was lucky that I was one of the first in the game, so it was far easier to get your foot in the door back then (five years ago). Work with brands that align with your values, love what you do and your authenticity will shine through on your page and separate you from the rest.


Question: What is next for you?

Emma Rose: Oviously back in Sydney for good now; travel wise I have a Maldives trip, Kenya and Bali within the next three months. This year just a lot more travel and kicking work and personal growth goals. I'm so lucky to have this amazing job and opportunity to work in this space. Thank you for following my journey.