Sydney newcomer Hutcher released his new single 'Last Time', enlisting the help of the ever so lovely Janeva.
Hutcher feat. Janeva 'Last Time' Sydney's Hutcher has already had an amazing start to his career, winning fans around the world including the one and only MJ Cole, along with Joel Cory, Sam Divine, Tiestoand Tough Love after his second release 'Breathe' was heavily supported by the before mentioned DJs.

Wearing his UK Garage influences on his sleeve, Hutcher combines with Australian born and UK Based singer songwriter Janeva, who has had recent collabs with Lanks, London Topaz and releases on Majestic Casual amongst other labels for a new joint 'Last Time' that bumps and flexes along and is sure find its way into DJ sets and playlists all over the world.


Interview with Hutcher
Question: How would you describe your music?

Hutcher : I think I'd have describe it as upbeat, energetic dance music with influences from House and UK Garage. There a plenty of influences in my music but these are definitely the main two.


Question: Can you tell us about Last Time?

Hutcher : Last Time is a dance track about being unable to let go of someone you know is not good for you and the things that keep pulling you back. It's a fun house tune that brings these elements together through an awesome topline.


Question: Is there a particular message you hope listeners take from your music?

Hutcher : I don't have a particular message engrained in my music. I just want people to groove along and have a good time. I think that's what music, in its purest form, is all about, especially House music.


Question: How was working with Janeva?

Hutcher : It was awesome working with JANEVA. Her voice jelled with my production style perfectly which made the track come together so easily. 'Last Time' is a great blend of our two styles.


Question: If you could have anyone, in the world, attend a show, who would it be?

Hutcher : I'd have to choose Disclosure. I've been massive fan of their music for years now and they've had a big influence on my sound. I'd love to have the opportunity to chat music and play a set with them.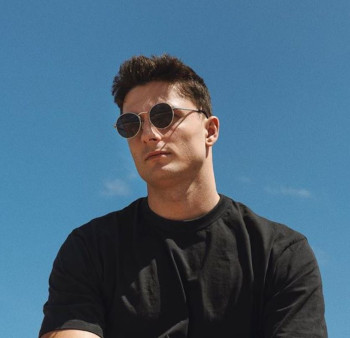 Question: What motivates you most when writing music?

Hutcher : Anything soulful or with bumpy drums gets me inspired. I try to write my music around colourful chords and sounds that help bring the track to life with my focus on getting people to move. I'm also super focused on making sure my tracks never get too repetitive, but have the perfect amount of hook to make them catchy.


Question: Which music/artists are you currently listening to?

Hutcher : Currently listening to a lot of old school garage tunes among newer releases from the UK scene. Everything from 90s vinyl records by Tuff Jam and Grant Nelson, to the new House and Garage stuff coming out of the UK right now.


Question: What or who was your inspiration to go into the music industry?

Hutcher : My biggest inspiration to get into the scene was definitely the desire to make my own music. I've loved music since I can remember and I always wanted to know how my favourite artists made their tracks. The idea of giving something entirely new to the world was exciting and made me feel a sense of purpose. I'm a creative person by nature so the music scene suited me perfectly.


Question: What is the biggest challenge you have faced along the way to your musical success?

Hutcher : Going from the person people think you are to a musician can really throw people off, especially when the whole musical side of yourself has never been a public part of your personality and then all of a sudden you put yourself forward as one. When that comes out of nowhere you have the challenge of proving that you can do what you say you can do. This, alongside pushing to constantly better myself as a producer on a day to day basis has definitely been the biggest challenge yet.


Question: What's a typical day like?

Hutcher : In between working, a typical day pretty much involves listening to music and making it. It also involves staying active and working out, drinking coffee and making dad jokes.


Question: What has been your favourite part of becoming a music artist?

Hutcher : Being able to provide music to people I both know and don't know around the world is what I love about becoming an artist. To be able to connect with people around the world literally just from my room and laptop is awesome. Also, experimenting with sounds and delving further into my own sound and moulding that as time goes on has been such an enjoyable venture.


Question: What's next, for you?

Hutcher : On the horizon is my first EP among other tunes that I'm super proud of. That, and more DJ sets and good times around the Sydney scene, once we get past this Covid saga.


Question: Can you share your socials? (links please)

Hutcher : Facebook
Soundcloud


Interview by Gwen van Montfort