With the release of her debut single, Independent Australian Artist/Producer Hunter Kaine brings with her a fresh and unapologetic texture to country music. Hunter's musicality and sultry, powerful vocals have afforded her the opportunity to collaborate with some of Australia's top country artists, including Hunter's latest single with the iconic, multi award-winning Aria and Golden Guitar Artist and Producer Shane Nicholson.

'Long Way From Lonely', the stunning new single with Shane was produced by Hunter, the result which is a highly emotive, next level artistic piece of work. Hunter's uncompromising vision and vocals combined with Shane's brooding yet soulful voice create a powerful and beautifully balanced release that will stand the test of time. The musical chemistry between both singers within this duet is palpable, rippling on he skin to say the least. You can feel the genuine emotion and rawness given from both Artists. Hunter has proven straight out of the blocks that it's not just about her talent and her voice, but it's also about her delivery to the needs of the song that take centre stage.

Arriving in Nashville in the Summer of '18, Hunter met up with Australian born Nashville local song-smith Phil Barton, who amongst others co-wrote 'Long Way From Lonely'. Hunter heard a duet in the demo and immediately knew Shane was the perfect voice to record alongside hers and bring her vision to life.

Let's raise a glass to this powerful collaboration and celebration of country music, paired with a music video produced and directed by Hunter with fellow ARIA nominated creative Ian Ritter.

After her time recording and performing as lead vocalist with Deep Creek Road, the obvious next step in Hunter's journey was to share the personal side of her relationship with country music, reinforcing her ethos that "country music is an easy love".

Born into a family with prolific and diverse musical tastes, a powerful source being her father Lawrence Ralphs, who went on to teach the core of Australia's finest guitarists, Hunter is an old soul with modern sensibilities.

Continually honing her skills, by the age of 12 Hunter was competing in and winning regional country Victorian singing competitions, fuelling her fire and hunger for a life lived through music. The years to follow would see Hunter transverse many roads from blues, soul, and rock, before arriving back where Hunter's heart always gravitated, to the vulnerability, sensibility and honesty of country music. "It's the scotch in my glass".

With the next few releases already in production, the future of country music definitely looks in good hands.


Interview with Hunter Kaine
Question: How would you describe your music?

Hunter Kaine : 'Country'. I love to merge the best of both worlds when it comes to producing my music.
Strong sensibilities of the past, blended with contemporary elements. I love harmonies, solid musicianship, with some lateral creative thinking thrown in the mix.


Question: Can you tell us about Long Way From Lonely?

Hunter Kaine : I first heard 'Long Way from Lonely' in the Summer of 2018 in Nashville, Tennessee. It was co-written by Phil Barton, who is an amazing Australian songsmith. I fell in love with the song immediately. On the way home to Australia on the plane, I heard a duet within it and I just knew that Shane Nicholson's voice was the perfect fit for the duet. I reached out to Shane and he really loved the track also, so we went from there! I produced the song in Melbourne and had the opportunity to work with some really incredible musicians on the recording.


Question: How was working with Shane Nicholson?

Hunter Kaine : A true career highlight. Not only is Shane an incredible artist, he is very humble and professional to work with.
We both share a love of fine Whiskey, so after we shot the music video for 'Long Way from Lonely', the crew, Shane and I enjoyed a couple of glasses and toasted on a successful and creative day. Great memories!


Question: Do you have plans to create more music together?

Hunter Kaine : Of course! I would always be open to the idea of collaborating on another song with Shane, but there's nothing on the cards just now. Right now I'm focusing on my upcoming single and EP.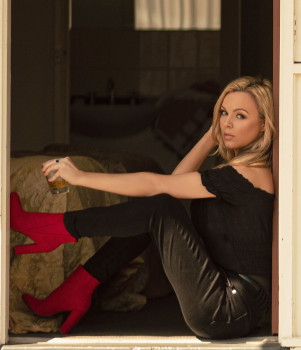 Question: Do you prefer performing live or recording?

Hunter Kaine : Performing live! Its electric, there's all this energy bouncing off of the audience and the band members. I love working in the studio as well, but it's a very different setting compared to a live show and it's definitely hard to beat.


Question: What motivates you most when writing music?

Hunter Kaine : Peeling back the layers, trying to get to the heart of what I am trying to say and marrying those thoughts and lyrics to melody. For me that's where the challenge is and also where the joy comes from. It's a cathartic experience and sometimes it can be really exhilarating.


Question: Which music/artists are you currently listening to?

Hunter Kaine : Mainly throwback albums by Peter Gabriel, Elbow and David Nail. I love listening back to previous decades of music and to all genres.


Question: What or who was your inspiration to go into the music industry?

Hunter Kaine : My father, Lawrence Ralps. He was an incredible guitarist and singer. Dad was also a music teacher and our family home was full of music. You'd be hard pressed to meet a person more passionate about music than him.


Question: If you could collaborate with another artist, who would it be?

Hunter Kaine : Stevie Nicks! She has had the most incredible career and her songwriting is so unique.


Question: What is the biggest challenge you have faced along the way to your musical success?

Hunter Kaine : There are so many challenges that music artists face, but I have found the business side of music can be very hard to comprehend and get a handle on. It generally doesn't come naturally to a creative type of person, so it's a learning curve for sure.


Question: What has been your favourite part of becoming a music artist?

Hunter Kaine : Living my passion. Working on music is a labour of love for me and I think it's the most important thing to do in life, 'answer your calling'.


Question: What's next, for you?

Hunter Kaine : I'm currently working on my EP, which will be released later this year. My next single and music video will be out very shortly, so it's a very creative and exciting time for me.


Question: Can you share your socials? (links please)

Hunter Kaine : Facebook
Instagram


Interview by Gwen van Montfort