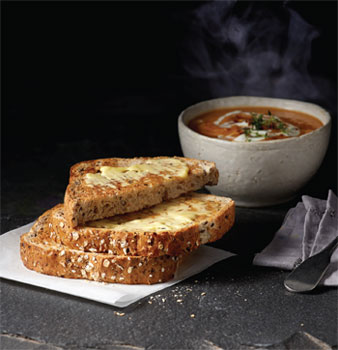 Café Style Toast with Sweet Potato, Leek Chilli Soup
Serves 4
Prep 15 mins
Cook 30 mins
Ingredients
8 slices of Helga's Café Style Thick Cut Mixed Grain bread, toasted
2 tbs olive oil
1 leek, thinly sliced
1 tsp dried chilli flakes
2 tsp thyme leaves
800g sweet potato, peeled, chopped
1 litre chicken stock
1/2 cup yoghurt, to serve
Thyme & dried chilli flakes, to serve
Butter, to serve

Method

Heat the oil in a large saucepan over medium heat. Add the leek. Cook, stirring occasionally for 3–4 minutes or until soft. Add the chilli, thyme and sweet potato. Stir to coat in the leek mixture.
Increase heat to high. Add the stock. Bring to the boil. Reduce heat to medium-low. Partially cover with a lid, simmer for 20–25 minutes or until sweet potato is very tender. Set aside to cool slightly. Season with salt and pepper. Blend or process until smooth.
Ladle the soup among serving bowls. Swirl through some yoghurt, sprinkle with thyme, and chilli. Butter the Helga's Café Style Thick Cut Mixed Grain bread, and serve with soup.


Indulge this winter with new Helga's Café Style Thick Cut Bread

The clever bakers at Helga's are bringing the café style experience to the home, adding that extra specialness to everyday meals with their new Helga's Café Style Thick Cut Bread.

Cafes are synonymous with being Australia's most popular destination for dining out, whether for breakfast lunch or dinner, with 29.8 million1 visits for food each month. Responding to a demand from Australians wanting something a little bit more indulgent this winter, Helga's has created their first premium thick cut loaf.

Baked using only the finest ingredients to create a delicious, soft thick centre and crunchy crust when toasted, Helga's Café Style Thick Cut is available in Mixed Grain and Traditional White variants. To celebrate the launch, Helga's has created a series of great tasting café style, winter warmer recipes, including French toast, pulled pork sandwiches and sweet potato and leek soup with toast, which can be easily recreated at home.

Karen Sterling-Levis, Head of Marketing says, 'We are continually finding new ways to deliver tasty food experiences to our customers, and the Café Style Thick Cut Bread is another way we are bringing good, quality food back into the home, with that special touch of indulgence this winter."

Helga's Café Style Thick Cut is a source of fibre and contains no artificial preservatives.
The new Helga's Café Style Thick Cut Bread loaf is available at Coles and Woolworths for $3.50, and independent supermarkets for $5.39. Enjoy more Helga's in every slice with new Café Style Thick Cut.

For more information or for further recipes, visit www.helgas.com.au or www.facebook.com/helgasbakehouse.