Heather O'Neill A Feminist Manifesto Interview
Heather O'Neill is a guitarist and singer songwriter who has gained praise for her unique lyric style and eclectic musical compositions. Heather O'Neill is at her best live where she routinely performs little comic monologues in between her songs. Heather O'Neill refers to it as "Provocative Blues with a comedy chaser. I'm trying to inject a musical and comical spoonful of sugar to help the medicine go down." She has toured all over the U.S. and the U.K. playing clubs, coffeehouses, colleges, and festivals. Had a cabaret act in London at The Icarus Club and enjoyed airplay on acoustic podcasts, women's and college radio.
A Feminist Manifesto is the latest album. It is infused with funk and R&B. It's a beautiful juxtaposition to the powerful and sometimes heart breaking lyrics. On this venture, Heather's strong solo performance is enhanced by horns, bass, drums, and violin accompaniment from Jerry Goodman of Mahavishnu Orchestra and the Dixie Dregs. Bringing dreamy, toe tapping music and a sense of humor to serious feminist issues.
Interview with Heather O'Neill
Question:
Can you talk about the inspiration behind A Feminist Manifesto?
Heather O'Neill
: I was inspired by the subliminal way we communicate with each other. The character that society still expects women to be. And how much boys still seem to scared of a strong girl.
Question:
Why do you enjoy performing little comic monologues during your performances?
Heather O'Neill
: I guess because it is part of myself. I love making people laugh. I feed off of those laughs just as much as applause. Because I'm a total narcissist.
Question:
Did you have any pre-conceived ideas about the music industry?
Heather O'Neill
: Well that's tricky. A part of me agrees with that Hunter S. Thompson quote " The music business is a cruel and shallow money trench, a long plastic hallway where thieves and pimps run free, and good men die like dogs. There's also a negative side.' However the promotion of one's act lies in the hand of the artist more now than ever before. So its exciting times for those with tenacity.
Question:
Do you write your own songs? What's your inspiration?
Heather O'Neill
: I do write all my songs. Musically it comes what I'm happen to be listening to at the time and what attracts and catches my ear. Lyrically I pull from everywhere books, poems, other lyrics.
Question:
What music/artists do you listen to when you are not playing your own?
Heather O'Neill
: Amos Lee, Tori Amos, The Raconteurs, Eykah Badu, Regina Spektor. Tons and tons too many to mention in a small space.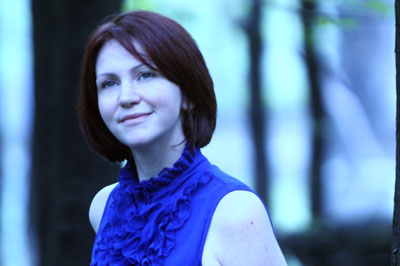 Question:
What's next? Tour/Album/Single?
Heather O'Neill
: Touring is next. I will probably be hitting the road in the fall. The tour is yet to be announced.
Question:
Was there a moment you contemplated throwing in the towel?
Heather O'Neill
: Yes! Several times. It's not a business for the weak hearted. I just had an overwhelming need to follow my passion.
Question:
Do you prefer performing live or recording?
Heather O'Neill
: Performing. I like the learning experience in the studio, and I really like gathering and researching ideas to write new songs. But I love performing. The feeling of connecting to people can't be topped. It's the bees knees.
Question:
What/who was your inspiration to go into the music industry?
Heather O'Neill
: The very first one was Bette Midler. I fell in love with her when I was 7. I thought she had the best job because she could be funny and then sing a serious song and the audience would go with her. But there have been others like Hole was a big one and so was Ani DiFranco.
Question:
What is the biggest challenge you have faced along the way to your musical success?
Heather O'Neill
: I'm a solo artist so I do it all myself. That can be daunting. But its also all in my control.
Question:
What's a typical day like?
Heather O'Neill
: Sending out emails, practicing and playing at a local joint.
Question:
What has been your favourite part of becoming a music artist?
Heather O'Neill
: Entertaining people.
Question:
If you could collaborate with another artist, who would it be?
Heather O'Neill
: Damien Rice.
Question:
Do you have a website fans can visit?
Heather O'Neill
: Yes.
www.heather-oneill.com
it will be undergoing updates shortly for the new album.
Question:
Can you tell us 5 things required for a happy healthy & enjoyable life?
Heather O'Neill
: 1. Follow your heart (it's so cliche but so true)
2. Eat as well as you can afford. I really believe food can heal a lot of what ales you.
3.Exercise
4. Take the time to get yourself relaxed.
5. Green Tea :)
Interview by Brooke Hunter
Buy now at BigPond Music