Scents to Set the Scene
New Haven Luxe Scented Candle and Diffuser Range
Fragrance has been used historically to shape the atmosphere in our spaces. Scents not only have the power to positively impact emotions, but can also assist with meditation, healing, and relaxation. The new collection of candles and diffusers from Haven Luxe offer a range of gorgeous scents, and a touch of luxury. The collection is available in a beautiful selection of modern designs, featuring a mixture of classic and trend-based accents, that will help turn your home into a sanctuary
The Haven Luxe Spa Day Soy Blend Candle (RRP $25) has the luxury lover in mind and is inspired by rejuvenation and relaxation, with scent notes of Lavender and Amber. Spa Day, with its soothing undertones of Lavender, it is the perfect addition to your self-care routine.
Spoil yourself with the Haven Luxe Bubble Bath Soy Blend Candle (RRP $25) inspired by all things pampering. Your bathroom is perfect for relaxation just imagine; sinking into an indulgent bubble bath after a long day, and enjoying the beautiful aroma of a scented candle as the stresses of the day melt away. With key scent notes of Mandarin and Papaya, Bubble Bath is ideal for making sure you spend some extra time on yourself.
Gold is the new black. Let the Haven Luxe Fashion Week Soy Blend Candle (RRP $25) whisk you away to the front row at Fashion Week. Inspired by the runway and all things fashion, this candle features a stunning electroplated gold finish, and scent notes of on-trend Berry and Patchouli.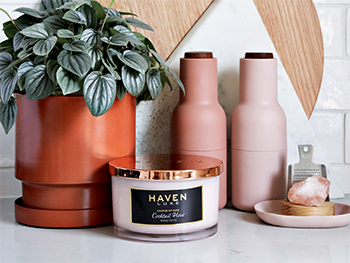 The Haven Luxe Cocktail Hour Scented Candle (RRP $25) is a candle infused with notes of Vanilla Tonka and influences of warm summer sunsets, with a cocktail in hand. With a wide three wick design, a debossed metallic lid, Cocktail Hour is available in pale blue or pink, and pairs perfectly with the Haven Luxe Cocktail Hour Reed Diffuser (RRP $20), with natural reeds that gently release fragrance.
With gorgeous fresh floral scents, the Haven Luxe Boardwalk Soy Blend Candle (RRP $25), infused with notes of Pear and Freesia, and Haven Luxe Farmers Market Soy Blend Candle (RRP $25), inspired by crisp early mornings and beautiful scent notes of peony, this is the perfect candle to enhance your home. Both candles feature a modern ribbed ceramic design and an etched timber lid.
The Haven Luxe Morning Hike Reed Diffuser (RRP $20) contains aromatic notes of Rose and Cedarwood, that will both energise, and encourage motivation. The fresh crisp and woody fragrance of cedarwood adds depth to the floral rose highlights, making this diffuser the perfect choice for any room in the home.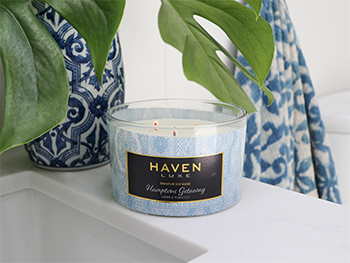 Understated chic, Haven Luxe Hamptons Getaway Soy Blend Candle (RRP $25) will set the scene for your next coastal holiday. Featuring three wicks, and scent notes of Amber and Tobacco, the fragrance is inspired by spontaneous getaways and deserted white sandy beaches. Hamptons Getaway is available in a range of coastal designs, with an etched timber lid.
The Haven range is available in Woolworths stores nationally. For more information visit www.haveninspired.com.au
Review: Add a touch of luxury with Haven Luxe Candles, with modern designs and gorgeous scents you can't go wrong. We love the Haven Luxe Hamptons & Cocktail Hour Candles, a generous size and beautifully crafted that also have gorgeous scents that don't overwhelm. If you're looking for something a bit extra with the wow factor, then the Haven Luxe Fashion Week Soy Blend Candle is amazing (pictured above).