HALF MOON RUN REVEAL NEW SINGLE "LOOK ME IN THE EYES"
Montreal's very own Half Moon Run have revealed their new single "Look Me in the Eyes." The folk/indie-rock track follows the release of "Grow Into Love" and "All At Once."

A soothing yet heartbreaking song, "Look Me in the Eyes" tells the story of a soured relationship that reaches its breaking point. It features the band's signature ethereal multi-layered vocals, paired with atmospheric instrumentation that alternates between meek and near-frantic. The track serves as the third single from the group's forthcoming EP, "Seasons of Change".

Formed in 2009 in Montreal's Mile End neighbourhood, Half Moon Run have spent the last eleven years practicing and perfecting their craft, as demonstrated through their discography of three successful albums and a slew of smash hits. The band -- consisting of Devon Portielje, Dylan Phillips and Conner Molander -- have cemented their status as one of the most beloved acts on Canada's indie rock scene; their albums Dark Eyes and The Sun Leads Me On have achieved platinum and gold status, respectively, in their native country. The release of Sun Leads Me On in 2015 welcomed very warm reviews from music media and saw the band climb the charts worldwide, especially in Australia -- "Turn Your Love," which served as the album's second single, reached #1 on triple j and received extensive airplay from the station.

Following a tremendous 24 months of touring, the band took some time to rest before returning to the studio to create their third LP, 2019's A Blemish in the Great Light. The record saw the band take strands from their previous work, utilising multi-layered instrumentation, intricate shapes and patterns, and a veritable cascading of melody, merging it with more vivid colours and a hint of playfulness.

The band were ready to continue to spread that love through a long list of 2020 tour dates, but with the world in isolation, they have had to readjust. In the meantime, they hope to deliver as much of that energy as they can by continuing to share new performance videos and music with the world.


Interview with Half Moon Run, Conner Molander
Question: How would you describe your music?

Conner Molander : We harmonize together in most of our songs. Between us we have a lot of different kinds of musical influences and so we like to experiment with blending, for example, folky guitar ideas with groovy electronic bass sounds, that kind of thing. Often we spend a very long time working out our song arrangements, which people have sometimes described as being complex.


Question: Who writes your songs?

Conner Molander : We write them together, often from a seed idea initiated by Devon. It usually takes us a long time - months - to finish writing a song, and sometimes longer. We all play several different instruments, which means that our "roles" during the writing process change from song to song. Perhaps that partially accounts for the relative lengthiness of the process.


Question: What motivates you most when writing music?

Conner Molander : The way that the music makes us feel. There's a certain kind of buzz when you start discovering a brand new musical idea - it's an addiction that takes hold of you. No matter how grand any preconceptions about a song idea may be, it's that feeling itself that tells the purest truths about what you're working on.


Question: Do you prefer performing live or recording?

Conner Molander : I think I prefer performing live. Recording is often very tedious. That being said, nothing beats a really magic moment in the studio. I especially enjoy spontaneous overdubs. What I struggle with about recording is maintaining focus on the specificities of the sounds - I prefer to engage with the emotional rather than the technical.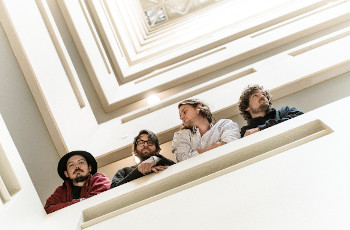 Question: Can we expect a tour after COVID-19?

Conner Molander : Oh, I sure hope so. If it's possible, we'll surely do it.


Question: What is the story behind the band name?

Conner Molander : I don't much like to tell the real story of the band name, for some reason. I prefer to keep it a bit vague - it refers to a kind of synchronicity, a coming-together. Such notions often have moon-imagery connected to them, don't they?


Question: How did the band come together?

Conner Molander : We met in late 2010, through a mutual friend and a Craigslist ad. What a different world it was back then! Now here we are ten years later - it has been a wonderful adventure.


Question: Which music/artists are you currently listening to?

Conner Molander : I've been listening to a lot of old gospel recordings, some Sam Cooke, some ensemble jazz from the 40s and 50s… I don't listen to much really modern music to be honest.


Question: What is the biggest challenge you have faced along the way to your musical success?

Conner Molander : Good question - I think the biggest challenge has been the transience of the touring lifestyle, which can be very disorienting over an extended period of time. There are no guarantees in the business, and so the uncertainty can be stressful at times as well.


Question: What's a typical day like?

Conner Molander : It's getting harder and harder to define what's "typical" anymore. A day on tour is very different from a day of songwriting. On a typical day on tour we wake up on the bus, go find some coffee and breakfast, answer a few emails before soundcheck, get dinner, have a beer, and play a show.


Question: What has been your favourite part of becoming a music artist?

Conner Molander : The music, of course! It's also a real privilege to forego normal working hours, although it requires discipline to stay on top of things. We've also been able to do a ton of travelling over the years, and that's been cool.


Question: What's next, for you?

Conner Molander : More songwriting, that's the main thing. We're scheduling as much writing time into our schedules as possible for the next several months.


Question: Can you share your socials? (links please)

Conner Molander : https://www.halfmoonrun.com/
Facebook
Instagram
Youtube
Spotify


Interview by Gwen van Montfort