The experts behind one of Australia's largest hair and beauty e-stores have forecasted nine make-up and hair styling trends for 2020. Next year will see two distinct make-up styles come to the fore: 'editorial glam' and 'Insta glam'. Hair styles, on the other hand, will be 'undone' and fuss free.

Anthony Nappa, Managing Director and Founder of Oz Hair & Beauty, and whose parents have been running the OZ Hair salon network for more than 30 years, says: "Editorial glam is a daytime look designed for natural lighting. It includes a light-coverage and low-sheen base, playful eye shades, fluffy but well-shaped brows, cream blush, soft contour and highlight. Meanwhile, Insta glam is the beauty go-to look for parties and events, where there'll be plenty of photos snapped. Think super matte foundation, a strong cut-crease and winged liner, block brows, strong contouring and overdrawn lips in a neutral colour.

"Relaxed hair, rather than sleek styles, will be popular this summer, so using high-quality products like Olaplex and evo as part of your haircare routine will ensure your locks are in their best condition. Some trending styles next season include a half-up half-down top knot, sophisticated braids and beach waves with a slight flick on the ends."

Oz Hair & Beauty reveals its top 9 hair and beauty trends for this summer:

1. Low-sheen satin as your everyday base, and super matte for Insta glam
Editorial glam: Dewy, radiant and wet-looking bases are out this summer, replaced instead with products that have a low-sheen satin effect. Lightweight tinted moisturisers such as the Pixi H20 Skintint will help achieve this look, while hydrating and enabling your skin to breathe.
Insta glam: For a very matte look, start with a primer to smooth out fine lines, followed by a full coverage foundation and translucent powder to set and keep the shine away.
Shop Pixi H20 Skintint – No 1 Cream, $44

2. Top off your summer look with a half-up half-down top knot. While the effortlessly cool top knot is still a go-to style this summer, in 2020 half-up half-town top knots will start to emerge. To create the look, start by prepping the hair with a leave-in treatment that offers sun and UV protection, such as evo's Happy Camper – perfect as a pre-beach treatment. A styling powder will give texture to your roots while hairspray will ensure you're spending time enjoying the sun, rather than fixing your hair.
Shop evo Happy Campers Wearable Treatment, $34. Follow the tutorial here to create the top knot.

3. The return of fun shades and glitter on the lids, and a cut crease for the 'gram
Editorial glam: A number of eyeshadow trends are returning – think fun shades of colour, glitter and smoky eyes with no harsh lines or definition. Finger application is also back so you can apply your products on the go – no brushes required.
Insta glam: A hard cut crease is your go-to for a full-glam look to give the illusion of bigger and brighter eyes, while a strong winged eyeliner is back to give a sultry look.
Shop MCoBeauty Eyeshadow Palette Burgundy/Nudes for glitter, $18

4. Textured sophisticated braids. Adult braids that ooze sophistication will be trending this summer – but steer clear of the school-girl styles. The key to effortless braids is all about texture with shape and no fly-aways. To achieve this look, day-old hair works best so it isn't too silky, but evo's styling powder can be used to provide the grit and hold you need to keep locks in place.
Shop evo Haze Styling Powder, $40

5. Fluffy and well-shaped versus the block brow
Editorial glam: Eyebrows will still be polished, but not ultra-stylised as in 2019. Soft, fluffy brows with well-shaped tails is the trend for summer. Use a soft brow pencil with an angled tip for precise application and a gel that allows you to fluff them up and add dimension.
Insta glam: The block brow will be popular for the Insta glam look and is a very masculine and hard feature on the face. Beware, it's not for the faint-hearted.
Shop Pixi Natural Brow Duo, $35, for the editorial look and Youngblood ARTISTE Brow Kit, $69.95, for the Insta look.

6. 'Natural' beach waves. When the balmy weather comes, the beach waves follow – and this year is no different. However, it's softer hair waves that we'll be seeing this summer over perfectly formed ones. Add a few drops of Olaplex No. 7 Bonding Oil to a pea-sized amount of Olaplex No.6 Bond Smoother and work it through the hair for heat protection and incredible shine. Get the waves by twisting and pulling a straightening iron through small sections of hair, while leaving the ends out to slightly flick. Ensure you run your fingers through the waves to break it up to and get soft beach-looking hair.
Shop Olaplex No.7 Bonding Oil, $49.95 and Olaplex No.6 Bond Smoother, $49.95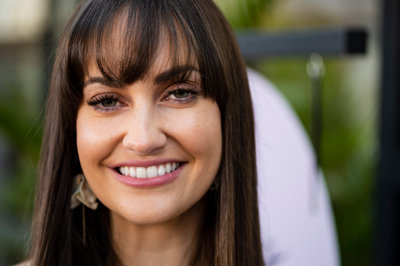 7. Cream blush is back – but not for everyone
Editorial glam: Rejoice that cream blushes are back as they're super easy to blend and leave your cheeks with a dewy glow, perfect for both daytime and evening looks.
Insta glam: You won't see any blushed cheeks in sight for the Insta glam look – it'll remain clear of warmth and colour, favouring cool tones instead.
Shop L'Oréal Paris Infallible Blush Stick, $24.45

8. Contour as soft as sand, but extreme like the summer sun when it's selfie time
Editorial glam: A very soft application of contouring and highlighting is the trend for summer and will ensure your face is 'naturally' sculpted rather than looking one-dimensional.
Insta glam: For a full-glam look in the evening and party season, chopped and chiseled contouring with plenty of highlighter is in – particularly for the younger crowd. It is designed to be seen in photos and strong lights.
Shop Mirenesse 1 Step Contour Stick Shona-Art, $30.

9. Overdrawn lip lines in a nude liner. Gone are the days when your lipstick and lip liner shades needed to perfectly match and carefully outline the natural shape of your mouth. The slightly over-exaggerated lip line is back this summer to give the illusion of plump and fuller lips, but the cupid bow will be less defined. Choosing a lip liner a few shades lighter than your lipstick will still be popular, but a sand or nude liner is on trend next season. Not only will this enhance and highlight your lips, but you can wear just one product with all your lip hues.
Shop ModelCo Illusion Lip Enhancer Kit, $22.