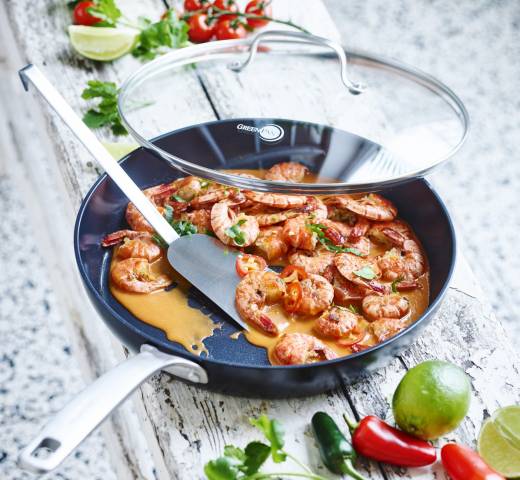 Did you know that most traditional non-stick pans contain harmful toxic chemicals, like PFAS? And what's worse: every time you (accidentally) overheat your pan these toxic chemicals get released. Not very tasty and not very healthy… PFAS are not only toxic but also highly persistent in the human body and in the environment. They accumulate and slowly make our bodies and our nature sick.


GreenPan are convinced that healthy cooking starts with healthy cookware. That's why they have developed a healthy ceramic non-stick coating made with natural materials like sand. The coating doesn't contain any harmful chemicals, so you don't have to worry about toxic fumes. Even if you accidentally overheat your pan, there's no risk at all. Plus, ceramic coating offers all the benefits of traditional no-stick cookware. Healthy and worry-free cooking has never been easier.


The Smart Collection

GreenPan™ Smart Collection ensures a smart shaped design in 2 ways : thanks to the stackable design you can easily store the pans and safe up to 30% more space in your kitchen cupboards, next to this the V-shaped handle minimizes the heat transfer and ensures a secure cool grip. The Thermolon™ Infinity Professional ceramic non-stick coating is enhanced with diamonds and extremely durable. This collection is a fine example of innovative design, perfect for intensive daily use.

2pc Fry Set 20/28cm $209.95
Frypan 24cm $109.95
Frypan 28cm $119.95
Open Wok 28cm/3.69L $129.95
Covered Casserole 24cm / 5.14L (available 18th January 2021) $184.99
Covered Saucepan 20cm / 3.11L (available 18th January 2021) $124.99
Available now at Myer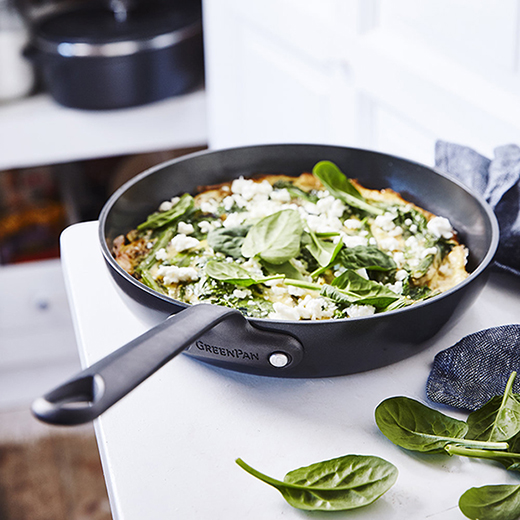 The Copenhagen Collection

GreenPan™ Copenhagen combines smart technology with a sophisticated look & feel. Made with premium quality materials for extra durability and professional results. The Thermolon™ Infinity Professional ceramic non-stick coating is enhanced with diamonds and guarantees quick and even heating on all hobs, including induction. The smart design provides you with 25% extra cooking surface. Its modern and sleek design is finished off with a unique handle in brushed stainless steel, including etched detailing. A beautiful addition to any kitchen.

Frypan 20cm $99.95
Frypan 24cm $119.95
Frypan 28cm $149.95
Frypan 30cm $159.95
Open Wok 30cm $159.95
Covered Casserole 20cm $159.95
Cov Casserole 24cm $199.95
Available from 18th January 2021 at Myer.


The Melbourne Collection

GreenPan™ Melbourne collection has you covered! Melbourne heats quickly and evenly on your stove top thanks to the heavy gauge construction and Magneto™ induction technology, giving top of the line, energy saving performances on ALL heat sources. Riveted silicone handles add a comfortable and secure hold, glass lids help you to monitor your food without losing the heat and drip free edges allow for easy pouring with less mess. Built to last, it allows for intense daily use and unlimited food release, time after time.

Frypan 20cm $99.95
Frypan 24cm $116.95
Frypan 28cm $134.95
Frypan 30cm $149.95
Frypan 32cm $169.95
Available at Kitchen Warehouse


Make the GreenPan Switch
1. No harmful toxic fumes.
2. 60% less CO2
3. High Temperature cooking
4. East to use
5 Smart & fun design


Review: In a year when cooking at home has become the norm, it's so important to have the right cookware to get the job done with as little fuss as possible. GreenPan are an exciting new range of pans that are a welcome addition to any household. Cook with confidence knowing your family is not exposed to harmful toxins. these clever pans a versatile are built to last so are a great investment in your home and lifestyle.