Georgia van Etten, brings impact and authenticity with the release of her new single "Deep Black Water," the title track of her upcoming album. The UK-based, Aussie born songstress continues to showcase her profound talent with this fiercely dynamic single, her soulful vocal qualities on full display, stunningly infusing the blues, roots and rock genres. The track's dark, brooding undertones masterfully interact with the reflective lyrics, sharing a thought-provoking message close to Georgia's heart.

"'Deep Black Water' is a powerful reflection of life as a young person today. Inspired by the stories I have collected from students I have taught in London's poorest areas and that of my own experiences in a money driven, elitist world,"says Georgia.

"The chant-like chorus came to me first, and I remember being interested in the concept of black water, after a panicked experience with the deep drop off after swimming out too far. I used this as a metaphor for submitting to the cause, being fed up with the system and despite fear - joining the fight for a better future.

I wanted to address the unfair reputation bestowed upon my generation and shed light on the reality which sees young people work multiple jobs only to just scrape by, who cannot afford university or are burdened with life-long debt, who face extreme class struggle, racism and live under governments who do not listen."

Along with her rich vocal tones, Georgia van Etten's powerful songwriting marks her as an important voice both in the music industry and in society, situating the Geelong born songstress as one of the most exciting acts on the scene.

To complement the powerful messages Georgia seeks to communicate through her work, the musical composition process is an important one. Working with co-producer Edwin Ireland, the pair were able to articulate the dichotomy presented in the both heavy and inspiring lyrics through their artistic choices.

"We used a chain-gang style beat, heavy guitar, eerie synth, dirty organ and chanting backing vocals," said Georgia. "The result is a dynamic blues, rock track infused with gospel and soul and strengthened by commanding vocals. The track begins and ends with humming inspired by early blues music from the deep-south and kicks into a bare, march-like call to action that builds into a rocky chorus with a soulful core."

"When devising the production structure Edwin and I wanted a relief point in the song and this is achieved by the laid-back middle 8 that is brilliantly juxtaposed by the gritty breakdown and subsequent musical onslaught to end."

Originally from Melbourne, Australia, Georgia packed one tiny suitcase six years ago and headed for the U.K. Since then she has solidified her position as an international touring artist, headlining festivals across the UK, Europe, and Australia. Her debut EP Live at the Pool Studio had extensive international and BBC Radio 2 play with Jamie Cullum remarking "This really blew me away when I first heard it", and Blues & Soul Magazine UK declaring "Put simply, this is a damn fine EP".


Interview with Georgia van Etten
Question: How would you describe your music?

Georgia van Etten: People (including myself) struggle to define my music and my voice, I don't think I fit into any one genre. I'm actually quite proud of that though, and I like to create a tasty blend of roots and alt-pop music that hints to soul, folk, country and blues sounds. You can think of me as a female Hozier, with a little Teskey Brothers and Kate Bush thrown in.


Question: Can you tell us about Deep Black Water?

Georgia van Etten: Deep Black Water is the title track of my debut album. It's a powerful reflection of life as a young person today and it is not only inspired by my own experiences, but those of the children I have taught in some of London's poorest areas. I think younger generations often unfairly receive criticism, with no attempt at understanding the many pressures placed upon them. Pressures like not being able to afford university, having a completely uncertain future due to the climate crisis, being subject to prejudice and inequality if you're from a BAME community and trying to survive in a world that is so ruthlessly driven by money and corporate greed. Yes, this song is a heavy one! The phrase 'Deep Black Water' refers to the fear I've felt when swimming out too far, and the submission to that fear in an attempt to overcome it. When co-producing the track with Edwin Ireland, we wanted to reflect this, along with the song's political themes, by using gritty, chain-gang style beats, heavy guitar, gospel organ and chanting vocals.


Question: Is there a particular message you hope listeners take from your music?

Georgia van Etten: First and foremost I like people to feel when listening to my music, to have a reaction that is special to them. However, I also like to make people think, be it reflecting on a message about society or resonating with my own experiences of people and relationships. I love it when someone relates to my songs, but equally, I love when my music conjures feelings and thoughts unique to that person.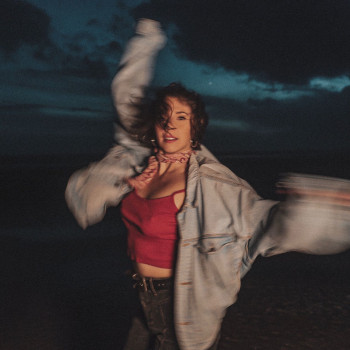 Question: How has the UK influenced your music?

Georgia van Etten: Moving to the UK almost seven years ago has influenced my music dramatically. It has enabled me to put myself out of my comfort zone, and take risks I may not have otherwise taken in the comfort of my home, Australia. In order to pay my very expensive London rent, I have done thousands (literally) of corporate gigs and learnt loads from London's big jazz and soul scene. It has been tiring, but has absolutely roasted my voice and helped me improve my technique ten fold. I have also been exposed to one of the biggest music networks in the world, and this has led to many collaborations with top session and touring musicians. Living in another country has encouraged me to dedicate myself to my craft, and after many years and a bit of life experience, I think I have finally found a sound that works for me.


Question: Do you prefer performing live or recording?

Georgia van Etten: It really depends on the performance or the recording, but if I was comparing playing a headline show and recording an album, I'd say recording. I absolutely love producing- creating and moulding to find the right sounds and developing a track to have complex layers and feelings. Don't get me wrong though, I am still addicted to the big stage and the unbeatable buzz it gives you.


Question: Which is your favourite song to perform live and why?

Georgia van Etten: I love performing 'Oh Mother' live. It's a very difficult sing and it's about needing my Mum when things get rough, so it's definitely an emotional challenge, but when I can really focus, I feel this is a special one. Audiences always respond strongly to it also.


Question: What moment in your musical career stands out the most?

Georgia van Etten: Headlining an amazing London venue called 'Omeara' in 2019. It was a full audience and it somehow felt like the culmination of everything I had achieved to date. I was extremely nervous, but it was a truly memorable performance.


Question: What motivates you most when writing music?

Georgia van Etten: I have a lot to say, be it lyrically or musically. I am constantly creating and forming ideas based on the world around me. I think life, no matter how simple, is stimulating.


Question: Which music/artists are you currently listening to?

Georgia van Etten: Many, many artists- all the time. Yesterday I was listening to an older Alison Krauss & Union Station album, I've been loving Jazmine Sullivan's new release, Brandi Carlile and this song 'What Can I Do?' by my friend Nate Williams which I must have listened to 20 times. I have very eclectic taste.


Question: What or who was your inspiration to go into the music industry?

Georgia van Etten: I used to be in an amazing Australian band called 'Sweethearts'. It's an all-girl, soul band made up of teenagers and we toured the world. Ross Lipson was the band Director and he was a truly inspiring man. He gave us real experience in the industry and championed females in music. He has very sadly passed away now, and I hope he knew how much he helped all of us as young musicians.


Question: If you could collaborate with another artist, who would it be?

Georgia van Etten: I really can't choose one, so I'll name three: Tedeschi Trucks Band, John Mayer, Marcus King. I was lucky enough to collaborate with the incredible Joey Landreth in 2020, so that has ticked a massive life goal off the list!


Question: What is the biggest challenge you have faced along the way to your musical success?

Georgia van Etten: I think the financial burden on young artists is very tough. On one hand, you can make your own success a lot more easily in the contemporary industry, but with that comes a big cost that people don't talk about enough. Gone are the days of labels singing loads of unknown or fresh artists and giving them thousands to play with. Although this creates more space in the market for independent artists to have a shot, if you're not someone who can make an album from their bedroom and you want to market and release a full record, it can be incredibly costly.


Question: What's a typical day like?

Georgia van Etten: The UK is in full lockdown again, so a typical day involves a very reasonable wake-up time, a cup of tea with lemon, yoga and a few hours of admin and album preparation work. I also teach a lot, and much of my school music teaching (that has seen me survive financially this year) has moved online, so I'll have spend a good chunk of the day on zoom, followed by a walk, cooking (I love food), more work and then finally watching a bit of tv or doing a crossword with my gorgeous boyfriend.


Question: What's next, for you?

Georgia van Etten: I am about to release my debut album, then perhaps some acoustic versions of album tracks and some more video content. The first half of 2021 is going to be hectic! I look forward to the second half, when I can put my creative energy and time into writing new songs and practising guitar and piano.


Question: Can you share your socials? (links please)

Georgia van Etten: Facebook
Instagram
Spotify
Apple Music
Twitter


Interview by Gwen van Montfort