Flo Anito
Classically trained in voice, piano, and 'cello, Flo Anito began her singer/songwriter career at age 16 when she got her hands on her first guitar. Already rewarded for her musicality with All-State recognition and roles in Summer-stock theatre, songwriting came naturally to this young talent who has quickly proven herself a prolific writer of thought provoking jazzy pop songs in the vein of Fiona Apple, Jewel, Ani Difranco, and Nellie McKay.
Since her recent graduation from Wesleyan University with a BA in Music, Flo has made Washington DC her home. She has opened for Eli Matthson (America's Got Talent) and Emi Meyer at the National Cherry Blossom Festival, has played Celebrate Fairfax (headliners included Joan Jett, Blues Traveler, and Ok Go), opened for Theresa Andersson, a Swedish musician featured in 'Rolling Stone', at DC9, and played with Rosi Golan at Bloombars. Flo heads the local chapter of Just Plain Folks, an international music networking organization, and has performed and sold out of her debut cd in venues across New England and the Mid-Atlantic states.
The last two years have proven to be a whirlwind for Flo. After a live audition, she was selected for the 2010 Artist Roster at the world renowned Strathmore Music Hall. Her song Uh Oh was one of 5 finalists in Cosmo Radio's Breaking the Band Contest and as a result she won an interview and airplay on the Sirius Radio Station. In December she released her first music video which is already getting press in the LA Examiner and DC's On Tap Magazine. By January '11, it had acquired more than 2000 Youtube views. Flo was the only DC based musician selected to play Merriweather Post Pavilion as part of the Virgin Mobile Free Fest's Busking Brigade, where she joined an impressive bill: Weezer, Blink 182, the Bravery, and Franz Ferdinand. She was selected for a CMJ showcase in NYC, a GAP campaign in Charlottesville, and a feature video on the website for the National Association of Broadcasting. She has played for the Secretary of the Interior, performed at the National Press Club, and sung the National Anthem at a Washington Freedom game.
Flo's new album, "No Dustbunnies", recorded with Chris Keup (O.A.R., Erin McKeown), Stewart Meyers (Lifehouse), and Brian Jones (Dave Matthews Band, Mandy Moore), has been a best seller on both CDbaby and Digstation and is getting radio play in NY, CT, and the DC metro area. This exciting new record along with her lively performance style, powerful voice, and candid lyrics make her a force to be reckoned with so... look out!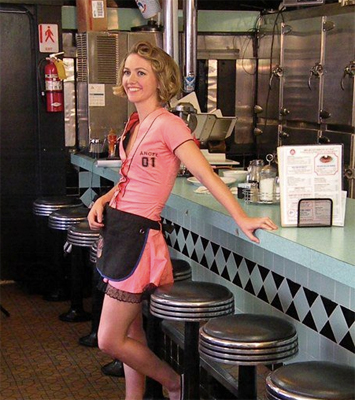 Interview with Flo Anito
Question:
How did it feel to hear your song played all over the airwaves?
Flo Anito
: It was pretty amazing! I first heard about Cosmo Radio when a friend of a friend heard my song on the station. The next week, I got an email from them saying I was one of five finalists in their contest so I couldn't have been more excited.
Question:
Did you have any pre-conceived ideas about the music industry?
Flo Anito
: Growing up it was so different than it is today. I thought the only way to do it was to get signed by a major record company. I remember when Ani Difranco created her own label, it was such a brave move and she was able to get such a large following but her music wasn't on the radio the way it should've been. Now, I really think that's changing. With the age of the internet, the whole industry has shifted and I like that I can do it by myself. I don't need to do it Taylor Swift's way, Ingrid Michaelson's unsigned lifestyle is working out great for her.
Question:
Do you write your own songs? What's your inspiration?
Flo Anito
: I do write my own songs. I started writing - lyrics much more than music in the beginning- when I was going through a really tough period. I pretty much wasn't speaking at that time and the only way I could sort things out and heal was to write my feelings down. Since that was the way I started writing, I think I got into the habit of looking for inspiration in everyday life. Most of my song content is based in personal experience, be it love, friendship, family, work, or my surroundings.
Question:
What music/artists do you listen to when you are not playing your own?
Flo Anito
: I listen to a pretty wide variety - lots of singer/songwriters: Regina Spektor, Nellie McKay, Amy Winehouse, Pete Yorn; lots of jazz: Ella Fitzgerald, Etta James, Jamie Cullum, Adele; lots of Latin: Julieta Vengas, Shakira, Mana; and I listen to the radio - everything from NPR to the Top 40.
Question:
What's next? Tour/Album/Single?
Flo Anito
: Well right now it's contest time! I was just nominated for Deli Magazine's Artist of the Month. It's one the top 15 music blogs in the US so I'm about to go on a bit of a media blitz to get people to vote for me at
http://washington.thedelimagazine.com
. Voting is only open until March 31st, 2011 so I'm busting my bum trying to get the word out.
After that, I'll be back to promoting my new music video for Uh Oh and my album, No Dustbunnies. I just started writing again and I definitely have enough material for a new album so I need to get on that soon as well.
Question:
Was there a moment you contemplated throwing in the towel?
Flo Anito
: No. I've wanted to do this from the moment I wrote my first song. I went to college thinking I'd major in theatre but once I realised I could get onstage and play myself, it was such an empowering feeling. I can't imagine doing anything else.
Question:
Do you prefer performing live or recording?
Flo Anito
: Haha - great question. I definitely prefer performing live. When you're recording there's so much pressure to make deadlines. You lay down the drums, then you lay down the keys, then it's time to sing whether you're ready to or not and there's no audience to play off of. You have to be so focused and keep your energy so high despite the fact that you're singing and then re-singing the same song and then just singing 5 words and trying to match the tone of the words before. There's no editing in a live performance and you never sing the same song twice in a row - I love the rawness the honesty and the improvisation involved in performing live. What I do love about recording though is the build and the surprise. It's cool to hear the tracks come together - especially since I usually perform solo. The surprise element is also really neat - hitting some pans in the background by accident and then realizing that they sound really cool - just knowing that there is a "pan" track is awesome.
Question:
What/who was your inspiration to go into the music industry?
Flo Anito
: I became so enamored with music because it really saved me at a time when I was in trouble. I listened to Jewel and Fiona and Ani and their music was so personal in a way which resonated so deeply with what I was going through. Here they were making the most of a bad situation, it didn't kill them, it made them stronger. Knowing that this outlet worked for them and helped me feel like I wasn't alone, made me want to pay it forward for two reason. Yes I could benefit from getting it out but also maybe somebody could benefit from hearing what I had to say. That was my inspiration and still is.
Question:
What is the biggest challenge you have faced along the way to your musical success?
Flo Anito
: The fact that there's no written path. It can get overwhelming trying to figure out what to do next and what routes are worth pursuing. I've also had a couple of experiences where I've been really let down by people who have promised to help and not come through. It's hard to find people that can help you and can be trusted but those few times I have, they've been great.
Question:
What's a typical day like?
Flo Anito
: I spend my mornings on the computer, emailing about gigs and promotional opportunities, submitting to contests, posting videos on youtube, and updating my websites. When that's all done, I swim or play soccer (there's pickup at noon which is pretty awesome for me, schedule-wise). In the afternoons, I teach guitar and piano lessons to students at their homes and then I play music at night at bars or clubs or restaurants or festivals. It's not a bad life :)
Question:
What has been your favourite part of becoming a music artist?
Flo Anito
: I really like the new places I get to see and the events I get to go to. I've played in a bunch of different cities and it's so interesting to see the differences in the venues, and the bands, and the communities. I play a lot of festivals so I get tickets to things I wouldn't normally know about or be able to afford.
One summer I played an amazing event to help people who were in danger of losing their homes to foreclosure, there were so many volunteers trying to help out these families, it was really moving. Last year I was playing at the Food and Wine Festival at the National Harbor and Carla from Top Chef walked by and waved - I was totally starstuck. And at the National Cherry Blossom Festival, where I've played for the last few years, I've met people from all over the world. I've taken pictures with listeners from Argentina, Japan, Europe, and a classroom full of nursery schoolers from DC. It's nice to have that opportunity.
Question:
If you could collaborate with another artist, who would it be?
Flo Anito
: Hmmm... I'm a big fan of male/female duets so maybe Jamie Cullum or the lead singer of the Counting Crows or Elvis. Oh it's decided, Elvis.
Question:
Are you single? What do you look for in a partner?
Flo Anito
: I'm not single - I look for honesty, kindness, intelligence, playfulness, and discipline.
Question:
Do you have a website fans can visit?
Flo Anito
:
www.floanito.com
Question:
Can you tell us 5 things required for a happy healthy & enjoyable life?
Flo Anito
: 1) do what you love
2) believe in yourself
3) be grateful for the things you have
4) work as hard as you can for the things that you want
5) go outside and leave your phone at home ;)
Question:
What message would you like to say to your fans?
Flo Anito
: Thank you so much for all the support, guys. I can't begin to say how much I appreciate your friendship and much thanks to you!
Interview by Brooke Hunter
Buy Now from Fishpond