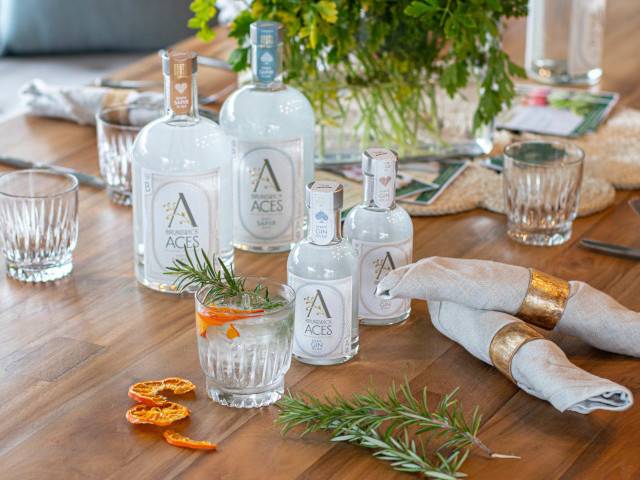 First Non-Alcoholic Bar To Open In Melbourne
The bar in Brunswick, Melbourne will be the first permanent establishment to cater specifically for non-drinkers

Melbourne-based distillery, Brunswick Aces, announces the launch of Australia's first permanent bar to prioritise non-drinkers and help normalise drinking in moderation. With research showing a sustained reduction in alcohol intake by Aussies, the new bar is coming at the right time for those choosing to moderate.

Set to open late April 2021, the 150-person capacity venue on Weston Street in Brunswick East will be the first of its kind in Australia, offering a dedicated space for non-drinkers to enjoy an extensive list of specially curated drinks and cocktails. Every section of the drink menu will be designed to cater for non-drinkers, from beers and wines, to the distillery's signature 0% alcohol gin alternative, Brunswick Aces Spades Sapiir and Brunswick Aces Hearts Sapiir.

Co-founder of Brunswick Aces Distillery, Diana Abelardo, said "The concept for The Brunswick Aces Bar, turns the traditional alcohol-focused venue on its head. There is clear demand for premium non-alcoholic drinks across the country, and that has been growing for some time, so the time is right for an offering that puts those choosing not to drink first. Our customers tell us that some premium bars and restaurants have started to put real thought behind their alcohol alternatives, but the wider industry is taking longer to catch up.

"We want to be a leading light by opening The Brunswick Aces Bar, show that there is a demand for venues like this, and deliver delicious non-alcoholic choices that don't compromise on taste. Our menu will be made up of amazing international wines, beers and spirits, with Aussie brands taking pride of place, as well as our contemporary cocktail list designed to thrill any palate."

The menu will feature a host of sober takes on classic cocktails, like the Negroni, Espresso Martini, Tom Collins and the simple G&T, as well as a range of premium beers and wines from around the world. With Brunswick Aces being stocked at premium bars and restaurants nationwide, and with domestic travel not returning to normal any time soon, the team will also be looking to bring a taste of these venues to Brunswick East by recreating the drinking experience from venues including Wickens at Royal Mail Hotel and Firedoor.

With the bar area currently being fitted out, the team has also been busy installing the distillery equipment into the new premises. This means once the bar is open, patrons will have a front row seat to watch the operation in action, as they sip on their drinks made with sapiir created mere feet away.

The Brunswick Aces ethos is to make everyone feel welcome, so alcohol drinkers won't be left out, they will have the single option of a gin and tonic, created using the brand's two Brunswick Aces Spades Gin and Brunswick Aces Hearts Gin blends. A cheeky nod to the long history of non-drinkers not properly being well catered for in traditional venues.

With moderate drinking on the rise internationally, the team intends to expand the non-alcoholic bar format into state capitals - Sydney, Brisbane and Adelaide - over the next two years, as well as the international markets they export to -New Zealand, Dubai and Singapore.

The team will be announcing more updates on the venue closer to launch, stay up to date via our Instagram @BrunswickAces.